First Look: 2021 Beta RR enduro models
Beta Motor have revealed their 2021 Enduro motorcycle line-up – an eight-strong RR model range that turns red and sees updates to the chassis, suspension and rider ergonomics…
Beta are big on their racing success feeding through to their production bikes. And rightly so after Brad Freeman took the 2019 EnduroGP and E1 World Championships while Steve Holcombe maintained the E3 World Championship, plus finished runner-up to Brad overall. Last year was a damn fine one for the Italian manufacturer.
It was also a major development year for the RR Enduro model range with big updates to the chassis and engines across the eight-strong two and four stroke line-up. For 2021, changes are smaller but still significant as the RR models adopt an all-red colour scheme and see further development to the headstock area of the chassis for improved feel, a new seat, a more waterproof and easier to access airbox plus new suspension settings front and rear.
The 2021 updates in a nutshell
Updated chassis in the steering head area and in the reinforced plates behind the head stock for improved feel and durability.
Improved rear subframe, more robust and durable.
New side-panel mounting, for easier installation.
Updated fuel tank cap for improved mounting.
Renewed seat improved on both the base plate and with new foam providing better support for a more comfortable ride.
"Optimization" of the air box for improved waterproofing plus a new mounting of the side panel which is designed to be easier to use.
New electrical system improves charging efficiency.
Upgrade of numerous internal components of the ZF fork to improve fluidity and reliability.
New shock absorber setting to increase traction.
Updated speedometer giving better reliability and precision.

New bright red colouring and graphics.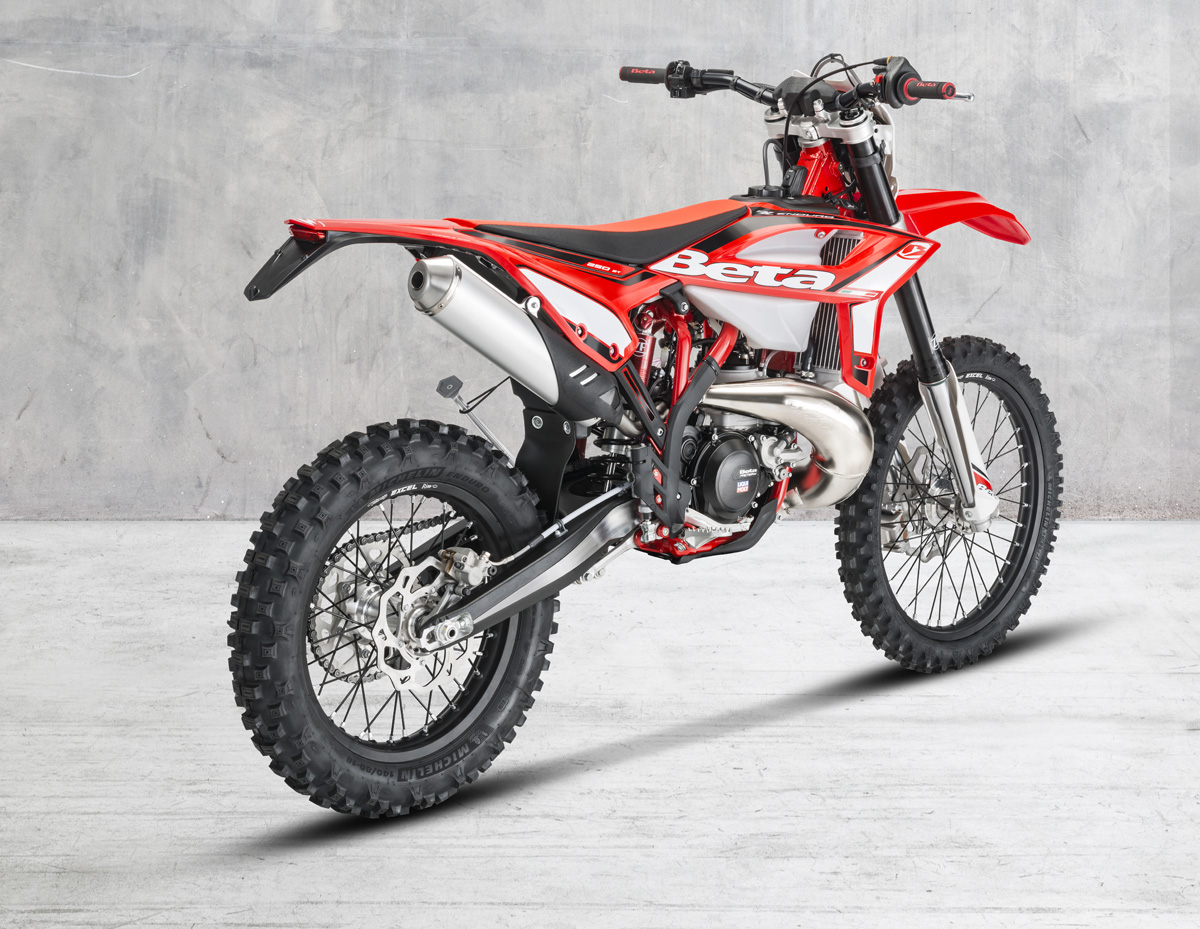 Looking at the list of updates from Beta for model year 2021, the details show the steady progression of the RR models over last year's wholesale updates which impressed us when we tested the 2020 Beta Enduro range last summer.
Though the chassis underwent a big rethink last year, Beta have continued to develop and focus on rider control by fine tuning the front end feel with different strengthening in the headstock area for MY2021.
It is the same story for the ZF front forks where continued attention brings an improved "fluidity and reliability" for the 2021 models, Beta says. We understand the suspension changes to both the forks and shock are centred on the shim stack to improve flow and consistency with the forks and to help grip feel with the shock absorber.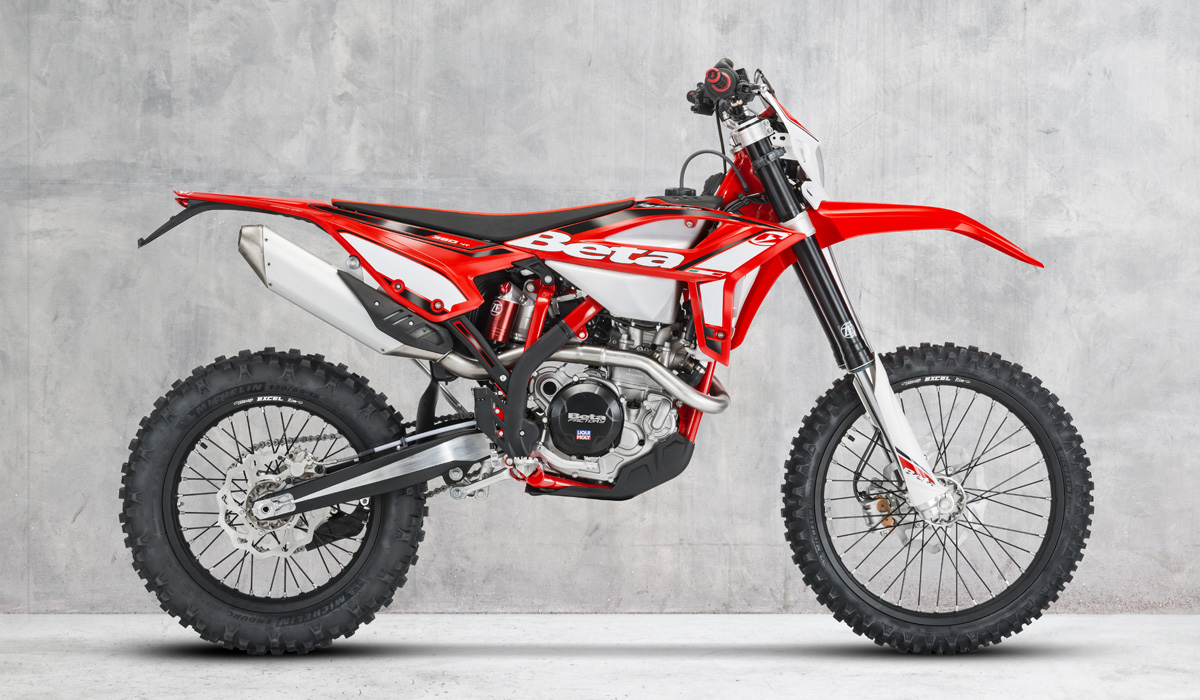 Elsewhere the changes are aimed at the end consumer, the owners and riders who naturally like to find updates each year which make their lives easier. Things like easier access to the air filter (via a new side panel mounting and increased waterproofing ability), a stronger electrical circuit to improve charge, a more reliable speedometer and a more comfortable seat – they are small but important improvements if you are the person running and riding the bike.
Other updates include a stronger rear subframe and new mounting of the side panel, both to improve durability (unfortunately the press images do not show left side of the bikes in detail to see thsi change). We look forward to testing the new RR models later this year.
What Beta says about the 2021 RR line-up…
RR 2T 125
The smallest bike in the Beta range, it is the lightest and easiest to handle. In pure racing style, it is suitable for both young riders coming up from the lower categories and more expert riders looking for a fun bike.
RR 2T 200
The chassis set-up and engine derived from its smaller sibling, ensuring its extremely light weight and excellent handling but with decidedly greater torque and power. Oil injection and an electric starter complete the package which is perfect for Enduro enthusiasts.
RR 2T 250
Ideal for those looking for a gentler 2-stroke bike with slightly less power and torque than top-of-the-range models to ensure excellent handling.
RR 2T 300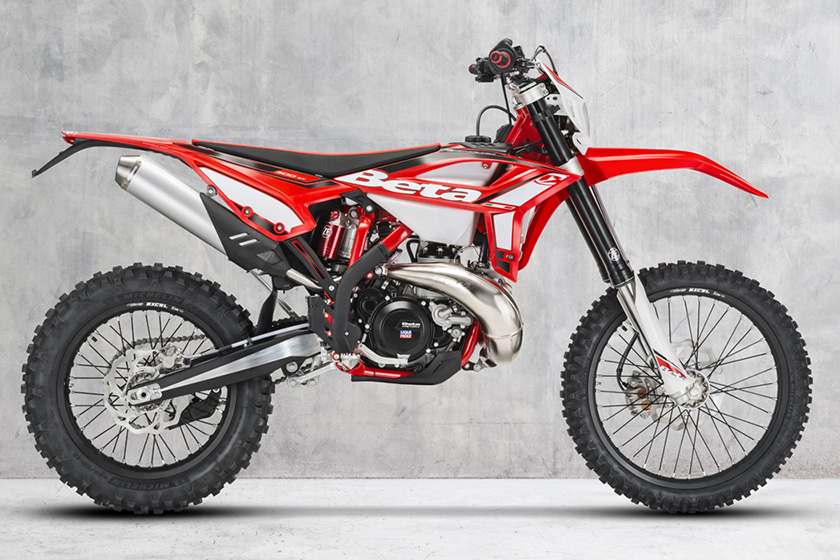 Made for those who appreciate a big engine with significant torque at any speed. Suitable for those who favour long gearing.
RR 4T 350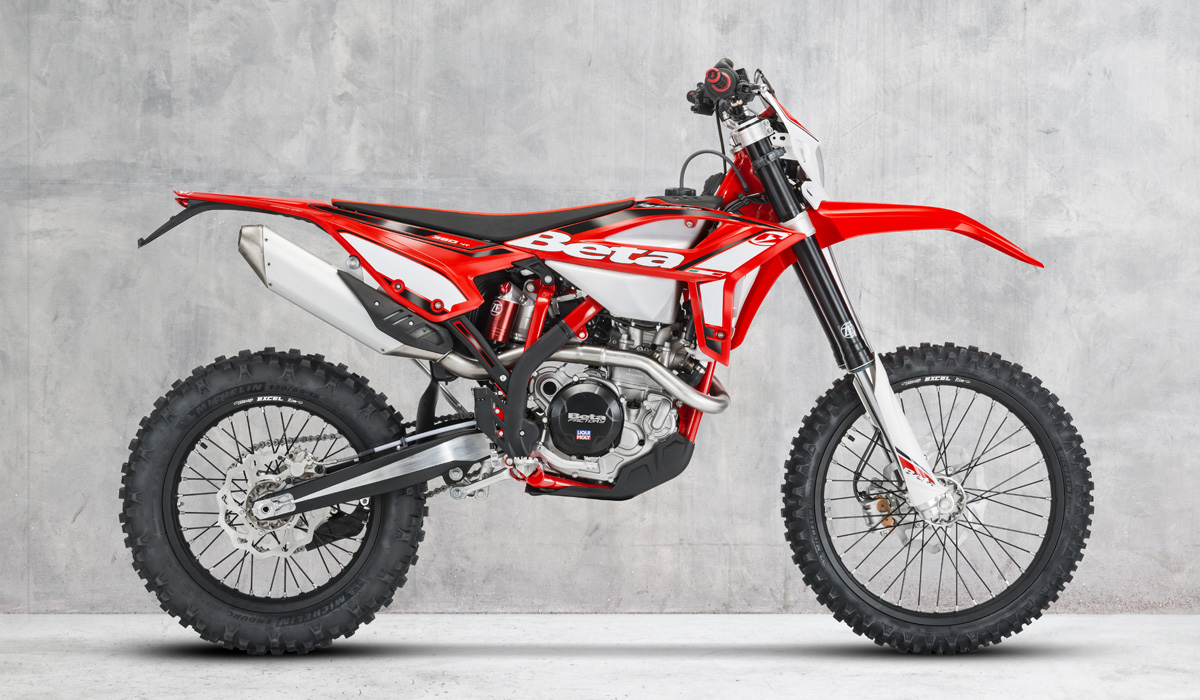 This is the easiest-to-handle bike in the 4-stroke model range; it favours high-rev riding yet retains a very linear power output.
RR 4T 390
With an ideal handling to power ratio, its winning feature lies in its outstanding traction.
RR 4T 430
A high-performance engine that is at its best when the rider exploits the long gearing and significant torque.
RR 4T 480
This bike best expresses itself in wide open spaces. Its characteristics are similar to the 430 model but with even greater torque and power, suitable for more expert and physically fit riders.
New models are available from June 2020 in Europe and from late July in North America.
More information: BetaMotor.com