First look: 2023 Beta RR Enduro 125 four-stroke – new Chinese engine supplier
Beta doubles the size of its RR 125 Enduro motorcycle range thanks to collaboration with Chinese manufacturer Tayo (aka Zontes) for efficient and reliable engines.
"Potential Beta RR 125 four-stroke customers are various," Beta explain, "from young riders making their first moves in the motorcycling to a more experienced rider" wanting an agile, inexpensive, fun and easy to use dirt bike.
What's new here is the previous two model RR 125 4T line-up (Enduro and Motard options) has now doubled in size thanks to the collaboration with Tayo Motorcycles for the engine supply, creating a two new ones for two price-point range.
For 2023 the new Beta RR 125 Enduro four-stroke range comprises an 125 T model (below) with a new engine and 125 R with "premium equipment" and a slightly higher price tag. By the way, they aim this one at street and trail use.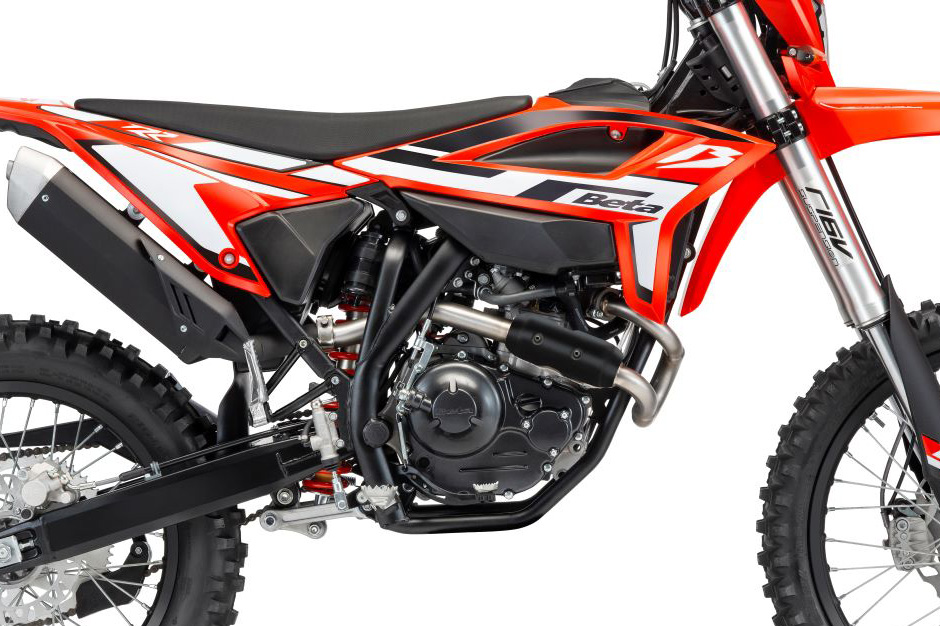 The tie-up with Tayo, a Chinese manufacturer of huge proportions with small capacity commuter bike variations, is an obvious one for economic reasons if nothing else. It guarantees supply and competitive prices but with bike components like crankcase, flywheel housing and cylinderhead still specified by Beta.
All other parts (and chassis development) remains Beta's and the bikes are assembled in Italy.
Tell us more about the Tayo tie-in:
The collaboration between Betamotor and Tayo Motorcycles means a new single-cylinder, liquid-cooled four-stroke engine forming a brand-new project with components specifically designed for Beta models (crankcase, flywheel housing, head, etc.)
Components such as the airbox, exhaust system and engine mapping are designed by Beta technicians
Bore and stroke (52 x 58.7mm) are unchanged from the previous engine, but with a higher compression ratio of 12.5:1 and a specific spark plug (full specs below)
The new engine means modifications to the Beta frame, radiator, electrical components and fuel pump, which are adapted or shifted to accommodate the new engine, without impacting on the motorcycle's geometry or rideability.
The new 2023 RR 125 T motorcycles are equipped with a new CBS (combined braking system) that no longer manages braking power in a direct way, but with a distributor conveniently set by Betamotor technicians. A lightweight, high-performance front brake calliper rounds out the new equipment.
Tayo Motorcycles (which manufactures under the Zontes brand) and Betamotor has developed the brand-new engine to be fitted in the new 125 RR Enduro model. "Extremely innovative in the production technologies" they tell us. It is under the legal 15kw mark for a learner bike in Europe, but good performance, reliability and claimed fuel consumption figures of 1.9lt/100 km (from street use we're guessing)
This new engine combines with components like a specific-developed airbox, swingarm, silencer and wheels, has allowed the Beta 125 4T range to carry an appealing technical level but retain a very attractive price tag they say (Enduro21 doesn't currently have an RRP).
Entry-level enduro
One thing's for sure, the new model will serve as a strong, entry level addition to the 125 market and a good option for first 'proper sixed' enduro bike. Available in five different colours, two for the Motard (black and red) and three for the Enduro (white, black and red), the 2023 RR 125 T brings quality standard equipment expected from a Beta motorcycle to a promised budget-priced bike.
New RR 125 'R' model
Beta's 125 4T range will incorporate an additional model aimed at riders who want a bit more performance and attitude over the stock machine.
Like the previous LC model? At time of writing we're not sure but seemingly from the technical information, this model will continue to use the previous, Japanese built four-stroke single engine.
The RR 125 R Motard model is available from March '23 with an Enduro version set to arrive later in 2023.
Specifications: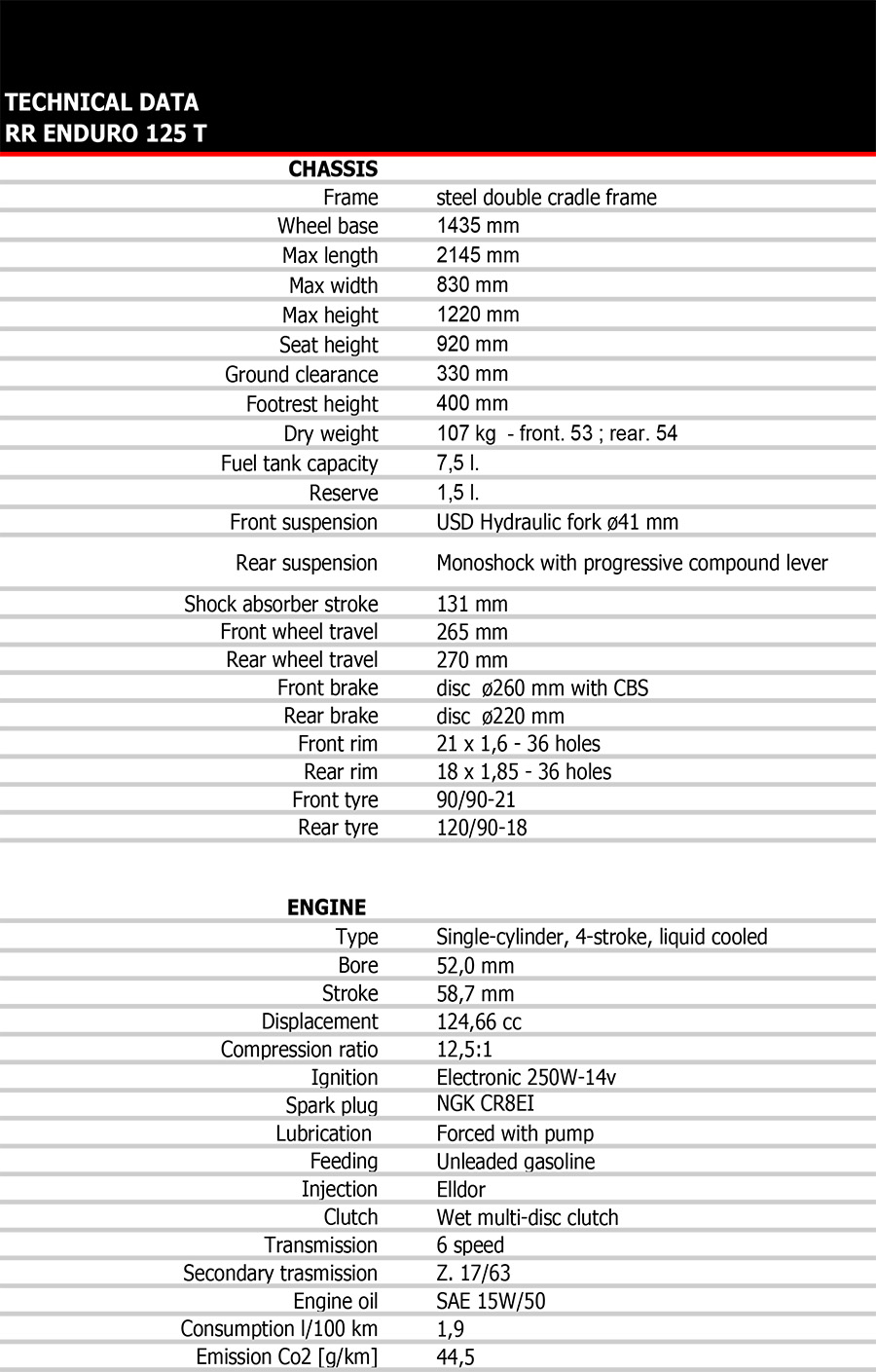 More information: www.betamotor.com