First look: 2023 KTM 890 Adventure R
KTM has announced the 2023 KTM 890 Adventure R, the rally-inspired middleweight, (dual-sport?) model featuring new suspension, bodywork and protection, reworked electronics including a "demo mode" and a fresh TFT digital display.
The 2022 KTM Adventure Rider Rally in the heart of the Idaho mountains was the launch venue for the "next level" KTM 890 Adventure R. With Chris Birch and Quinn Cody onboard to show off the capabilities, it seemed a fitting location for the sportiest of KTM's "travel" range to break cover.
KTM says it takes cues from their 450 Rally machines in the WP suspension package of fully adjustable WP XPLOR forks and a WP XPLOR PDS rear shock. The updated settings on the 890 R are "re-tuned" they say to provide improved feeling to ensure riders feel less fatigue at the end of a ride.
The rally influence stretches to the redesigned bodywork too with a new fairing, fuel tank, and cowling, improving aerodynamics and ergonomics, respectively improving protection from the elements and agility KTM say.
The new and lower windshield, high front fender and engine protector mark this bike clearly out from the S model Adventure 890.
2023 KTM 890 Adventure R updates:
Reworked bodywork & fairing inspired by the KTM 450 RALLY
New windshield offering improved airflow
Reworked suspension settings for reduced long-distance fatigue
Upgraded 5" TFT display with USB connection & new pictograms
Improved ABS components with new modulator (9.3 MP)
OFFROAD ABS linked with OFFROAD MODE & (optional) RALLY MODE
New & more offroad oriented tires (international models)
Updated turn-by-turn plus navigation system
Introducing the DEMO MODE functionality
Handlebar switch with hazard warning
LED indicators (US models)
New engine protector
What else is new?
A fresh 5" TFT display for a start which is equipped with USB-C connecters and features a completely new appearance KTM say with coloured pictograms and intuitive graphics that allow easier navigation through the menus.
The upgrades also include a "turn-by-turn plus navigation system" that lets the rider select destinations from their last selections. A new call-out function also allows a favourites call option, with a maximum of 10 numbers, or the option to call one of the 10 last numbers called.
New ABS system
KTM has also introduced the next generation of ABS control unit top the '23 890 Adventure R which takes readings from a 6D sensor — which continually informs the CMU on the angle, pitch, speed and general behaviour of the motorcycle.
That supplies the info which in turn dishes up the correct amount of braking force for any given situation depending on your setting.
Settings options include OFFROAD ABS as an integrated element of OFFROAD MODE, or the optional RALLY MODE, without the need to select the OFFROAD ABS separately.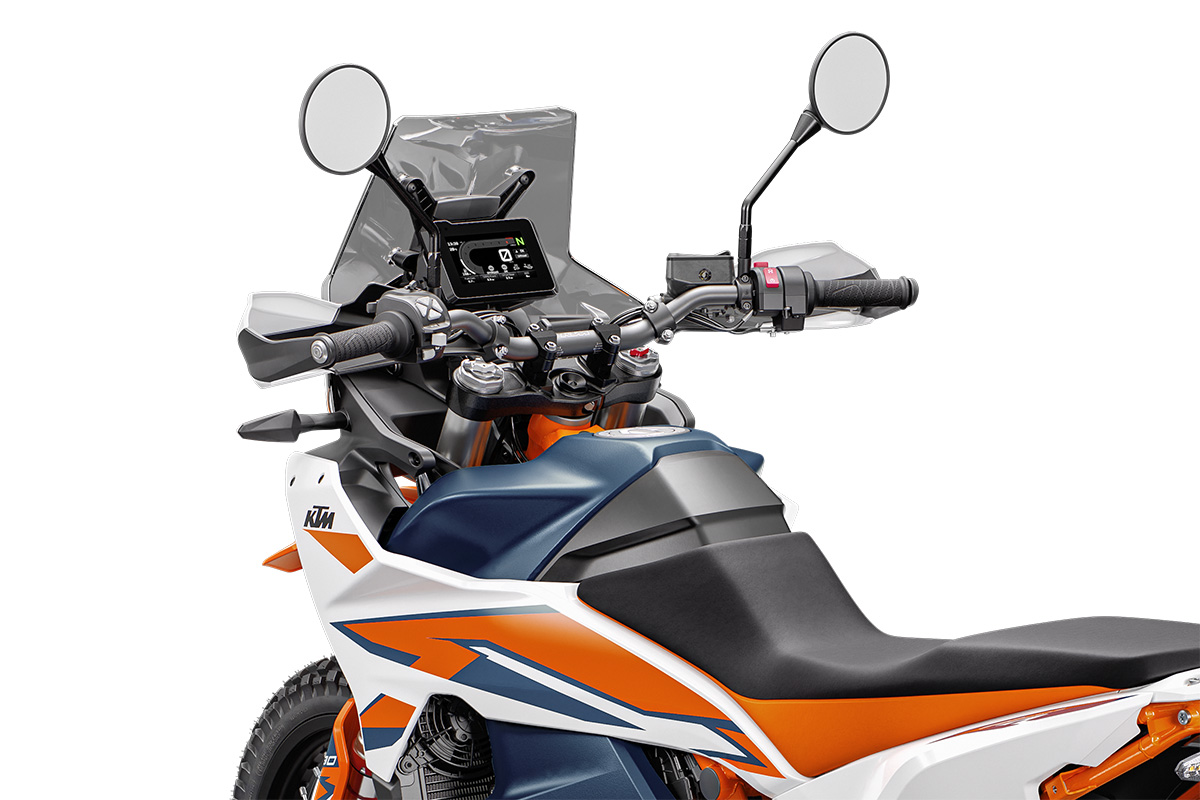 The 2023 890 Adventure R's single piece seat with new colours and options for more off-road focused in the Power Parts catalogue. The new Mitas Enduro Trail+ tyres combo for the International and European versions promise extra wear resistance. Other territories including America will get different hoops on the spoked rims (not yet specified to Enduro21) but will also get their bikes with LED style indicators to complement the new graphic set for 2023 model.
Demo mode?
KTM has also given the new 890 R a "demo mode" which lets riders try out all the specs and electronic options for the first 1,500 kilometres. The optional extras aren't standard you see so this lets you try before you buy and then your choices can be dialled in by the dealer.
You can add to the spec and parts list from the huge range of Power Parts for this bike. Upgraded wheels, triple clamps, further protection, riding clothing, you name it. Enduro21 doesn't have a retail price at time of writing.
More information: www.ktm.com
Photo Credit: Rudi Schedl