First Look: Fantic's New XEF 450 Rally bike
Fantic Motor continues to spread its motorcycle (and racing) wings with the unveiling of a new XEF 450 Rally bike to take on the Dakar Rally next January – production bikes are planned for summer 2022.
Enduro21 has been a slogging round the vast halls of the EICMA international motorcycle show in Milan this week in pursuit of what's new and interesting in the off-road world as we fast approach 2022. A headline act and arguably the standout new bike unveiling came from Fantic with this all new rally bike (we'll upload and share more detail images later today).
The new XEF 450 Rally, like the recently announced new XEF 450 enduro model in their 2022 range, uses the same chassis and engine from the shared Yamaha bedrock (for those who don't know it is based upon the WR450). The components, fairing, plastics and rally-specific parts are all Fantic's design and specification to adapt it to the discipline.
The Italian manufacture isn't going big with a high-profile rider announcement at this stage, though they aren't being shy about testing it properly by sending the bike to Dakar in January.
The rider holding the bars will be Italian Franco Picco who is no spring chicken he admits but is a vastly experienced Dakar veteran with 27 to his name. His role will be to further develop the bike with the view to a final version that should be available for the public in summer 2022.
The new XEF 450 Rally features a 30 litre fuel tank that has been specifically designed for the bike along with the plastics and rally fairing. The navigation tower is protected by a plexiglass cover and the bike runs specific suspension plus a larger front 300mm brake disc.
Fantic XEF 450 Rally specifications: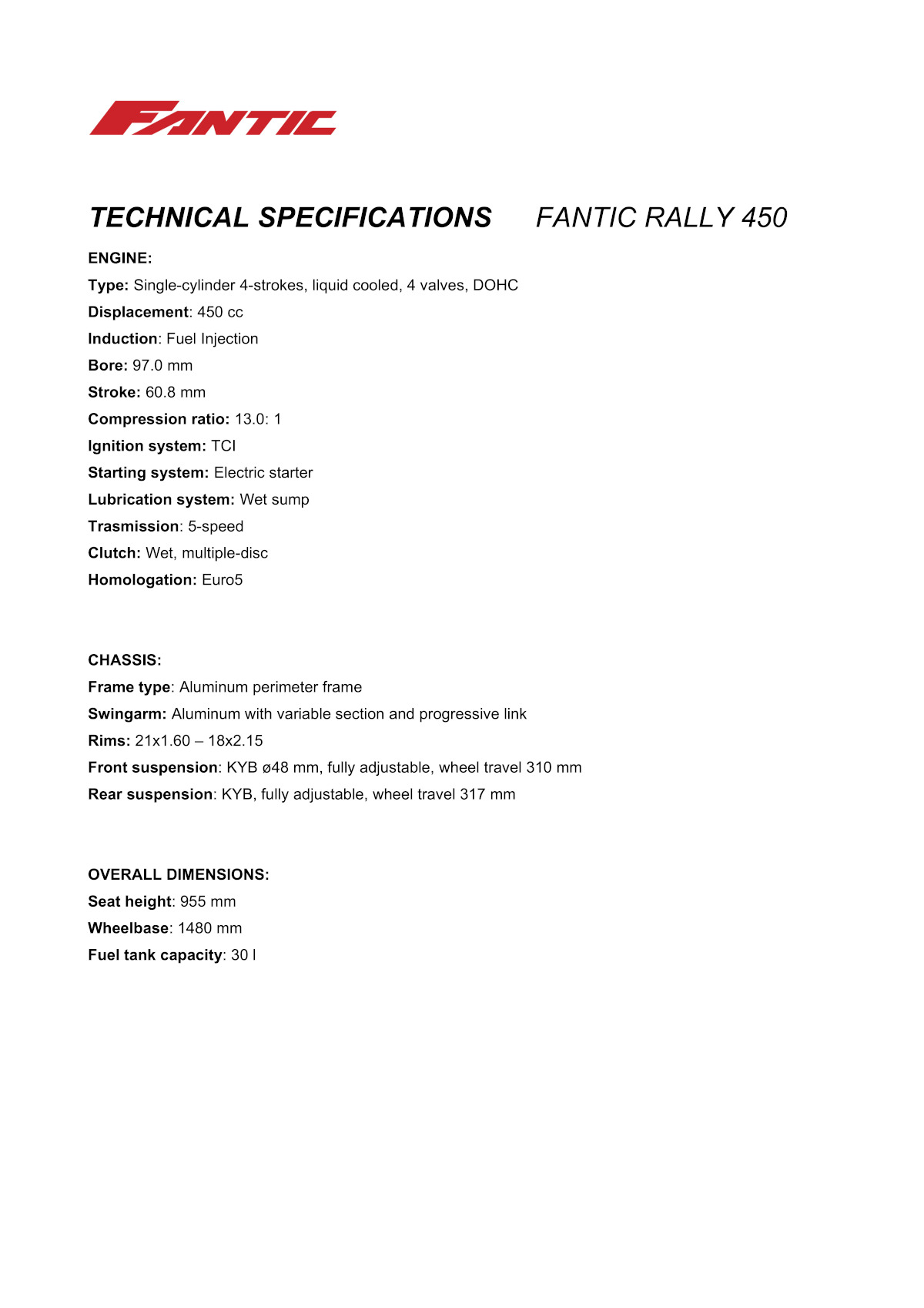 At the time of writing we haven't got any further details on the new Fantic rally machine other than it should be available at a competitive price Fantic say and they will expand the 'Factory kit' performance parts range (which includes the XE enduro and XX motocross bikes) also for the rally model when it goes into production.
Photo Credit: Fantic Motor