First look: Honda's new dual-sport CRF300L and CRF300 RALLY
Bigger engines, more power plus a new chassis and suspension "significantly improve" Honda's dual-sport CRF300L and CRF300 Rally motorcycles – new 12.8 litre tank fitted on the Rally model improves fuel range.
Launched in 2012, Honda's CRF250L proved appealing for trail and hobby riders with its neutral handling and a relatively lightweight character which combined to make it an incredibly user-friendly and practical machine.
As the Adventure market continued to boom and while pure enduro models remain off-putting to many, the L formed part of the new dual-sport breed of bikes welcomed by riders wanting something lighter and more capable, particularly on the trail.
In 2017 Honda traded even further inside that ADV-lite market with the CRF250 RALLY model which arrived with Dakar Rally bike looks and concessions to those who wanted a longer range tank and slightly more off-road skills. For those many people swept up by the Adventure bike trends it (along with the 450 L model) these bikes opened up their eyes to what they and a bike could do off road.
For 2021 Honda has upgraded both CRF300L and CRF300 Rally models with significant upgrades:
New, longer-stroke 286cc engine producing a claimed 10% more power and 18% more torque
4kg lighter kerb weight means 13% improvement in power-to-weight ratio
New frame, longer travel suspension, higher ground clearance, revised steering geometry and riding position improve all-terrain handling and agility
Sharp new LCD display for both models
Extra 2.7L fuel capacity for CRF300 Rally plus elevated long-haul comfort and reduced seat height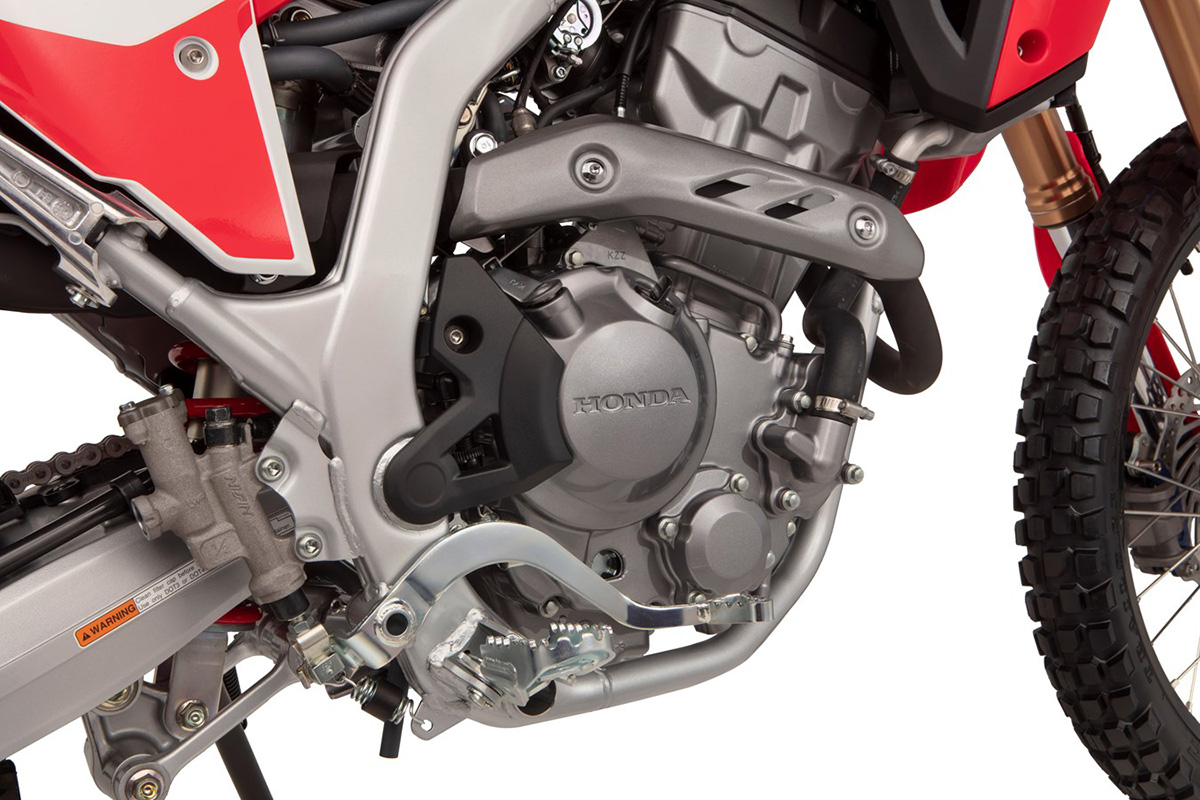 More power and torque
The 2021 L and Rally models will have a new 286cc, liquid-cooled DOHC 4-valve single-cylinder engine which is Euro-5 compliant. Honda claims it produces a peak power of 20.1kW @ 8,500rpm with a longer stroke which dishes out 18% more maximum torque of 26.6Nm @ 6,500rpm (up from 18.2kW @ 8.500rpm/22.6Nm @ 6,750rpm).
New inlet cam timing, a revised air intake and exhaust systems help the bike to breathe better too, further aiding the new power figures.
New gear ratios
Shorter gear ratios for the first five gears work better with the increased torque and power and promise better slow-speed riding control. The sixth gear is also is taller for more relaxed high-speed cruising. A slipper clutch now manages the rear wheel and offers 20% less load at the lever too which will also benefit the slower speed, more technical riding.
Lighter frame, more ground clearance
Honda say they have redesigned the steel, semi-double cradle frame, aluminium swingarm and bottom yoke to reduce overall weight by a claimed 4kg. That's a pretty meaningful amount if you're a novice picking a bike up out the mud – or trying to avoid dropping it in the first place.
Overall the new frame boasts a revised rigidity balance with more lateral flex which they say improves feedback and feel for the rider. The steering geometry has been adjusted (measurements are not yet released) plus the suspension travel grows slightly to increase ground clearance – 10mm up front and 20mm at the rear for the CRF300L (just 10mm front for the CRF300 Rally).
12.8 litre fuel tank
There's a new look to the CRF300L's bodywork which features a slimmer, 7.8L fuel tank and seat plus a new, easy-to-read LCD instrument display. Honda also say the riding position has been improved "to encourage light-steering manoeuvrability" with the handlebars pulled back slightly, the footpegs lowered and moved rearwards while the seat height grows 5mm to 880mm.
The CRF300 RALLY's broader, more off-road-like rubber-mounted seat is now 10mm lower at 885mm while the fuel tank takes on an impressive additional 2.7L to now become 12.8L. Its handlebars feature internal weights to minimise vibration and the footpegs are topped with (removable) rubber inserts, while LED indicators now come on flexible mounts.
Enduro21 looks forward to testing these models in the near future.
More information: www.honda.co.uk/motorcycles + www.hondamotorcycles.com