Motion Pro - Pro Funnel, Pro Fill Air Chuck and Shock Bearing Puller
Motion Pro has launched the Pro Funnel, Pro Fill Air Chuck and Shock Bearing Puller to make working on your bike an easier task.

Pro Funnel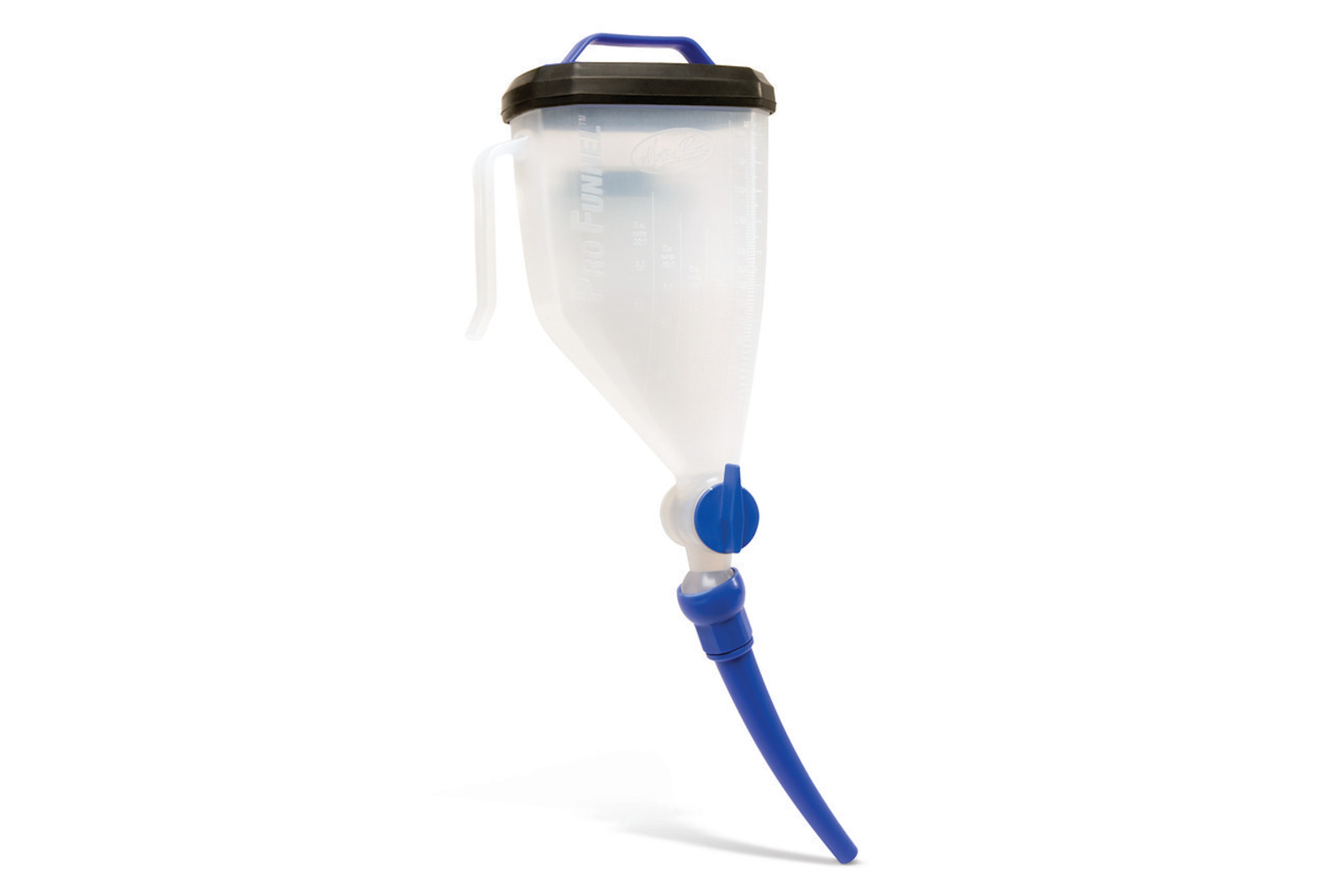 The innovative ProFunnel is unlike any funnel you have seen. Measure and easily dispense your motorcycles fluids with one convenient funnel. The articulating spigot allows you to access hard to reach fill points on modern bikes, while the integrated on/off valve allows you to dispense measurable amounts of fluid using the available graduation marks on the funnel. The Pro Funnel can easily be covered with the included lid and storing has never been easier with the nifty magnet located on the backside of the tool. Store your funnel on your toolbox, bench, or trailer when not It use so you always know where to reach for you ProFunnel.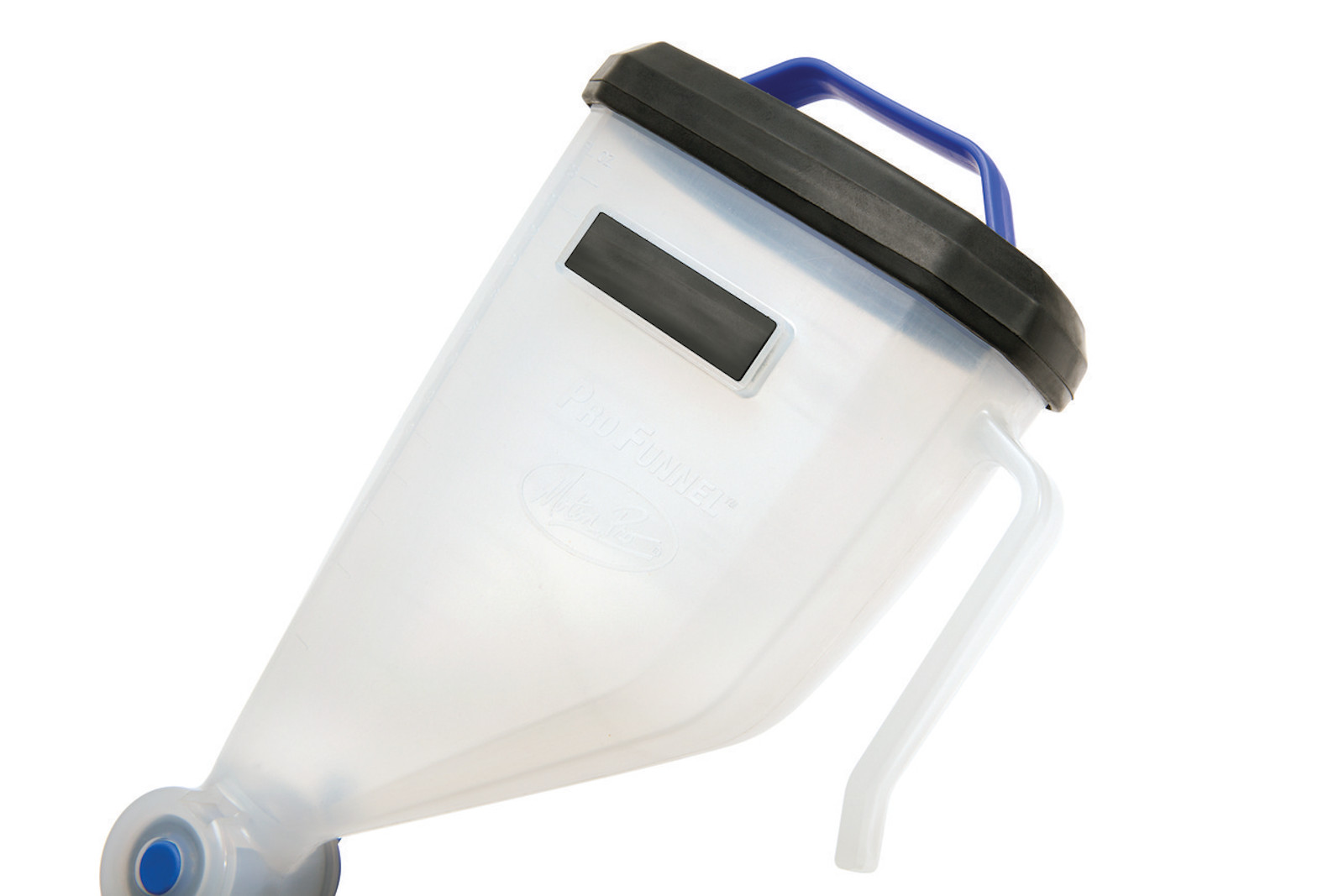 Pro Funnel in a nutshell:
Integrated shutoff valve allows precise amount of liquid to be dispensed
Graduation marks for cubic centimeters, fluid ounces and premix ratio
1000cc (34oz) capacity
Easy to understand premix ratio graduations for 32:1, 40:1, 50:1, and 60:1 for 1 to 3 gallons
Adjustable ball-pivot spout allows easy, spill-free filling
Top cover keeps dust and dirt out when not in use
Magnet allows funnel to be stored conveniently on the side of your tool box
Large molded handle for secure grip
Reduced neck keeps funnel from dripping residue when funnel is laid on its side
Made from ultra-durable HDPE plastic
Tip size can be trimmed to fit your application
Cost: $39.99
Pro Fill™ Air Chuck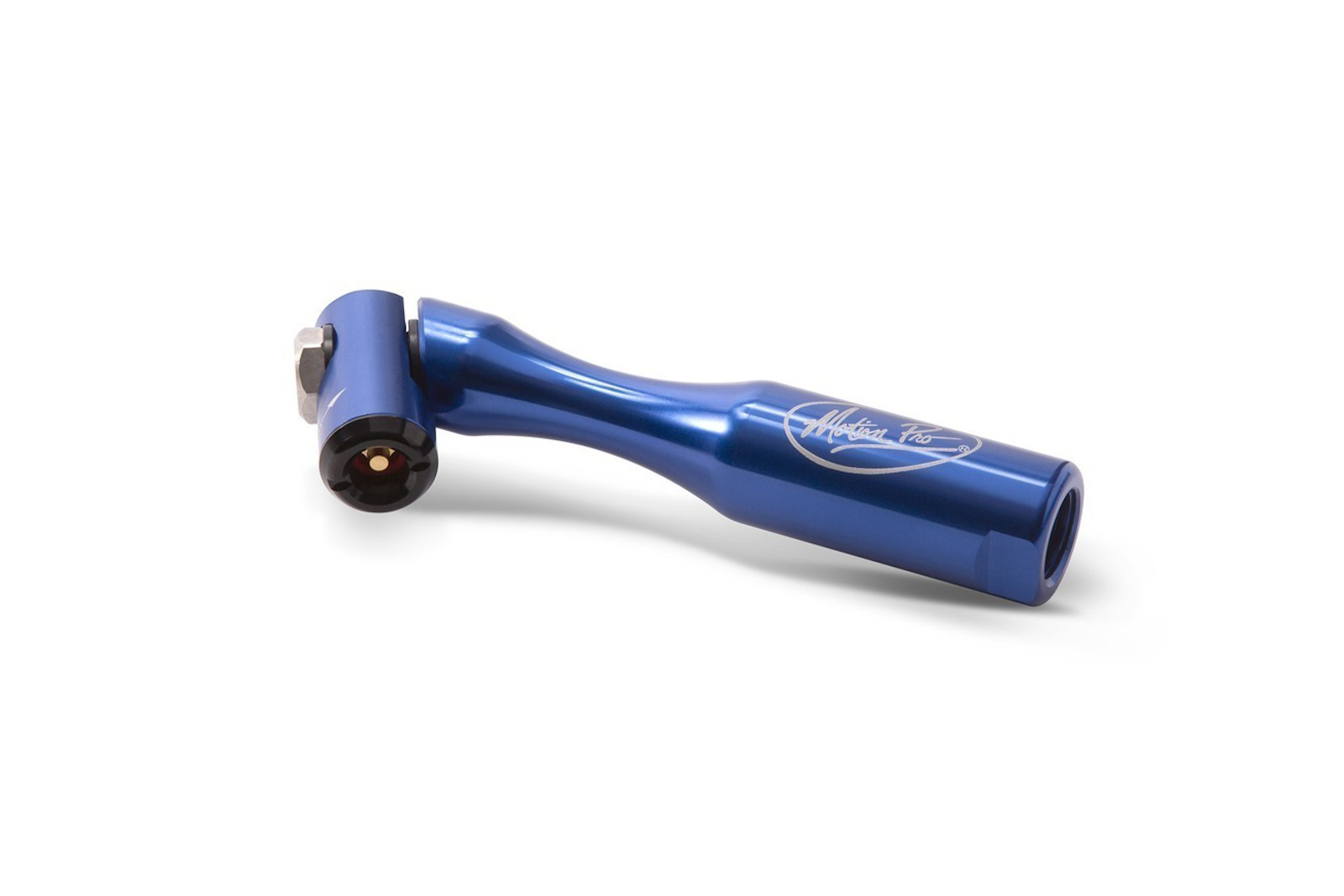 Getting to a hard to reach tire valve can make tire filling a big pain. The Pro Fill Chuck™ from Motion Pro provides a innovative swivel head making it easy to reach any tire valve with tight clearances. The patented pivot head on the Pro Fill Chuck™ rotates to adjust the angle relative to the handle and obtain the best positioning possible to easily fill your tires. The Pro Fill Air Chuck can be connected to your air source with use of a standard 1/4 NPT female inlet and also is a great compliment to the Motion Pro Digital Tire Pressure Gauge. The Pro Fill Chuck™ works great on most motorcycles, atvs, and utvs.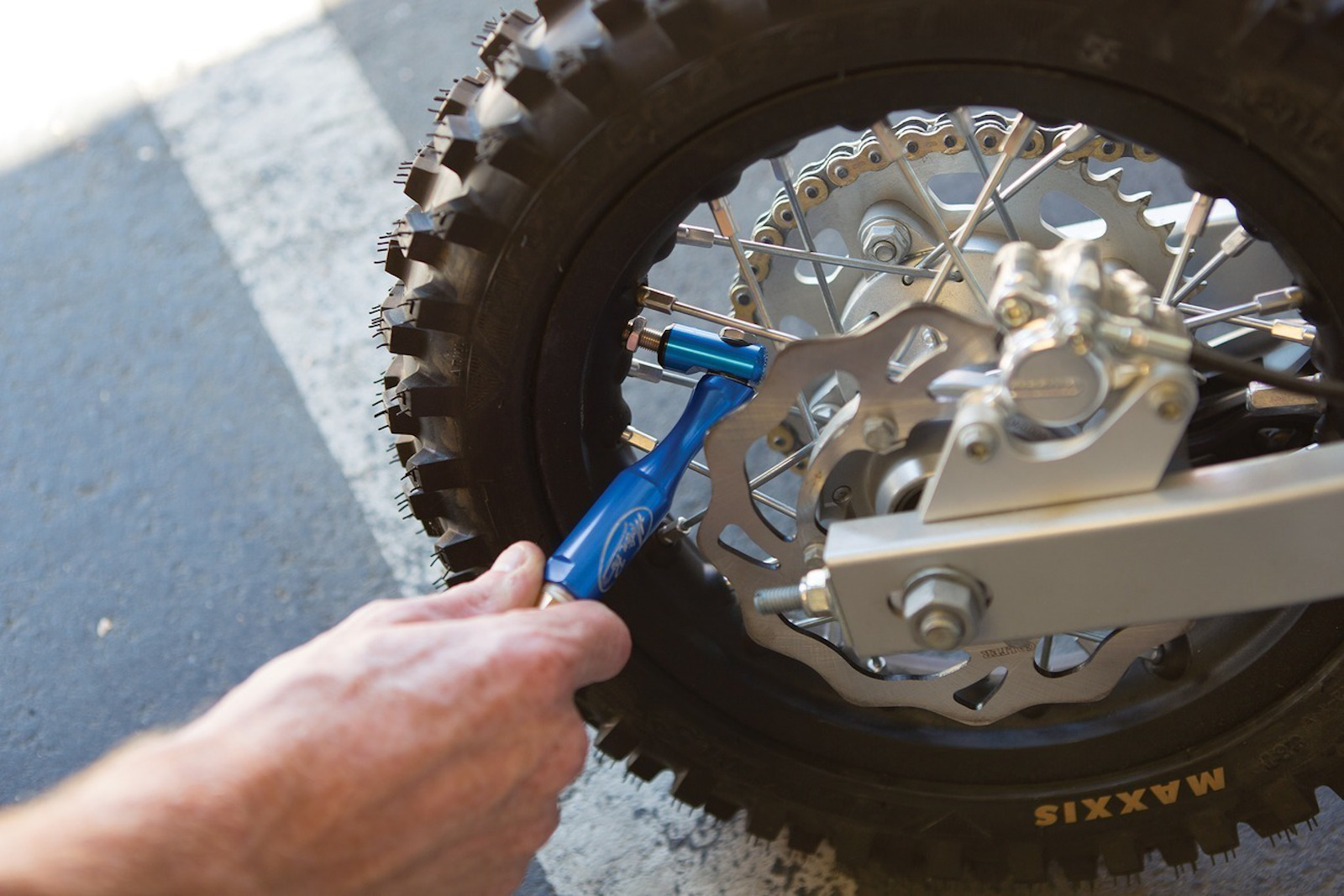 Pro Fill Air Chuck in a nutshell:
New head design provides easier angle adjustment and keeps head oriented in its adjusted position during use
New O-ring sealing system and thrust washer provides reliable airtight seal
Stainless steel banjo pivot bolt provides durable performance
Pivoting angled head design allows access to difficult to reach tire valves
Unique design provides added hand clearance between filler and hot brake rotors
Billet aluminum construction for light weight and precise fit and function
1/4 inch NPT female inlet allows use of common air hose couplings and fittings
Blue anodized finish with laser engraved Motion Pro logo
Perfect complement for Motion Pro air gauges and compressed air systems
US Patent No. 9,649,898
Lifetime limited warranty
Cost: $40.99
Shock Bearing Puller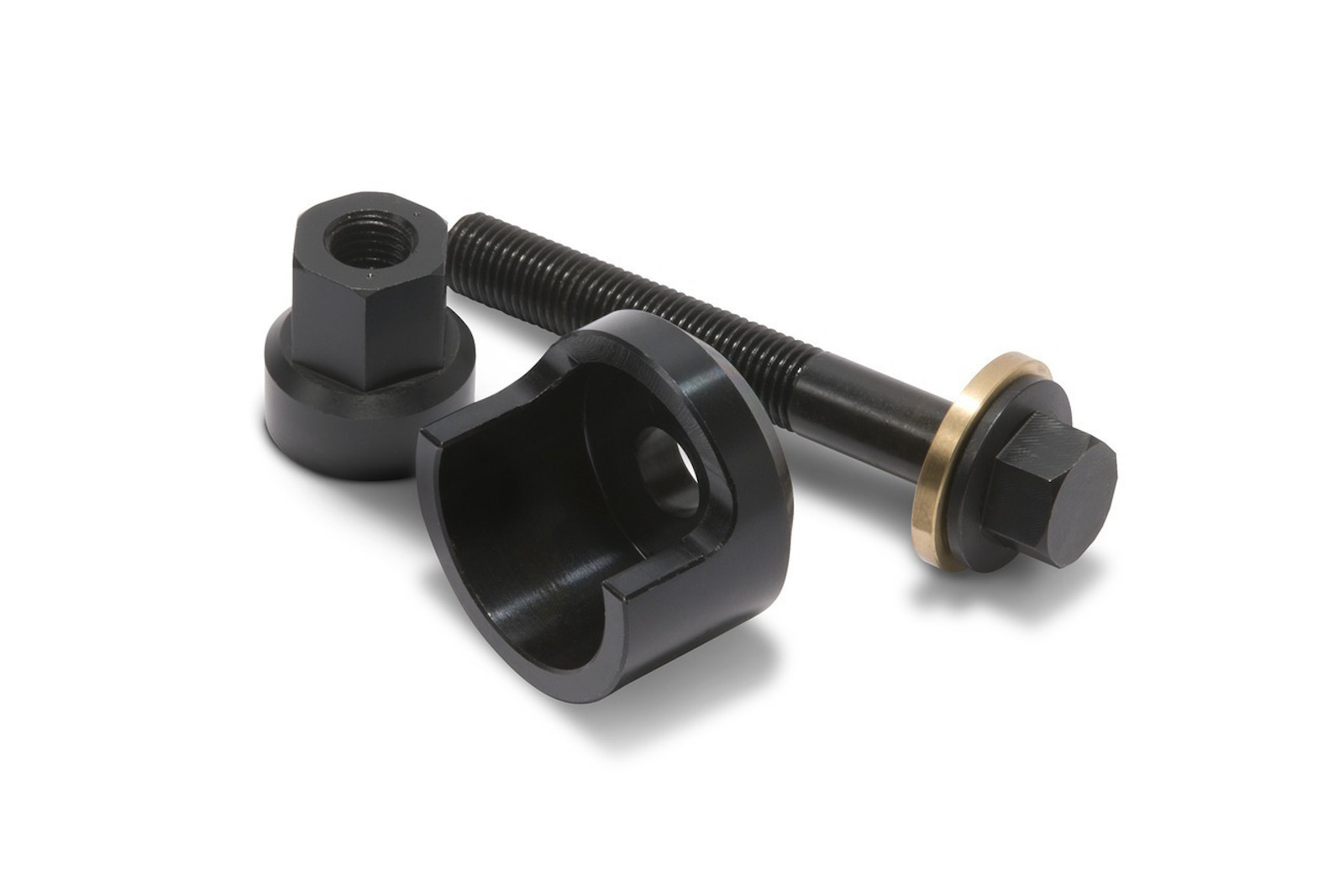 When servicing your motorcycle's suspension, removing and installing spherical bearings on a rear shock can be tricky. Traditionally shock bearings are removed and installed using a vise or press, a few sockets and maybe even a hammer and punch of some sort. If you're not careful you can damage, even ruin a rear shock body. Why take that gamble with such an important and expensive component? Now you can easily remove and install spherical bearings with the Shock Bearing Puller by Motion Pro. Designed to fit standard 24 mm bearings, It easily removes and installs spherical bearings without damaging your shock. The Shock Bearing Puller features a reversible puller cup with a cutaway to fit a wide variety of shock reservoir and compression adjuster configurations. In addition, all you need is 14mm & 17mm box-end wrench to get the job done. Replace your spherical shock bearings with ease and without the need for traditional shop tools, the compact design of the Shock Bearing Tool allows easy storage in any tool box.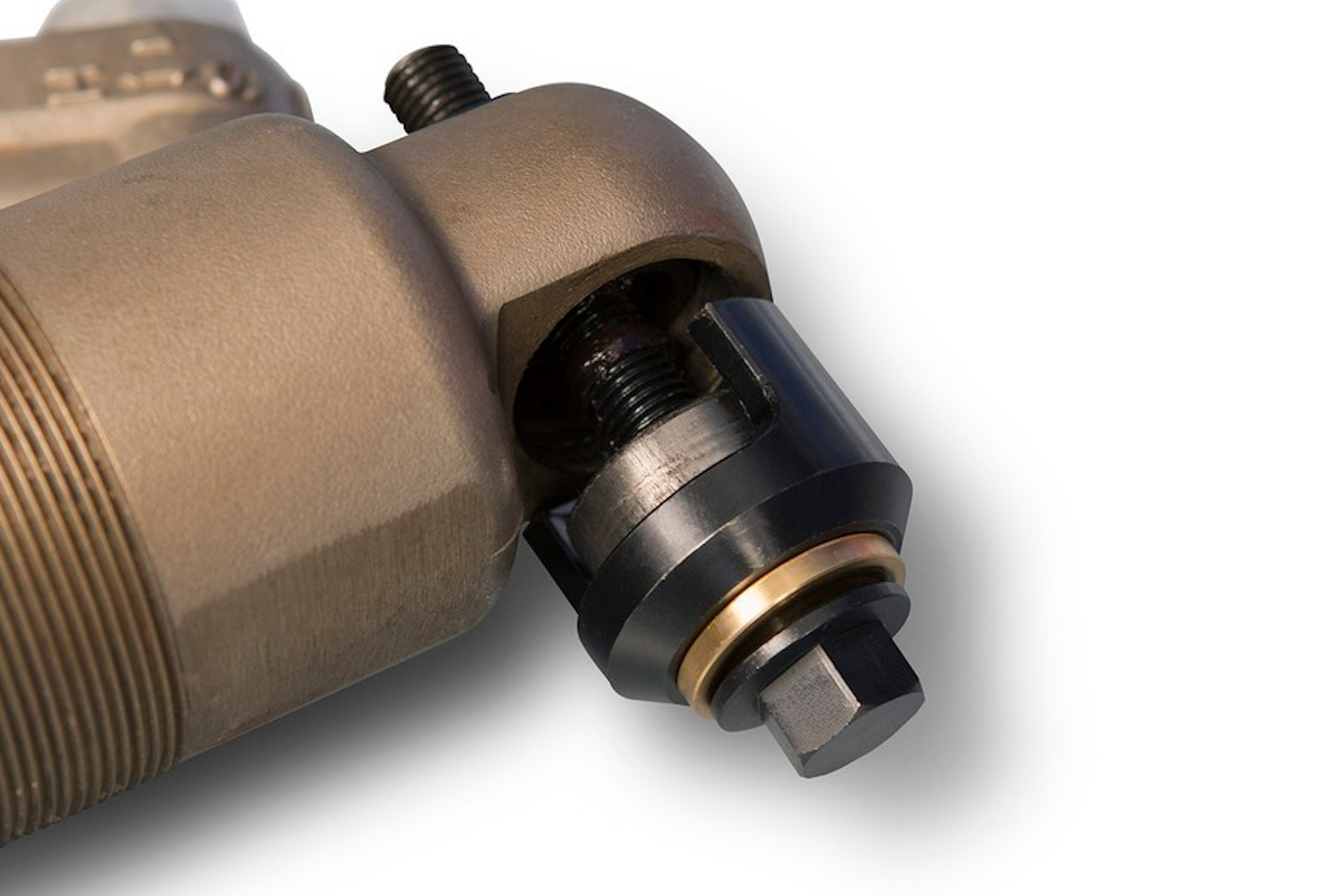 Shock Bearing Puller in a nutshell:
Safely removes and installs the upper spherical bearing on rear shocks
Fits 24mm OD bearings
Durable hardened tool steel construction
Corrosion resistant black oxide coating
Laser etched for easy identification
Reversible puller cup with cutaway fits a wide variety of shock reservoir and compression adjuster configurations
Durable brass thrust washer
1 year limited warranty
Cost: $31.99
More information: www.motionpro.com