SCOTT partners with RedMoto for 2020
SCOTT announces a new official partnership with Honda Racing RedMoto World Enduro Team for the 2020 season.
The Honda Racing RedMoto World Enduro Team is based out of Bergamo, Italy. Headed up by Matteo Boffelli, the team has many years of experience competing at a world class level in the FIM Enduro World Championship.
For the 2020 FIM Enduro World Championship season, SCOTT will be proudly supplying the Honda RedMoto team riders with our latest goggles, gear and protection. SCOTT's protection partner D3O will also be an official sponsor of the team. Together SCOTT and D3O's co-developed products will offer the riders the best level of protection. The partnership deal currently runs until 2022.
The RedMoto team will be using our top-of-the-range goggle, the Prospect. Featuring the widest field of vision on the market, NoSweat Face Foam, the innovative SCOTT Lens Lock System, articulating outriggers and more, the Prospect goggle is the perfect choice for defending your vision on the most demanding of enduro terrain. Our wide selection of lenses, including everything from colored chrome options to grey, clear and light sensitive will ensure the riders will always have the right lens for the right conditions on race day.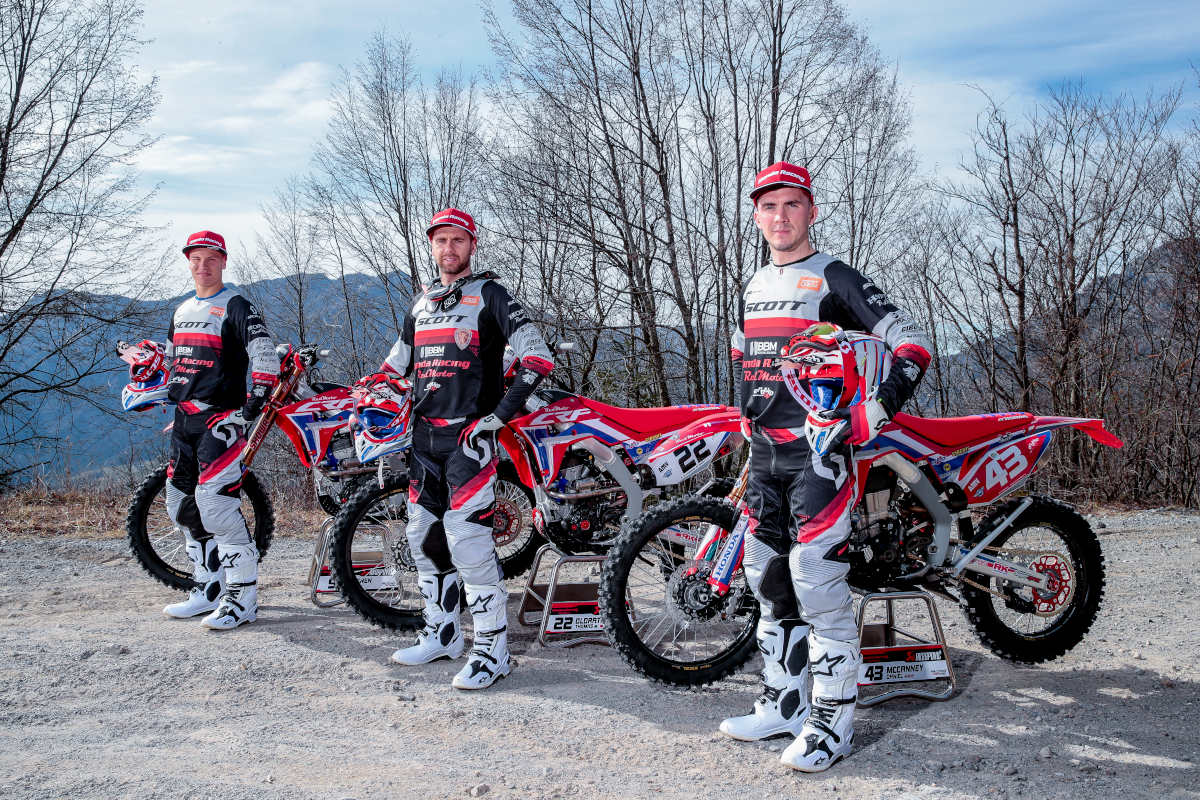 The Honda Racing RedMoto World Enduro Team riders will be the first in the world to compete in SCOTT's brand-new, next-generation Softcon Air line of protection products. Developed in partnership with D3O, this collection puts the focus on comfort, ventilation and safety.
The state-of-the-art D3O® plate design uses SCOTT's exclusive AirFlex technology, which provides fully certified levels of safety and maximum freedom of movement, whilst simultaneously increasing air-flow to the body.
This makes it the perfect choice for using on the unpredictable and challenging terrain found on the FIM Enduro World Championship circuit. Currently exclusive to our pro riders, the full protection line will be available to the public later this year.
To complete the look, the RedMoto team will use the latest SCOTT 450 gear and gloves. The highly-durable 450 series is our premium gear line and includes top-end features such as strategically placed ventilation panels, an athletic fit and moisture wicking construction on the jersey along with a mix of lightweight and breathable panels, durable abrasion resistant nylon and Buffalo leather knee reinforcement on the pants.
All this and more will ensure the team are fully prepared for anything the grueling FIM Enduro World Championship courses can throw at them.
Marco Galli
Motosports Marketing Manager SCOTT SPORTS
"We are enthusiastic to expand our collaboration with the Honda Racing RedMoto World Enduro Team, one of the leading international enduro teams.
After the success we achieved together in 2019 with our goggles and masks, this year we will have the opportunity to work together on a wider range of products such as the SCOTT 450 off-road clothing and the innovative SCOTT Softcon Air protectors developed in collaboration with D3O.
Thanks to the professionalism of the team and the talent of the pilots I'm sure we will be able to reach very important goals for SCOTT SPORTS as soon as this crisis situation settles."
Matteo Boffelli
Team Manager
"Honda Racing RedMoto World Enduro Team is extremely proud to have expanded its collaboration with prestigious brands such as SCOTT SPORTS and D3O.
SCOTT SPORTS is one of the most important manufacturers in sport and motorcycle racing. Great news for our team is D3O and the range of protective gear produced in collaboration with SCOTT SPORTS. D3O is one of the largest and most modern manufacturers of off-road protection, using totally innovative materials.
These two brands are a very important reference point for our team and our pilots. We are confident that we have partners who can offer us products of maximum safety and our pilots will do their best to achieve the best results.
Thanks to Marco Galli from SCOTT SPORTS INTERNATIONAL, Blanche Maass and Imogen Naylor-Higgs from D3O for the trust placed in our team."