First look: Sherco Racing Parts triple clamps and shock preload adjuster
Sherco has announced a new ROCS X-Trig anodised triple clamp and X-Trig shock preload adjuster to their extensive Racing Parts catalogue for Enduro and XC models.
The latest additions to the Racing Parts catalogue will bring a little more 'bling' to Sherco owner's bikes with two bolt-on parts to match those used by factory riders like Mario Roman and Hamish Macdonald on their race bikes.
Sure, it's about looking good but more importantly, the ROCS X-Trig triple clamps and shock preload adjuster also bring more adjustability within easy reach so you can tailor the suspension and handling to suit conditions.
The new X-Trig forks triple clamps allow the motorcycle caster angle (off-set) to be quickly changed for faster or slower steering depending on the type of terrain (fast or a technical circuit).
ROCS X-Trig triple clamps technical highlights:
Adjustable through 20 to 22mm (Factory setting is 20mm)
Improved responsiveness of the fork
Higher resistance to turning and anti-deformation of the fork tubes when tightening the clamps
Better rigidity of the front axle for optimal operation of the fork
Adjustable handlebar mount positions (x3)
High-quality machining and finishing of the reinforced aluminium
Developed in collaboration with factory race teams
Indicator located on the upper tee to show the off-set chosen
Supplied with the lower bearing mounted on the steering column.
The diagonal cut of the lower crown allows the tightening to be evenly distributed to avoid any deformation of the fork tubes.
Tightening torques indicated on the clamps
Straight replacement for the original clamps
Sherco Factory team colour anodising
KYB shock preload adjuster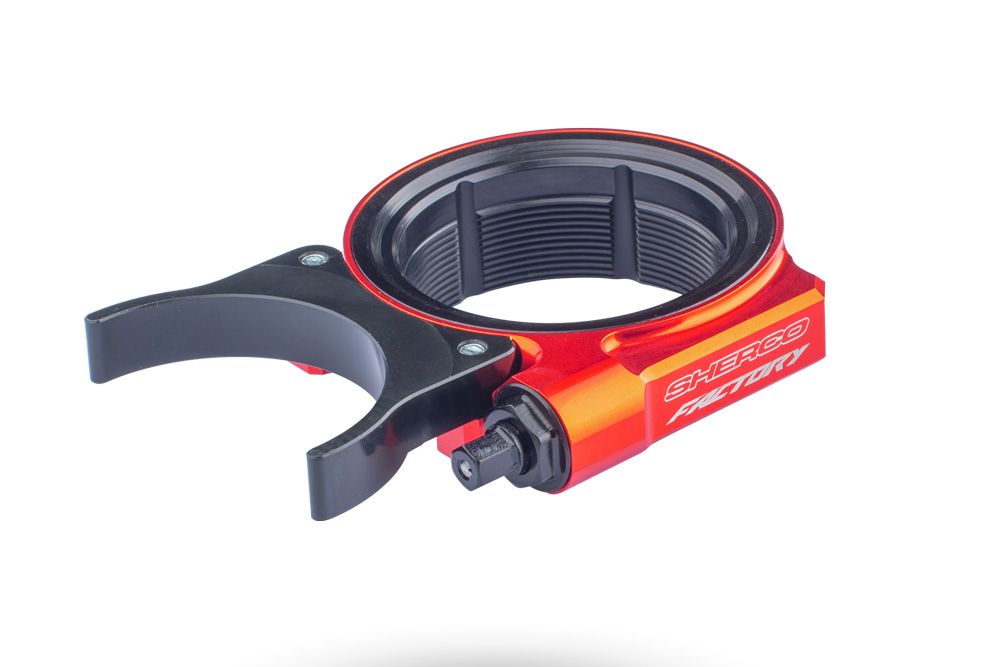 The other new part introduced by Sherco is the X-Trig preload adjuster which, like the triple clamps, is equally aimed at giving riders easy adjustment options at the track.
The X-Trig preload adjuster allows the tailoring of your KYB shock to check or change the sag setting and comes embossed with the Sherco logo.
More information and your nearest dealer: www.sherco.com/en/network