Tested: Ogio Dakar 3-litre off road backpack
We've put our Ogio three-litre Dakar hydration backpack for Enduro and Off Road Trail riding goes through 12 months of real world testing on the trail...
Backpack and hydration packs for off road use come in many different shapes and sizes. From pure race hydration packs to full-on designs aimed squarely at adventure riding, the options are comprehensive depending on your needs.
The type we've tested here is the Dakar three-litre hydration backpack made for Husqvarna Motorcycles by Ogio, which broadly speaking fits into the 'daypack' category. It's available in different colours if you do not want the Husky one – there's also a KTM version or Ogio's own colours.
After many hours on the trail, here's what we found out about Ogio's Dakar backpack…
Enduro21 says:
We've had this backpack around 12 months or so and have been using it as a trail pack mostly, with a few MTB excursions and an enduro test session or two.
In short, it's the kind of medium sized trail pack, a daypack many call it which makes it handy and practical. The size (17.5" H x 10" W x 8" D) means it lends itself to those 'out for a while' rides rather than racing and we think it'd be stretching it a bit to use it for an overnight trip.
Ogio's harness system is strong and adjustable for different body sizes and the comfort is good when riding, solid in place when you're moving about on the bike. The straps are padded and overall it is comfortable with different weight in there, especially when full with water.
...the Dakar backpack has proved a very solid addition to the kit bag. The build quality has proved itself in all weathers and withstood some tumbles.
Enduro21
I've tested its strength a few times when I've hit the deck (one time somehow snapping the hydration bladder 'frame') or caught the pack on a tree – one time it pulled me off the bike with no ill effect to the bag. There's no doubt it is stitched together like a good 'un!
The main storage area has no other functions (no stretch loops or pouches) and takes a reasonable amount of tools, inner tubes if you want and has room for a few items of clothing if you need to carry them or remove stuff as you get hot – typically I carry a few tools, a spare clothing layer or two, my phone, wallet and a spare set of gloves.
The water pouch is good size at three litres and inside the bladder stowage area is insulated against heat so the water stays pretty cool in hot conditions. Padding on the back area also keeps the bulk and weight of the pack comfortable even on rough terrain.
After many hours use the hydration pack remains odour-free and has not caused any tainted water taste I can detect although I do rinse it out after use. The nozzle is working fine too (it twists to lock) and, should any of these parts need replacing, Ogio has options.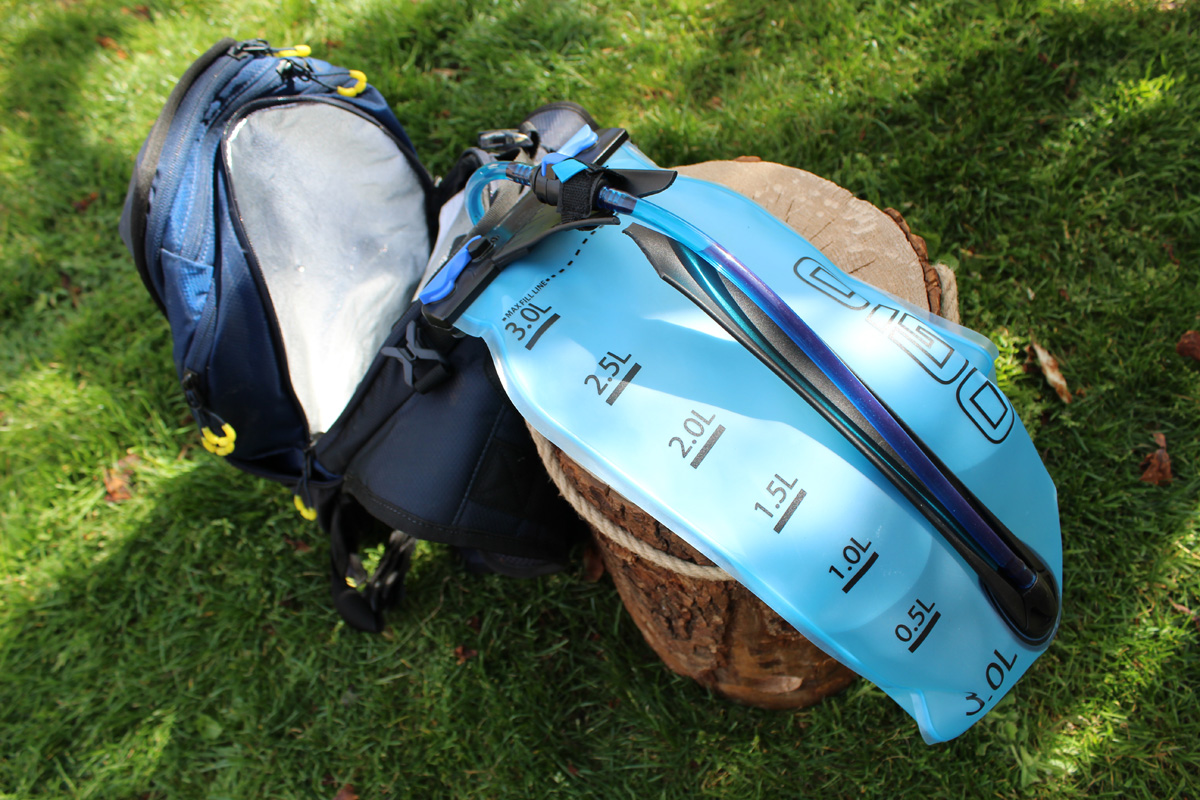 Pockets are good enough with separate stowaway compartments for a phone, money or wallet at the front, a soft pocket right on top for glasses or non-scratch area for your phone if you want instead.
Side stretch pockets are also good for access to nutrition bars or a dirt/dust cloth on the move (one of them is zipped and the other open). There are a couple of loop holes/slits on the lower, outer section through which I've added a rear facing bike light for added visibility from behind.
It is no 100% waterproof and doesn't claim to be – when it is raining I put phone and wallet inside a plastic bag – but it does certainly keep things dry in all but the worst of weather.
Pretty much the one negative we've found is the overall profile design brings the top of the bag up and out (behind your head), which can catch on low branches as you duck and ride under them. It's not a big thing but when it happens a dozen times you start to think maybe they could have designed a different shape to this thing!
That said, two straps can be pulled out the front pocket, clipped in at the top and pulled tighter which certainly helps reduce the chances of catching branches. However, using the straps does mean the front pocket has to stay open which adds another way of catching stuff and allows water straight inside the pocket where I prefer to stow my phone.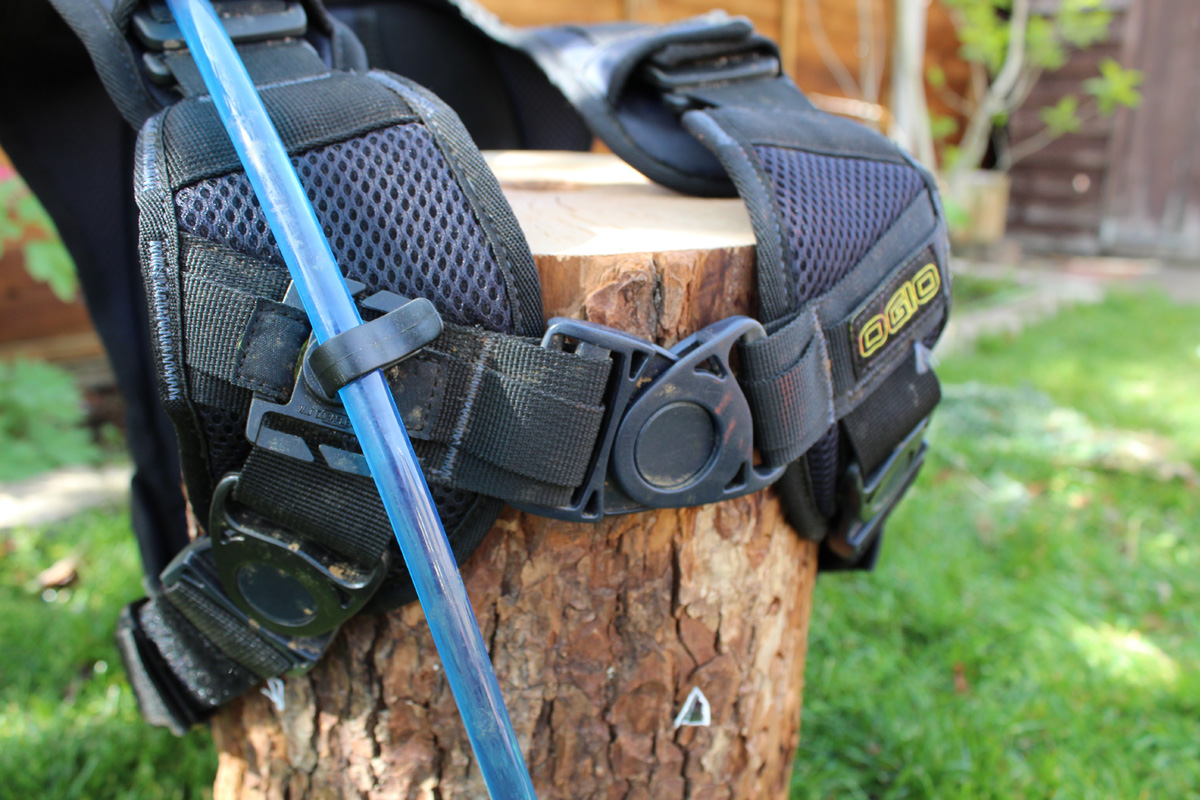 All in all, the Dakar backpack has proved a very solid addition to the kit bag. The build quality has proved itself in all weathers and withstood some tumbles. The straps are wide and do trap body heat a bit but the pay-back is a bag which very much stays in place when you're having a good time on the roughest of trails, helping you remain agile and enjoy the ride.
Ogio says:
Packed with loads of hydration and storage space, the Dakar 3L Hydration Pack delivers streamlined organization in one easy-to-carry pack.
Dimensions: 17.5" H x 10" W x 8" D
Dedicated Anti-Sloshing hydration bladder compartment with hook & loop secure strap for holding bladder in place and tube channel port
Insulated Cooler Fabric lining that keeps liquid cold for 30% longer
Front compartment with mesh ventilation for accessories
Ergonomic padded back with directional air flow
Multi-Adjust harness system designed for easy manoeuvrability. Built for precision fit of all body types
Upper zippered felt-lined electronics pocket for protection
Expandable front storage pocket for helmet or large gear
One expandable and one zippered side mesh pocket for quick access
Multi-Adjust harness system designed for easy manoeuvrability
WebTECHfeature safely secures excess webbing
100oz./3L bladder – Made in USA custom mPE/EVA film, naturally antimicrobial, BPA free, zero taste, and odour-free
Tested for: 12 months
Really liked: Robust build quality, function and range of pockets
Cost: $129.99/£112/€130
Contact: Husqvarna-Motorcycles.com or OgioPowersports.com
Photo Credit: Enduro21