2023 EnduroGP results: Freeman true to form on Day 1 in Italy
2023 FIM EnduroGP World Championship results from day one in San Remo, Italy where Brad Freeman followed the preseason form book with a win ahead of Andrea Verona and Steve Holcombe.
2023 Italian EnduroGP Day 1 in a nutshell:
The preseason form book was followed almost to the letter today, day one of the 2023 EnduroGP of Italy in San Remo.
It was the Freeman from two years ago back in the saddle today, not taking every test outright but steadily inching away as the day progressed to take almost half a minute from the reigning world champion Andrea Verona.
In total four different riders took test wins and shows in the results with Brad taking most of all (six) above his Beta teammate Steve Holcombe (three) and Verona (two) – last night's fastest senior rider Matteo Cavallo took the other test win.
Freeman was rock solid in the long enduro test all day and when he blitzed it on lap three, the overall and E3 win was all but sealed. "I put a lot of pressure on myself to come back and perform how I know I can. I couldn't show that last year but we worked hard in the winter and came out swinging and won the first day so I'm stoked!"
Verona took the E2 class win on his first world championship race in this class on the 350 GASGAS but was knocked back in the overall fight after a crash in the second cross test.
Steve Holcombe was narrowly third and P2 in E2 behind Verona by just four seconds. "It was as shame I couldn't quite get the win in E2, me and Andrea had a good battle but I was just a bit too slow in the third lap. Gerenally it was good though, shoulder's good, feeling with the bike is good so we keep building on a good start to the season."
The Sherco team sporting manager said in the week that his new young gun in the senior ranks Zach Pichon needed to step it up this season if he was to go shoulder o shoulder with the best and the Frenchman did just that.
Topping of the E1 class podium (and finishing best Sherco rider no less) in his first senior day is no small achievement, especially when you see who he beat. "We made a really good job in the winter but I surprised myself today. Beating Josep is something to dream about. I couldn't wish for a better start to the season."
What happened to Josep Garcia? Sixth and P2 in E1 is not a bad day by most people's standards but it is a disastrous start for a guy wanting to win the world championship. "First lap I had quite a big crash in the enduro test which cost me some time but more importantly it cost me the feeling. I tried to recover some time but the tests are very stony and it's not my favourite conditions. Last lap was much better and I will carry this to tomorrow. It's the first day only so we stay focused."
It was a bad day for Nathan Watson, another championship contender who went out on the second lap with a pretty rare thing these days, a bust chain.
The Junior class saw Manxman Jed Etchells pay-off a lot of hard work in the winter with a 20s win for Fantic ahead of Swede Max Ahlin and German Jeremy Sydow third. Etchells says a strong first lap set him up but he was, "struggling quite a lot with the suspension and feeling as the test broke up. But we worked on it all day and in the last lap things were better an hopefully we can carry that through to tomorrow."
The Youth class went with the form book also with Kevin Cristino taking almost half a minute gap over the French duo of Thibault Giraudon and Leo Joyon – these are the riders lining up to take the title this year.
The gaps between Jane Daniels and the usual rivals in the Women's class was about the same today as normal service was resumed, in one sense. But two fresh faces riders jumped in that gap, taking test wins away from the reigning champ and making her work for it. "I made life hard for myself this morning when I crashed in a test and hit a stump. I laid there for a good 40 seconds or so groaning! But I pulled myself together and I'm really pleased to keep my unbeaten run going."
Second on the day and showing a long break from European racing proves nothing, AORC champ Jessica Gardiner finished 18 seconds adrift in second with yesterday's Super Test winner Francesca Nocera third, albeit a more distant minute further back.
The Open class went to Frenchman Enzo Marchal just 1.74 seconds ahead of Spain's longest name award winner, Alejandro Ceballos-Escalera Lopez.
2023 Italian EnduroGP scratch results: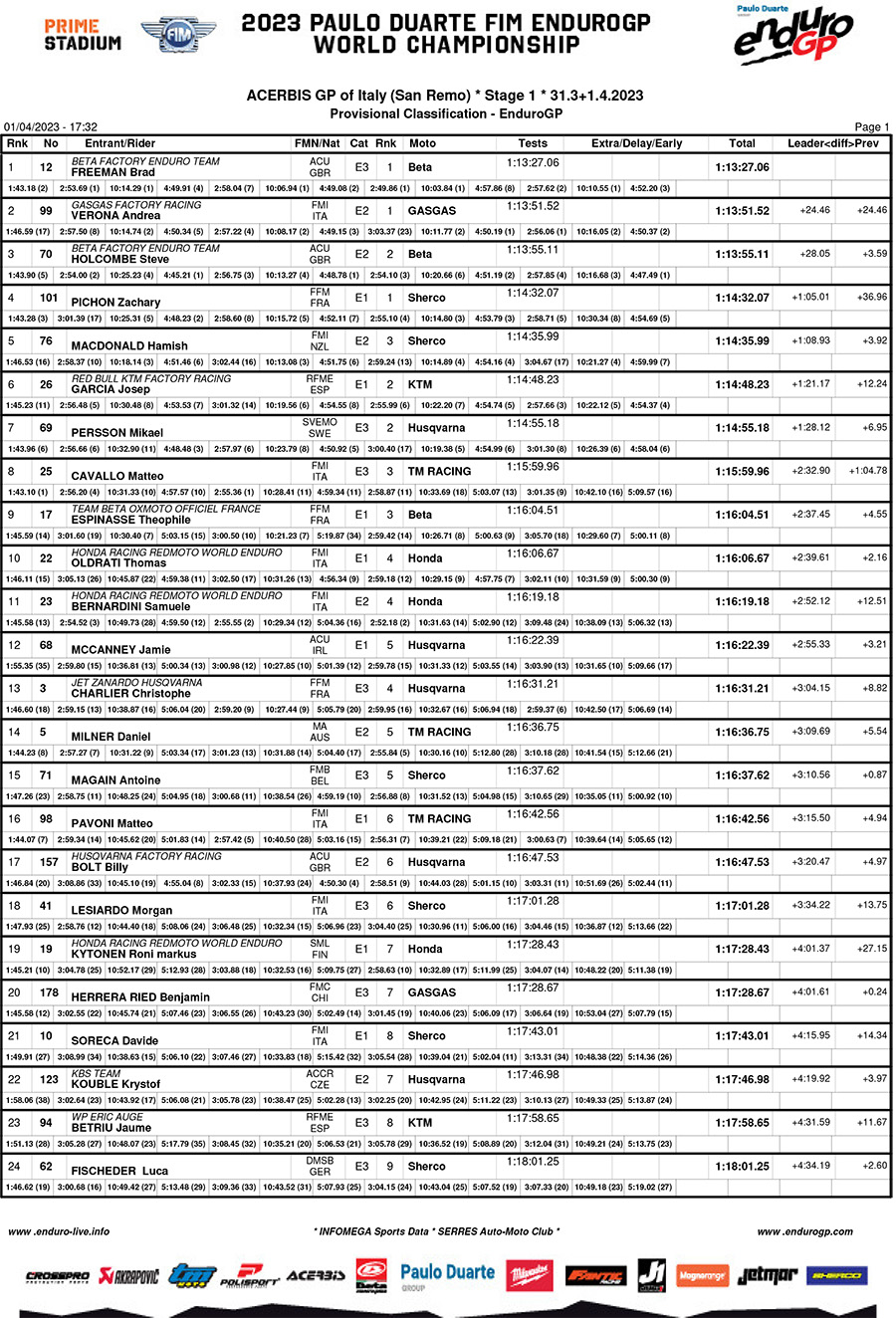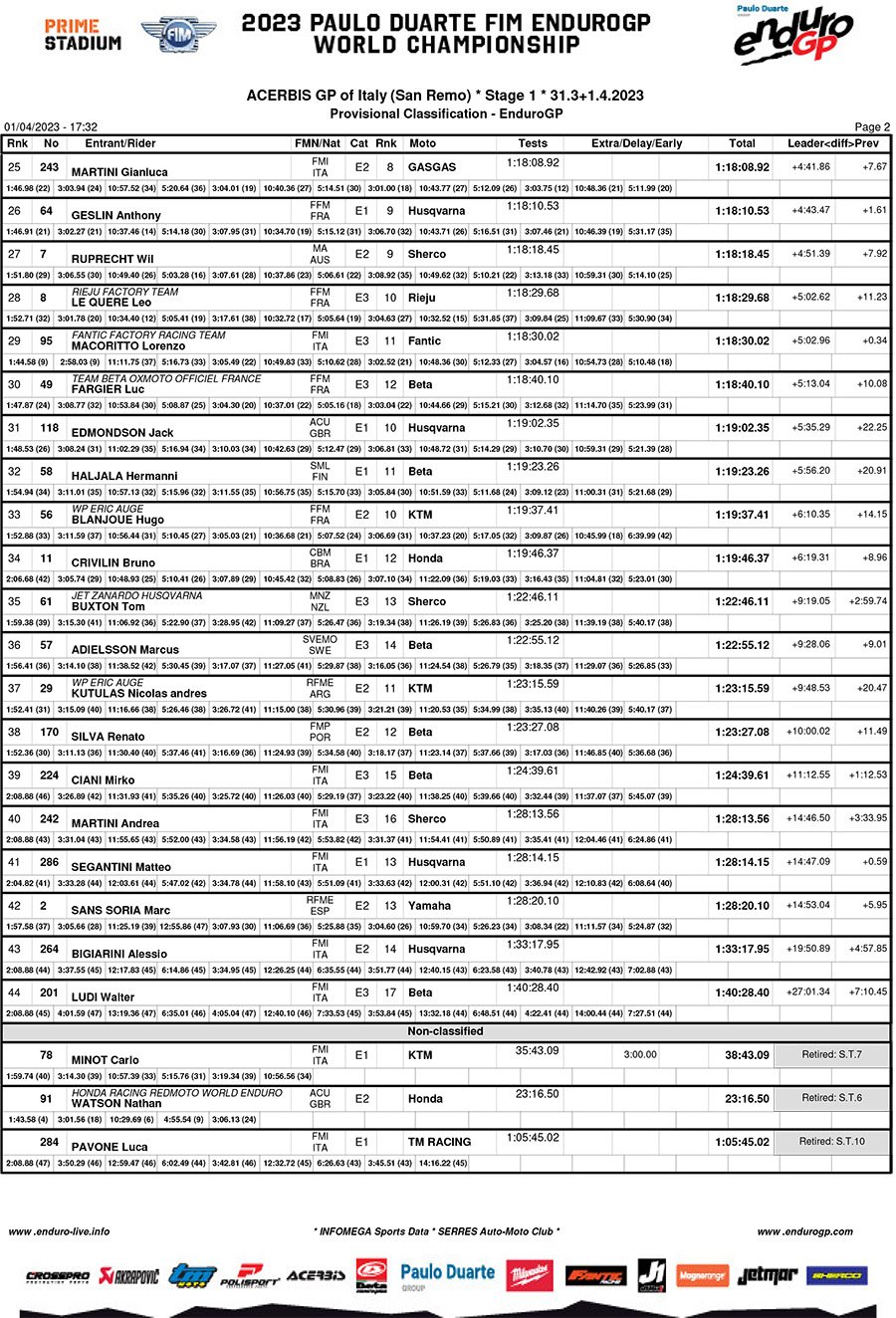 E1 class results: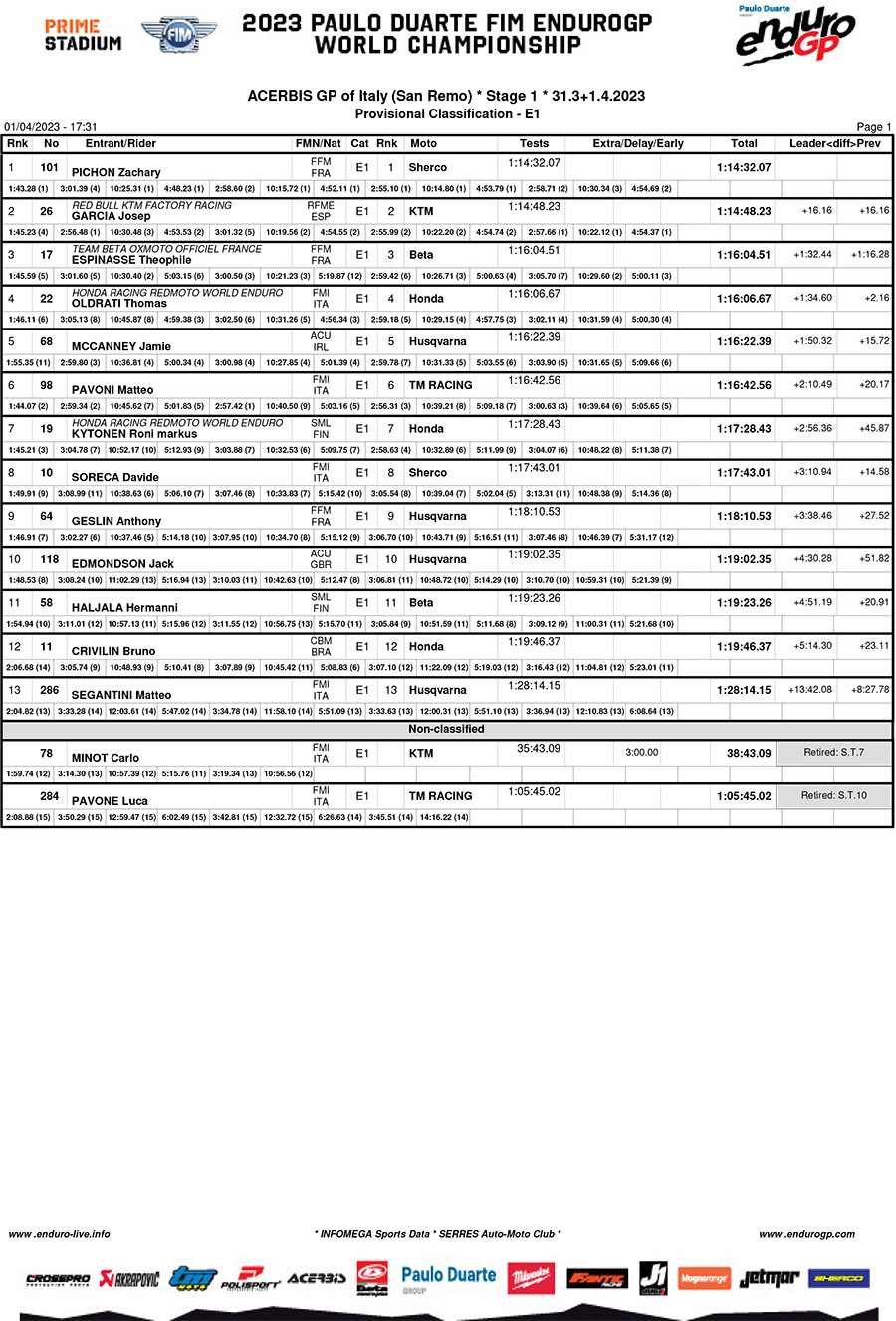 E2 class results: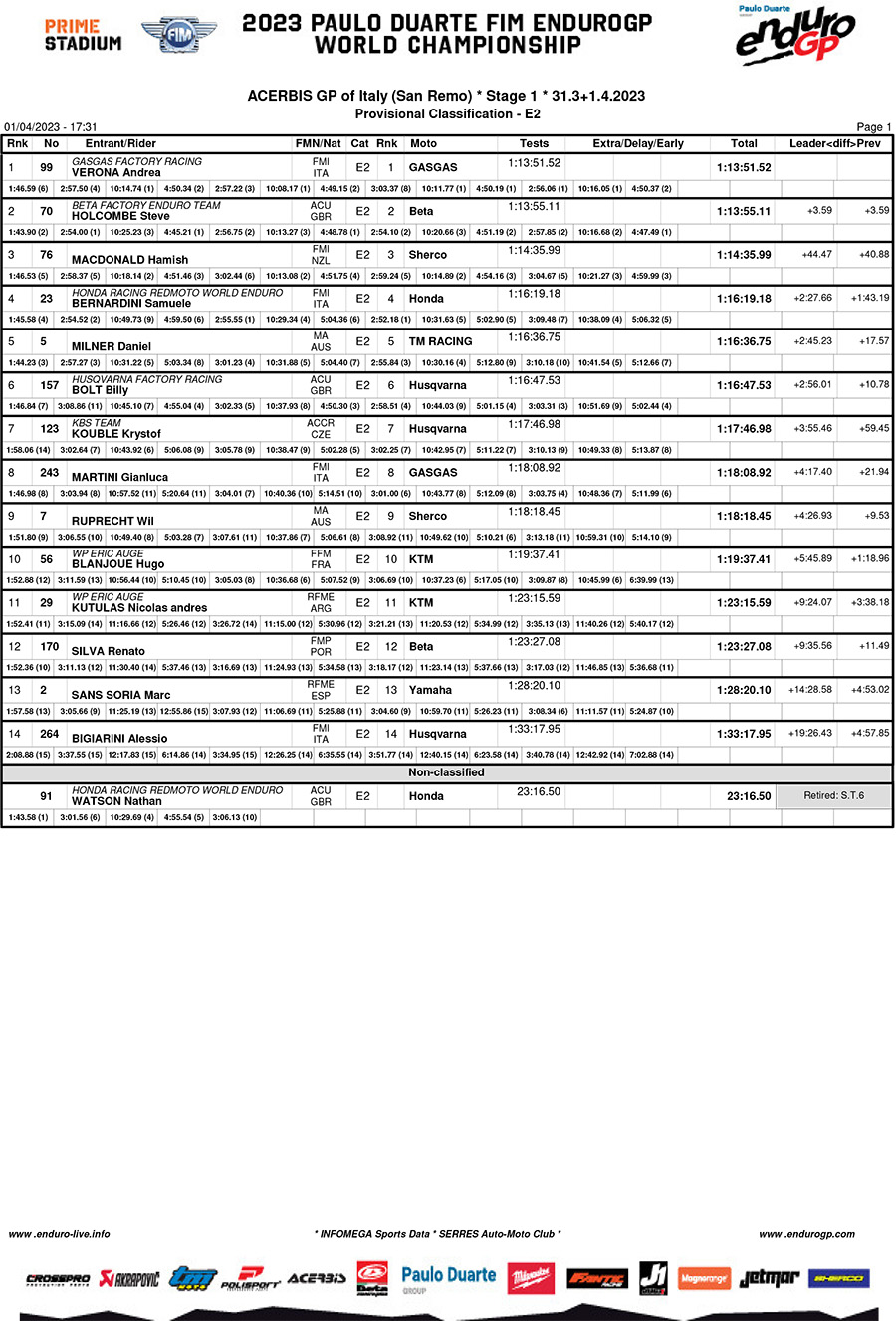 E3 class results: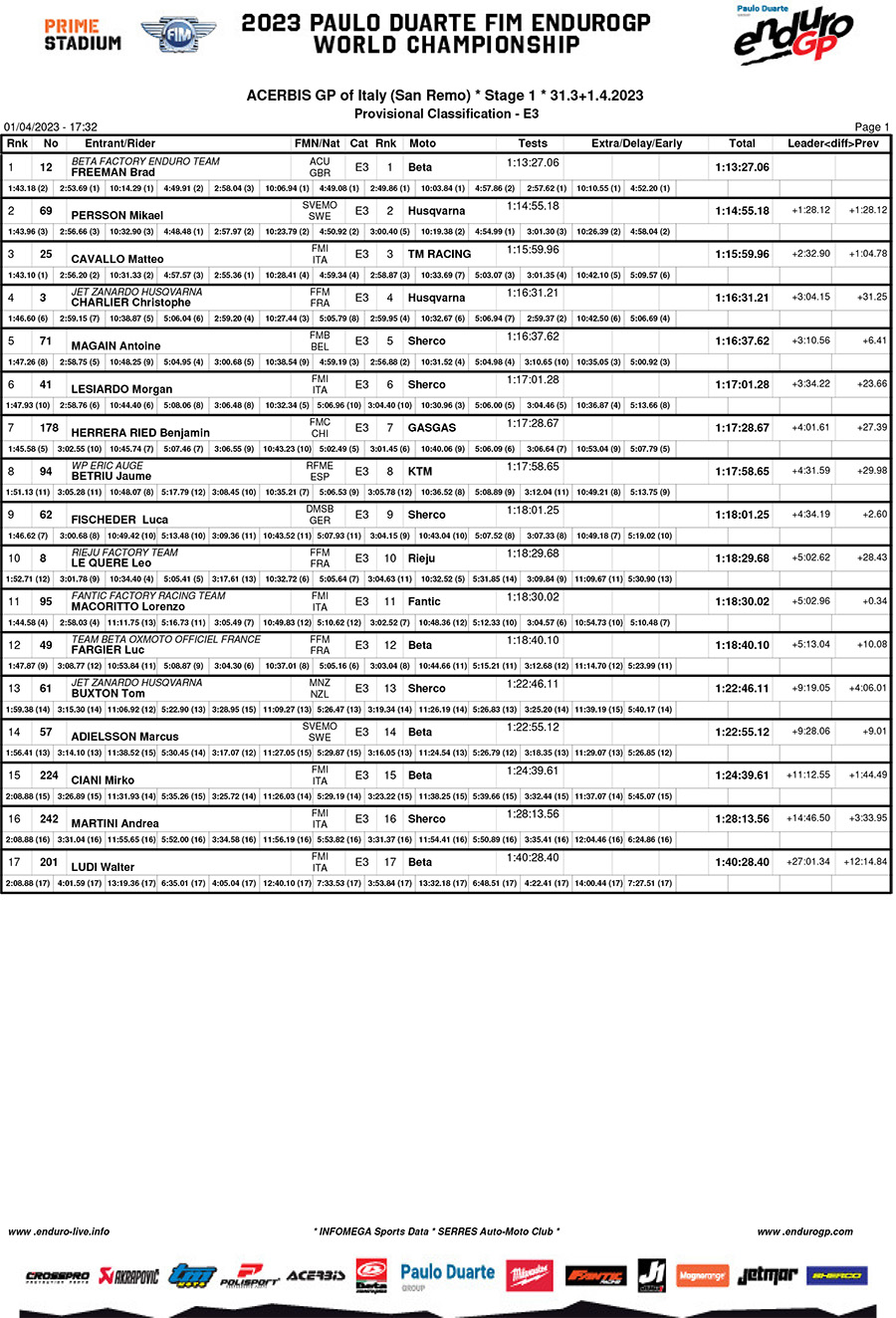 Junior results: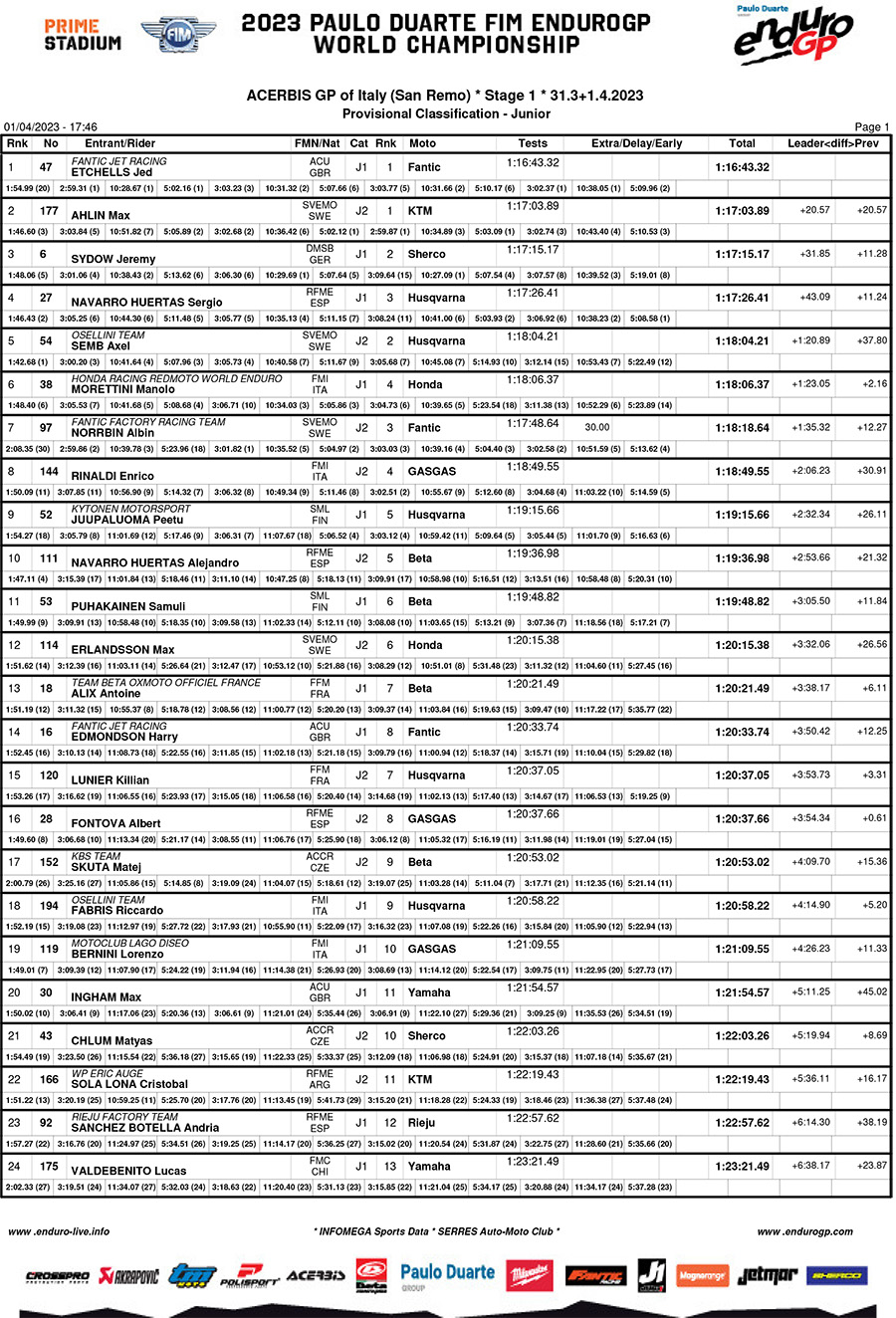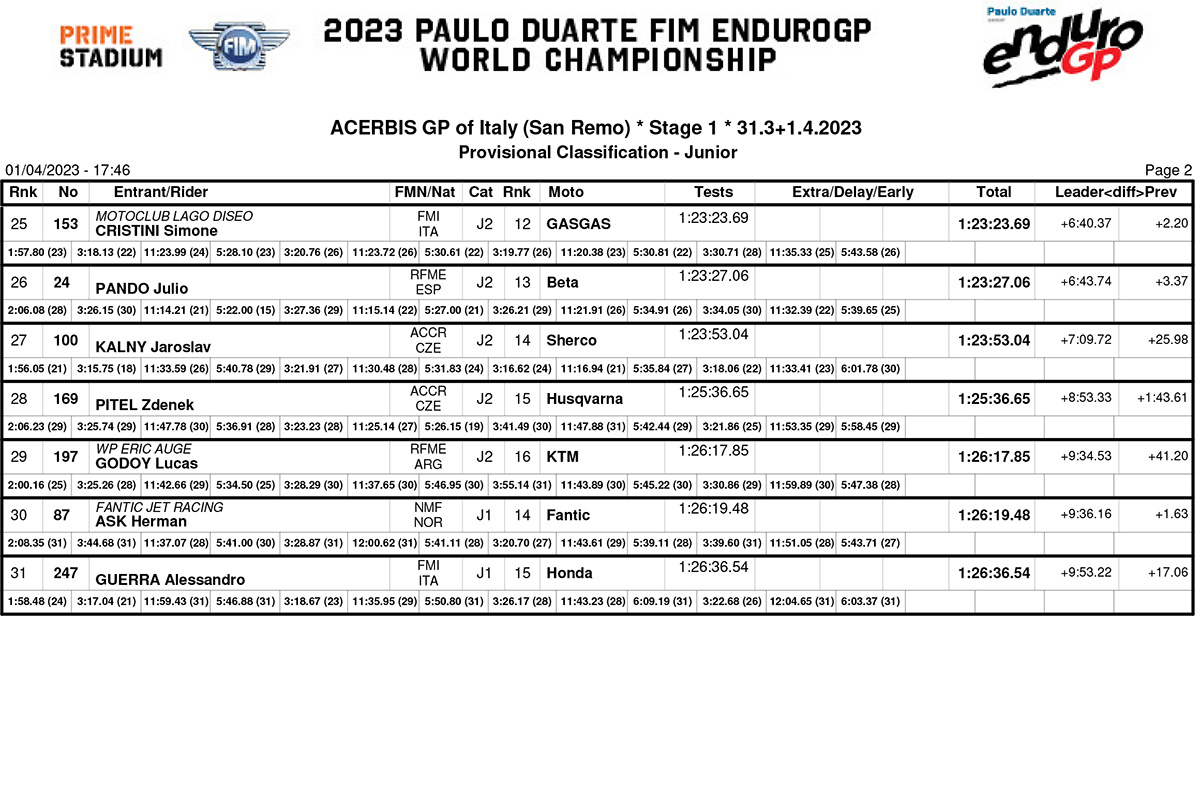 Youth results: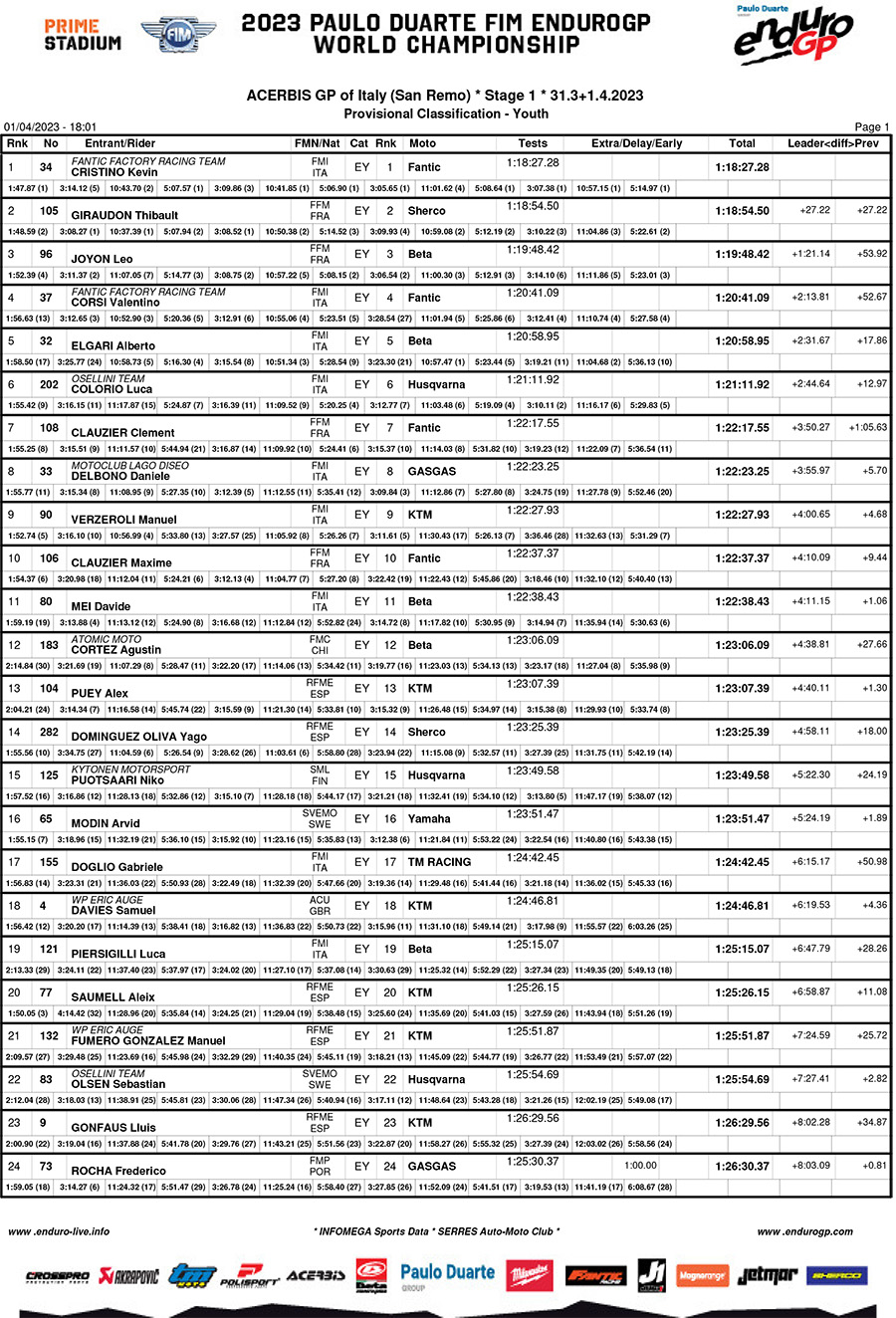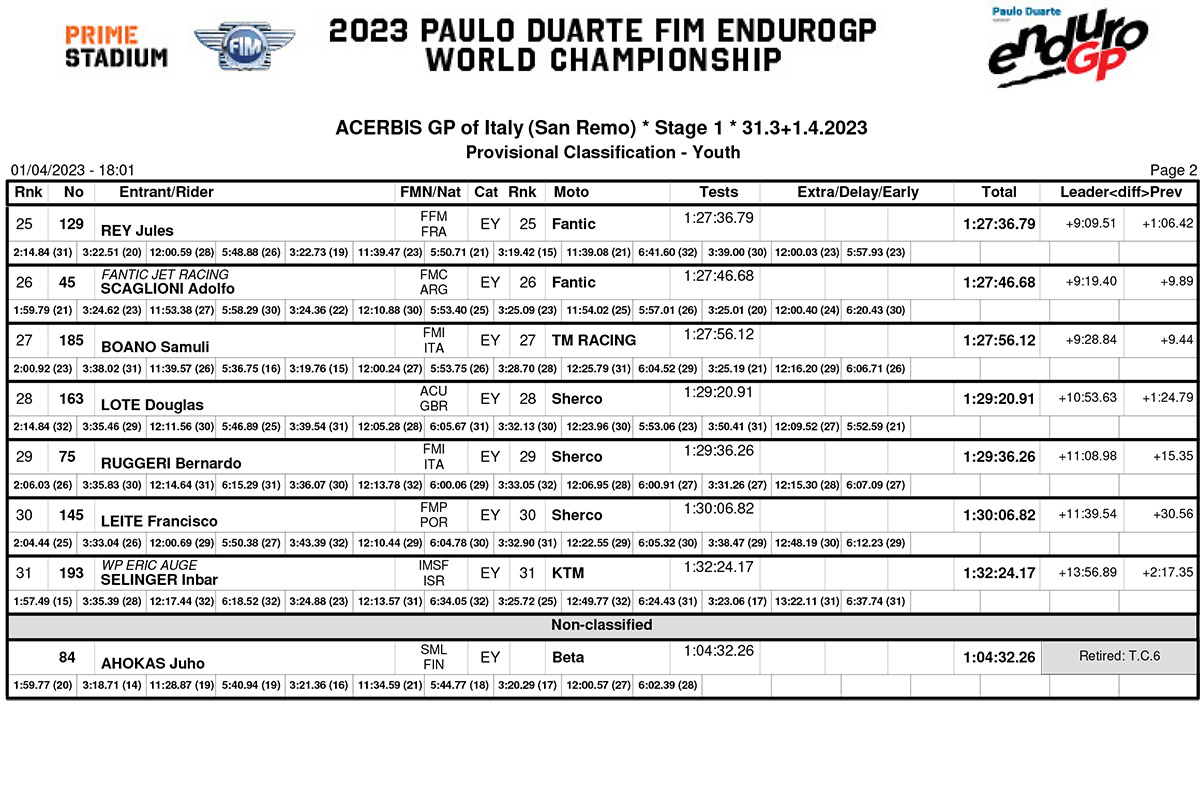 Women results: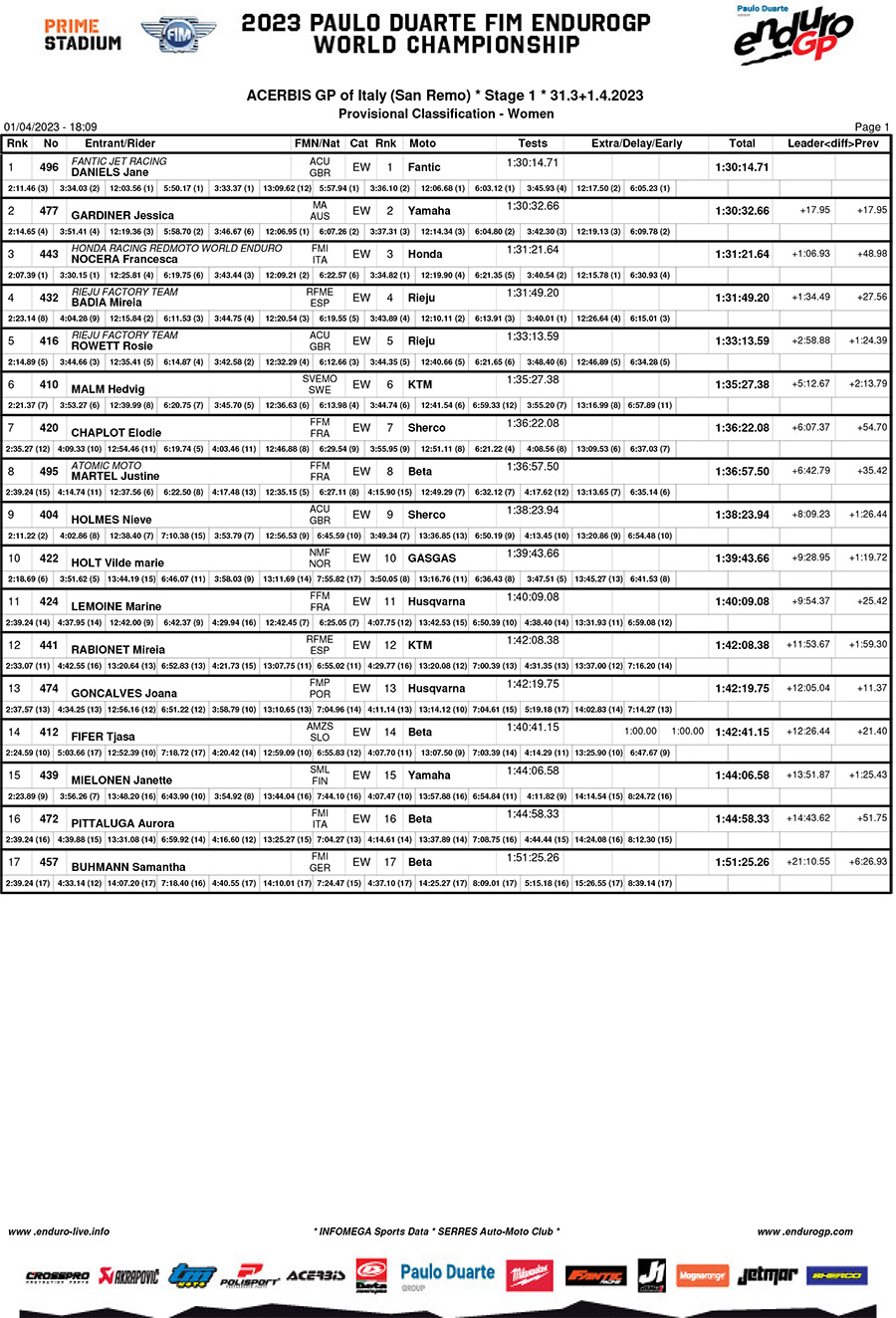 Open results: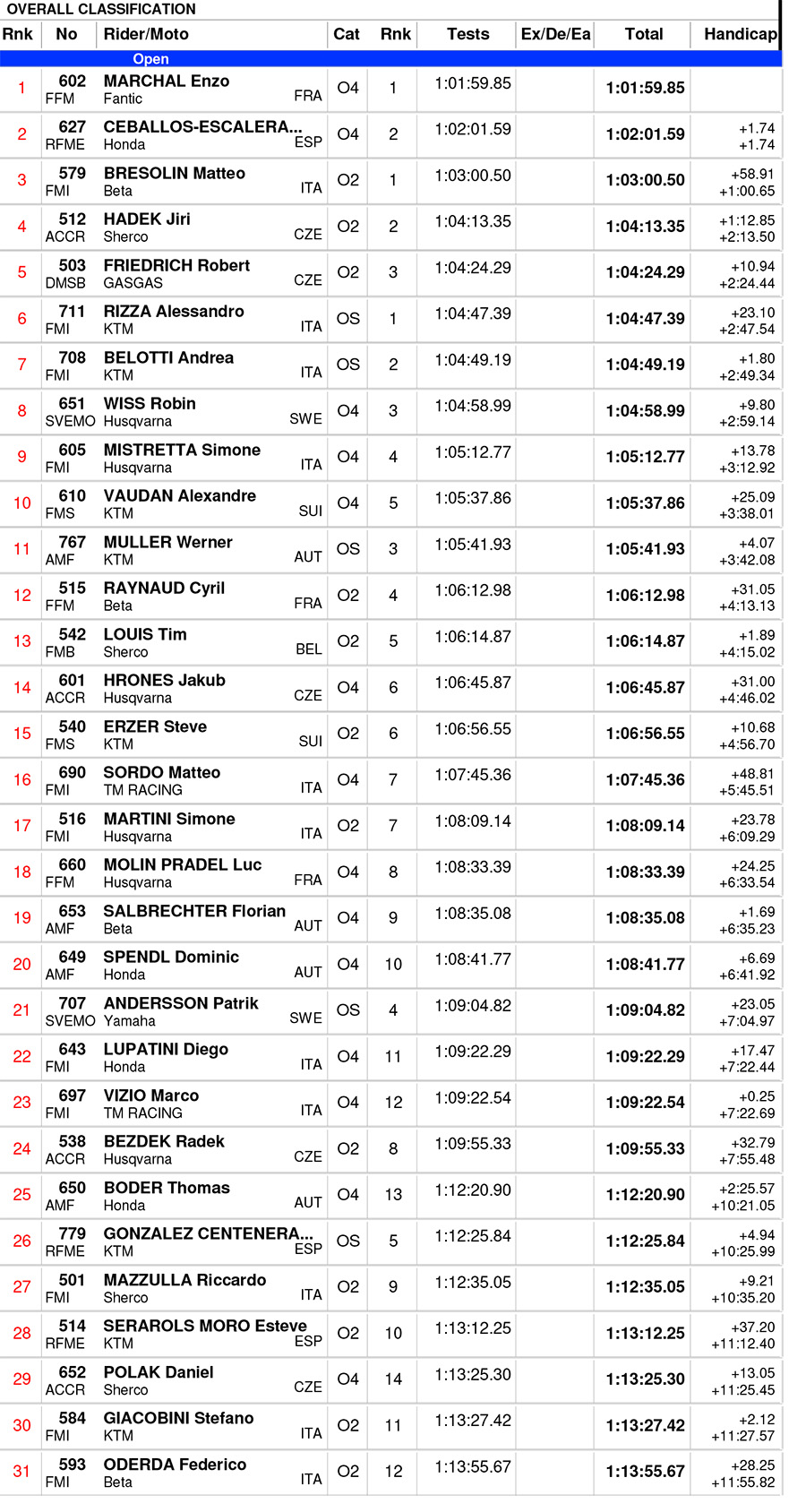 Photo Credit: