EnduroGP World Championship paddock rumour mill – Steve Holcombe leaving Beta?
The stuff of rumours or reality now the 2023 EnduroGP season has ended? Enduro21 sifts through some of the gossip floating around from the world championship paddock and EICMA motorcycle show.
Enduro21 doesn't usually enter into the paddock gossip game. MotoGP, MXGP and Superbike series' make it a pastime but we usually wait until things become facts and then get the real story.
But sometimes those facts are already common knowledge and it makes no sense to keep sitting on our hands, especially when the rumors get blurted out on stage at international motorcycle shows.
So since the 2023 EnduroGP season ended with so many big rumours floating about we had to get some of them down on the page. Disclaimer alert: At the time of writing not everthing below is official...
Big changes at Beta
Let's start with the biggest news of all since it was made public at the EICMA motorcycle show last week in Milan: Steve Holcombe is leaving Beta. (NB: made public by accident and not by Holcombe but during a product presentation from a parts manufacturer).
Enduro21 understands that during new contract negotiations the Italian manufacturer took the decision they no longer require the services of the 2023 EnduroGP and E2 World Champion, a rider who has delivered them nine world titles since 2016 and, along with Brad Freeman, planted them on the global enduro stage. Put it like that and it sounds almost unbelievable.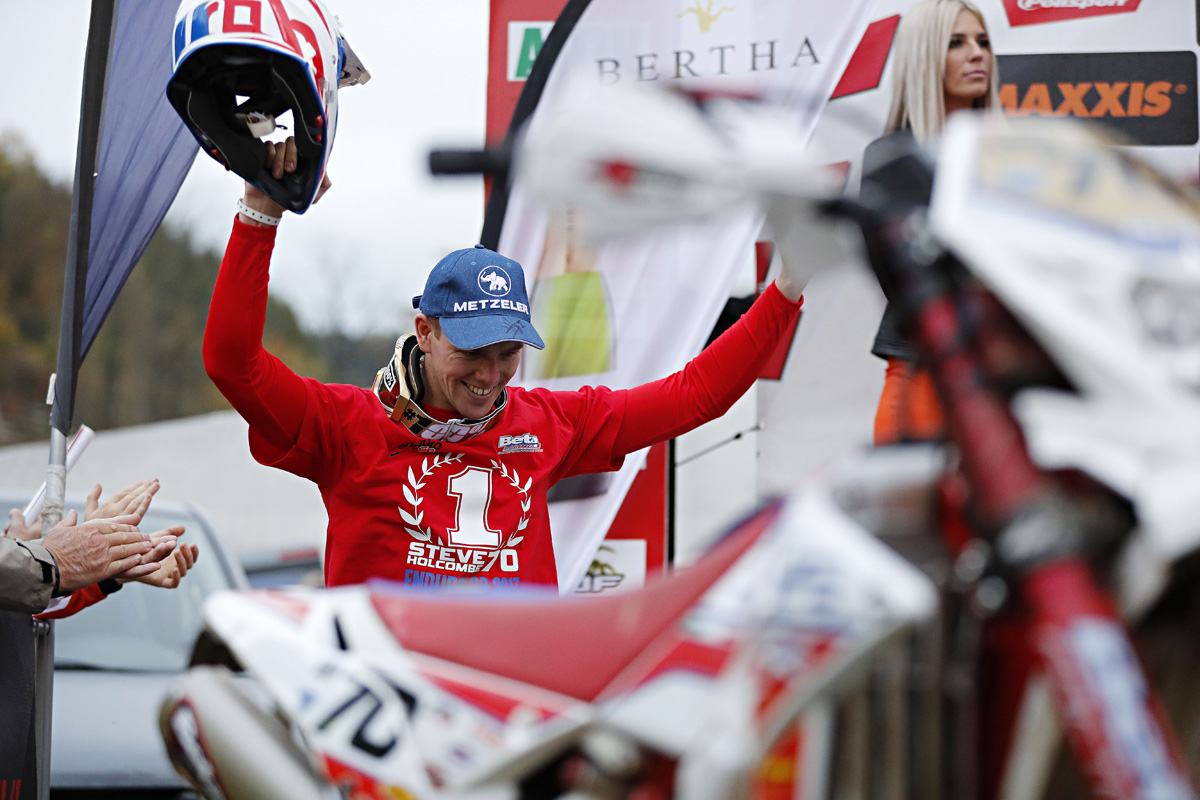 Beta say Steve stalled too long on a new contract, Steve certainly says otherwise but not being allowed to race the two-stroke has been an issue for a while now, along with problems between teammates.
Steve's worked hard to help develop Beta's 4T bikes, adapted his riding and stuck to their plan often while clearly (in our eyes) not being too happy with an underperforming bike compared to his championship rivals.
Beta stuck by Steve through illness and injury these last few years also it must be added.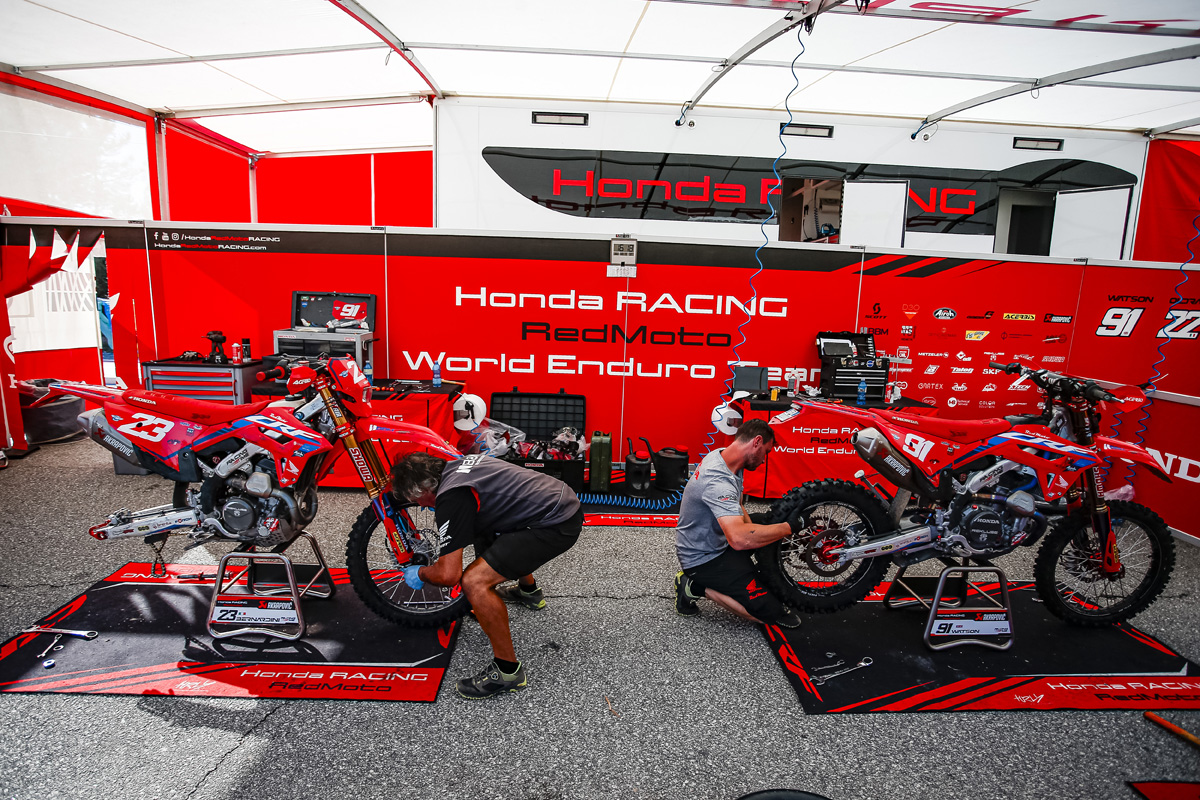 Enduro21 believes Nathan Watson was signed in late summer to replace Holcombe at Beta alongside Freeman, giving the Italian manufacturer their preferred choice of a rider on both a two and four-stroke model. They already signed Brad for the 300 2T and Nathan is big 4T guy. Put it like that and there's some logic.
No shortage of teams were interested in signing Holcombe, naturally. But it looks a lot like he will do a direct swap with Watson and ride a Honda RedMoto machine next year (which is what got blurted out in front of the crowds at EICMA last week), potentially on the CRF250RX with the aim of a shot at the E1 world title which he has never contested so far in his GP career.
Triumph Racing Enduro Team? Not yet…
A one-year deal with Honda would leave Holcombe the option to finally show off his collection of old Hondas but also neatly tees-up a possible move to the incoming Triumph Racing World Enduro team in 2025.
Triumph are heading to enduro and the world championship, just not quite yet. A lot of development is ongoing with the enduro bikes on a weekly basis with Paul Edmondson heading a programme in the UK. Our speculation is Fast Eddy Racing are perfectly placed to become the Triumph Racing official enduro team.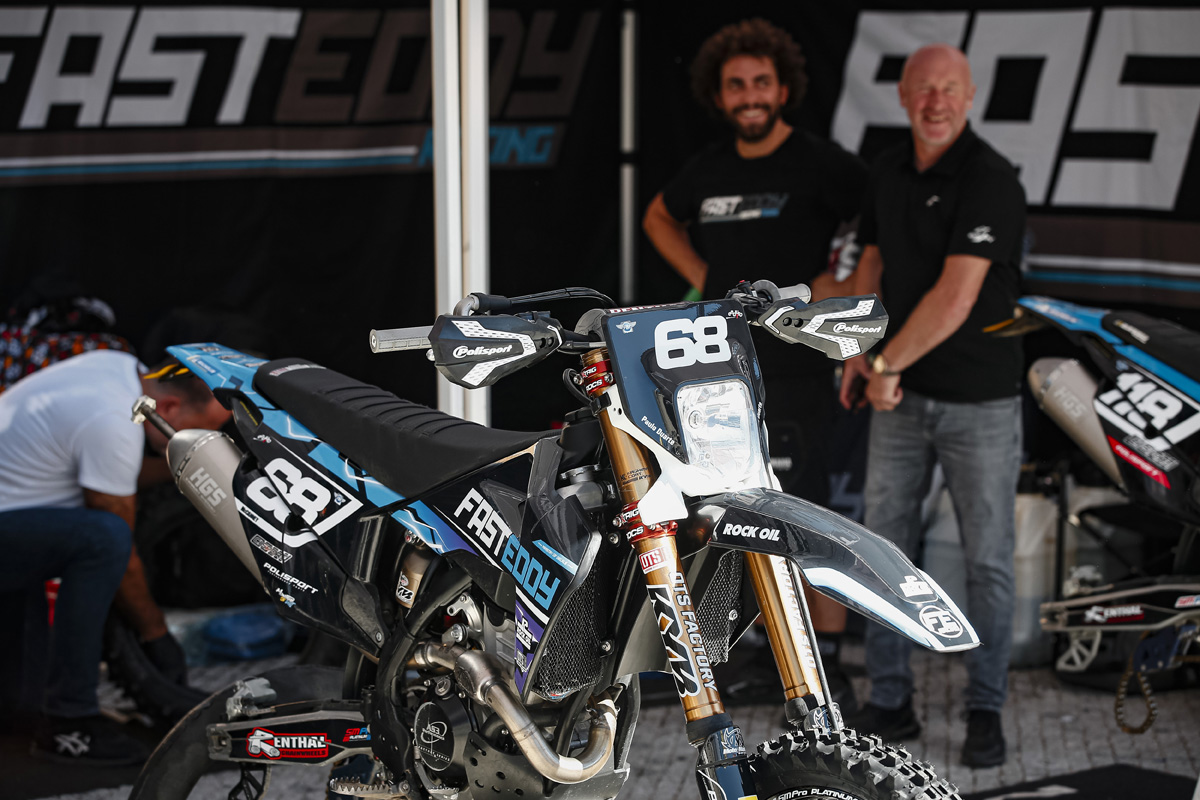 With the Triumph Racing's motocross teams launched already for Supermotocross World Championship and MXGP next year you might expect the enduro team to arrive in 2024 also but they're not quite ready.
Don't be surprised to see a big show of things at the UK round of the EnduroGP World Championship in August. With the British manufacturer pretty patriotic normally, what would make more sense than having a British rider team? That's assuming Honda don't make too good a case for him staying in red. The wider Honda family can bring career oppurtunities. Dakar in 2026 Steve?
And Ducati?
Enduro21 already brought you the news that Ducati has an off-roader which is also being tested on tracks in Italy and Sicily (a journalist mate was on a street bike test there recently and pulled over to watch Ducati spinning laps on a track which he randomly happened to be passing).
With its own unique four-stroke engine, the Ducati promises much and with Antoine Meo already onboard, plus Tony Cairoli recently announced as development rider, things are certainly looking serious from the Italian manufacturer.
Expect them to head in to rally-raid and Dakar we reckon as well as motocross and enduro, but it looks likely to land in 2025 also.
Kawasaki heading for EnduroGP?
A rumour wafting around the final EnduroGP paddock of the season was that Kawasaki could be returning, possibly with a French team. It was on then seemed off again but news finally landed that it is Kawasaki Italia who will plant green back in the GP paddocks with David Soreca on a KX450X as well as their domestic series. It'll be good to see a green machine make a return.
Open World Cup class failing?
Not to end on a bum note or to diminish the efforts of the select few riders racing the Open World Cup classes in 2023 but the general consensus seems to be the support series at the world championship is fizzling out.
It was created to encourage bigger entry numbers for the clubs organising the GPs (to make some money back), as a way for riders to race the same tests as the world's best and also to encourage younger riders to get in there, prove themselves and shine in front of high-profile teams.
And initially it worked but it's fair to say rider numbers have been getting smaller. The overall Open Class picture is of a pale version of its former self and riders need encouraging back.
Photo Credit: Future7Media | Nicki Martinez + Andrea Belluschi