2021 Roof of Africa Race: Rain doesn't stop Wade Young on day 1 at the "Roof"
Results and video highlights of the first race day proper in the 2021 Motul Roof of Africa Hard Enduro where wet rains made conditions tough (12 hour race days anyone?) and Wade Young took a commanding lead.
Race day one at the Roof began at 6am for the Gold Class riders as they headed off knowing 'a wet Roof is the toughest Roof'. Overnight rain was bad but conditions turned treacherous as heavy rains added to the classic Lesotho mountain conditions causing many riders to record massively long days.
Gold Class Time Trial winner Travis Teasdale and defending champion Wade Young were involved in a duel all morning with Young managing to claw back time and overhaul Teasdale to lead by some five minutes by the fuel stop. Matt Green (Teasdale's TT Racing teammate) was also just two minutes back down the route and very much in the hunt.
In previous editions of the Roof, Young has shown an ability to thrive in poor conditions and day one proved to be no exception. Heading into the aptly named 'Emotions' pass, with the rain falling harder still, the five-times Roof winner put the hammer down and gapped his rivals.
By the time he reached the finish, Young had extended his lead over Teasdale to an impressive 32 minutes, with Matt Green another 18 minutes behind. The top five was rounded out by stellar performances from William Slater and Luke Walker.
"This morning we stayed together for quite a while but when the bigger passes and the rain arrived, I was able to make up some good ground," commented Young. "I'm happy with my time of 7:40:15 for today – it was a tough one because it was so cold, but I'm looking forward to tomorrow," he added.
2021 Roof of Africa race day 1 highlights:
As of 5pm local time, only eight of the Gold Class riders had finished – and the last of these had spent almost 12 hours in the saddle. At the same time only five Silver Class riders had completed the course with a provisional the top three of Jason Dames, Bryden Foster and Sage McGregor.
Over a hundred of the 200 Bronze Class riders were still out on the course at 5pm too with the best finisher being Rory Gower, followed by Pieter Holl and Jukka Holl.
The newly introduced Iron Class was the only one in which riders continued on the original course, with Tiaan Rabe being the first to reach Thaba Bosiu.
2021 Roof of Africa Race day 1 Gold class results: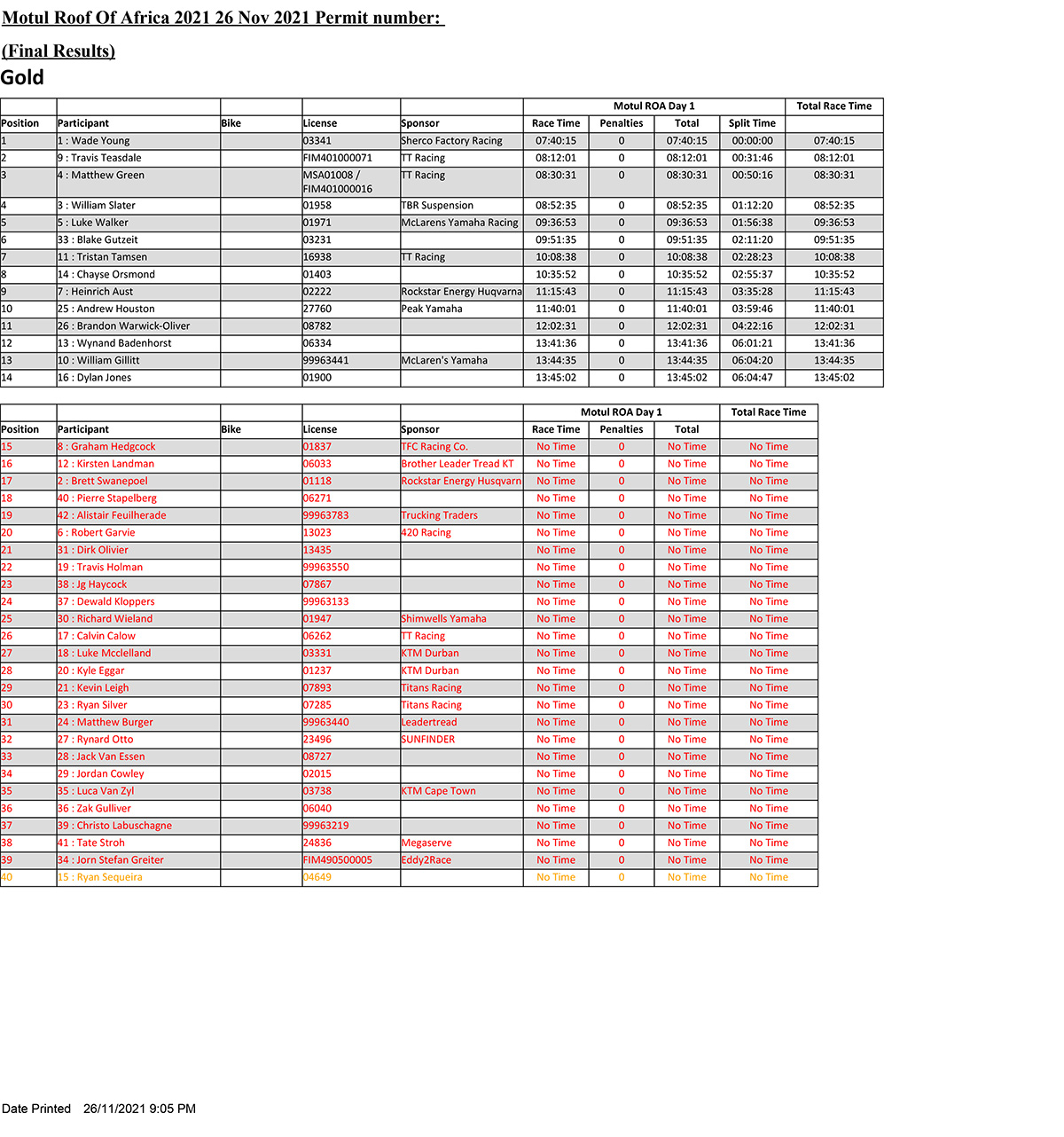 More rain is forecast for the weekend and there's a long way to go, good luck to all!
Full results: www.roofofafrica.co.ls or check for daily updates on the Motul Roof of Africa Facebook page.
Phot Credit: ZCMC