British Extreme Enduro: Billy Bolt wins final round – results and Billy's Vlog
Results and video (Billy's vlog) from the final round of the 2021 British Extreme Enduro Championship at Parkwood Off Road Centre where Billy Bolt signed off the series with a comfortable win ahead of newly crowned champion, Will Hoare.
Contesting three of the four rounds this season has been profitable for Rockstar Husqvarna's Billy Bolt, he's won all of them. After missing the opening round, Bolt has scheduled the rest to race in front of a home crowd and because, "there's no better practice than racing".
This final round of the British series was held at the Parkwood Off Road Centre near Bradford, normally a notorious venue when staged in its traditional slot at the start of the year. This switch to the final round of the season featured a slightly more subdued course which meant an easier time (though far from easy). For Bolt it also proved great race training ahead of the final Hard Enduro World Championship round this coming weekend at Getzenrodeo.
After grabbing the holeshot with a pioneering fast line through the trees, Will Hoare was the early leader but it wasn't long before Bolt was out front and, after a steady (ish) opening lap, he put the hammer down to stretch a gap of just under 10 minutes by the flag.
"I always enjoy racing at home and it is a good bit of fun to come here, see people and put a race under my belt." Explains Billy. "It's close to the final World Championship round and it's good preparation also for Getzen with a similar feel to the race and the conditions in a way so it is as good as I'm gonna get before we head to Germany.
"It's also good to sign off the year at home with a win and hopefully look forward to a full season of British Extreme for everyone next year."
After two and a half hours racing, Will Hoare was the only other rider on the same lap as Billy and, after a good season which included a win, Will claims the 2021 British Championship crown.
Third on the day and taking his best-ever result was former TrialGP rider James Dabill. The Beta rider ticked away with consistent pace and it paid off with a piece of podium pie.
Mitchell Brightmore was fourth ahead of Jack Spencer with EnduroGP rider Dan Mundell looking pretty handy in the technical stuff for sixth place overall.
The morning race was packed out with Youth, Clubman and Vets riders (mostly keen to get a race in and then watch Billy and the gang in the afternoon), and saw the youngster Ashton Brightmore take a dominant win.
2021 British Extreme Enduro round four results: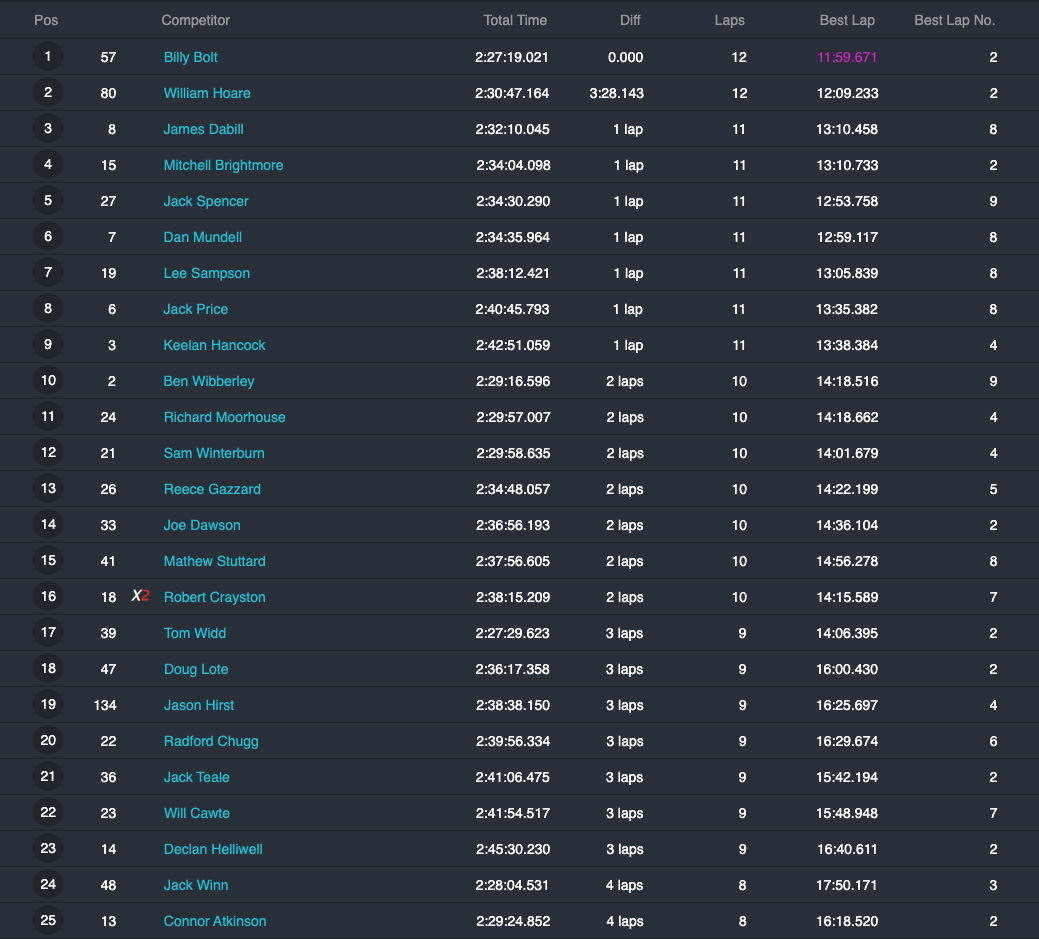 Billy's Blog live and direct from the final British Extreme round of 2021:
Photo Credit: Phil Hodges + FourZeroMedia