2021 ISDE Day 3 Notebook – "Push, push, push"
Enduro21 daily notebook number three direct from the paddock at the 2021 International Six Days Enduro in Rivanazzano Terme, Italy – American Enduro versus a European ISDE, 95% is enough for Richards, Sweden's rise, smaller bikes and more...
As the 2021 Six Days beds in it gets more interesting. Sure, you can look at the overall team results and see Italian World and Junior squads are edging away on home soil, and Team USA's Women are running away with it, but standing trackside you can see how much riders want this.
Apart from being blown away by some of the riding (particularly some of the top gear, flat-out tests) the results sheets are getting ever-more interesting as new names start to emerge and bump up the order.
Two such riders, Max Ahlin and Albin Elowson, made their mark in the standings today. Alongside compatriot Mikael Persson, who is still sitting pretty in P3 scratch, the Swedish team are growing in confidence.
Day three also saw four different test winners for a change: Mikael Persson, Andrea Verona, Josep Garcia and Matteo Pavoni. Verona and Garcia took two each but it was a day of closer test times.
Check our results feed story for more: 2021 ISDE: Day 3 results – Garcia edges Verona, Italy extend their lead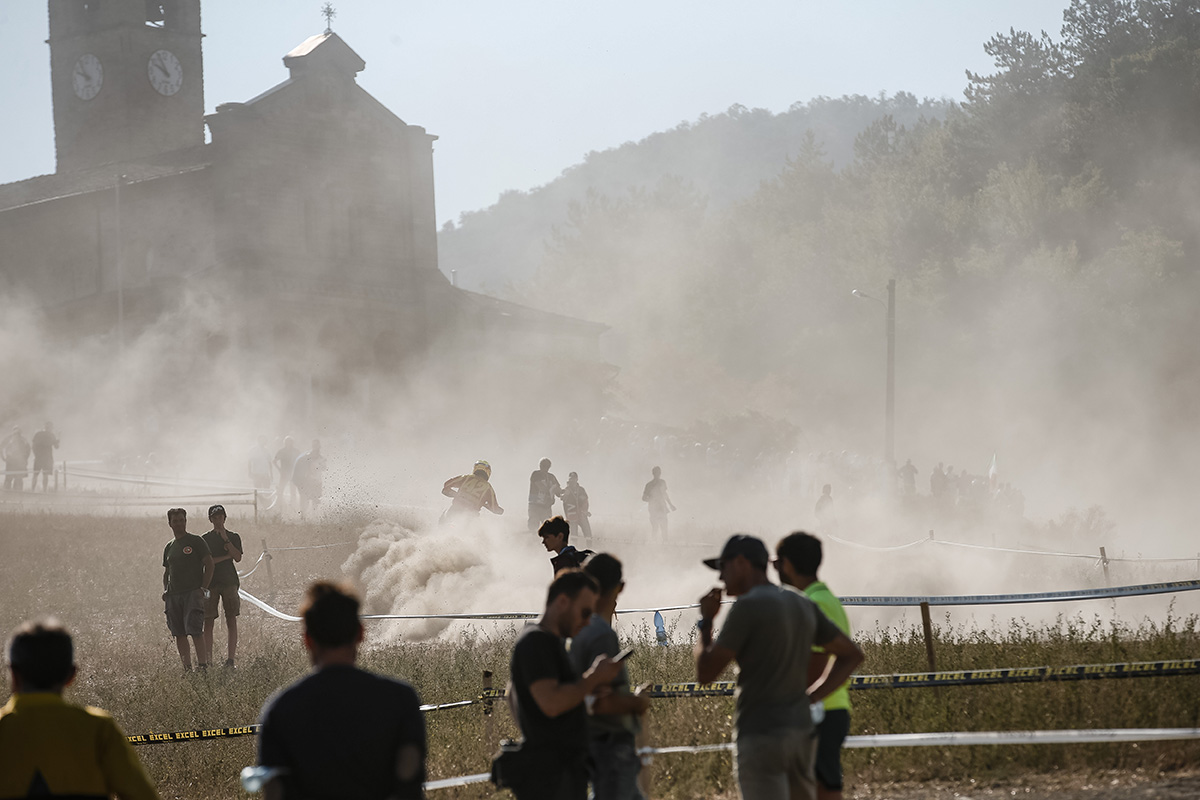 You might have expected the fast tests to suit the bigger bikes, certainly we did, but this list of riders features two 250 4Ts, one 350 4T and a 300 2T. Taylor Robert is the first placed 450 in sixth, although it must be pointed out Pavoni's TM's 300 two-stroke, like all 300 TMs, is a bloody rocket.
Looking at the broader picture the teams in all classes are getting faster, their collective times are getting faster we mean, even though the tests today are getting physically rougher. The liaisons used for three days now are rough as hell too, just ask Cody Barnes (see below).
Verona determined to take a day win
The fight within the battle here in Italy, the one for scratch day wins between Garcia and Verona, is fierce. Andrea is determined to take a day victory and Garcia is determined not to let him – so far Josep has the upper hand.
"I hope to get one tomorrow!" Andrea told Enduro21 in the paddock this afternoon. "We have two enduro days to go and I will try for sure but we are both pushing full gas in every test. In the end there is nothing between us."
"I enjoy the fight because when it is with a top guy, it is really fun," adds Garcia. "I knew today would be harder because they are some of the tests we rode yesterday and day one, the times are tight. So I knew it would be close but the mentality was the same to push, push push."
"I can ride at pretty much 95 per cent" – Brandy Richards
Let's bump the Women up the order in today's notebook and in particular Brandy Richards. We mentioned it already this week but her scratch time overall (among all riders) is worth noting: 79th place overall, 32nd in E2 and five and a half minutes lead scratch over her female rivals.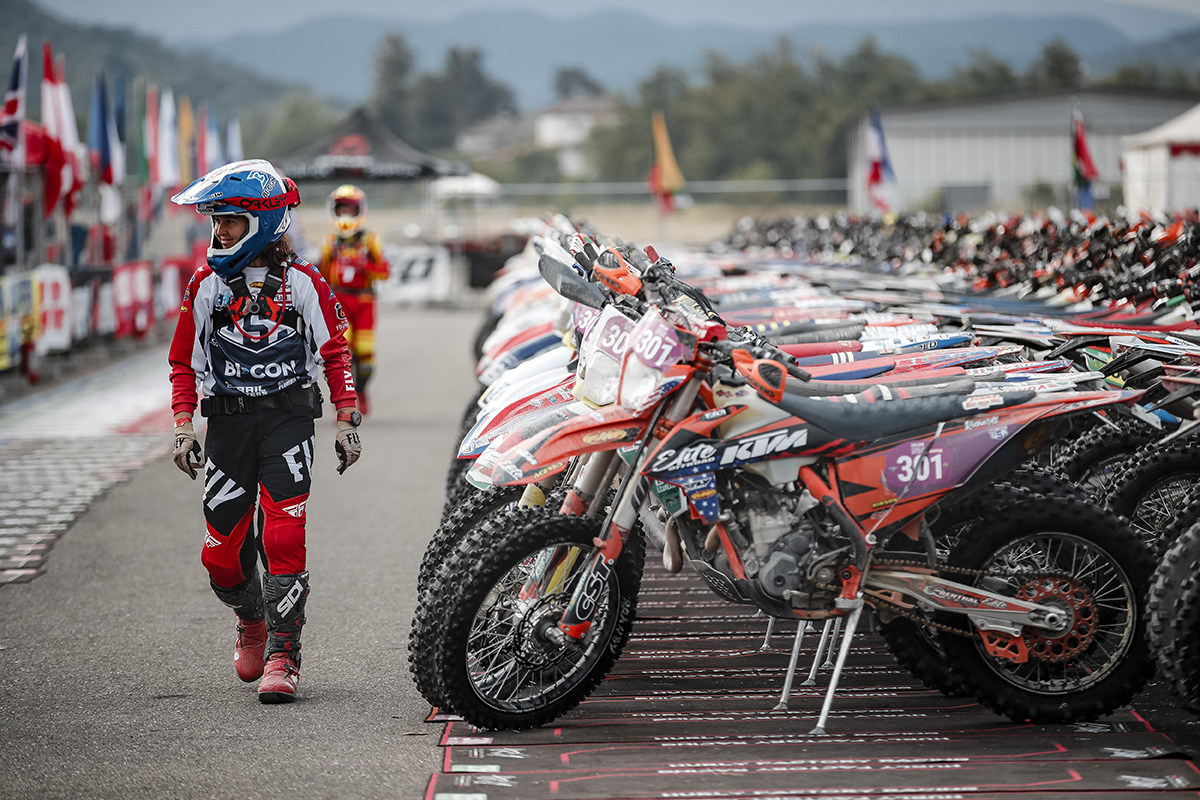 We had to ask, how the hell is she doing it? "I'm just feeling really comfortable honestly." Explains Brandy. "I think the tests suit me because they're a little bit more high speed. I absolutely loved the new test today, I had so much fun in that.
"Back home I've been really working hard and this season I've been racing more in the men's class and this whole year I've progressed so much. I don't feel like I have to ride over my head, I can ride at pretty much 95 per cent.
"Coming here and seeing what difference it has made over the other women is pretty unbelievable actually." It is good to watch.
Let's hear it for the Juniors
Enduro21's coverage of the Six Days has focused on the fast Italian Juniors already this week, Matteo Pavoni is on fire ahead of his teammate Lorenzo Macoritto and both lead the Italian charge.
Day three though saw another Junior up there with the fast boys, Max Ahlin. The Swedish rider placed as high as sixth in the fourth test to round the day P10 scratch.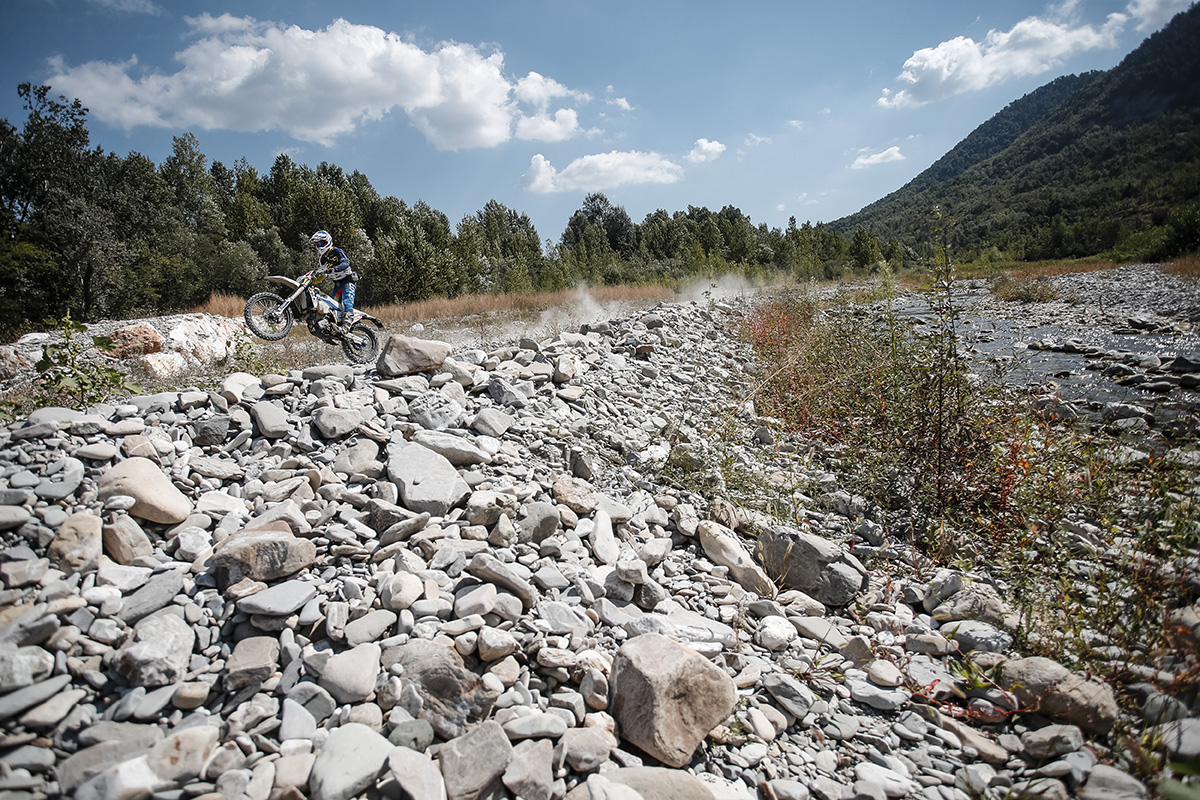 Day three was also a good day for Sweden in general with Albin Elowson placing P7 scratch to help his World Trophy team edge closer to Team USA in the fight for the podium. We didn't expect to be writing that sentence.
We don't walk the tests...
One of Team USA's rookies this year is Cody Barnes, a young Honda rider having his eyes opened wide by the ISDE experience. "I had a great day today really besides the transfers, I crashed twice there!" Laughs the USA Junior.
The Six Days takes some acclimatising and though Barnes has been putting in the hours racing AMA National Enduro and Sprint Enduro back home, he says it is the tests and regulations here in Italy which are a puzzle to work out.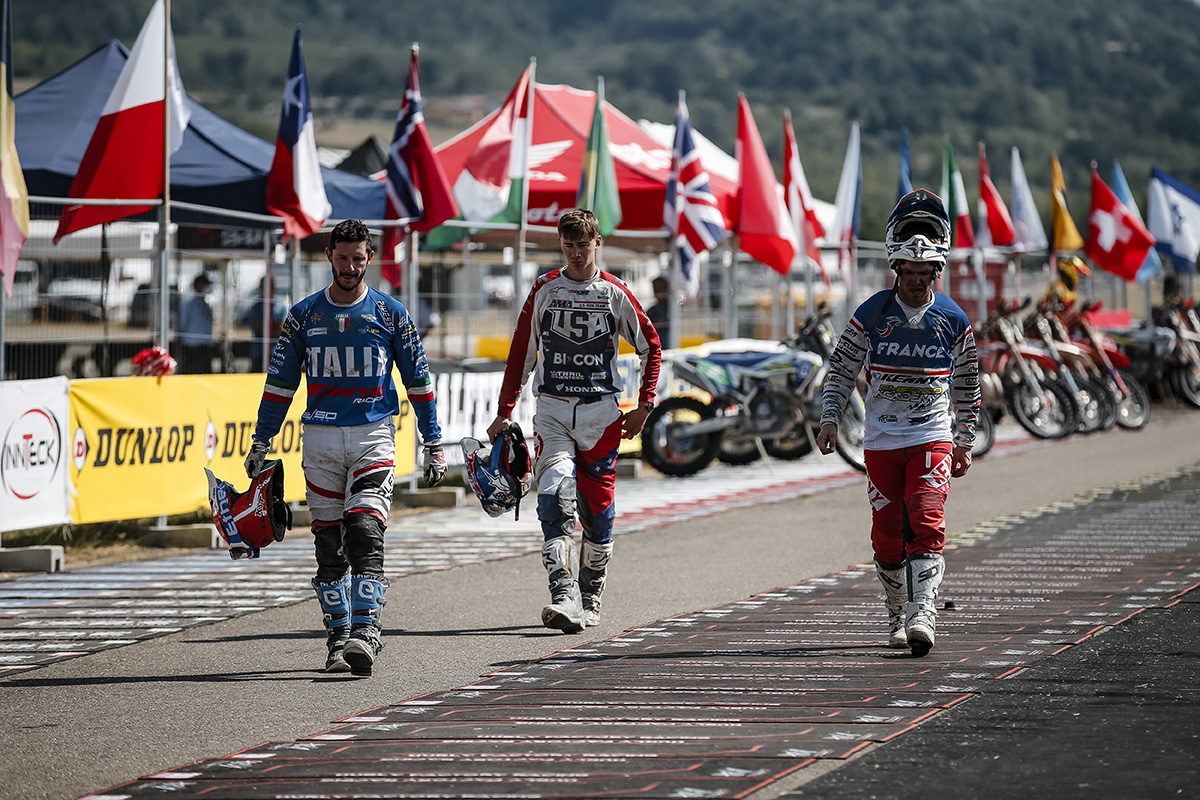 "First day I was so nervous, not so much about the tests or my speed but more about not arriving at a check too early or too late, following the arrows and that sort of thing.
"It is completely different to enduros in the States but I'm adapting to it, the tyre changes are going easier and I'm very happy with how I'm progressing."
What's the big difference between American enduro and European style tests? "Definitely for AMA National Enduro the trails are a lot tighter, I mean there are sections which are handlebar width. We only get to ride those tests one time and we don't get to look at them either.
"The ISDE is a lot more open, a lot more grass track and that's challenging. Luckily, we have the Full Gas and US Sprint Enduro series' in the States and they've really helped us progress with those riding skills. I think my experience with those has really helped."
Day four already?
The bodies (and hands) might be getting battered but the ISDE day four will see a stack of fresh tests and a real change of scene for the riders, although much of it is still set in a couple of valleys south and east of the Rivanazzano paddock.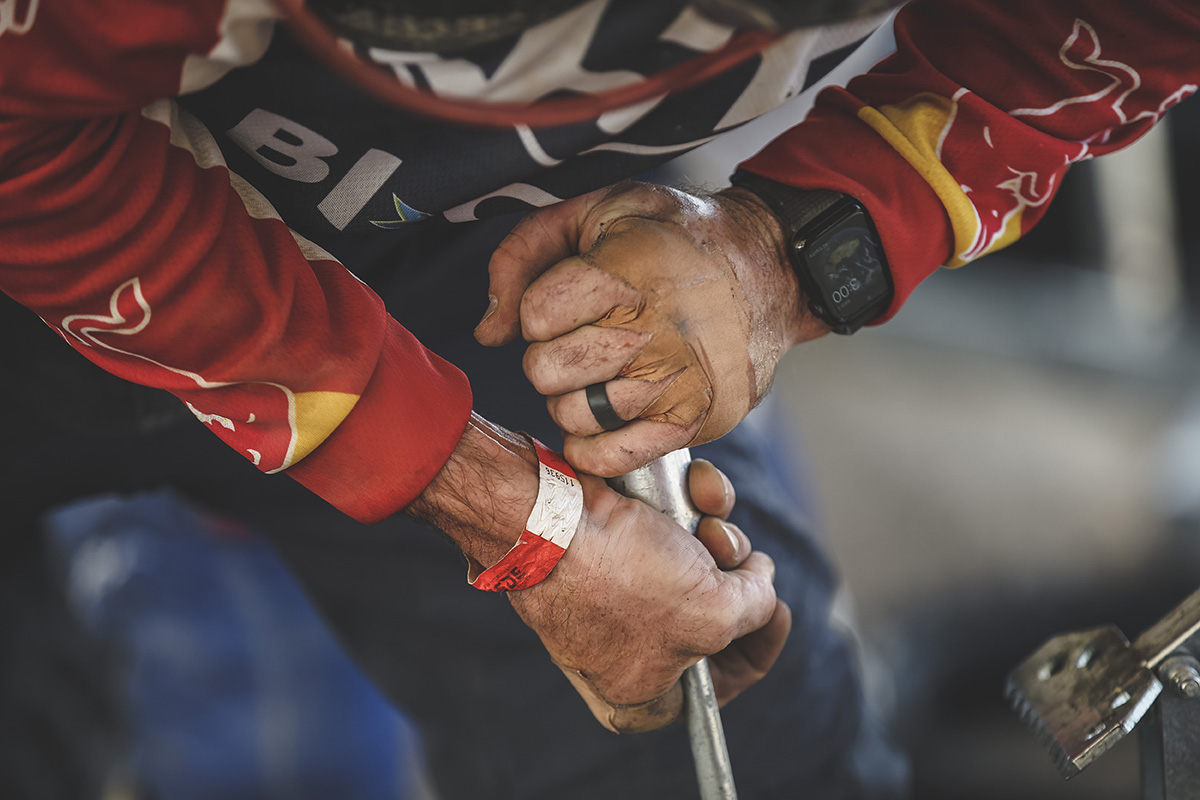 The first and last test of the day are the same as day three, ridden this morning for the first time. But the other four are new including an awesome looking test which basically circumnavigates a tiny hilltop village, dropping down and around the steep hillside into an actual vineyard. Expect some great images tomorrow.
Photo Credit: Enduro21 | Andrea Belluschi