Italian Enduro: 2021 title in sight for Ruprecht
TM Racing's Wil Ruprecht is ready to defend his near-perfect record in 2021 from Brad Freeman and Matteo Cavallo as the Italian Enduro Championship heads for its penultimate weekend in Castelli Calepio.
The Italian Enduro "Absolute" Championship has reached its penultimate weekend and seventh round in the province of Bergamo, under the organization of the Lago d'Iseo Moto Club.
It has been a well-travelled, five-month journey to return again to northern Italy during which young Australian Wil Ruprecht has been in impressive form for the new TM Boano Racing team.
Beating the world's best including Steve Holcombe and Brad Freeman has been almost routine for Ruprecht, not to mention consistently topping the strength and depth of the Italian riders on their home soil.
Freeman stands as Ruprecht's nearest challenger for the title but the Beta Racing factory rider is 16 points adrift and, sitting just three points clear of the Italian Matteo Cavallo, Brad has plenty to worry about this weekend. Freeman will also be without his Factory Beta teammate Steve Holcombe who has elected to remain in the UK in preparation for the upcoming EnduroGP season.
Championship standings after Rnd6: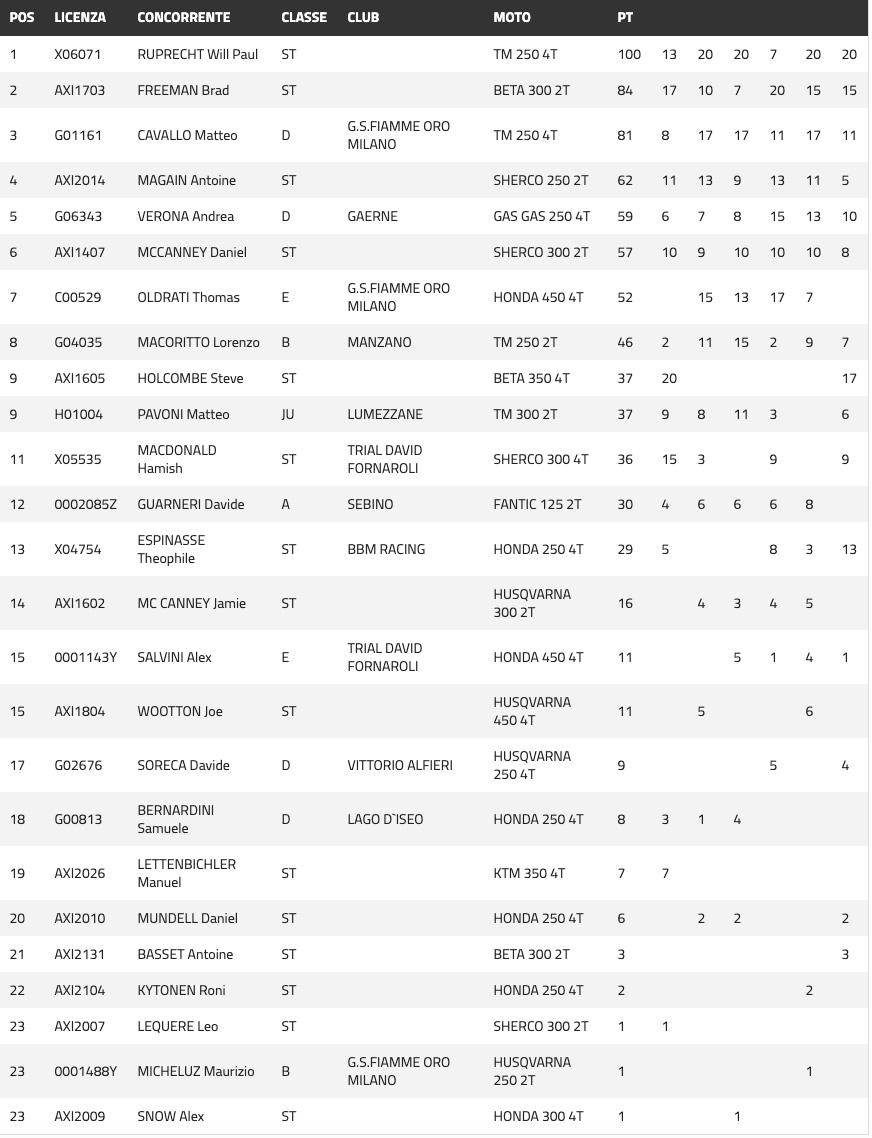 Return of spectators
Finally, fans will return this weekend as restrictions in Bergamo lift to bring back some kind of normality for the Italian series. Anti-Covid rules still apply with the use of a masks and social distancing recommended but the series has been without spectators trackside and in the paddocks for more than a year now.
Having fans back could be the help that's needed for the Italian riders like Cavallo and Andrea Verona who are the two riders who have come closest to toppling the "foreigners" like Ruprecht. Each is overdue a win and it was Verona who had it in his grasp last time out but blew it in the final test.
After breaking his collarbone at the previous round Thomas Oldrati will race this weekend despite it being less than one month since the break…
The tests themselves promise much for this round in Castelli Calepio. The grass Cross test is undulates with the rolling landscape but the Extreme test sounds like a peach. Built in a symbolic place for Italian Enduro which organisers are calling the "University of Enduro" in Foresto Sparso. Used over more than 50 years for enduro excursions, the technically difficult test has a total of 52 corners to deal with.
More information and live videos across the weekend via Italiano Enduro of Facebook.
Photo Credit: Italian Enduro