Dakar Rally 2021 news & results: Honda's swarm on stage 9 – Cornejo takes 11 minute lead
Stage nine of the 2021 Dakar Rally ramped up the drama to eleven after Toby Price crashed out of the race, Monster Energy Honda's Kevin Benavides took the victory while teammate Jose Ignacio Cornejo grows a 'comfortable' 11 minute lead.
After the riders completed today's 579 kilometre looping stage from Neom, there are now 'just' three days and around 1000 racing kilometres left in the 2021 Dakar Rally. Naturally the leading riders are getting weary after almost 40 hours of racing but they are not backing off and inevitably we're beginning to see some crashes and retirements.
But who would have put money on Toby Price being one the riders to go out? The two-time Dakar champion is solid as a rock normally, even when the pace is hot. But the Australian hit the ground hard on stage nine and was airlifted to hospital with a broken collarbone.
More on that story here: Toby Price crashes out of the Dakar Rally
Tough times then for the two riders who stopped to help the injured Price, Sam Sunderland and Ricky Brabec. The pair waited with Toby while the helicopter arrived. "He asked me probably seven times where he was and who I was." Said Brabec. "I just hung out with him until the helicopter got there."
Both were later handed back the time they lost but had to race on against the clock like nothing had happened. Imagine if they did this in other sports, say MotoGP?
This should take nothing away from the Honda riders. Kevin Benavides won the stage by 1:18s ahead of Brabec with Nacho Cornejo 20 seconds back in third for a HRC podium lockout today.
Cornejo extends his now healthy overall rally lead to over 11 minutes ahead of new P2 rider, stage winner Kevin Benavides. It was, "mentally exhausting", the Chilean Cornejo said after racing alone out front for most of the five-hour stage. "It needed a lot of self-motivation and self-conversation to keep going."
All the above means Sam Sunderland is now the leading Red Bull KTM pilot. The British rider had his own crash just short of waypoint five, breaking his GPS and roadbook which meant he had to rely on other riders to navigate. Fortunately, Matthias Walkner, Brabec, Daniel Sanders and Joan Barreda were not a bad group to follow. Sam finished in fourth, 10 minutes down and remains third overall, 14:34s behind leader Cornejo.
2021 Dakar Rally Stage 9 results: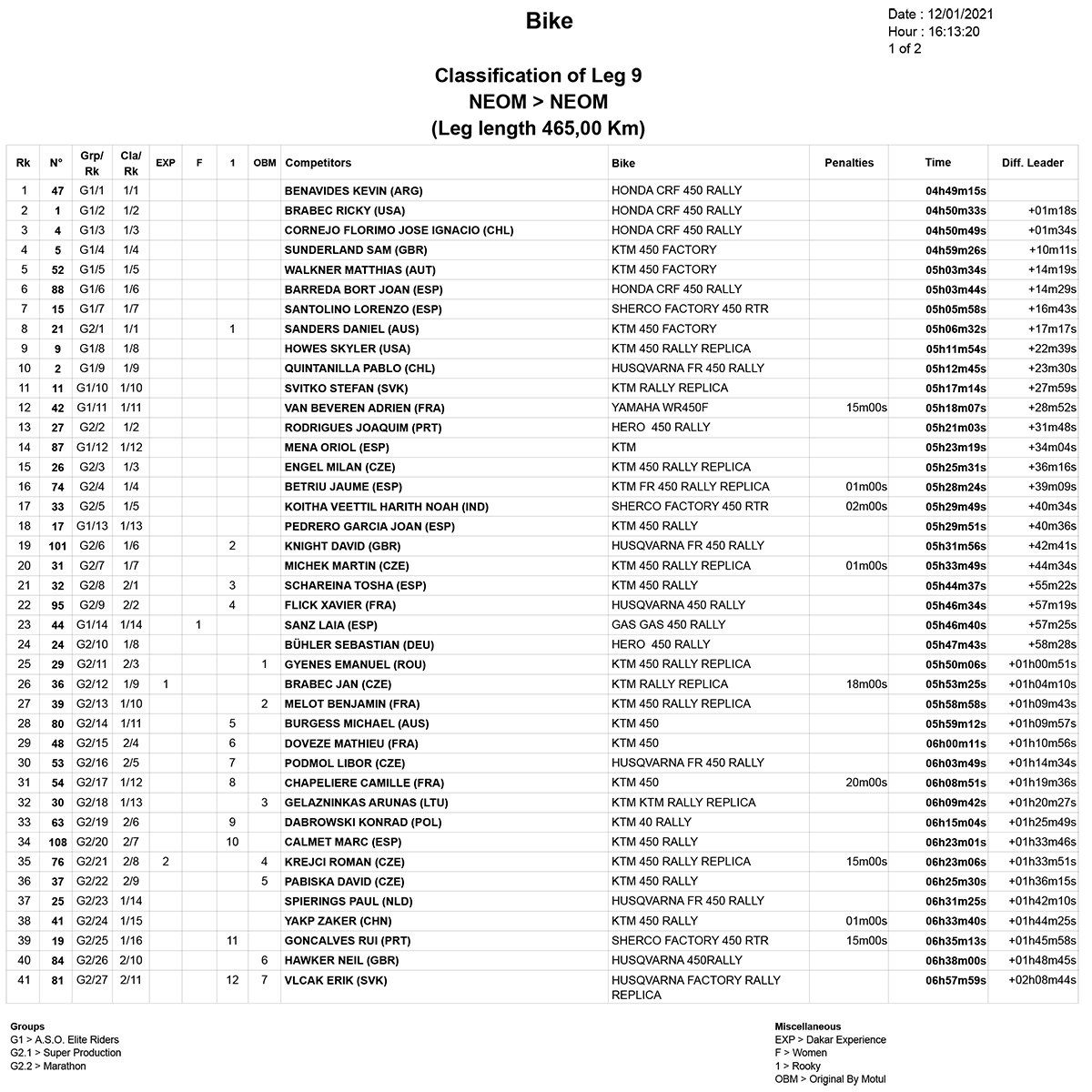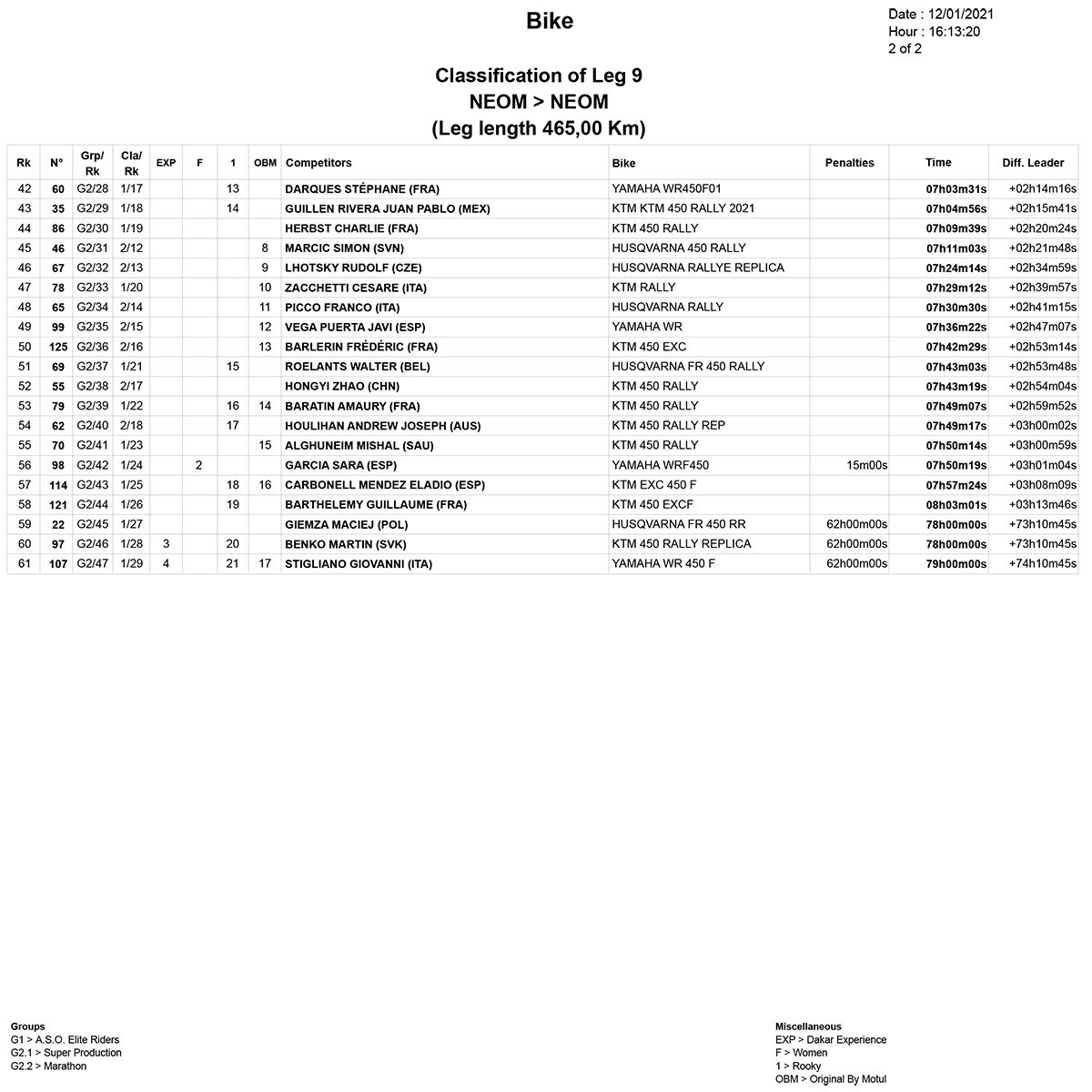 Don't go thinking we'd forgotten about Laia Sanz. She's been quietly going about her business as usual putting the GASGAS in 20th position overall so far...
🏍 @LaiaSanz_ cruising through the desert 🏜#Dakar2021 pic.twitter.com/6IFlr7GBPO

— DAKAR RALLY (@dakar) January 12, 2021
It was a good day for…Honda (again). Nacho Cornejo extends his lead, Kevin Benavides wins the stage and together with Ricky Brabec climbs back up the order to P4 behind the lonely orange KTM of Sunderland. With Joan Barreda in P5, HRC riders occupy four of the top five places. Could we see a Honda 'red wash' on the podium?
It was a bad day for…airbags. The details are unclear about each of the crashes so Enduro21 cannot blame anyone or anything for the collarbone, neck and shoulder injuries which have so far seen riders go out of the 2021 Dakar (read Price, De Soultrait, Luciano Benavides to name three).
But aren't the new, now mandatory, airbags systems in use this Dakar supposed to stop these things happening? Sure, it's off-road racing and we go down hard on that area of our bodies when we crash (really hard when we're travelling as fast as these guys do). But wasn't reducing these injuries, and potentially worse ones, the point of making everyone wear an airbag?
A.O.B.
It's hard to pick up any other business after all of the above. Initially, Adrien Van Beveren had his best stage result of the 2021 Dakar in fifth today but was later docked 15 minutes. Whatever the result the Frenchman is now the sole factory Yamaha rider in the race after Ross Branch became the fourth of five in the official squad to retire. Branch too is reported to have suffered engine failure.
The second of the Benavides brothers, Luciano on the Rockstar Husqvarna, was another rider to go out today after suffering the same fate as Price but around 100km later into the stage.
It was David Knight's best stage results of the rally inside the top 20 with P19. Knighter is 27th overall.
2021 Dakar Rally overall motorcycle standings (after stage 9):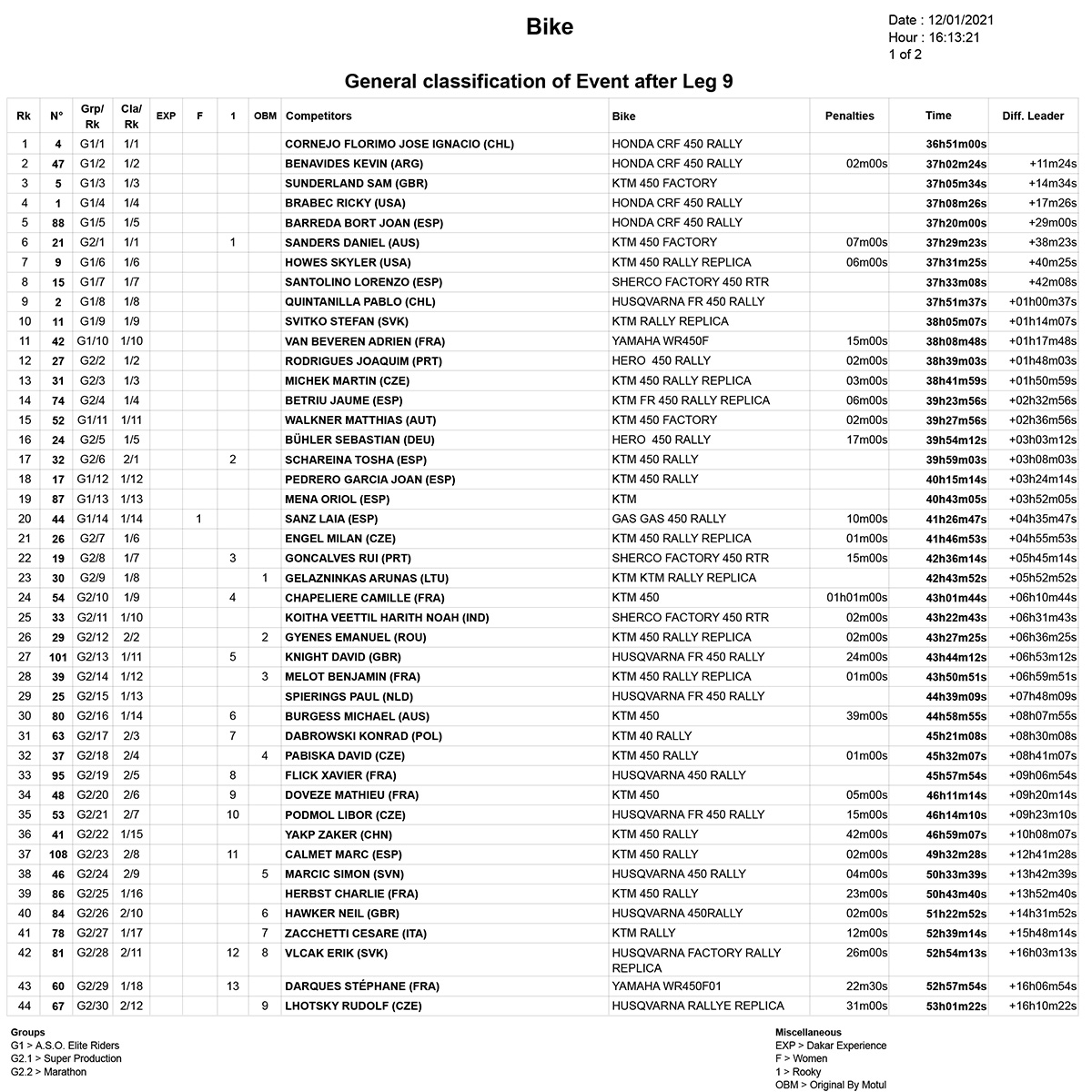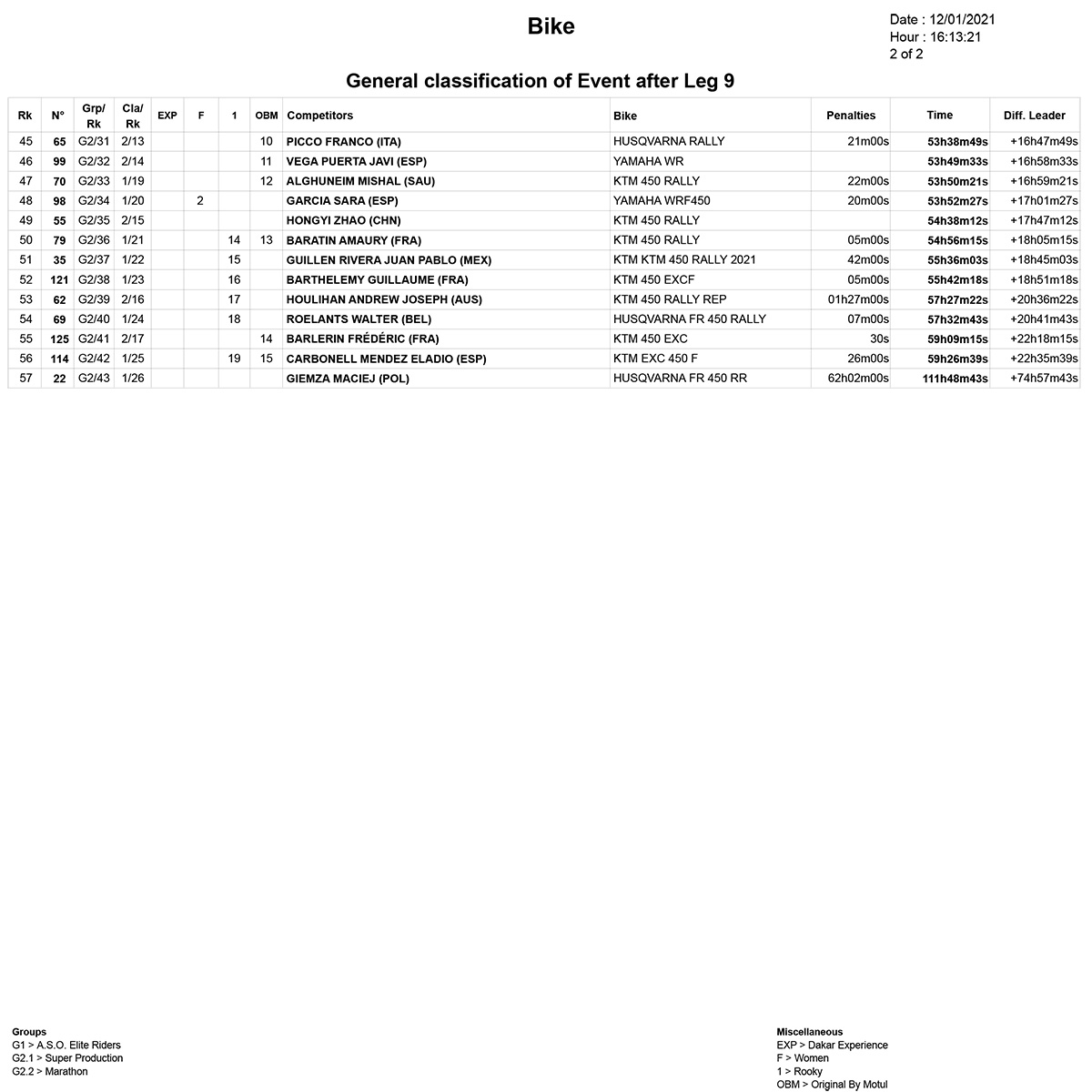 Photo Credit: Rally Zone