AMA National Enduro: Third win of 2021 for Toth at Muddobbers Rnd7
FMF KTM Racing's Josh Toth claimed his third win of the 2021 US National Enduro season in dominant fashion, topping the Muddobbers National Enduro in Matthews, Indiana by a margin of nearly three-and-a-half minutes.
2021 has been a solid season of enduro for Josh Toth. This could have been his fourth win of the year but for a drowned bike in a creek while leading the Lumberjack round.
At Muddobbers he was in control of the tests again winning all six across the day and never once looked in danger of losing the lead. "The day was perfect, really," said Toth. "I had some mistakes throughout the day but overall, I just rode really smart, and really on point. I just feel really good on the bike lately and I think it's really showing."
Joining Toth on the podium were his KTM teammate Ben Kelley and series point leader Steward Baylor (AmPro Yamaha).
"Those last three tests, me, Stew, Trevor (Bollinger) and Craig (DeLong) were super-close; I think Stew and I tied in the last three tests," said Kelley who pipped his rival by 1.6 seconds to claim the runner-up slot. "I had solid times in three, four, and five, and then rode really good in six, even though I had two crashes."
Baylor the points leader
Baylor came into the race with a 39-point lead in the series standings, and with just two rounds remaining after the Muddobber, could be excused for looking at the big picture and riding a safe race.
"I talked to the team before I came up here and Randy (Hawkins) was pretty adamant that we just needed to cruise and make sure that we don't make any mistakes," said Baylor who no doubt has an eyte on GNCC as well as NEPG titles this season. "I felt like I was doing that, and then I had a really big mistake in test three, which put me off a cliff and I lost enough time that Craig (DeLong) was in sight of me. I rode really well to finish that test out, but after that, (team manager) Cory McDonald and I talked. He was like, just maintain the day. You obviously want to win, but today was the day where were all fighting for second and we were all really close."
With just two rounds remaining, Stew Baylor leads the series standings with 181 points, followed by Josh Toth with 150 and Ben Kelley with 146.
2021 Muddobbers National Enduro top 20 results: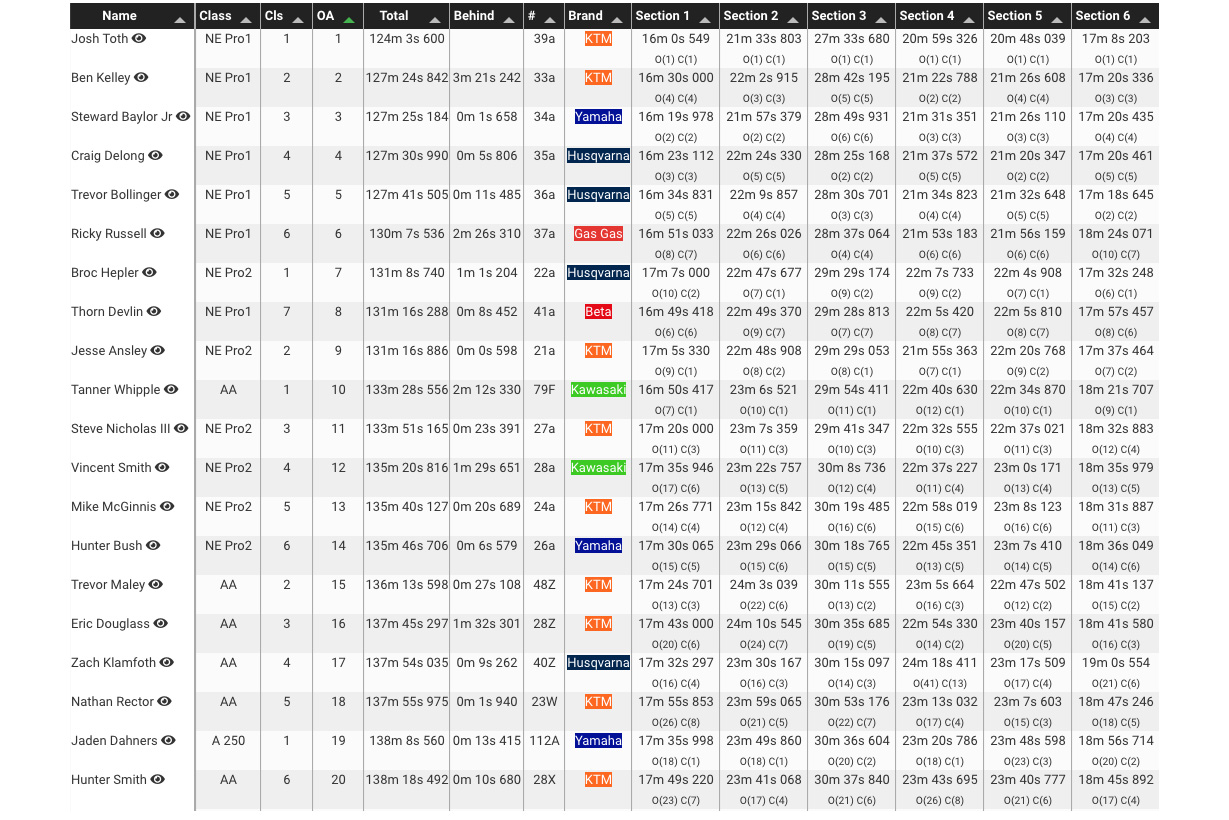 Rockstar Energy Husqvarna's Craig DeLong has been on a hot streak lately and finished fourth overall to back up the third-place finish he had at the previous round.
"I was pretty much in the mix all day," said DeLong. "The second test I actually got stuck, and that was probably my worst test all day. I lost about 20 seconds to the top guys. In the next test, Stew actually had a problem so it kind of brought me back into it. It was kind of a little bit of a yo-yo. It was super slick, so it was easy to make mistakes and easy to make that little bobble that cost you a bit. But Josh obviously must have been riding a different track or something. He was putting it to us every test. Good job to him."
DeLong's Rockstar Husqvarna teammate Trevor Bollinger is another rider making big strides in the National Enduro series. Bollinger was just 11 seconds off his teammate for fifth.
Despite losing his rear brakes in the sixth test, Coastal Racing GasGas' Ricky Russell turned in a solid sixth overall finish.
"The first few tests I was kind of over-hesitant," said Russell. "Where there actually was traction, I wasn't pushing hard enough. Then where there wasn't traction, I was making mistakes. Just needed to smooth out and just ride."
Former Supercross/Motocross ace Broc Hepler is showing interest in the Enduro series and rode a Husqvarna to seventh overall, which was also good enough to win the NE Pro 2 class. The Pennsylvania rider battled for most of the race with Trail Jesters Racing KTM's Jesse Ansley for the class win and ended up edging Ansley at the finish by eighth seconds.
"I've been practicing a little bit on the Husky, so we wanted to see how we could do," said Hepler. "Last race I got to follow Craig Delong around, so it was a little bit of a help. Today I was all by myself. First few tests I got to look ahead. I got to pick my head up. I'm looking down. The turns are quick, too. It was fun once I learned how to ride again and just picked my head and looked to see what was coming."
Since switching to a four-stroke mid-year, Beta USA's Thorn Devlin has turned in some solid rides. In Indiana, Devlin was eighth overall.
NE Pro 2 title for Ansley
Ansley, who won the first six NE Pro 2 races of the year, was disappointed at having his win streak broken, but his ninth-place finish was good enough to wrap up the NE Pro 2 Championship with two races remaining on the schedule.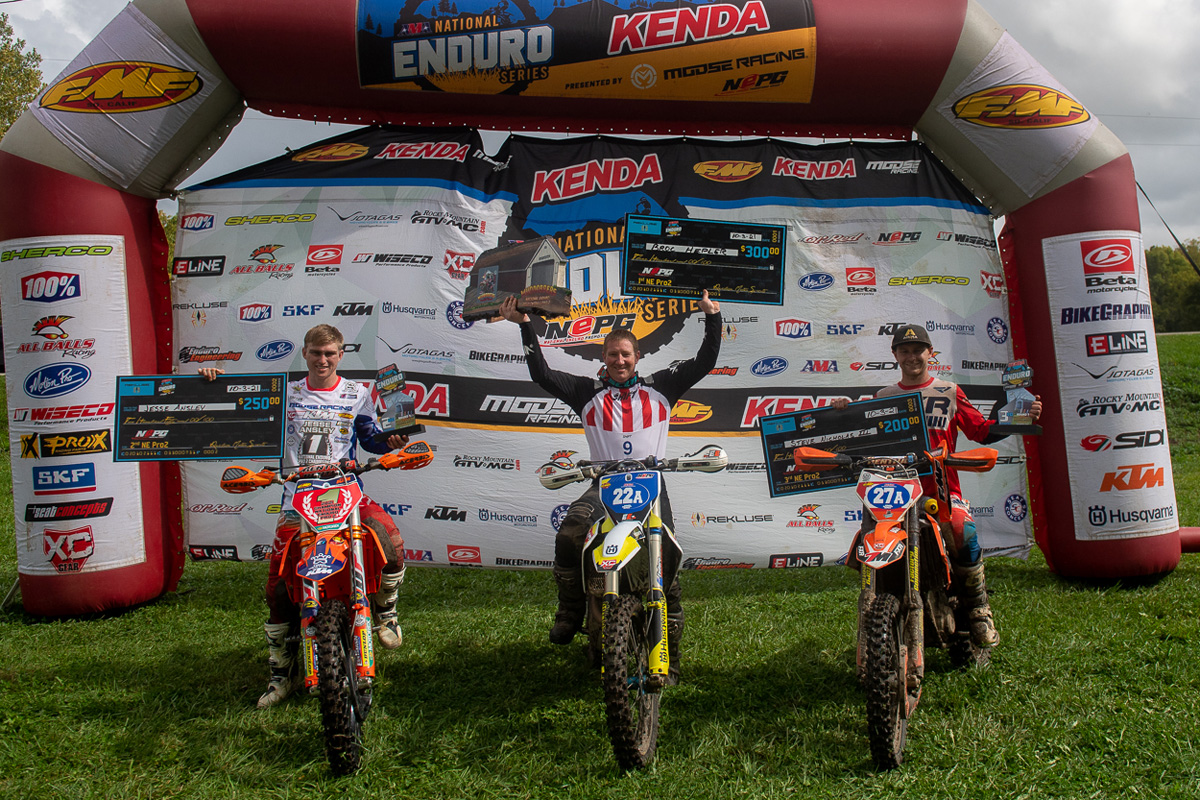 "All winning streaks come to an end," said Ansley. "I didn't really ride my best today. I know where I can make improvements and stuff. This really isn't my best type of riding – slick, hard pack. I'm better when the track is faster paced. We got the championship today, so that was really the main goal. It sucks to not win, but I'm not too down about it."
Babbitt's Online/Monster Energy/Team Green Kawasaki's Tanner Whipple rounded out the top 10. Whipple also win the AA class.
Tricker charged
Enduro Engineering Fly Racing KTM's Mackenzie Tricker topped the Women's Elite class after winning three of the five tests. Kawasaki-mounted Rachel Gutish won two tests to finish second, 27 seconds behind Tricker. Annelisa Davis was third on a Kawasaki, with Alexis Phillips (Beta) in fourth.
Gavin Sievenpiper (GG) took top honors in the Open A division, ahead of Nicolas Haftl (Hsq) and Derek Gravitt (Yam).
In the 250 A division, Jaden Dahners (Yam) was first, with Lance Maschino (Kaw) and Mitchell Owenby (KTM) rounding out the podium.
The AMA National Enduro Series resumes on October 17, 2021 with the Zink Ranch National Enduro, round seven of the series in Sand Springs, Oklahoma.
More information: www.nationalenduro.com
Words and Photo Credit: Shan Moore