US Sprint Enduro: Layne Michael claims first win of the season at Rnd6
AmPro Yamaha's Layne Michael claimed his first overall victory of the season at round six of the US Sprint Enduro Series at Track 93 in Fairmont, West Virginia, beating points leader Josh Toth by just over eight seconds after two days and 12 tests of racing.
After spending much of the 2022 season dealing with a shoulder injury, Layne Michael's climb back on top of a podium has been slow coming – although he has come mighty close at previous Sprint Enduro rounds.
But at round six of the season, the reigning champ took the day one win by 1.9 seconds, and day two by six seconds ahead of the FMF KTM's Toth after a two tight days of racing.
"It's been a frustrating year at the Sprint Enduros, so it's good to finally get this win," said Michael. "I feel like I've been just barely getting beat. I just haven't been able to put it together. This weekend was really good. I just started off strong on Saturday and then stayed off the ground all weekend."
Saturday was pretty much back and forth all day between Michael and Toth, with Michael getting the upper hand by a couple of seconds in the cross test, while Toth would have a two-second edge in the enduro test.
Amazingly, Toth nearly hit a deer in the second enduro test and went down, losing eight seconds to Michael. But then came back in the final enduro test to out-pace Michael by nine seconds, leaving the two riders with less than two seconds separating them at the end of the day.
On Sunday, Michael was able to pick up a little speed in the enduro test, which was the difference in the two days, and the overall.
"We were a lot closer today, so that felt nice," said Michael. "I was still able to put a little time on him in the cross test, but that second enduro test today really kind of gave me the confidence going into that last test. He still nabbed me by a few seconds, but I'll be honest, I was pretty nervous going into that last little bit. I made it through the hard stuff but I rode pretty crappy and just didn't want to make a mistake.
"To win both days is good. it closes the points a little bit. For me just to get a win with how this year is going is motivating moving forward."
With two rounds remaining in the series, Josh Toth still holds a comfortable lead in the championship, meaning that Michael would need to win all four remaining days if he wants to retain the title.
"I felt like I rode strong all weekend," said Toth. "I really only had one bad enduro test. Unfortunately, I think it kind of cost me the overall. Layne was riding great. He really picked it up in the enduro test and was pretty much matching my time.
"I couldn't keep it on him in the cross test. So, I just needed to figure things out a little bit better in the grass track and not lose any time there so I could just get ahead, but Layne picked it up."
Third for Delong in his first US Sprint of the season
Making his first appearance in the series for 2022, Rockstar Energy Husqvarna's Craig Delong came away with a solid third overall as he tests the waters for a potential trip to France for the ISDE.
"I'd like to go to Six Days; that's something I would like to cross off my bucket list before I'm done in however many years," said DeLong. "I figured I'd come out and try to improve on something that I've always struggled with, which is sprint speed.
"Saturday was good. I was close in most tests, but today they picked it up and shifted up another gear or something. I've always struggled on second days when I've done the sprints in the past. Same today, but not quite as bad. I guess making progress. That's all that matters. That will help with the national enduro with my intensity."
Phoenix Racing Honda's Cody Barnes was fourth overall and first in the Pro 2 division despite starting off the weekend with a huge crash.
"First day right off the bat I had a pretty good crash in the cross test, but was able to kind of recoup and just ride kind of solid," said Barnes. "I didn't have any other crashes throughout the weekend, which was a big thing. There was a lot of off-cambers and little rocks and things that could catch you off guard.
"For me, it was a good weekend. It's awesome to get another Pro 2 win. So, hopefully we can keep it going. We have two more rounds and we'll see what happens."
Coastal Racing GasGas' Ryder Lafferty also made a rare sprint series appearance at the West Virginia event and came away with fourth in the Pro division and fifth overall. Lafferty decided to race a 350 instead of his 250 in preparation for an upcoming national enduro.
"I just came here to kind of have some fun and get some testing in for next weekend for the national enduro," said Lafferty. "I was riding the 350 in the Pro 1 class so I knew it would be tough, but I figured I'd start out slow and then kind of by the end of the weekend on Sunday I would figure it out.
"It's hard to jump in with these boys and go fast. I just use it as a learning experience and kind of learn from it, work on it, make me better."
RPM Racing KTM's Angus Riordan had his best weekend of the season and came away with sixth overall and second in the Pro 2 division: "It was a lot better than the last round." said Riordan. "I was able to get second and seventh overall yesterday and sixth today. The last few tests today hurt me for the overall."
Tely Energy Racing's Liam Draper had a bit of an off weekend and finished up seventh overall ahead of Seven-Sixty Husqvarna's Thorn Devlin who rounded out the Pro 2 class podium with an eighth overall. Forbes Racing KTM's Cole Forbes topped the 250 A division in ninth in front of KTM-mounted Jason Tino 10th and the Pro-Am division winner.
2022 US Sprint Enduro round 6 combined results: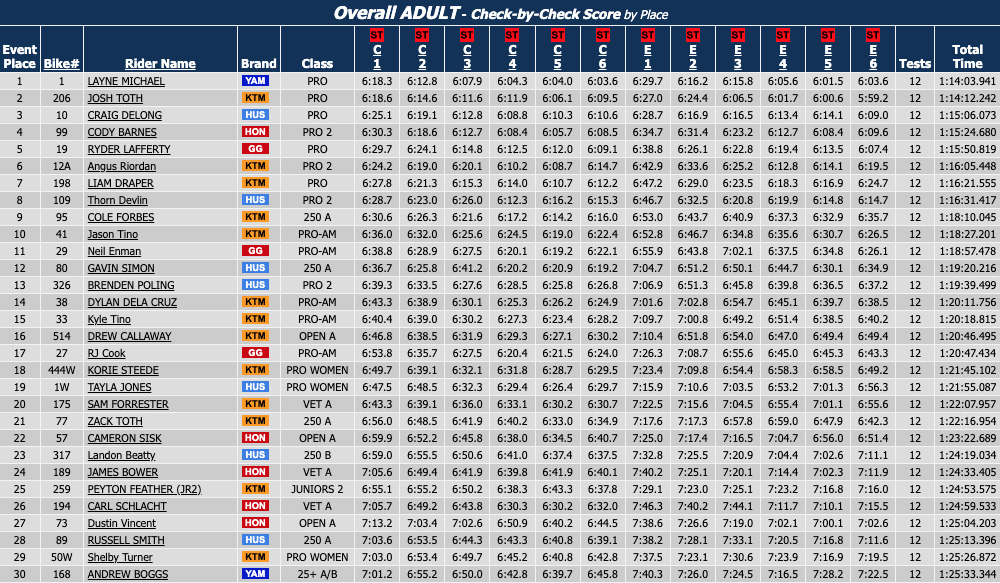 Steede "spectacular" with Women's pro win
Trail Jesters Racing KTM's Korie Steede turned in a spectacular performance to win the Women's Pro division, coming from behind in the final test on both days to steel the victory from Rockstar Energy Husqvarna's Tayla Jones and FXR Racing KTM's Shelby Turner in third each day.
"I rode pretty tight all day both days, and then that last test I was just like, better send it I guess!" exclaimed Korie. "I did and it worked out both days. Hopefully I'll just do better at the start of each day next round."
Youth class round up
In the Youth Classes, Payton Feather emerged as the top overall Youth rider, as well as finishing first in the Super Mini SR (14-15) division. Rivers Morris and Austin Tsakanikas were second and third in the Super Mini SR (14-15).
Jacob McPherson won the Super Mini JR (12-13) class while Luke Praksti and Ryder Reick were second and third.
Mason Tsakanikas won big in the 85 SR (12-15) class, with Tyler Yost in second and Noah Orsini in third.
Hunter Porco beat Tanner Emmons and Braxtyn Chaney to win the 85 JR (7-11) class, while Trace Yost was fourth.
Hunter Hawkinberry ran away with the 65 SR (10-11) Division, with Nolan Hudson and Case Kight finishing second and third.
Colt Chaney claimed the victory in the 65 JR (7-9) class ahead of Landon Dalmasso and Brody Haugh. Aubrey Tsakanikas was fourth with Brody George fifth.
Korah Grace Jones topped a big field in the Girls (10-16) class, with Lola Grozbean finishing second and Nicole Ruppert in third.
Grayson Porco took first in the 50 SR (7-8) class, with Mason Ramsey in second Shawn Remington Jr. in third.
Maura Tsakanikas took another win in the 50 JR (4-6) class, with James Dietrich and Ryder Bower in second and third.
Jacob Glenn won the Trail Bike class ahead of Cory Deming and Maci Ryan.
The US Sprint Enduro Series returns to action on May 28-29 for round seven at High Voltage in Dilliner, Pennsylvania.
More information: www.ussprintenduro.com
The US Sprint Enduro organisers are putting together a Sprint Enduro World Championship to be held July 9-10 at Rivers Edge Outdoors in Sandy Level, Virginia is also on the horizon.
More information: www.sprintenduroworldchampionship.com
Words and Photo Credit: Shan Moore