First look: 2024 Husqvarna Pro Edition TE 300 and FE 350
Husqvarna has announced two new models to the 2024 Enduro and Off-Road range, the FE 350 Pro and TE 300 Pro get a list of upgrades including Brembo brakes from the KTM EXC plus exclusive new colours and graphics.
Rockstar Editions, Jarvis Editions…these days Husqvarna Motorcycles prefers to keep it simple and just call the two new upgraded enduro models added to the 2024 line-up the Pro editions.
Aiming squarely at their biggest market with the two biggest selling models, the new TE 300 Pro two-stroke and FE 350 Pro four-stroke arrive equipped with "premium components" compared to the standard machines and a higher price tag naturally.
Those standard TE and FE models were impressive by the way, all-new never felt quite so true as it did when we tested the bikes in Norway – you can watch that review here: 2024 Husqvarna Enduro models – first test ride impressions
Aside from the new graphics package to distinguish the new Pro Editions (hwo do you feel about those colours? Grey divides opinion), upgrades over standard include Brembo hydraulic clutch and brake systems biting GALFER discs, fan as standard and Factory Racing wheel-set (EXCEL Takasago rims).
2024 Husqvarna Pro Editions technical highlights:
New unique graphics to Pro models
Brembo hydraulic clutch and brake systems
GALFER brake discs front and rear (rear is solid)
WP XACT Closed Cartridge front forks offer more progressive end-of-stroke damping
WP XACT rear shock design with CFD-optimised main piston and tool-free adjusters
New Factory Racing wheel set with high-strength EXCEL Takasago rims
New competition seat cover with additional ribs
Polyamide skid plate with added linkage protection
Front and rear brake disc protector
Supersprox rear sprocket with different size to standard
Soft compound ODI handlebar grips
Two-stroke engine features TBI technology for improved rideability and ease of use
350cc DOHC four-stroke engine provides class-leading power and torque
Fan as standard
Quickshift sensor providing seamless up-shifting on the FE 350 Pro
Multifunctional Map Select Switch on both models, which also activates the Quickshifter and Traction Control on the FE 350 Pro
Offroad Control Unit (OCU) for the highest level of reliability and user-friendly serviceability of electronics
High-performance LED headlight unit for a brighter light output and simplified fitment
Premium-quality ProTaper handlebars
It's a sweet list to wade through, although some of the technical highlights are of course the same as the standard models – for example the new suspension, ProTaper bars etc.
The price will obviously be higher for these more premium models: £11,449.00 / €12,599 for the TE 300 and £11,849.00 / €13,975 for the FE 350. At time of writing we only have prices for Europe – we will update.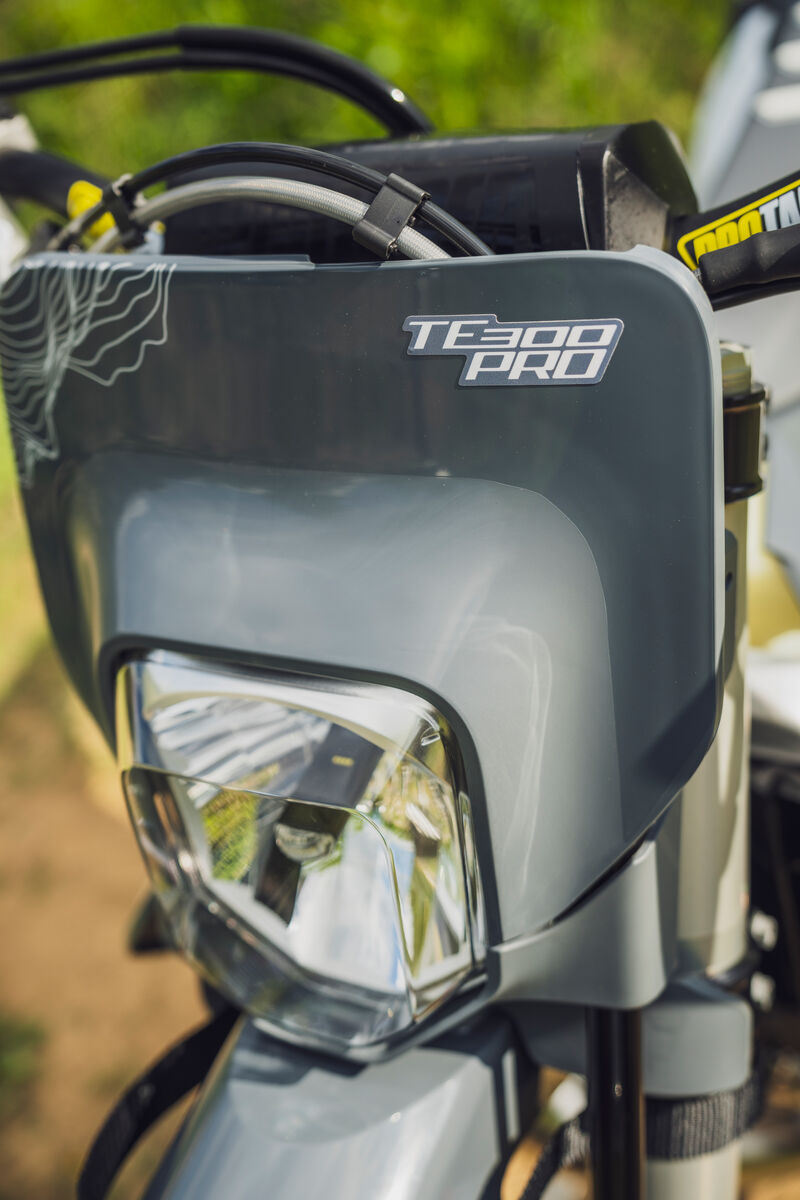 5 things: 2024 Husqvarna Enduro range – test ride and talking points
After our first test riding impressions (link above) there was some debate about the idea, some argued, of the white bikes being the premium models in the KTM Group line-up and why for example has the KTM EXC range got beter brakes as standard? Well, this is one way for Husqvarna to answer that line of questioning.
Adding upgraded parts to a standard model usually wastes no time in selling bikes in showrooms and this is effectively Husqvarna version of the KTM SIX DAYS models. Clearly people love the more exclusive editions and certainly some people prefer their new to have the good bits already fitted straight out the dealer.
On top of an already vastly upgraded model range for 2024, these two news freshies will surely be snapped up even if that price is a bit rich for many of us.
The 2024 TE 300 Pro and FE 350 Pro are available to order now from Husqvarna Motorcycles dealers in Europe, next month (October) in North America.
More information and your nearest dealer at: www.husqvarna-motorcycles.com