First look: 2024 KTM 450 RALLY REPLICA
KTM announce the 2024 450 RALLY REPLICA, the latest generation customer version of the Dakar and Rally-Raid World Championship-winning race bike – probably the most "ready to race" bike you'll find anywhere in KTM's motorcycle line-up.
There aren't so many factory-developed customer race bikes in the is world which are this close the real thing. This bike is so capable you can go out and win Dakar Rally stages on it. Say hello to the 2024 updated version of the KTM 450 RALLY REPLICA, a bike approved and tested by factory riders such as 2023 Dakar Rally winner, Kevin Benavides.
Rally fans will be familiar with the customer KTM model, the must-have bike in reality if you are serious about taking part in rally-raid events, particularly the big ones like Dakar.
Built on the latest generation factory bikes as used by the KTM Group brands, the new 450 Rally again stands before you with "few differences between the replica machine and the Red Bull KTM Factory Racing's KTM 450 RALLY bike".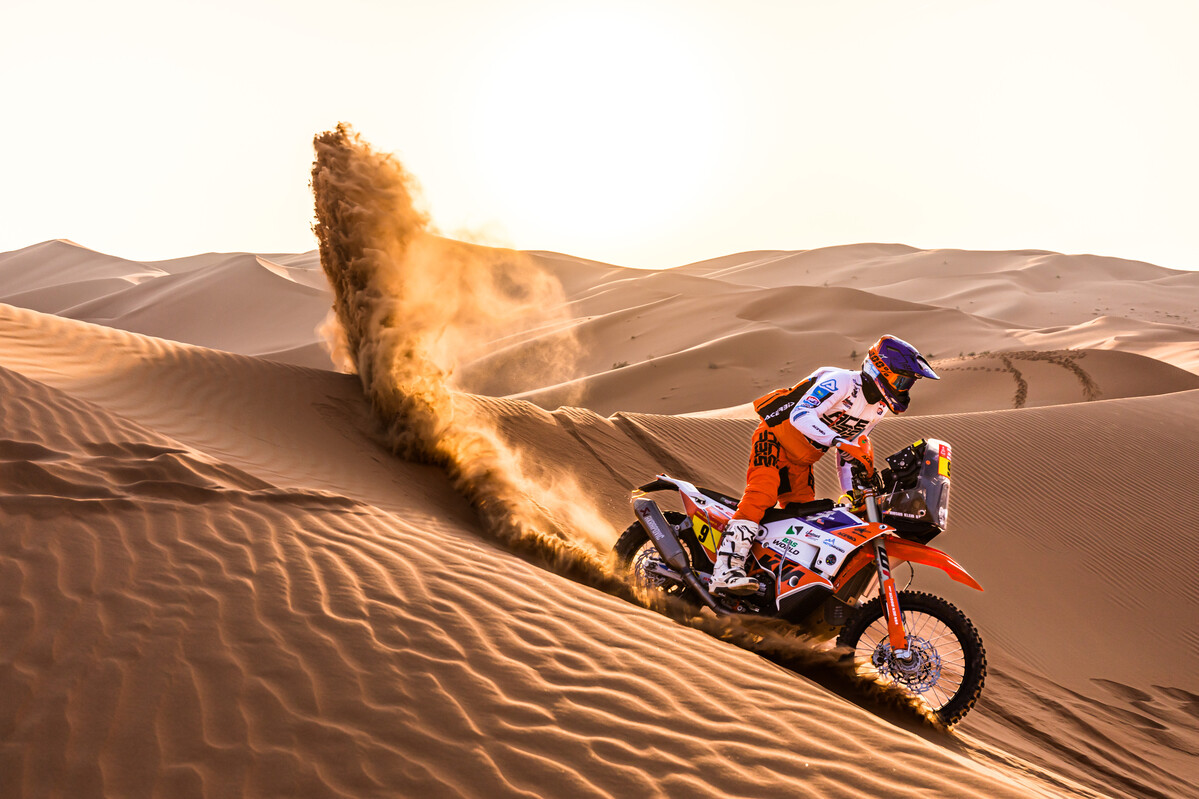 The KTM 450 RALLY REPLICA has been the springboard of many rally careers includind Skyler Howes and most recently Mason Klein, who began competing at rally events in 2020, won the Rally2 class in the World Rally-Raid Championship (2022), before taking a stage win at this year's Dakar Rally aboard his BAS KTM machine.
2024 KTM 450 RALLY REPLICA – Tech Highlights
80 units available
450cc SOHC fuel-injected engine
Race-spec chassis developed and as used by the factory rally teams
48mm WP XACT PRO closed cartridge forks [Cone Valve]
WP XACT PRO fully-adjustable shock
Akrapovič exhaust system
Pankl factory-spec transmission
KTM factory frame and transmission
As ever , the Rally Replica is very much part of the factory development programme with direct links to the factory race bikes winning the races.
Capability and reliability in harsh conditions over thousands of miles is reality and these bikes are proven.
The main rider feedback we know from this latest generation KTM rally bike is an easier to ride bike – it's what the factory riders were saying when they upgraded last year. New standing geometry makes it more comfortable but better controlled and weight balance is also improved depending on fuel load they say.
You also get latest generation WP XACT PRO COMPONENTS suspension with improved feel, traction, and high-speed bump absorption. The 450cc motor runs Keihin Management system and ECU engine mapping.
The closest link to the factory KTM bikes is both the chrome-moly steel frame and the Pankl transmission which are the same as used by the Red Bull KTM Factory Racing team (and Husqvarna and GASGAS teams).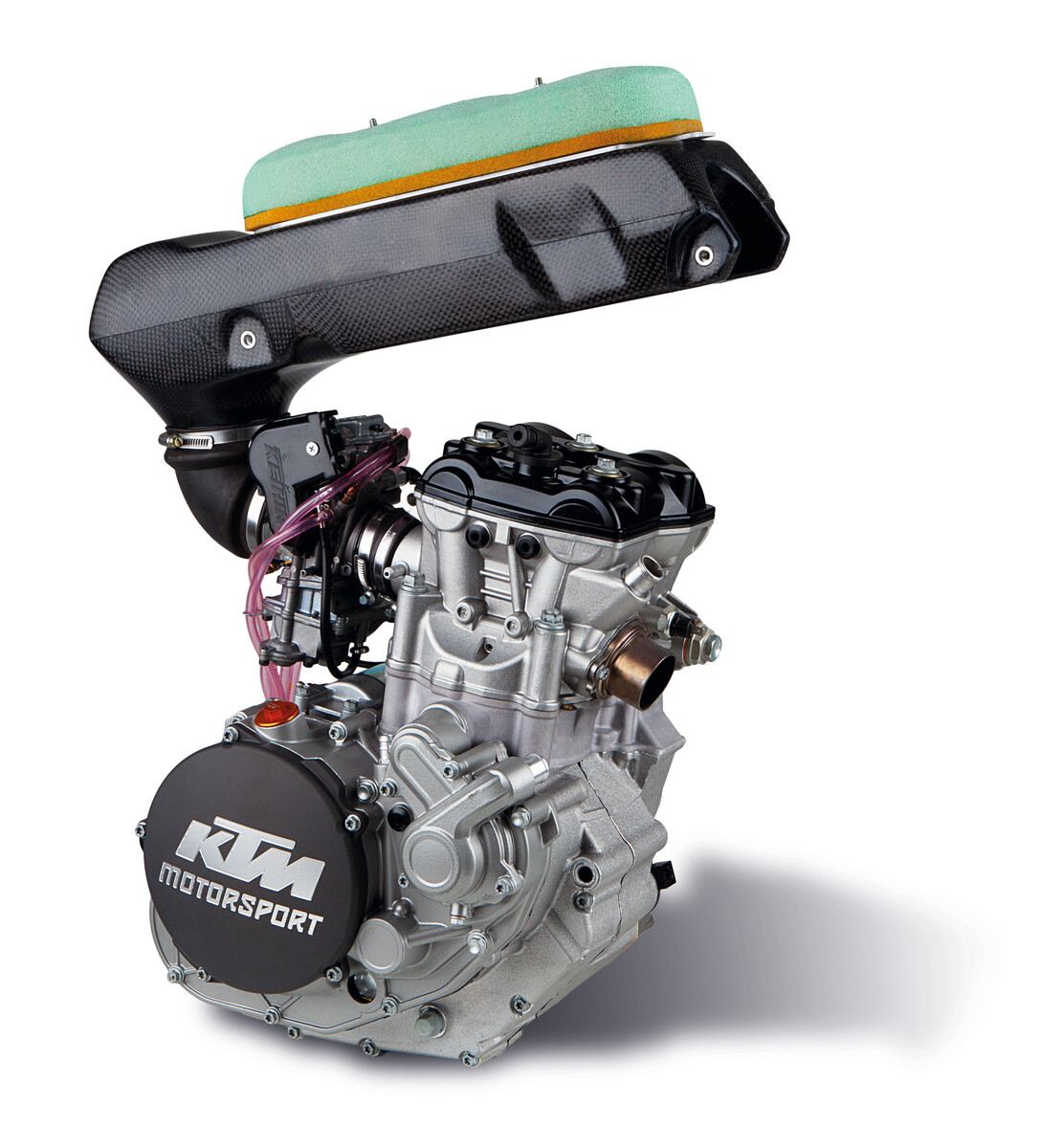 Only 80!
Riders who compete in the Original By Motul class (Malle Moto) at Dakar can tell you all about this bike as most of the entry are riding one. They, like lots of people, find the only downside with it is the fact KTM only make 80.
Around 70% of entrants in Malle Moto classes race one of these and the reason is simple, this is probably the most "ready to race" bike you'll find in KTM's bike line-up.
"The KTM 450 RALLY REPLICA is an extension of our factory development programme and has been the choice of countless riders on their quest to either just complete rally races such as the Dakar, or reach results close to the professionals." Explains KTM Rally Technical Manager, Stefan Huber.
"The bike is READY TO RACE out of the crate, and has all of the required capabilities for high-level success. Many riders have relied on this motorcycle to help them achieve their rally goals, and it is developed in-line with our Red Bull KTM Factory Racing Dakar Rally winning machine. This model usually sells-out fast, and it's great to see so many of them battling at the rallies around the world."
If you want one, be quick getting in touch with your country subsidiary via www.KTM.com