Image gallery – Husqvarna's 2023 electric mini bike range
Take a closer look at our giant image gallery of Husqvarna's 2023 electric mini off-road motorcycle range, the EE 3 and EE 5 with "performance to rival combustion engines".
Husqvarna Motorcycles has added to its electric minicycle line-up in 2023 with a new 10" wheel, low seat height EE 3 to stand alongside the already established EE 5. Boasting performance to rival 50cc petrol-driven motorcycles, these are the white bikes to match the electric minibikes also announced by KTM and GASGAS this week.
The aim, of course, if to attract young riders into off-road to learn the skills and balance on the dirt with a functional, and good looking we reckon machine. Hence the large picture gallery above.
The EE 3 is the new entry-level machine but matching the larger EE 5 model with the competition-focused chromium molybdenum frame, WP suspension, adjustable electric power output 10" wheel size and 23.6 in (600 mm) adjustable to 21.8 in (555 mm) seat height.
The electric motor's permanent drive means there is no clutch or gearbox to master, hand lever-operated front and rear brakes are progressive and the peak power of 3.8 kW is easily adjustable through six modes. Seat height is adjustable and the fast-charging Li-Ion battery is maintenance-free they say too.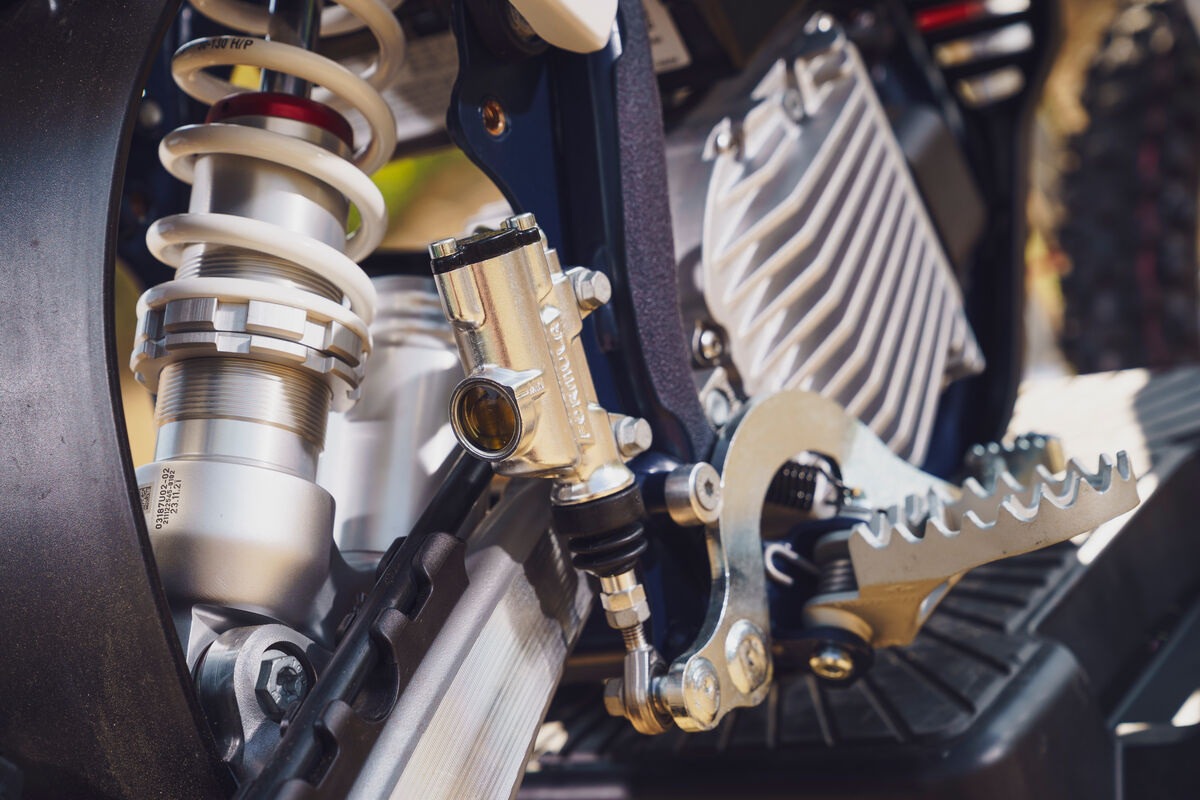 Aimed at beginners and experienced racers, the larger EE 5 is inspired by the TC 50 Husqvarna say. Delivering electric motor performance to rival its combustion engine counterpart, it has the same chromium molybdenum frame, longer travel adjustable WP suspension and sits on a larger diameter 12" front wheel.
The EE 5's electric motor ups the performance package with peak power of 5 kW, delivered through an intelligent control unit. Again, there's no need for a clutch or gearbox so new riders can focus on building their riding skills with a running time of up to two hours (or 25 minutes in flat-out competition conditions). It takes a claimed 70 minutes to fully recharge the lithium-ion battery on either EE model.
Seat height is easily adjustable and can be lowered further to 550mm with an optional lowering kit.
2023 EE 3 and EE 5 technical highlights:
"State-of-the-art" electric motors with 3.8 kW (EE 3) and 5 kW (EE 5) peak output
Six different ride modes
648 Wh (EE 3) and 907 Wh (EE 5) lithium-ion batteries
Quick charging (70 mins claimed)
High-end chassis with race proven technology
New MAXXIS MAXXCROSS MX-ST tyres
EE 3 features durable WP suspension providing advanced performance and control
EE 5 is equipped with the latest WP XACT air fork and a WP rear shock
Swedish-inspired design and striking new graphics in white, blue and electric yellow accents
Ergonomics are adjustable to suit rider size
A selection of Husqvarna Technical Accessories has been developed to go with the EE 3 and EE 5 plus functional off-road apparel, riding gear and protection.
The 2023 electric minicycles are available now worldwide at all authorised Husqvarna Motorcycles dealers. Availability may differ from country to country. For details on pricing and availability, please refer to your national Husqvarna Motorcycles subsidiary or importer.
More information: www.husqvarna-motorcycles.com