My Ride: Wes Van Nieuwenhuise's KTM 790 R Adventure – Sonora Rally Podium finisher
Chasing a desert rally podium on a KTM 790 R Adventure bike? We asked Wes Van Nieuwenhuise 'what the hell?' and to tell us the details about the bonkers bike he raced at the 2020 Sonora Rally.

Fourth place overall and nine seconds away from the podium in only your third rally event is a result most of us would be happy with. For Wes VanNieuwenhuise however that wasn't the whole story – he pulled the impressive result at the 2020 Sonora Rally on a KTM 790 R Adventure bike.
"Beast", "animal", call VanNieuwenhuise's 790 R what you want, there's no doubt alongside the fully-prepped rally and desert-spec dirt bikes he was lined up with at Sonora, this was a different choice of machine to race across the Mexican desert.
We know the KTM Adventure bikes are handy off road in the right hands but it's hard not to be impressed with Wes's very real result of P4 behind Ricky Brabec, Skyler Howes and Bill Conger.
We wanted to find out more about what inspired Wes to race Sonora on a heavily-prepped 790 R and to get some details behind this impressive bike…
Wes, that was some result, presumably the Sonora wasn't your first rodeo but what's your background racing off road?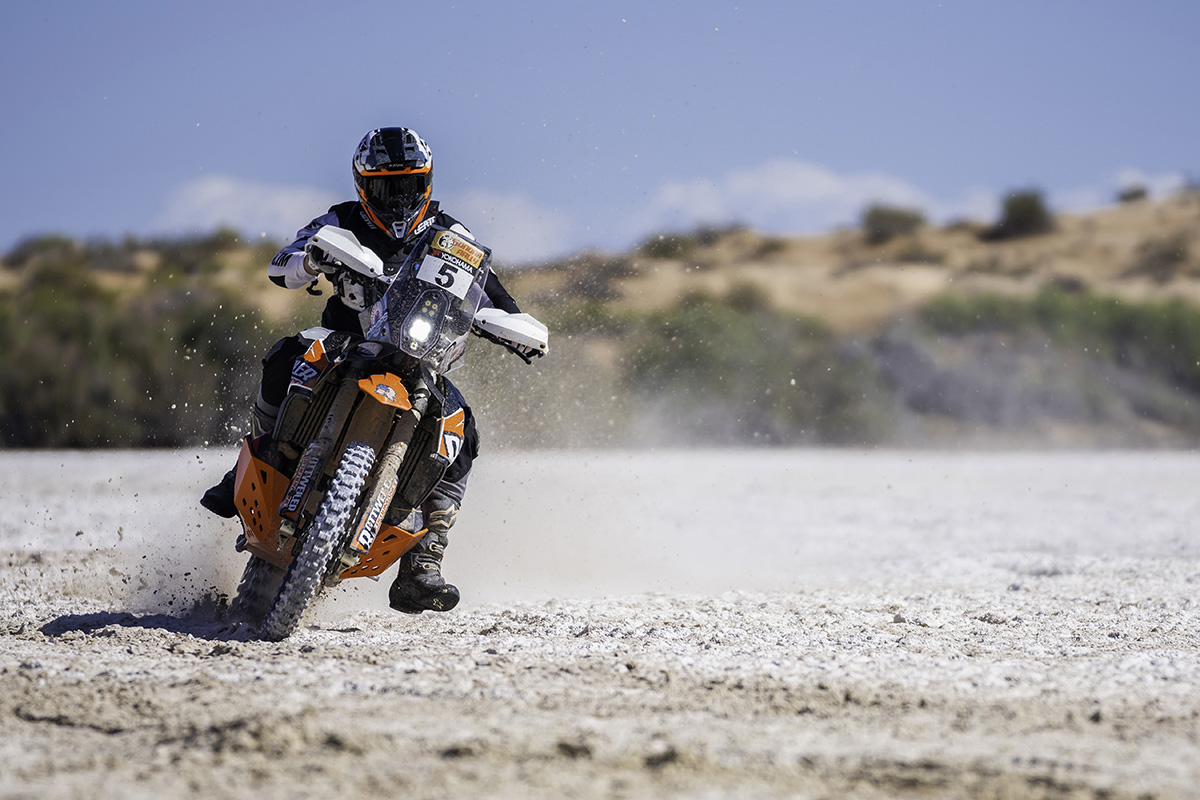 Wes VanNieuwenhuise: I grew up riding in the woods of the great Pacific Northwest of Washington state. I got into racing when I was younger, some motocross but mainly riding and racing in the woods.
I got introduced to adventure bikes about five years ago when my dad asked me to join his team at a 24hr dirt bike race riding adventure bikes. From then on, I've loved them and ride them more then my dirt bikes.
I've had the opportunity to race three rally events. First one was the Baja Rally in 2018 on my KTM 950 SuperEnduro and won the Adv class. The second was the Sonora rally in 2019 on my Husqvarna FX450 but I crashed on the third stage and had to withdraw.
Then my third rally was the Sonora 2020 on a KTM 790R, which was amazing and I ended up getting fourth overall and just nine seconds from third on the podium.
Sure looks like Wes was enjoying it…
https://www.instagram.com/p/B99vJ6gnRBu/
Did you expect to do so well?
Coming into the rally I wanted to finish and be in the top 10. As the week went on and we got some of the bugs fixed, we started getting the top five daily results which I was stoked about and my goal shifted to getting a top five finish.
Then coming into the last stage I had a real shot of getting a top three but I knew that meant having a pretty much perfect day.
It came down to the difference of nine seconds between me and third place but I couldn't be happier about the week and how big of an accomplishment it was to do so well on that bike.
Tell us about the bike build – was it all your own work or who helped?
https://www.instagram.com/p/B9tUbF4nH0B/
Rottweiler Performance built the bike and did an incredible job. They specialize in high performance parts and accessories and really know their KTMs. We also teamed up with Konflict Suspension and Cyclops Motorsports to finish the bike set-up.
Konflict Suspension set the 790 R up with WP Pro Component forks and rear shock and stretched the fork travel to 270mm.
The bike handled all the different terrain during the week with ease and without this suspension set-up it wouldn't have been possible to get the results we did.
Whose idea was it to race the KTM 790 Adventure in the Rally and what inspired you to do it?
The idea was a group effort. I wanted to get more experience mainly because I won the KTM Ultimate Qualifier, which got me a free trip to race for KTM at the Merzouga Rally on a 790R.
"It was the most fun I've ever had in the sand" – Wes VanNieuwenhuise
So Rottweiler Performance, Konflict Motorsports, Cyclops Motorsports and myself put this all together and made it happen. The four of us love racing and riding adventure bikes and love pushing these bikes and showing what they are capable of, so it was a no-brainer when they added an adventure class this year at Sonora.
Did you know the event well and so knew it would be ok on an adventure bike?
I raced it last year so I had some idea of what to expect, but knew it wasn't going to be an easy task to make it to the finish every day for five days straight.
It consists mainly three days in the rocky desert and two days that are mainly sand. The dunes that we raced through are the biggest sand dunes in North America. They are so tall and steep that when you look at them, you're not sure how you will make it to the top! These dunes were my main concern with racing the 790 in the rally. We couldn't have got luckier with the conditions, a big rainstorm came in the day before and soaked the dunes making them harder packed and that helped a massive amount with traction. I was able to go up the biggest and steepest dune without any issues even pulling a wheelie up them. It was the most fun I've ever had in the sand.
Were there times where it was harder work on the big bike or other places where it was better?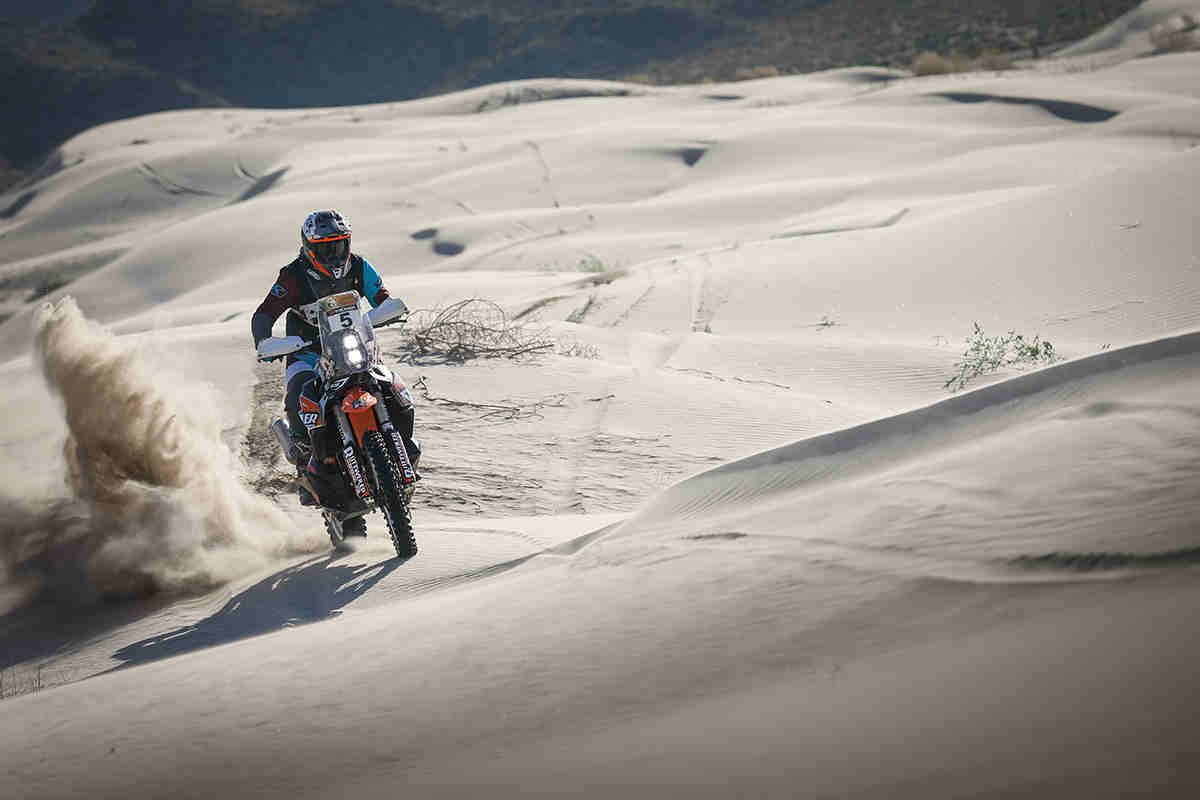 The thing with racing these adventure bikes is the added weight which causes it to need longer distances to slow down, which can make things interesting sometimes!
The bike set-up and tires play a big role in getting a good finish. Whoops and big g-outs are another factor in racing big bikes, it just makes you slow down. The bike has great acceleration and the power made those long straights – getting up to 185km was awesome. Climbing those massive Sonoran dunes was easy with all that extra power from the 790.
It must have been fun, at least you make it look fun in some of the social media clips, would you do it again or attempt a different rally on it?
We have more races planned for this awesome bike finishing up the best in the desert series possibly the Baja Rally and the Sonora rally again next year where look to improve even more!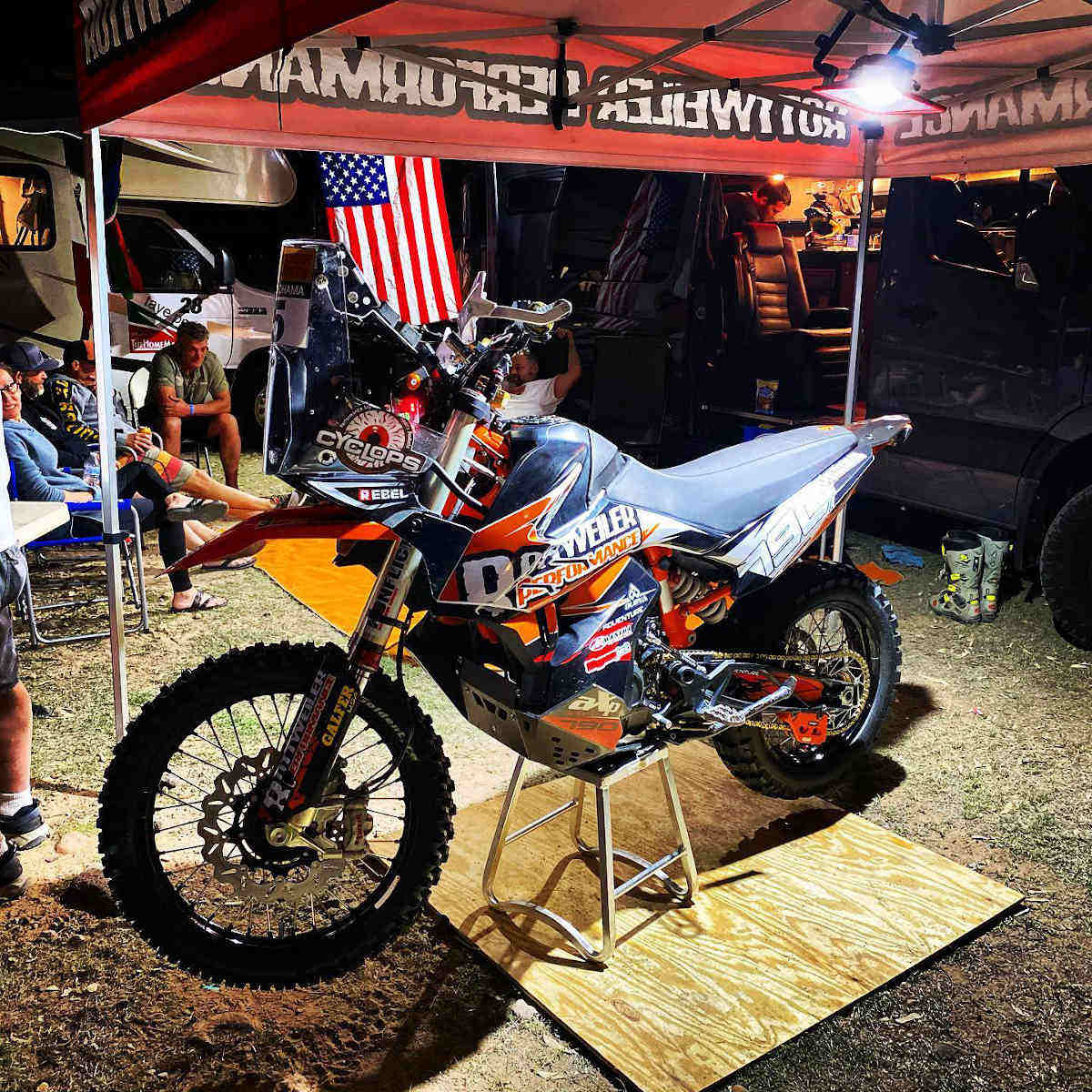 Rottweiler Parts fitted to the KTM 790 R rally bike:
Rottweiler 790 Adv power plate air box pre-filter (changed once a day)
Rottweiler master cylinder guard
Rottweiler transaver (gear shift saving device)
Rottweiler headlight bracing Kit
Rottweiler quick fill gas cap
Rottweiler kickstand sensor relocator
Rottweiler CRG clutch lever and cable
Rottweiler single-sided front brake kit
Rottweiler racing fuel line kit
Rottweiler titanium O2 sensor plug and block off kits
Rottweiler graphics kit
Lighting:
Custom Cyclops Adventure Sports KTM Headlight with Pegasus dual cubes
Suspension:
Konflict Motorsports sprung and valved WP Pro Components forks and shock.
Lubricants:
Maxima Pro + engine oil
Maxima coolant
Maxima fuel stabilizer
Maxima grease and lubricants
Nav Gear:
Rebel X 790 Adventure nav tower
F2R road book controller
F2R road book
ICO meters
Mapping:
Dynojet Power Commander V
Dynojet Auto Tune plus switch
Dynojet POD-300 Data Logger
Exhaust:
Arrow Header pipe, mid-pipe and titanium muffler
Electrical:
Antigravity restart battery
Controls:
BRP KTM 790 Adventure sub mount kit
Scotts damper
Rottweiler 20mm risers
Brembo M50 front brake caliper
Brembo RCS-15 master cylinder
Galfer wave rotors
BRP hand guard mounts
KTM Powerparts white hand guards
Drivetrain:
Rekluse torque drive clutch pack
Drive Systems sprockets (15/45 final drive)
DID ZVMX chain
Factory Pro shift kit
Vanasche counter shaft protection
BRP chain guide
Wheels:
Custom Dubya Wheels with Excel rims/Talon Hubs/Bulldog spokes
Tyres used:
Dunlop 908
IRC M5B
Golden Tyre front
Chassis bolt-ons:
IMS Core footpegs
AXP Skid Pan
Contact details for bike build:
Photo Credit: WESTX1000