Pro Bike: Cody Webb's immaculate EnduroCross Sherco 300 SE two-stroke
Enduro21 takes a closer look at Cody Webb's perfectly prepared Sherco 300 SE two-stroke, a bike bucking the 4T trend in this year's EnduroCross series.
How good does this bike look? There's factory prepared and then there's this whole other level. Sherco USA built and prepped this gem of a 300 SE for Cody Webb to race in the 2023 EnduroCross series which concludes this weekend in Reno with "Goaty" fighting for the championship podium.
Before he scuffed it right up at the Redmond round, Jack Jaxson took these sweet shots of the stealth-look version (expect another limited edition colourway this weekend), and Enduro21 caught a few words with Cody about his race weapon of choice this year.
First thing we had to ask was why the switch from four-stroke to two-stroke? After all, Cody has taken all his major EnduroCross and SuperEnduro titles on 4T bikes…
"I switched back to just get a change of pace and to ride what I'm used to." Explains Cody. "I had some decent results these last few years on Sherco's 300 SEF, but didn't feel like myself out there on the EX tracks. I ride the two-stroke all year round for the extreme races so I figured I might as well stick to what I know."
Fans favourite
Part of the positive vibes around switching back to the two-stroke has come from the fans as well Webb explains. Feedback to Cody has been strong since the start of EX series: "I have been enjoying myself for sure being back on the two-stroke. I'm feeding off the energy of the fans as well, everyone loves two strokes and misses them in premier classes of racing, so to have the spectators amped up gets me excited as well."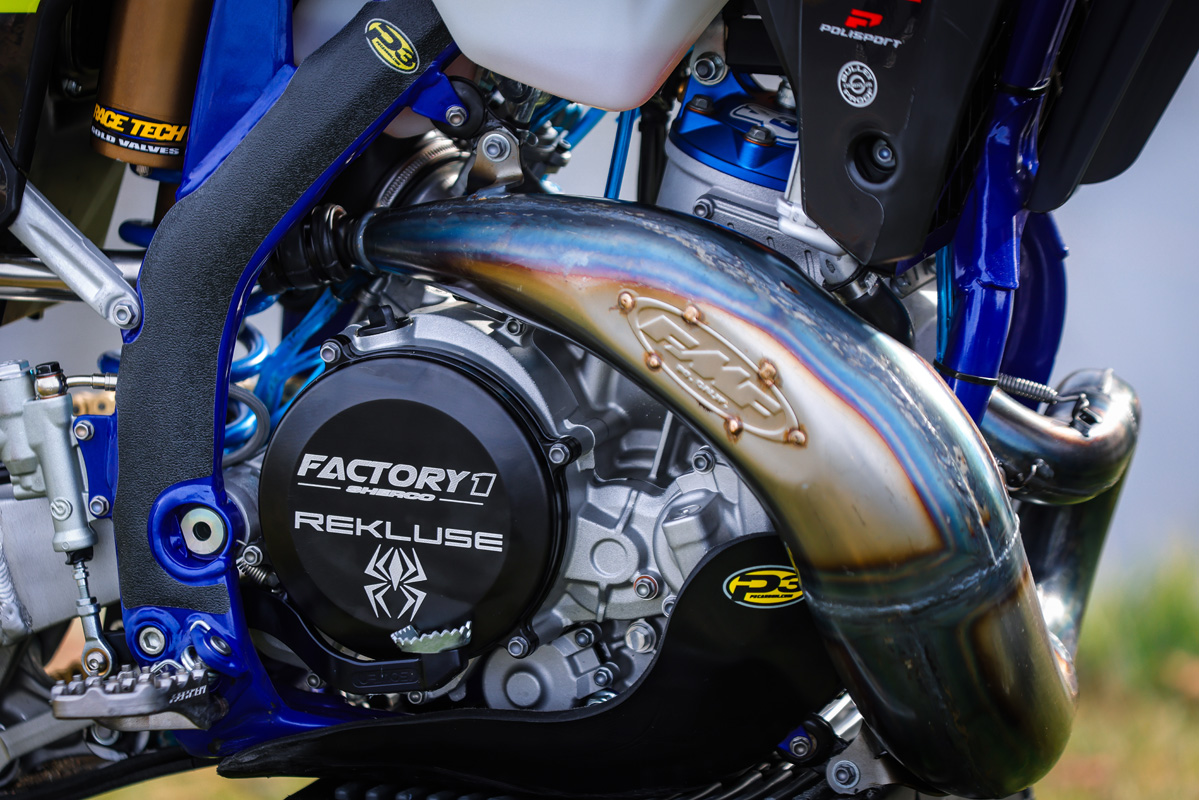 Apart from suspension adjustments to the 300 SE and gearing to adapt it from skills needed in the rocks and climbs of the US Hard Enduro series, Cody says the changes to make the 300 work indoors are minimal: "We added a high compression head to add some more snap, which really makes the bike a lot more responsive and fun to ride."
Indoor racing requires that "snap" to fire the bike out of corners, at obstacles and specialised tracks. It's partly why the four-stroke became the norm in EX and SuperEnduro, because with fiery character and torque riders could access power and drive right from the first opening of the throttle to launch at obstacles. Sherco USA fitted an S3 Parts high comp head by the way.
Big-up the two-stroke
It's a trend you could argue Jonny walker has been ploughing this last couple of years. The Beta rider decided to do the same, sticking with just one bike and adapting it for different races, making it work and showing a two-stroke can still cut it.
Where is the 2T better on track?
The other questions we wanted to know was where is the two-stroke actually better on track? Naturally you'd think the two-stroke 300 is lighter than the 300 SEF, but even though Sherco have a bad habit of not quoting weight figures on their spec sheets, to our knowledge the 300 4T is marginally lighter (by about two kilogrammes/four pounds) on the standard bikes.
But the way a two-stroke carries its weight compared to a top-heavier four-stroke is key here with the motor mass lower down. It's "in the rocks", Cody says, where you feel it the most: "I feel like every race the rocks have been a breeze compared to the last few seasons. I almost don't even think in the rock gardens now. Just point and shoot and maintain momentum.
"It's also a lot easier to recover if mistakes are made. I felt like if I made a mistake in the last few years it was more difficult for me to recover and more time was lost."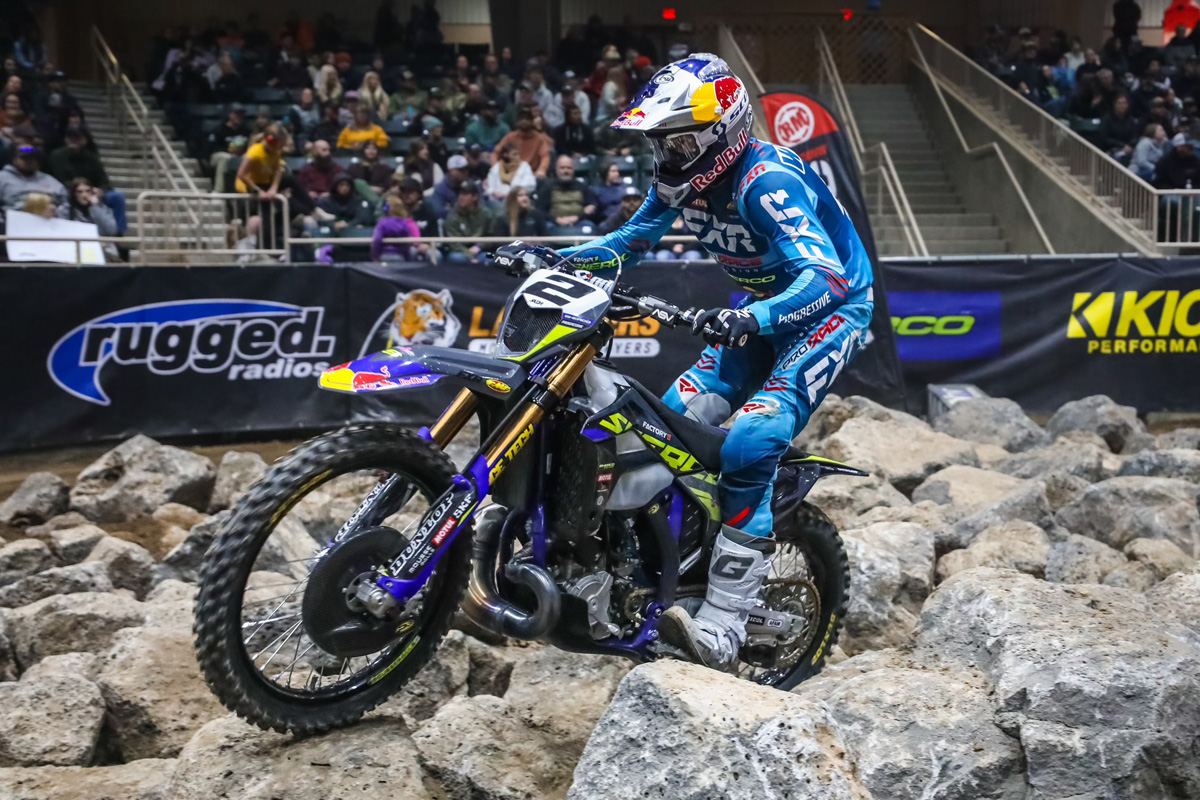 Perfect prep
Props here top the guy prepping Cody's bike for these final rounds of the 2023 EnduroCross series. Sherco USA Director of Motorsports Daniel Castloo is the guy with impeccable skills here after Cody's former long-serving wrench man Cody Richelderefer moved on.
One round remains in the 2023 EnduroCross series and it looks like it will be a hot one in Reno this weekend (November 18).
"Obviously I am disappointed on the night," said Cody Webb after last weekend's penultimate round where racing was so close he went from P2 to P4 in the points standings. "I had made some big improvements the last two rounds in Idaho. This was a very fast and large track. There wasn't anything that was really going to trip us up so you had to ride super clean. This wasn't a track that rewarded consistency, you had to push really hard. The track was a little more jumpy than most, there was even an Arenacross-style finish line jump. With one round to go, I am going to put everything into it to get back into a final podium position," concluded Webb.
Thanks also to Jack Jaxson and Sherco USA's Bryan Kraham for the images.