First look: Beta reinvent the Alp – new 4.0 and X models for 2024
Beta has announced a complete revamp to their classic dual sport, off-road motorcycle, the Alp 4.0 and X 350cc versions plus an updated 200cc model.
Honestly, we can't remember the last time Enduro21 put any meaningful words down about the Beta Alp. As one of the original dual sport, off-road motorcycles, its blend of easy trials-like abilities with doses of old-fashioned trail bike and basic ease of use made it into something of a forerunner. This model from the Italian manufacturer is as old as the hills (ahem).
A complete makeover for model year 2024 has been revealed this week at the EICMA motorcycle show in Milan with new chassis, engine and components all on the table.
Beta seem particularly proud of the Alp X model which certainly looks the coolest to us and stands alongside the new 4.0 and 200 versions.
Alp 4.0 and Alp X details
The main differences between the Alp 4.0 and Alp X aside from the looks are wheel sizes (the 4.0 has 18" and 21" wheels and tyres designed more for off-road; Alp X has 17" and 19" spoked wheels but with tyres slightly more dual-purpose – although they're still off-road capable.
The Alp X features more tapered plastics in a "Modern Classic style" beta say, with the Alp 4.0 panels wrapping around more. Both feature new LED headlamps with a more angular headlight on the 4.0 compared to a round one on the X model.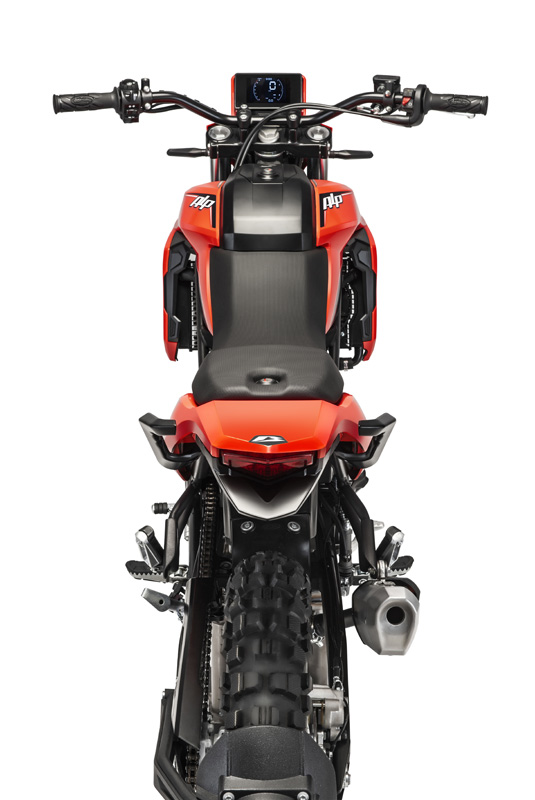 Aside from that, basically the Alp 4.0 and Alp X share the same engine, chassis components and frame. Both feature a 350cc, single-cylinder engine developed in partnership between Beta and Tayo Motorcycles which they say was developed specifically for this project, so not derived from other models.
The new motor has electronic injection, a claimed 35 horsepower at 9500rpm, a six-speed gearbox and a maximum claimed speed of over 130kmh (80mph).
An 11-litre fuel tank, with 2.3 litre reserve, means the new ALP offers an impressive range (claimed 3.5 litres per 100 kilometres) which if true would make it a very practical bike for all types of riding.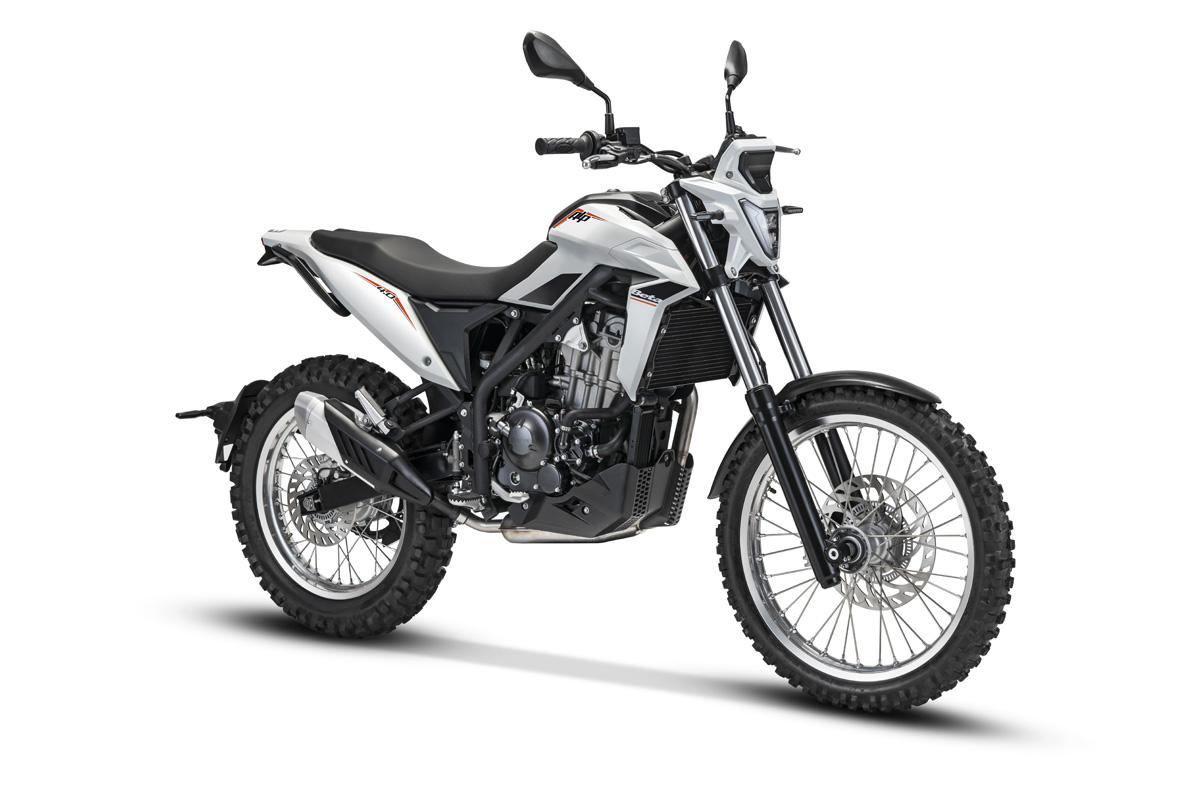 Frame and Suspension
The new ALP models have a steel perimeter frame with the engine slung underneath and finished in black.
Both the front fork and rear mono-shock suspension are set up for "fun" while riding Beta say, but keep the bike agile and comfortable.
Saddle height is 865mm for Alp 4.0 and 855mm for Alp X, which should mean good ground contact for both models, even for less experienced riders. They also say the saddle is "extremely comfortable both for the rider and passenger".
Both models are equipped with 290mm single disc front brake and 220mm at the rear with Nissin brake cylinder and calipers.
The standard equipment also includes the BOSCH ABS system which has an "Offroad" map for better performance on the dirt (disengages), but which is re-enabled automatically whenever the bike is restarted.
LCD instruments display information on fuel level, ABS status, range and engaged gear, as well as traditional information such as speedometer readout, tachometer, and partial and total mileometer, all with modern and easy-to-read graphics.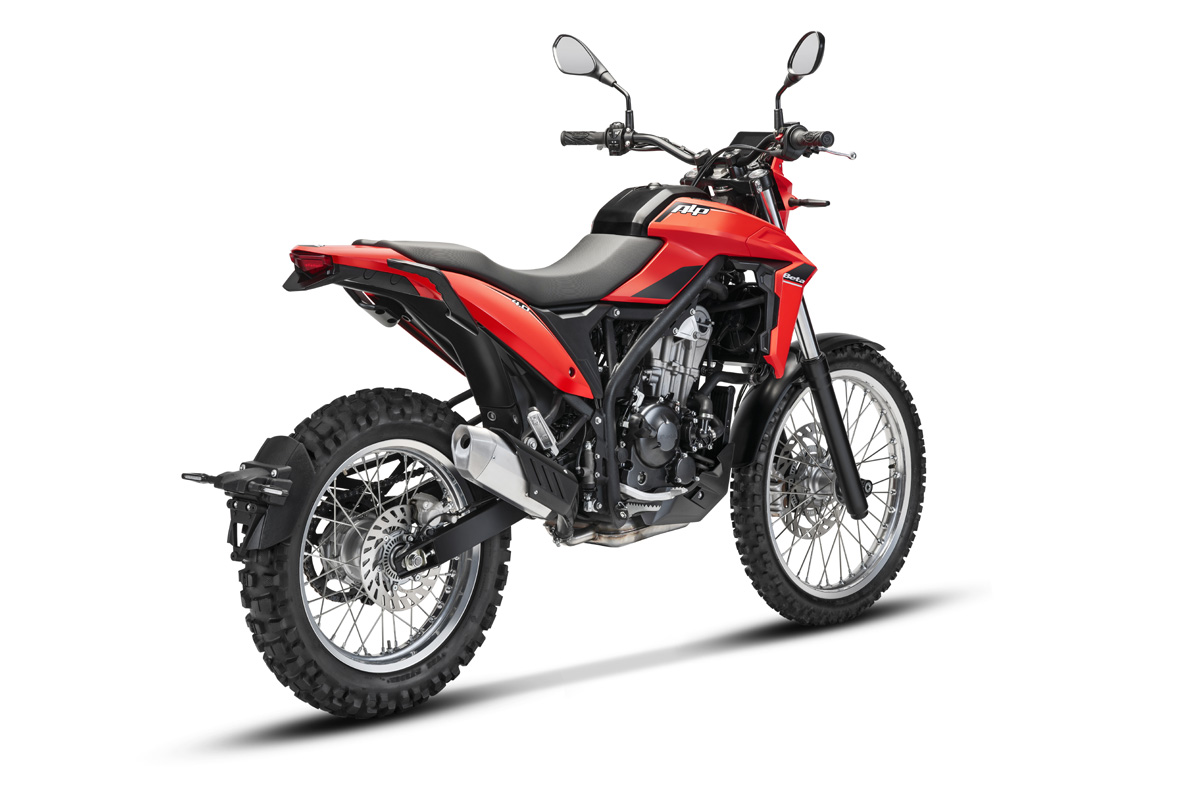 Beta talk about the Alp as a bike aimed at a wide range of different riders, from A2 licence holders in search of their first bike, commuters, returning motorcyclists looking for a reliable and simple machine with good fuel economy, through to women looking for a bike which looks cool, isn't too tall or heavy, people who want a light off-road bike and above all those in search of a balanced, fun ride.
Dual sport by category but dual everything might be closer to the truth. We're glad to see this bike back on the off-road radar.
Colours: Alp 4.0: White; Red
Alp X: Grey; Dark Grey
Availability: December 2023
Price: not yet known
2024 Beta Alp technical specifications: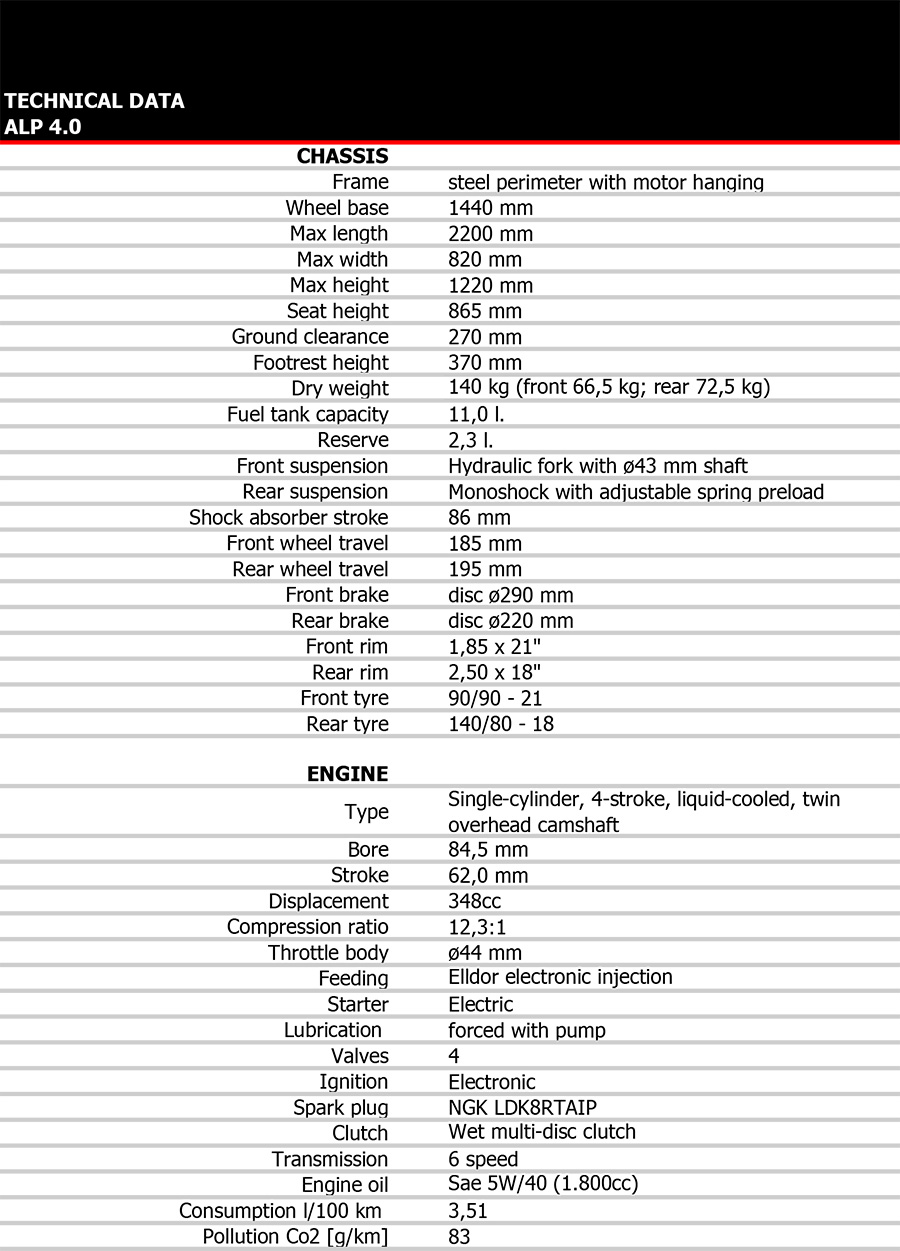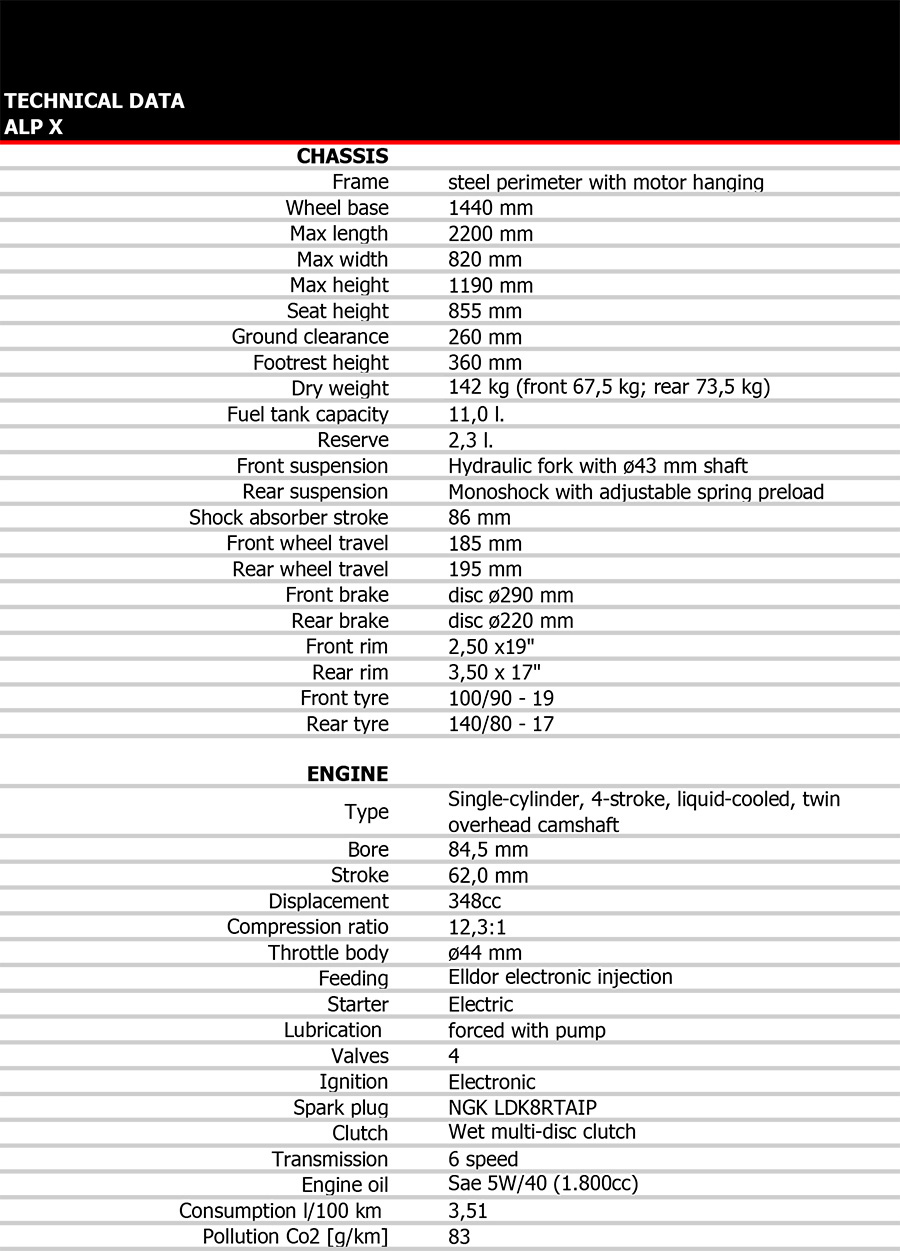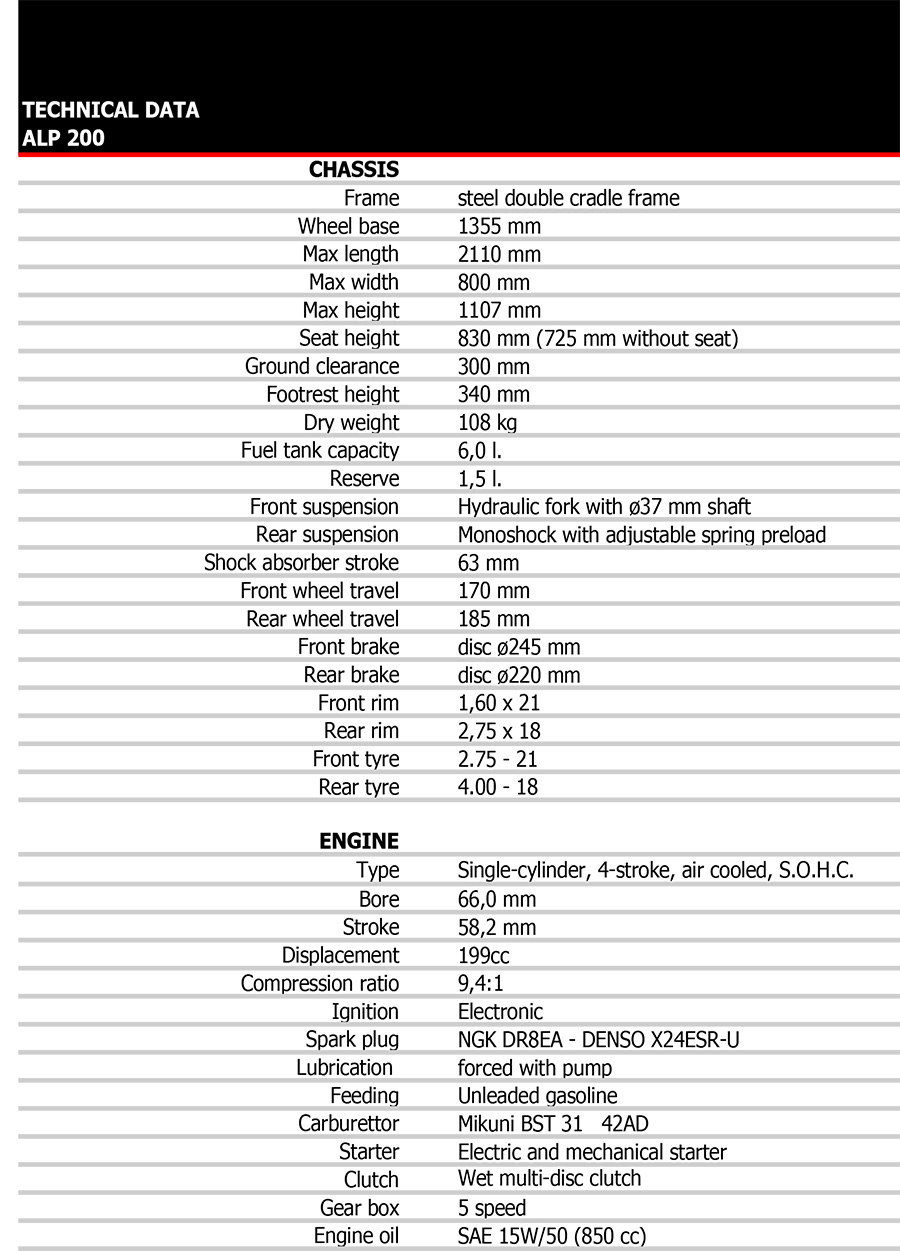 More information: www.betamotor.com