Tested: 2021 KTM 890 Adventure & Adventure R
Enduro21 dons a different set of riding gear to try out the new 2021 KTM 890 Adventure and Adventure R models for size with an off-road test plus a bit of bonus road action too.
A group of KTMs are standing waiting outside a coffee shop. Some of them have been here a while. Some are old stagers, wise to the ways of the world and well-travelled. Others are younger, fresher, more eager to get going. They're going for a ride and the 690, 790, 990, 1090, 1190 and 1290 are all waiting…someone's missing. Where's the 890?
That historical gap in the timeline needed filling and with their three-strong 890 Adventure range for 2021, KTM is further boosting the accesible and arguably best sector in the Adventure bike market – the middleweights.
Enduro21 got the chance to test the new 890 Adventure and Adventure R models, both on and off-road, to answer the call from KTM who claim to have built a bike which is "a lot more Adventure bike for a wider range of people."
Adventure bikes (for dummies)
First things first, some context. One thing that needed to happen was for a middle weight Adventure bike market to become a thing. Big trail bikes have been around for decades, some are still here, like the Kawasaki KLR 650. They are slower than an enduro bike but can do a lot of the same things are more comfortable and make off-road and trail riding easier which a lot of people enjoy for good reason. They plod where an enduro bike springs but they will keep plodding happily for days.
By contrast the big Adventure bikes which sell by the bucket load have been around for ages now too, though not quite as long as those dinosaur single cylinder big trailies. The 1000cc-plus Adventure bikes are bigger, heavier, more comfortable and capable over huge distances but a long way further from being an actual off-road bike (they can go over logs but they're more likely to push it out the way than hop over it).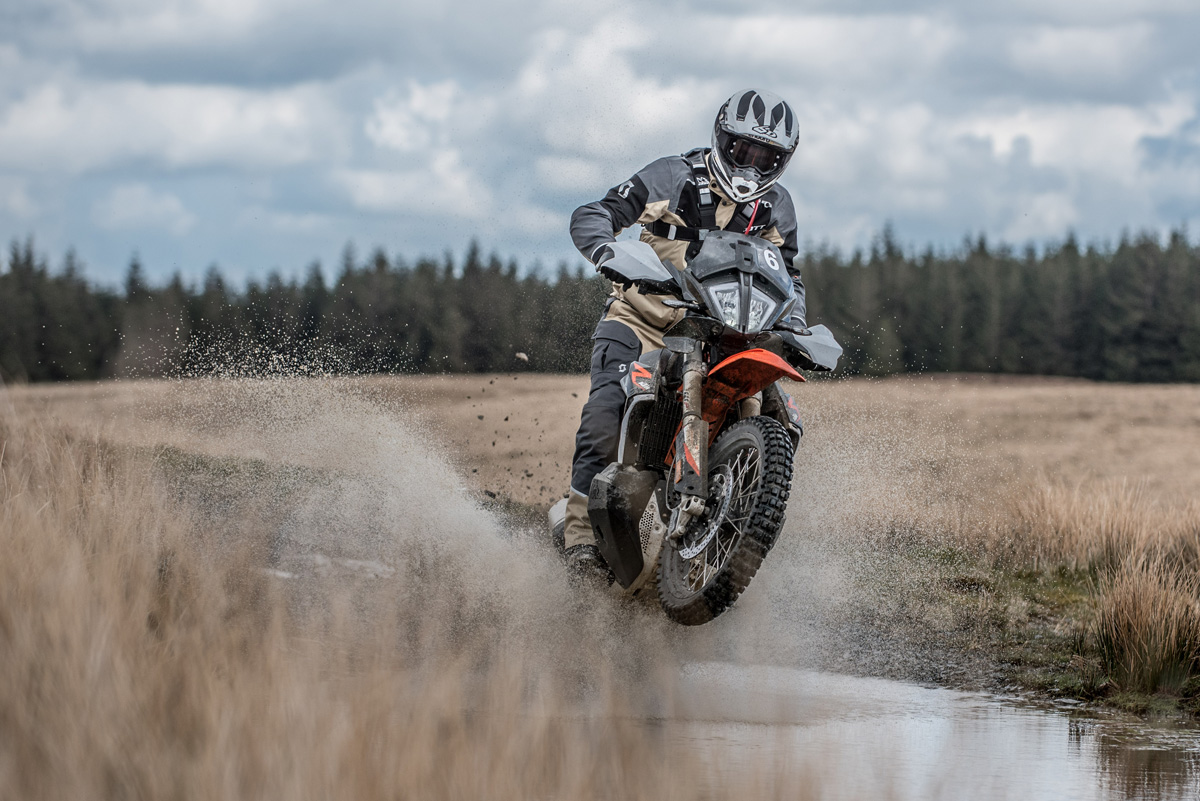 All hail the middleweight ADV bikes like the KTM 890 (previously 790) which are not as big and as heavy as 'normal' Adventure bikes but take a step or two towards the 600cc single cylinder trail bike brigade – a halfway house if you like. Still powerful and comfortable to sit on and ride across continents but easier to live with, less expensive by half more willing to ride the dirt. If you're into this kind of thing, what's not to like?
What's new about the 2021 KTM 890 Adventure?
The two new 890 models from KTM, the Adventure and Adventure R (there's another one but we'll talk more about that in a moment) have a new 889cc parallel twin-cylinder, Euro5 compliant engine with just under 10bhp more power and just under 10lb-ft increase in torque compared to its 790 predecessor. It's a significant hike and more meaningful than a mere 100cc hike because of a claimed 20% more rotating mass which KTM say makes all the difference.
There's also a slight change to the gearbox for smoother shifting and the electronics package – of which there are many varied options to control the brakes and power delivery – is tweaked to suit the new motor.
The Adventure and Adventure R model – what's the difference?
The new 890 Adventure comes in classic KTM orange colours or black and arrives on the dealer floor at the £10,000/$13,099/€13,399 mark or around 1000 more for the R model.
There is an Adventure R Rally model too but that limited edition (700 bikes globally) sold out in about a day so hard luck on that one!
The two 890 Adventure models you can actually get hold of are largely the same bike – the same engine and main chassis – but one is designed to be more road-friendly while the R is more off-road capable.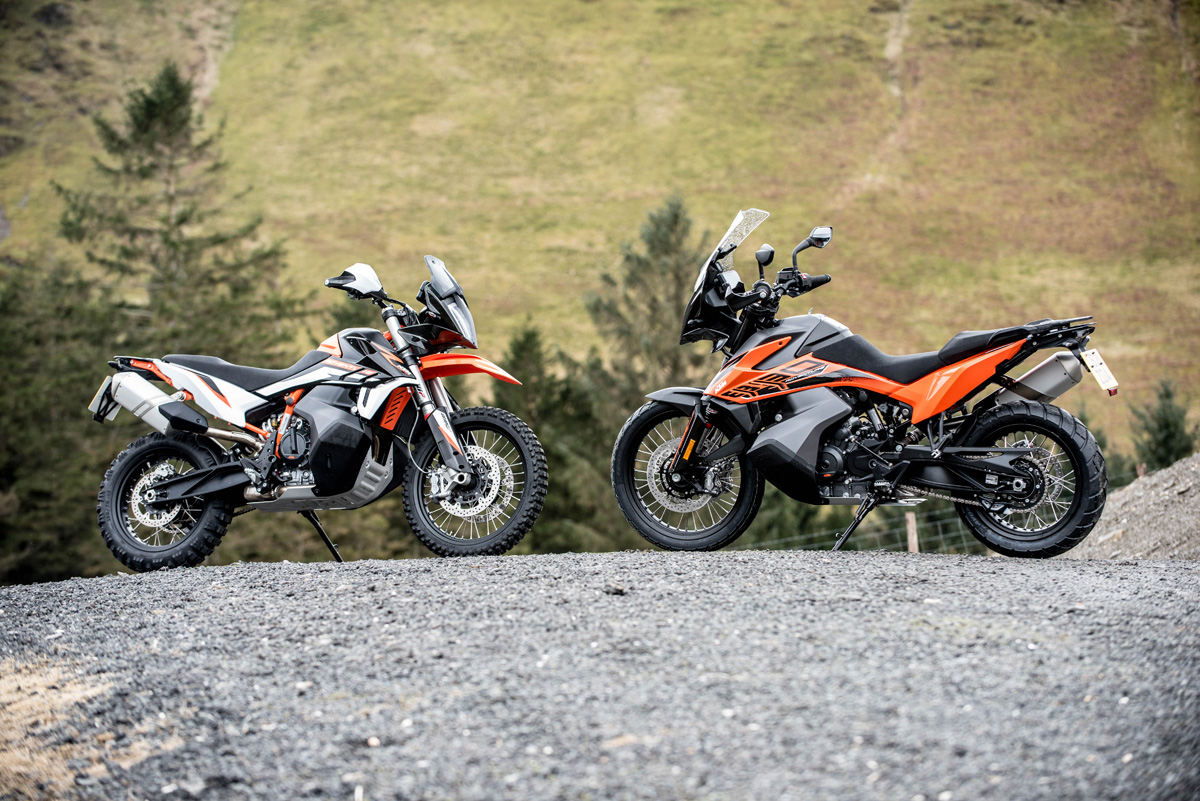 The 890 Adventure R starts with a smaller screen but the meaningful differences are the beefier, 48mm WP fully adjustable spring forks. Combined with the shock the R has 20mm more ground clearance, chunkier tyres (Mitas E-09s on our test bikes) and a more off-road oriented seat.
One piece of common ground between both 890 models are the 21" front and 18" rear wheel combination. The big ADV bikes can suffer off-road not just through their weight but with their fatter tyres – basically road tyres with tread. The 890s narrower tyres stick with convention for off-road and that means this bike cuts into the dirt and steers better.
The Mitas E-09s fitted as standard love the gravel tracks and open, grassy moorland where we did this test and proved fit for that dual-sport purpose. It feels right to have actual tyre sizes we're used to and it also gives you plenty of options to fit as replacements.
Any day busting motorway speeds off-road is a good day
We did this launch test at a KTM Adventure Centre at a venue called Sweet Lamb in Wales. At roughly 6000 square acres of empty, open moorland (apart from the sheep) and tracks it is an awesome place for off-roading. Ok, it's not the big open deserts of Baja or Utah but certainly for Europe this is a big playground.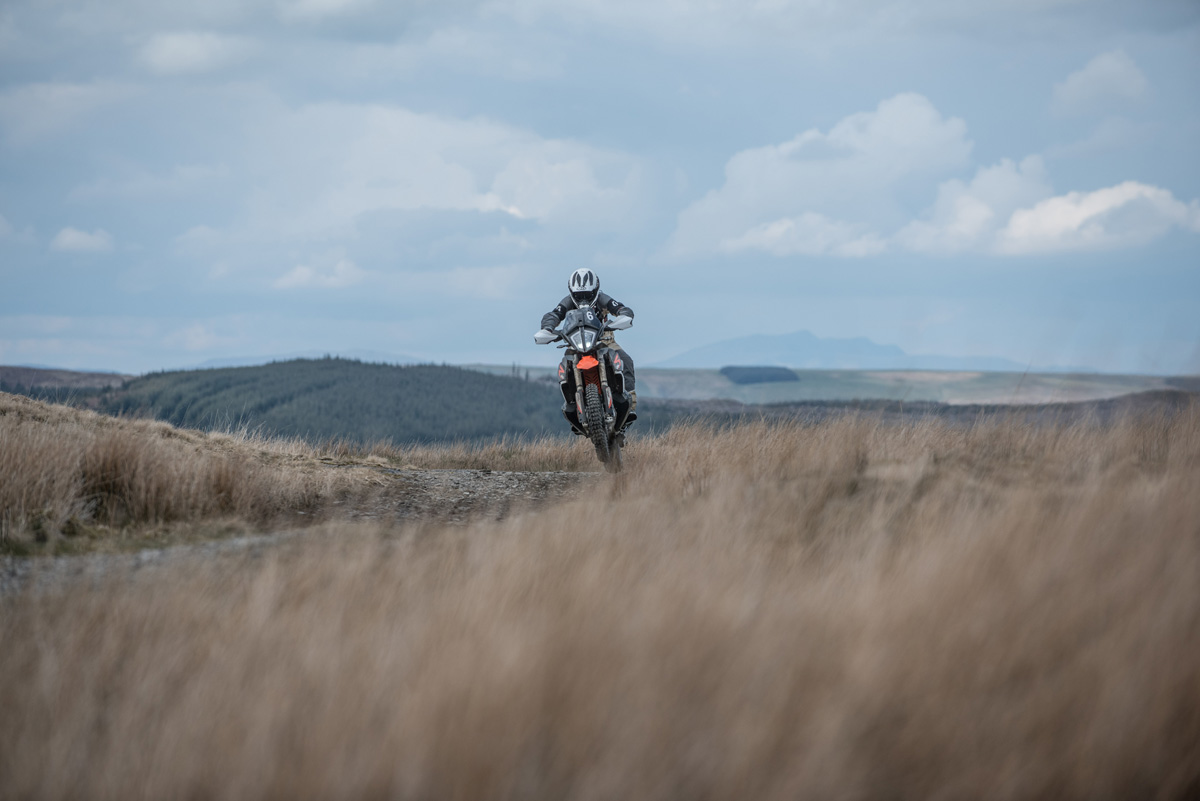 It was perfect ADV bike terrain and our test session was a real blast spent criss-crossing all over it. Best of all was being able to get up through the gears and ride the open tracks fast. It is always a good day when you can bust motorway speed limits on dirt!
Feel like a Rally God
Going that fast makes you feel like a Rally rider even if you're actually not. The easy-to-read and use digital dash and cockpit area, with so many buttons to press and play with, gives a diluted impression you're on Sam Sunderland's 450 Rally bike. The riding position is broadly similar too – I was comfortable standing for hours on the wide footpegs and the bar position feels natural. Even the narrower seat option on the R model is hinting at rally.
Get giddy with all that speed and it's as well to be mindful you're carrying a lot of weight (if you're used to riding just over 100kg dirt bikes this is almost double at 196kg).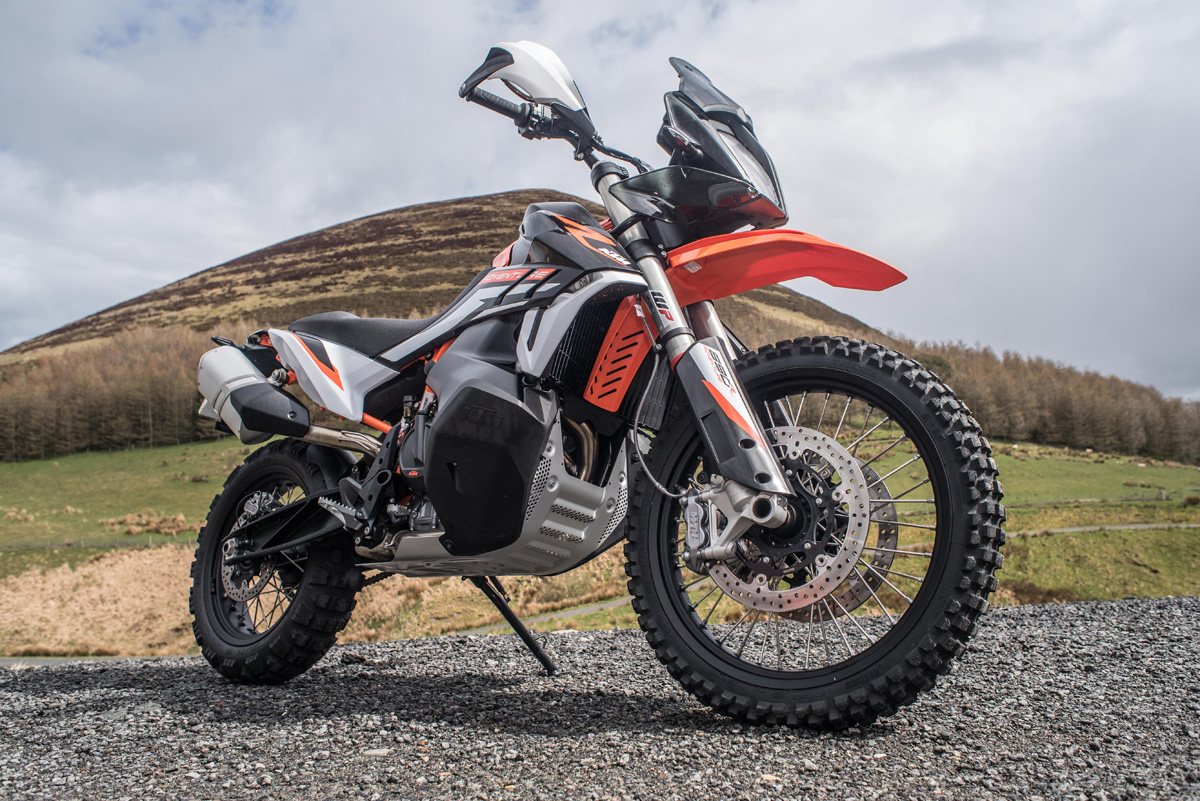 The norm with Adventure bikes is to arrive at a corner and suddenly be very aware of how the extra kg messes with the physics and front tyre grip. Thankfully, there's less of that with the 890 Adventure R.
The riding position feels kind of normal for an off-road bike and weighting the bars and footpegs has effect in controlling the chassis. The feel for the grip through one finger on the front brake lever is there too and it helps give the impression of an easy-to-control motorcycle.
A big difference between this and other Adventure bikes are the R model's beefier 48mm front forks. The standard 890 Adventure doesn't need them, it was happy munching up miles comfortably sprung on the roads we tested on. But get off the road and the R's stiffer front end and taller stance justifies its case for the extra price in the showroom.
The forks are progressive and when you hit things hard, like sudden rock steps or land off a small jump, they don't collapse through their stroke anything like so many other ADV bikes' forks do.
Trail riding should be fun and the Adventure R helps make it so by standing up to a rider like me trying to tackle the more exciting stuff. You can ride flat gravel tracks all day but this bike lets you turn off-piste with more confidence.
Taming the beast
From the 950 Adventure model launch in the Canary Islands (if my memory serves me) through all of KTM's Adventure bike evolutions since, I'm a veteran of many years testing these big bikes. Those first were refreshing alongside the lardy BMW GSs, especially the 990 R which was raucous by comparison and a bike which I still have a soft spot for.
But they were a bit unwieldy to anyone I knew who wasn't confident controlling a big powerful bike on tall suspension with a tall seat height – more so when they hit the dirt.
Like its predecessors, the 890 has evolved a long way and is a much better Adventure bike. It's the opposite of unwieldy.
There are various obvious ways you can notice that, not least the very amicable road bike manners. The engine, chassis and suspension combination allow you to do everything from trundle through a tiny village littered with tourists or stomp along a lovely twisting thread of tarmac scraping the pegs. When the corners keep on coming you appreciate the 890 over the 790 too – 20% more inertia? I noticed.
Simply, it is a good bike made better. If the 790 brought Adventure and by implication off-road trails, to more people then the 890 will welcome more especially if they opt for the 890 R.
Electronics? Don't be a snob
It's tempting, as an off-road rider used to a 250 two-stroke or the 350 EXC-F Enduro21 currently has as a long term test, to be all high and mighty about the electronic assistance attached to the 890's brakes or engine power.
Standard off-road practice is training your instinct and skills to get power to the ground and feel for grip. The truth is there's no point being all purest about it when the Bosch electronics on the 890 Adventure actually help you do that.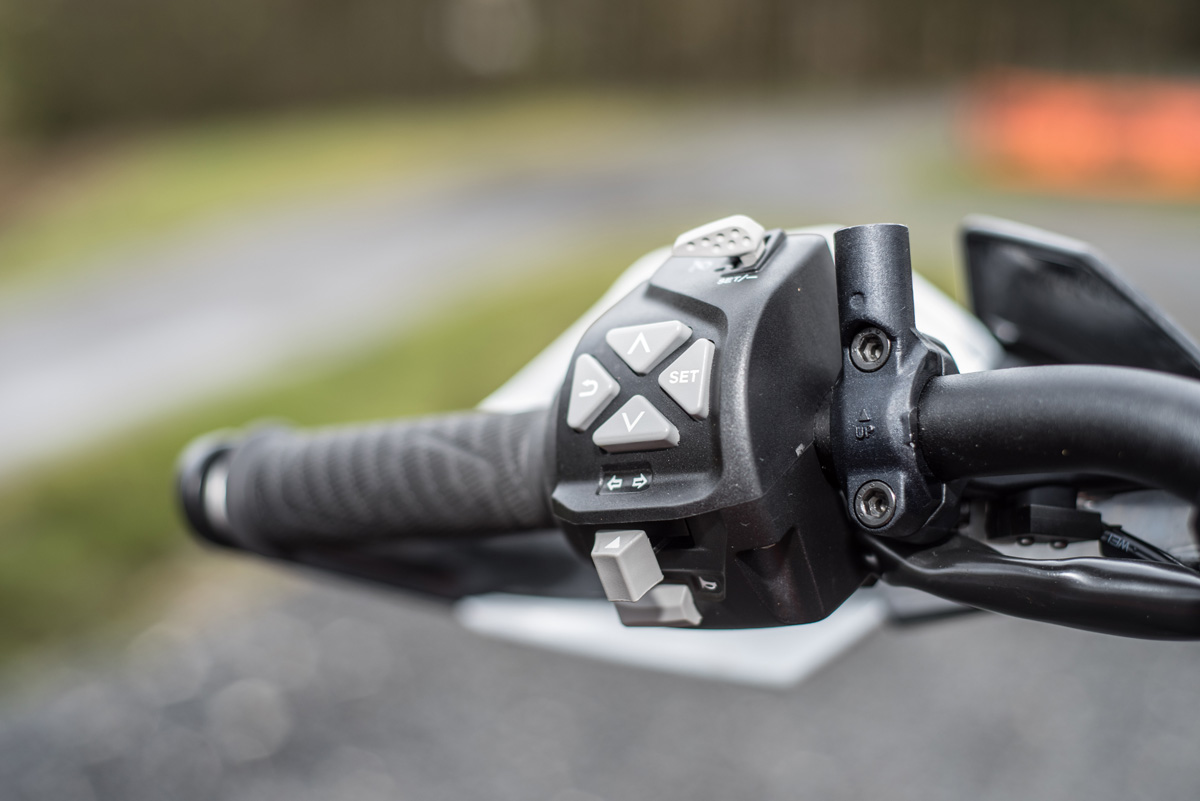 Playing with the buttons is actually meaningful off-road (less so I found on the road where it is easier to just stick it in standard settings and get on with it). Quick setting changes switch the bike from very cosy for a novice, or if you're less confident in slippy conditions, through to a sharp tool which genuinely needs care and attention on the dirt.
Here's the thing, if you turn everything off there's a sharp throttle response, a heap of torquey power there in your right hand and it does command respect and proves the point for having the electric cleverness.
With twin front brake rotors and bags of one finger power through the brake lever you can lock that front tyre in a blink if you're not mindful of the fact you're on a 200kg bike. One truth about the 890 Adventure is how easily you can sprint along on the dirt (especially with the gear-shift assist rocketing through the box).
For comfort, safety, piece of mind or simply to make the riding easier, you can choose a setting with the brakes and traction control which suits what you want rather than letting the bike tell you what to do.
Flicking through the different options and trying them one at a time is like many modern cars, you can have it knocking the edges off completely or you can make incremental steps to choose the amount you want. It's clever stuff and in practice off-road, it works.
That fuel tank...
The 890 Adventure is so far removed from the 'giant trail bikes of old it is untrue: suspension, chassis, engine performance, brakes, electronics and, well, everything is so much better.
One major point to make, the obvious one, is a big Adv bike is harder to live with. Even down to the simple thing like moving it about by hand when you're parking. If that's a problem with Adventure bikes for you then the 890 is nicer to handle.
The success of the middleweight Adventure bike has evolved in part due to brilliant engines like this 890 parallel twin. You can trickle along at toddler walking speed or just as easily open it up and rip along at speeds which become too much for an off-road helmet goggles.
You can spend the day standing up on these pegs comfortably too. The riding technique works best if you simply stay feet up and let the throttle do the work – just watch any of Chris Birch's videos as an example.
But, I can't get over the low-slung fuel tank design which I think looks like giant spaniel's ears. A bit of me wanted to take this bike further into trail territory, to places where I might need to sit down and use my legs a bit. I wanted it to act more like a trail bike than it can. A rutted gulley or rocky hill are best ridden like a trials rider not an enduro rider on this bike.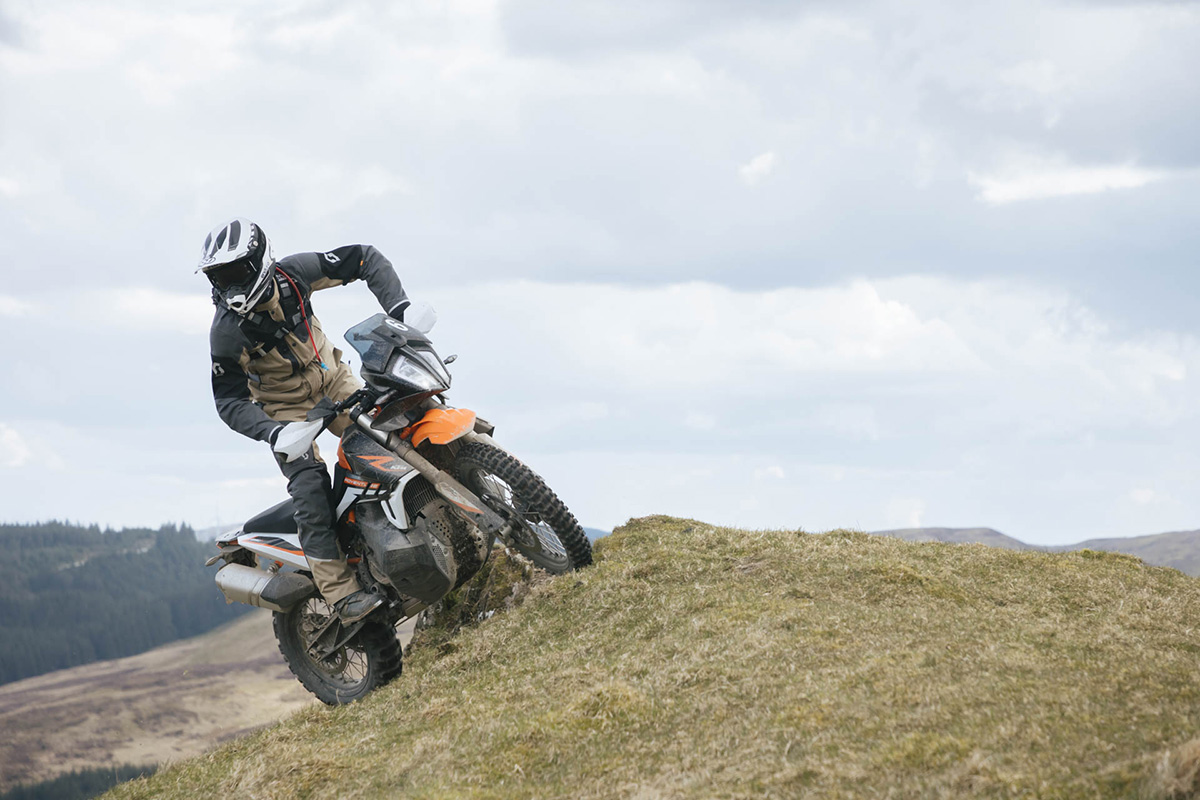 It's my only criticism, and I am probably asking too much. KTM would counter this argument with the fact that a) the tank design means weight is nice and low and that's better for bike balance (the reality is exactly that, slow-speed riding is nicely balanced) and b) not many people are actually going to do tricky technical riding on an 890 Adventure.
Staying feet up and keeping clever with the throttle in those more technical sections is the answer but personally I came away mindful KTM's 690 Enduro R is a better choice if you're more inclined to the technical trails.
KTM's Adventure heritage
If BMW GSs are the original benchmark for Adventure bikes then KTM's ADV bikes have always been the sportier upstarts. Built from the POV of a manufacturer used to winning World Championships in Enduro, Motocross and yes, Dakar. KTM Adventure bikes are meaningfully designed and developed to actually do the off-road part – a point worth making among the many Adventure bike wannabes on the market which are to a large degree cashing in with looks more than substance.
Bikes like this new 890 Adventure R represent the Austrian manufacturer poking a finger at the lardy-looking counterparts. They can do the off-road stuff because they have been developed by people like Chris Birch and the team of R+D people in North America headed by Quinn Cody.
Capable new-breed all-rounder
All of that heritage feeds into this new KTM 890 Adventure which doesn't stand here trying to take anything away from its siblings – rather it fits better in among them – improving on most if not all of them.
The 1290 Super Adventure is at one end of the scale and an incredible motorcycle (if there's a better bike for getting from A-to-B fast then I'm yet to ride it). It is off-road capable but is best compared to a Land Rover Discovery.
The KTM 690 Enduro is the dual-sport capable bike at the other end of the KTM "travel" range. It's far more off-road capable and fun to hit the trails with – 30/70 in favour of dirt where the big ADV bikes are, what? 90/10 in favour of asphalt?
The 890 stands between them and is a capable enough off-roader but at the same time a comfortable and flexible road bike. In standard guise I'm marking it a 70/30 in favour of road but the R shifts in favour of the dirt to 60/40. I only wish I could have a go on the Rally version, that might be the perfect 50/50 Adventure bike blend.
More information including prices and availability in your area/country: www.ktm.com
We need your support
If you've enjoyed this article, if you've found it informative, interesting, entertaining even, please support us.
We want to continue doing what we do, to the best of our ability, serving the enduro and off-road community.
Please consider a donation, every little helps…
Thank you.
Photo Credit: Too Fast Media + Llewelyn Pavey