Tested: Beta's addictive new RR 200 two-stroke
Stealing the show at Beta's 2019 model press launch was the new RR 200 two-stroke – a new model completing the Beta range to eight bikes.
Beta's press introduction to their 2019 Enduro range promised much with a sprinkling of engine and chassis changes – in particular new ZF suspension – aimed at making the whole line-up of four two-stroke and four four stroke enduro bikes easier to ride as much as faster.
Making bikes easier to ride is a big part of Beta's stated aims with the 2019 RRs: to produce bikes for everyone, no matter what your level of experience from World Champion Steve Holcombe to average Joe riding club races or trail riding. Within that range now stands the new 200cc two-stroke plugging a gap between 125 and 250 models and acting both as a step-up from the 125 but also as an exciting new model for experienced and novice riders alike.
With all that in mind we couldn't wait to swing a leg over the new bikes at Beta's world launch in Ciocco in Tuscany, Italy – home to the early season extreme Enduro, Hell's Gate. None more-so than that new RR 200. We're fans of small capacity two-strokes but one which promises more torquey power in an established and proven chassis was top of our list...
Usable power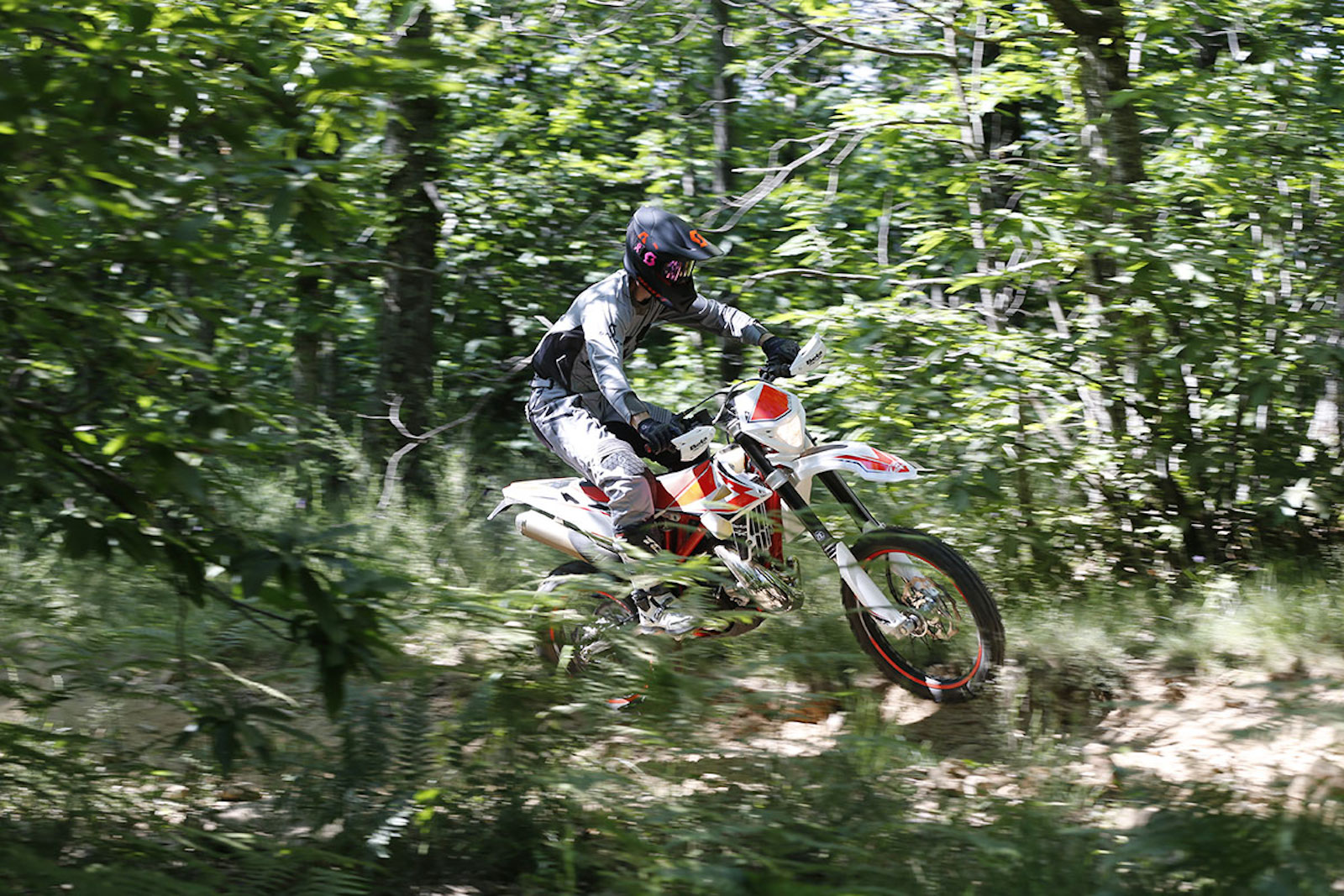 The RR 200 brings the sweet handling character of the 125 but with a significant boost in torque power and with the addition of electric start and oil injection (no need for pre-mix fuel) practicality is high on the agenda. These are facts which also bring the 200 in range of a larger range of potential customers.
The number of small capacity two-stroke fans in the world isn't lacking but plenty of riders turn a shoulder to the idea of a buzzy, all-or-nothing 125 even if they like the ida of a light agile bike. Not enough usable power is the standard first criticism.
Double-take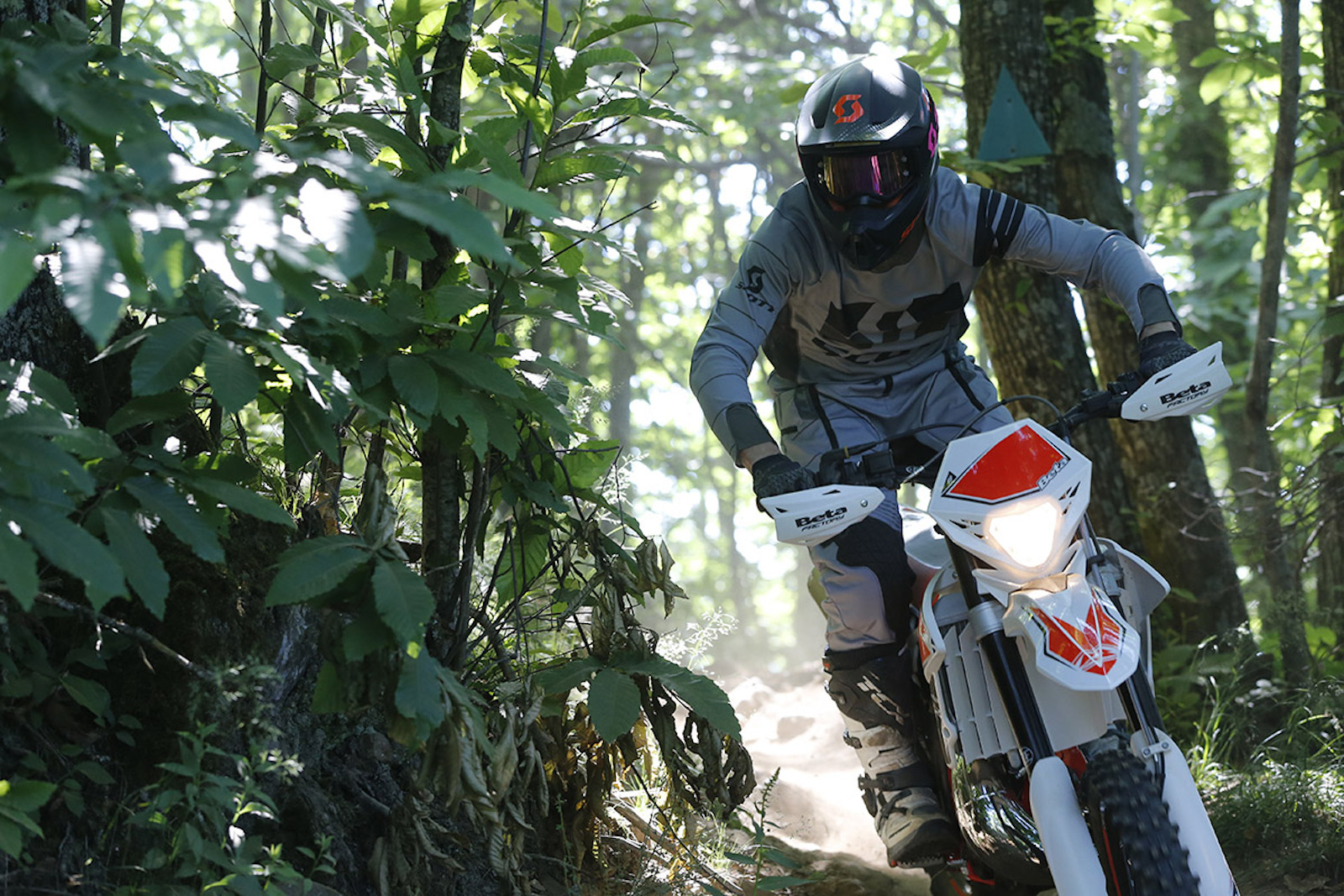 Honestly, I had to stop part way around the Beta test loop on the launch to double-check I was on a 200 the first time I rode it. That's not to blow smoke up Beta's arse or because I was persuaded by too much Beta pre-ride massaging, simply I really didn't expect what I found. The first impression was of an incredibly capable and alert bike with but with an amount of power no 200 has the right to have and I had to pull up and check the side panel did in fact say RR 200.
The chassis set-up and engine derive from its smaller sibling 125 but the details point to a largely new bike. Though the gear box and clutch are the same as the 125 almost everything else has changed on this mechanically new engine.
Beta RR 200 2019 engine details: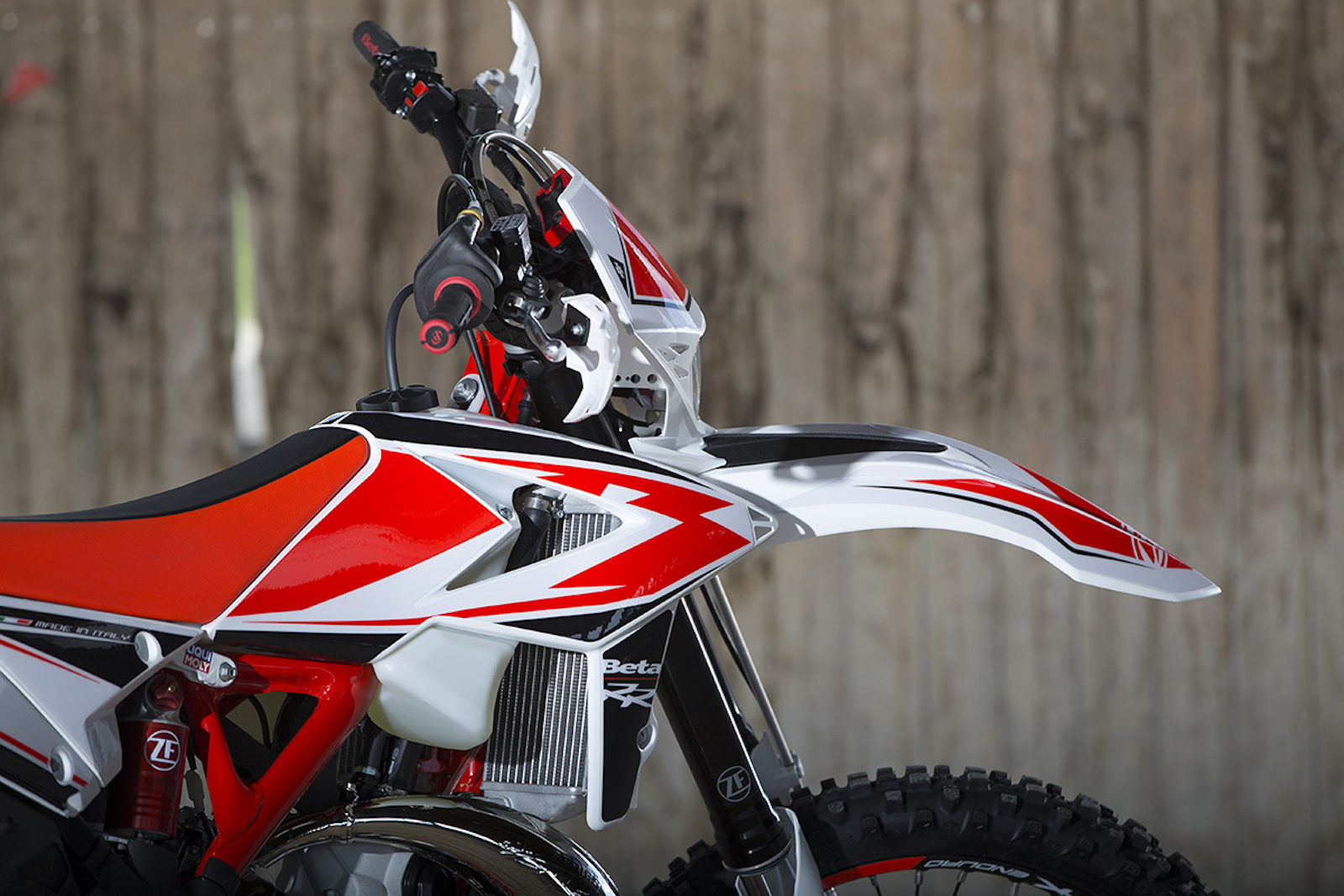 A new cylinder head, piston and crank are specifically designed for the 200. The cylinder has an exhaust flange system as found on the bigger engines, allowing Beta to "achieve a significant low-rev performance boost" by reducing gas leakage.
The new combustion chamber boasts an efficient, thermodynamic cycle for the best compromise between responsiveness at low-to-medium revs and when you crack the throttle for a sudden burst of power. It also allows for fine tuning and replacement of the combustion chamber.
The die-cast aluminium alloy crankcase have a new layout (compared to the previous 125) with a view to maximum weight reduction without compromising strength. "Considerable attention was focused on the main bearing area to ensure correct wall rigidity in order to withstand the stresses transmitted by the crankshaft." Says Beta.
Die-cast crankcase covers are magnesium to ensure low weight and optimal surface finish. It also adopts them for the inner clutch cover thanks to isolation of the water pump.
Vforce4 reed valve has proven high performance and reliability.
Six-speed, dog-type transmission is specially developed for both the small Beta engines with gears made from forged blanks to provide mechanical strength and reliability while still keeping size and weight extremely low.
Multi-disc clutch sits in oil with a reverse actuator integrated into the outer cover designed to be light and compact. Thanks to low position it ensures reduction of power unit size and a significant centralization of weight.
Beta R&D Department has developed a special exhaust system dedicated to the new engine size.
Electric start and no kick start plus the automatic oil injection – eliminating the need for a fuel-oil premix.
Beta RR 200 2019 chassis details: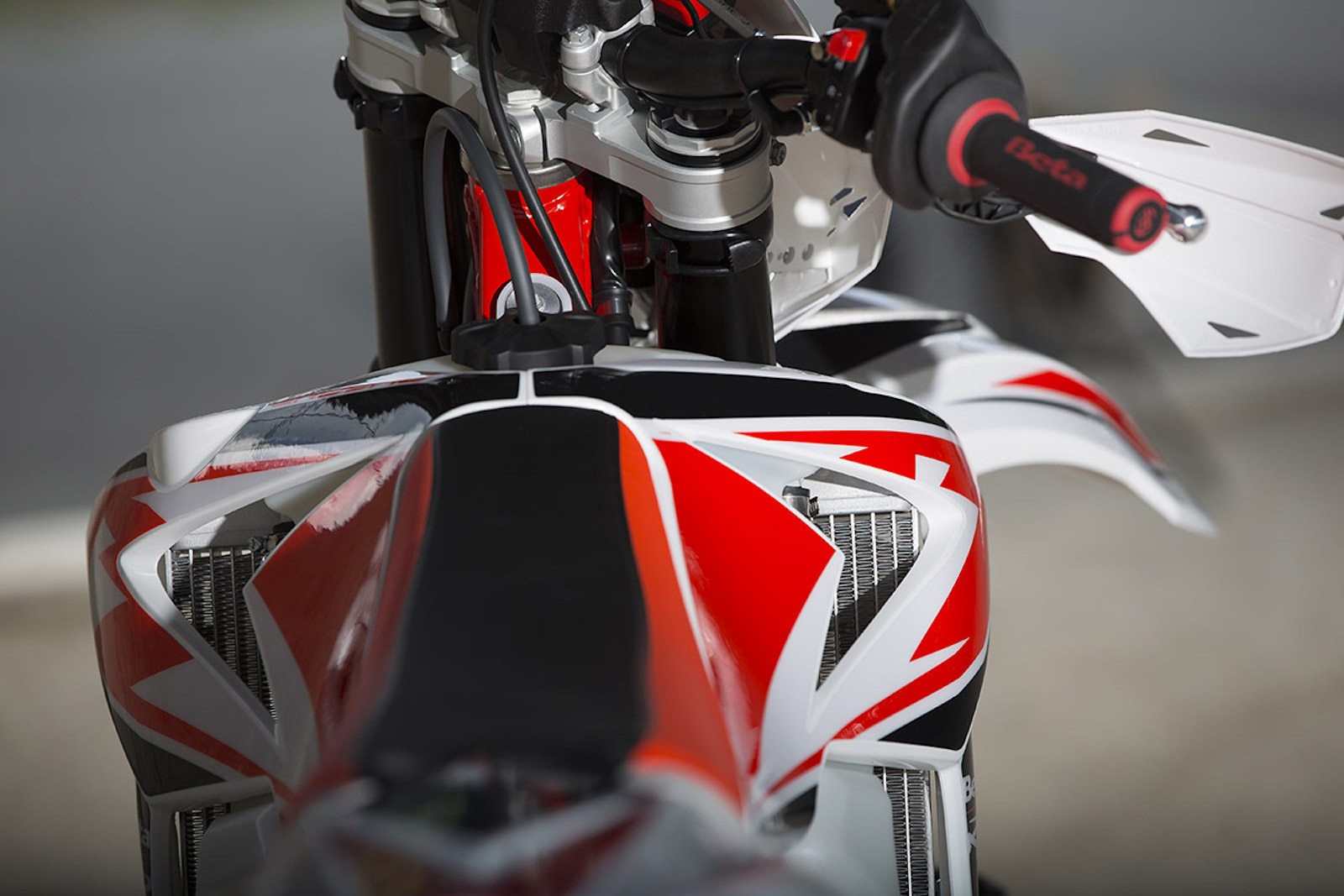 New ZF, 48 mm forks have new adjustment system: allows positioning of the compression, rebound and spring preload adjusters on the upper fork cap which can be adjusted while sitting on the bike and do not require tools. The fork also benefits from a more progressive spring and increased bottoming resistance which ensures greater stability. A stanchion with new anodizing to reduce friction and increase durability.
New fork yokes (common upgrade across the 2019 range) are stiffer and lighter.
New fork guards (common upgrade across the 2019 range) wrap-around more and offer better protection.
Fully redesigned ZF shock with more compact ø 46 mm piston (common upgrade across the 2019 range). The new piston design ensures more stable operation as the oil temperature varies and provides increased sensitivity to comfort and traction. The small upper base and (larger) reservoir have also been redesigned to rationalize the system and minimize weight and bulk. New spring is also lighter.
The air filter box boot is specifically designed for the RR 200 to optimise air flow across the entire rev-range.
New upper coupling points on the cylinder head allow a reduction in engine-generated vibration while maintaining good engine-frame system stiffness.
A slightly smaller 8.5ltr fuel tank (9.5ltr on larger capacity models) improves on-board ergonomics while maintaining good fuel economy.
The cooling system is specifically designed for this bike and features new pipes and radiators with specially shaped reservoirs to fit the small sized bike.
Same powerful Nissin braking system as on the rest of the Enduro range.
The small two-stroke everyone will want to try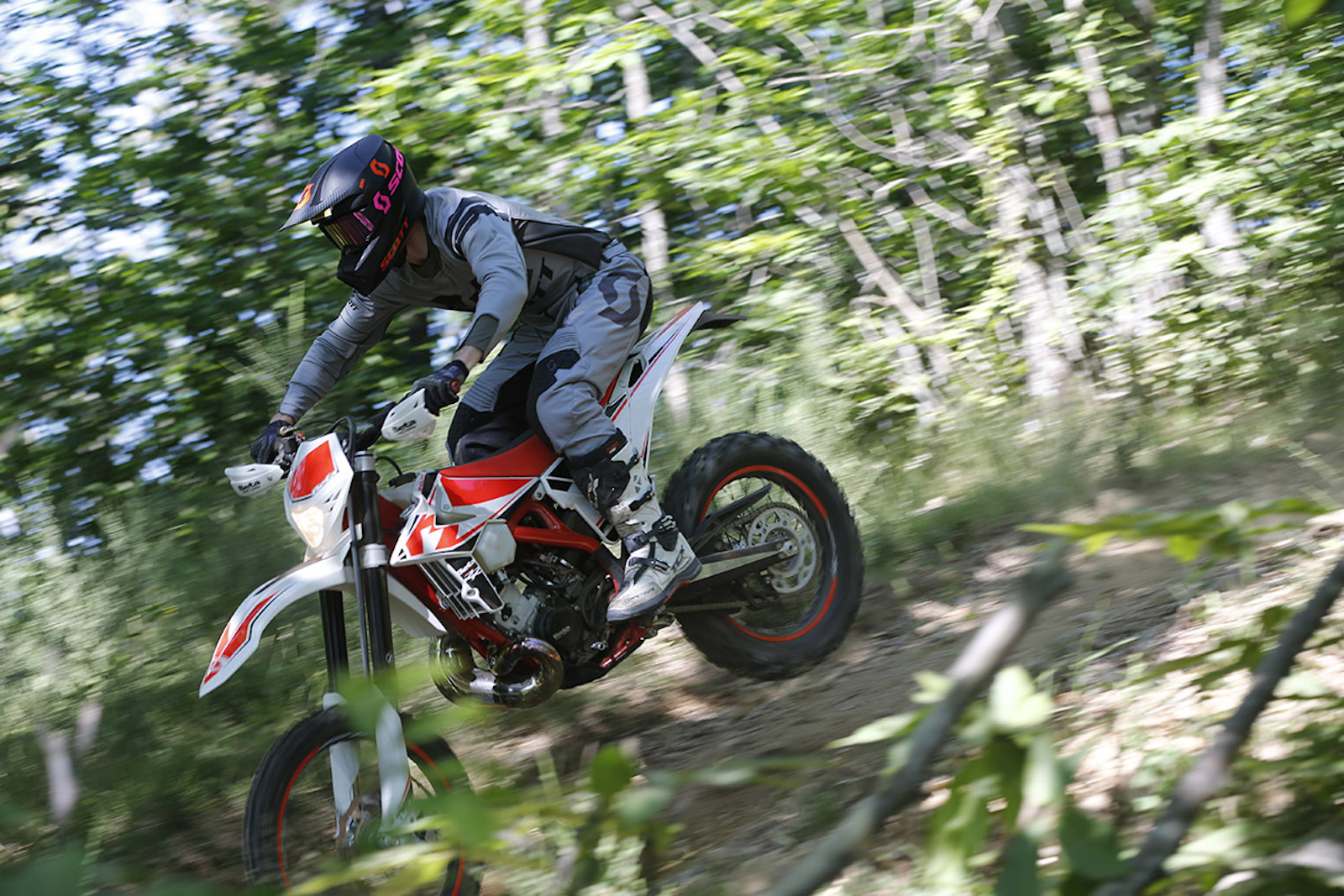 Hauling happily through the woods sections, agile through whooped-out holes on the single track and alert across savage rocky climbs, the 200 brings a different context to the Beta test loop on this launch. After spending quality time on all the models but particularly enjoying the RR 300 and RR 390, hopping on the 200 is quite a contrast.
I duck off-piste and head up some steep, soft climbs through the trees, just like those used in parts of the Hell's Gate hard enduro. The 200 is tractable in first gear, ready to find drive upwards, easily soaking up a sudden hidden log on the slog up a climb which was tough enough on an RR 300.
What you lose in power on the 200 up a cimb like this is made up by having a lighter bike to man-handle. A stall part way is quickly ignored with the e-start button and the low-down feel for grip gets me going again. The result was the same as on the 300 half an hour earlier and I arrive at the top, hot and sweating but smiling.
Wherever you're riding, the RR 200 has power and feel for grip at low and mid-range which isn't normally there on a small capacity 2T. I'm under 80kg (around 170lbs) so not the heaviest rider in the world but certainly not the lightest and can't say I found wanting more up the hills, blasting fast through the trees or the short and tricky little grass test.
The 'nothing then everything' nature of a 125 isn't really there on the RR 200 either. It pulls higher gears with torque you don't expect to find. The engine makes it the bike I always want a 125 to be. In this chassis, with really good new ZF suspension soaking up the harsh test loop, it is a game-changer for me personally. More than anything though it was also enjoyable to ride. Am I a big fan of this new RR 200? You betcha.
Beta RR 200 2019 technical specification: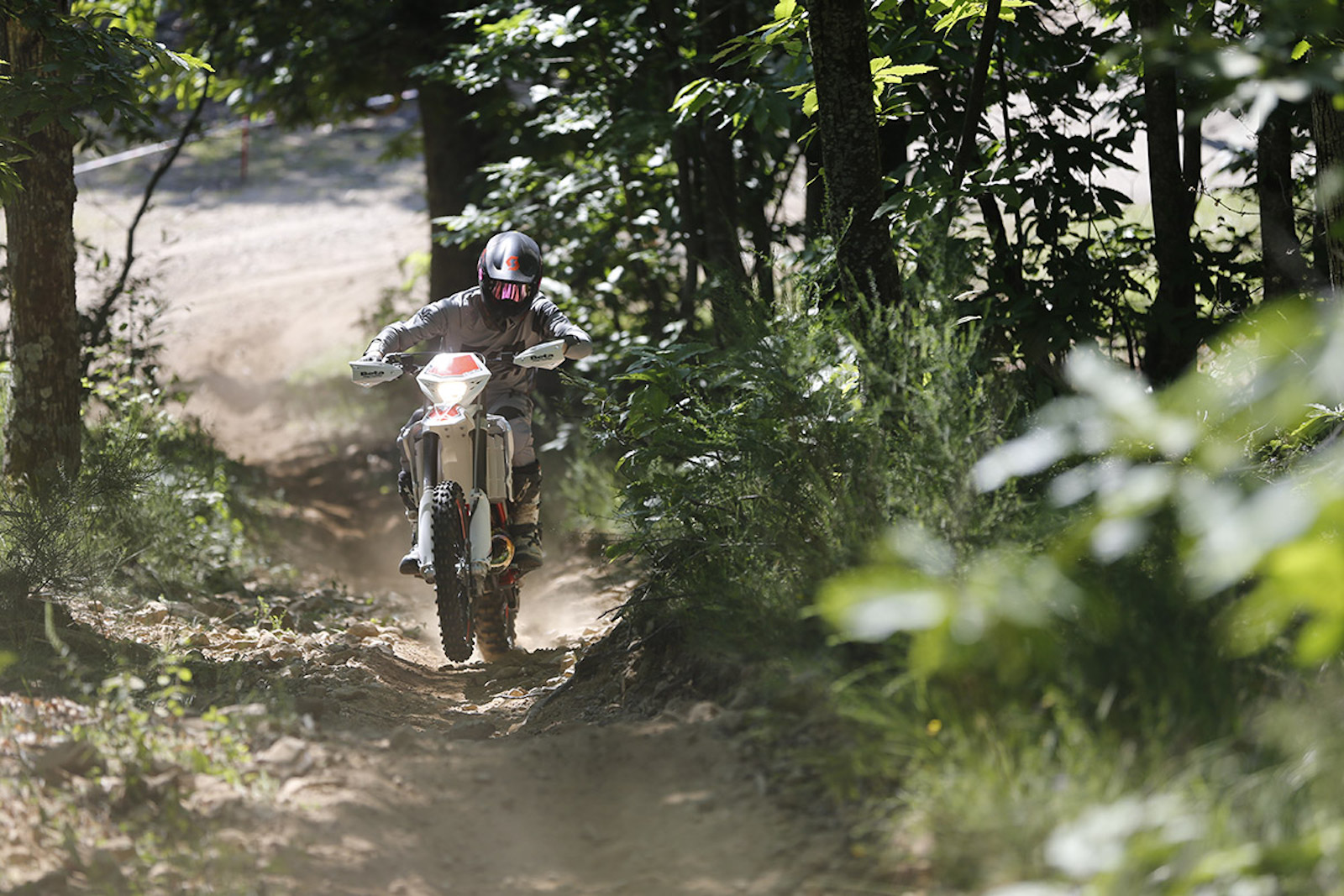 Frame: Molybdenum steel with double cradle split above the exhaust port
Wheelbase: 1477mm
Max length: 2167mm
Max width: 807mm
Max height: 1270mm
Seat height: 930mm
Ground clearance: 325mm
Footrest height: 410mm
Dry weight: 97.5kg
Fuel tank capacity: 8.5ltr
Reserve: 1.5ltr
Cooling system capacity: 1.3ltr
Front suspension: Hydraulic USD fork with ø 48 mm shaft
Rear suspension: Monoshock with progressive compound lever
Shock absorber stroke: 135mm
Front wheel travel: 295mm
Rear wheel travel: 290mm
Front brake: Wave disc ø260 mm and double-piston floating caliper
Rear brake: Wave disc ø240 mm and single-piston floating caliper
Front rim: 21 x 1.6
Rear rim: 18 x 1.85
Front tyre: 90/90 - 21
Rear tyre: 140/80 -18
ENGINE
Type: Single cylinder, 2-stroke, liquid-cooled
Bore: 62mm
Stroke: 63mm
Displacement: 190.2cc
Compression ratio: 13.5:1
Exhaust Valve: BPV system
Starter: Electric starter
Ignition: AC Kokusan - digital CDI
Spark plug: NGK BR8ECM
Induction system: Vforce4 reed valve
Lubrication: Mixing with electrical pump
Carburettor: Keihin PWK 36
Clutch: wet, multi-disc with reverse opening
Primary drive: Z.23/73
Transmission: six-speed, chain
Availability: from October
More information: betamotor.com
Photo Credit: Cristiano Morello / Andrea Belluschi