Tested: KTM 2019 SX range
For 2019 KTM promise healthy improvements to handling and increased power across the entire SX range. Handed a ticket to ride, we went to check out what's happening with KTM's 2019 motocross model line-up and see where we might be heading in the future with enduro models.
Hands up, we know these are the SX models and therefore not what we stand for at Enduro21. But we also know there's a bag full of reasons why enduro riders likes us are interested in the 2019 motocross models from KTM.
Not least many enduro riders buy the SX models prefering the stiffer suspension, five-speed gearbox and stronger power for the faster races – though it obviously doesn't suit everyone or event type.
With a smaller rear wheel fitted (19' to 18'), possibly a tank too at the very least, you're ready to go enduro racing at many closed-course events.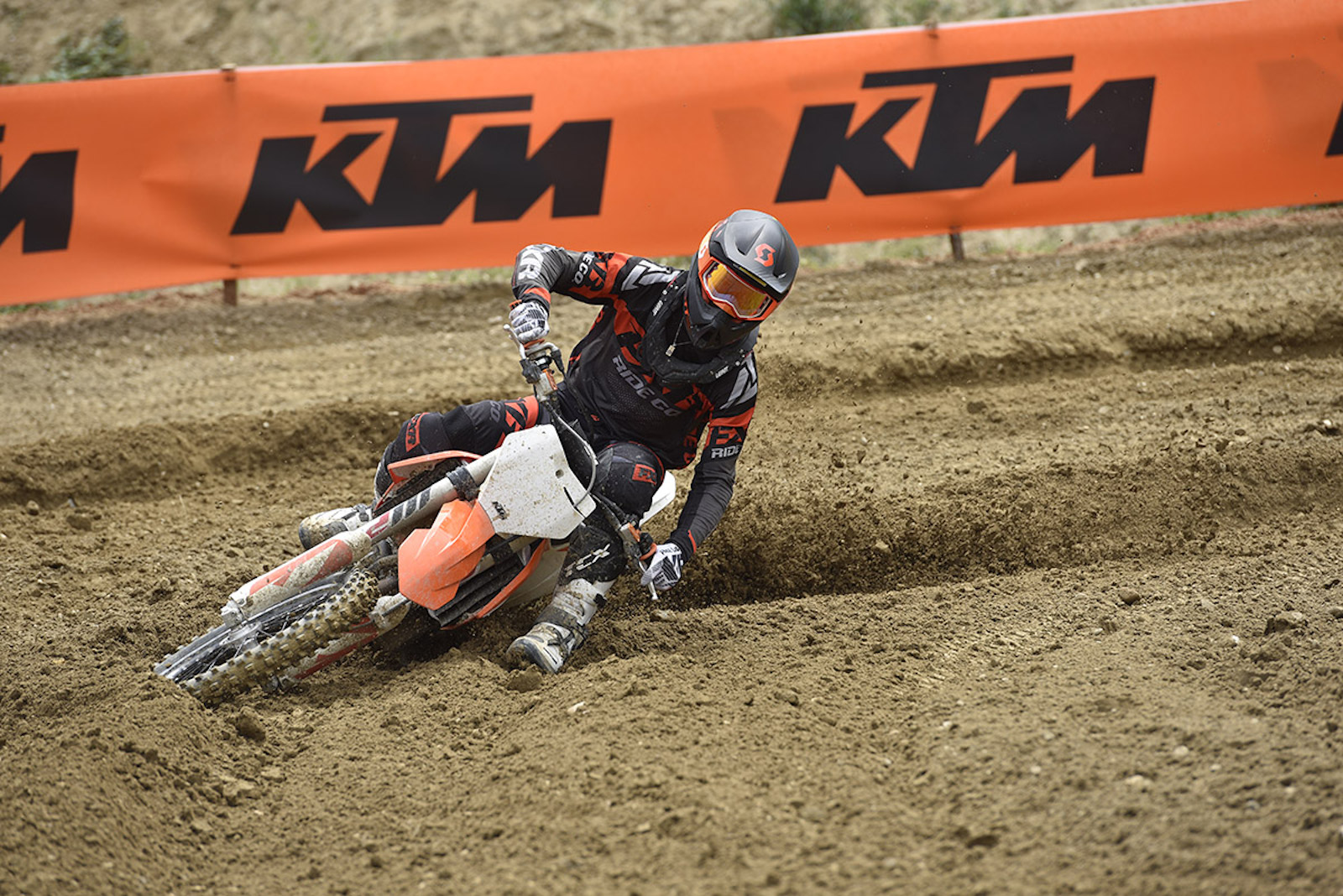 If we were betting folk we'd also put a fair amount of the green stuff on what we see here on the SX models transferring to EXC and XC models for 2020 – although KTM were not ever going to confirm or deny any facts at this stage.
Like you'd expect, we were excited to know what's new and that's why we gladly accepted the invitation to the launch at Malagrotta, near Rome.
New engines and exhausts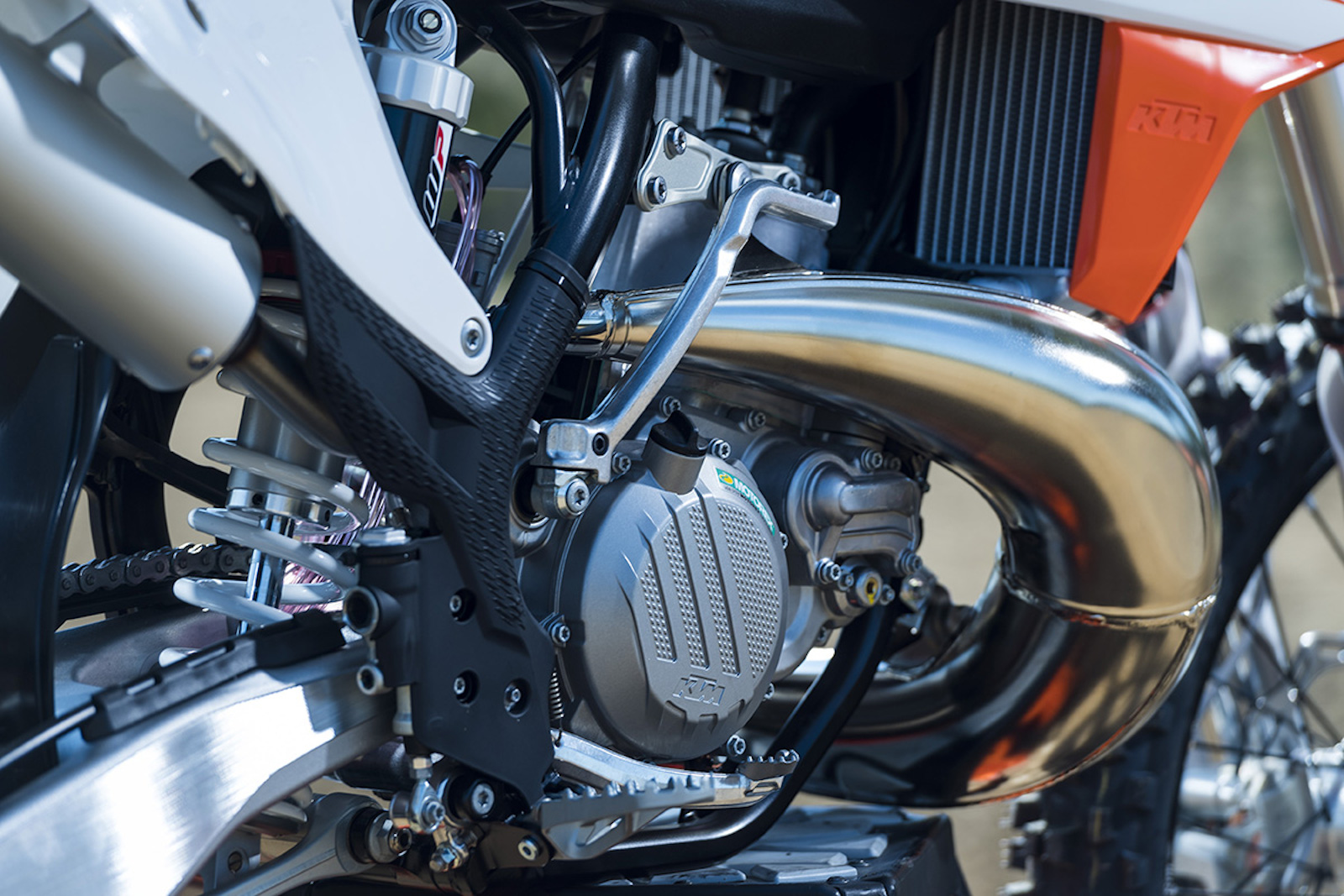 KTM says each of its two and four stroke SX models aim to "provide more efficient performance" with the MY19 range. Changes across the range focus around this performance tweak which might not sound much but behind closed doors KTM has been putting in the hours.
New exhausts are a major factor in terms of improving the power delivery and performance of the all new SX models too. Exhaust development in fact has taken "major resources" from the development team to deliver significant changes not least because now every model has its own specific exhaust.
A completely redesigned air box is also improving efficiency and power on all SX models. The air filters are unchanged but the new air box has allowed for straighter routing of the throttle cables.
The 450 SX-F is the headline engine act with smaller dimensions, reduced weight (the engine now weighs 27kg) and increased power through the rpm range. A new SOHC cylinder head is 15mm lower and 500g lighter but punches out a claimed peak power of 62bhp on the 450F.
The smaller SX-F engines get updates too: valve timing, exhaust system, air box and engine management system. The 250 SX-F boasts a stronger power curve throughout the rev-range to its healthy maximum of 14,000rpm.
Chassis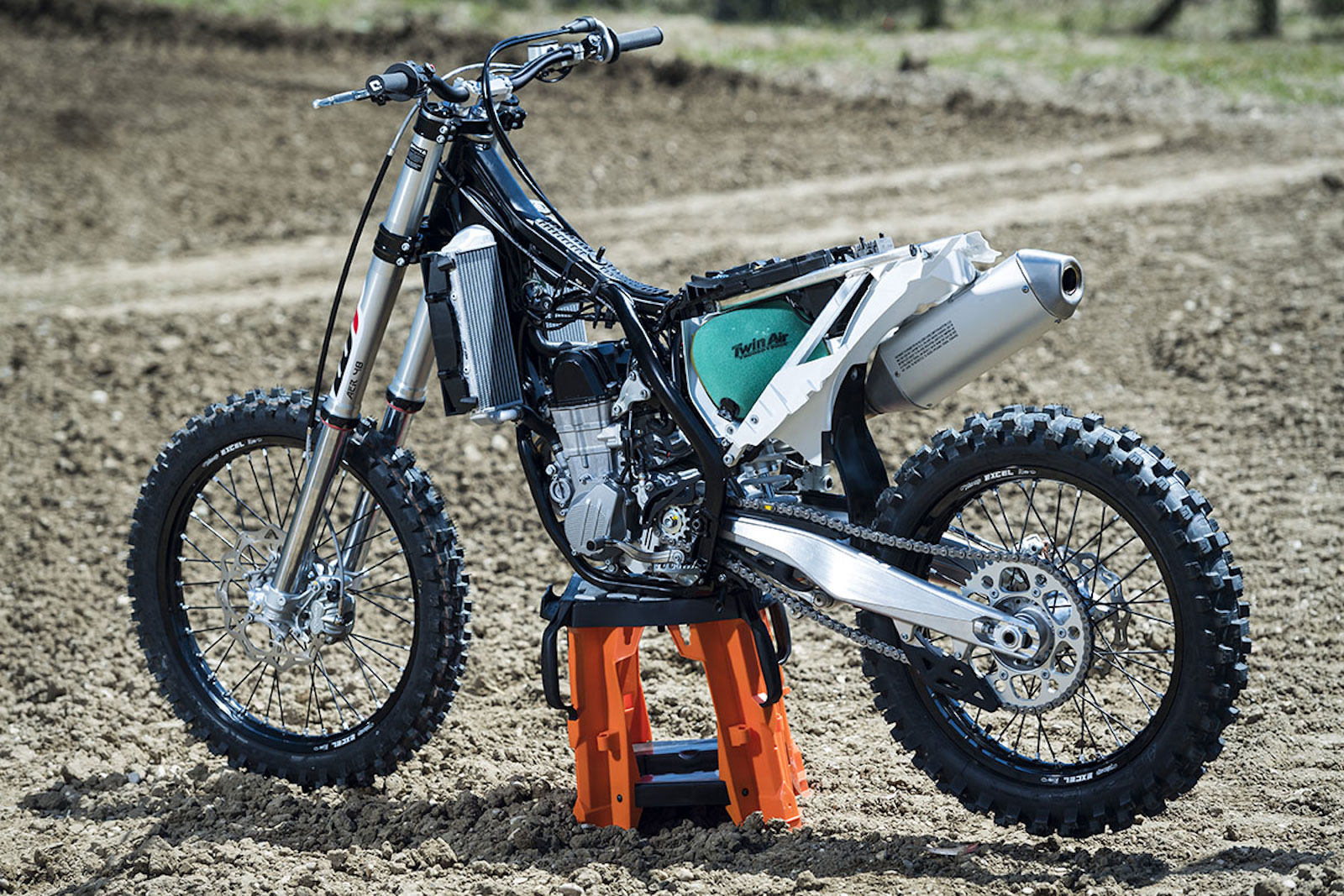 2019 chassis' have the same geometry as MY18 but, basically speaking, are a little stiffer and deliver better feel.
The lateral engine mount between the cylinder head and the frame for all models are now made of aluminium. This results in reduced vibration, which KTM says improves cornering feel and saves weight.
The swing arm sees some changes with a longer chain adjustment slot for the rear axle. It means the rear wheel can be positioned further back by as much as 5mm. This enables you to increase straight-line stability on fast tracks (with a longer wheelbase) or shorten the wheel base for more agility on tighter tracks.
Lower centre of gravity - cornering confidence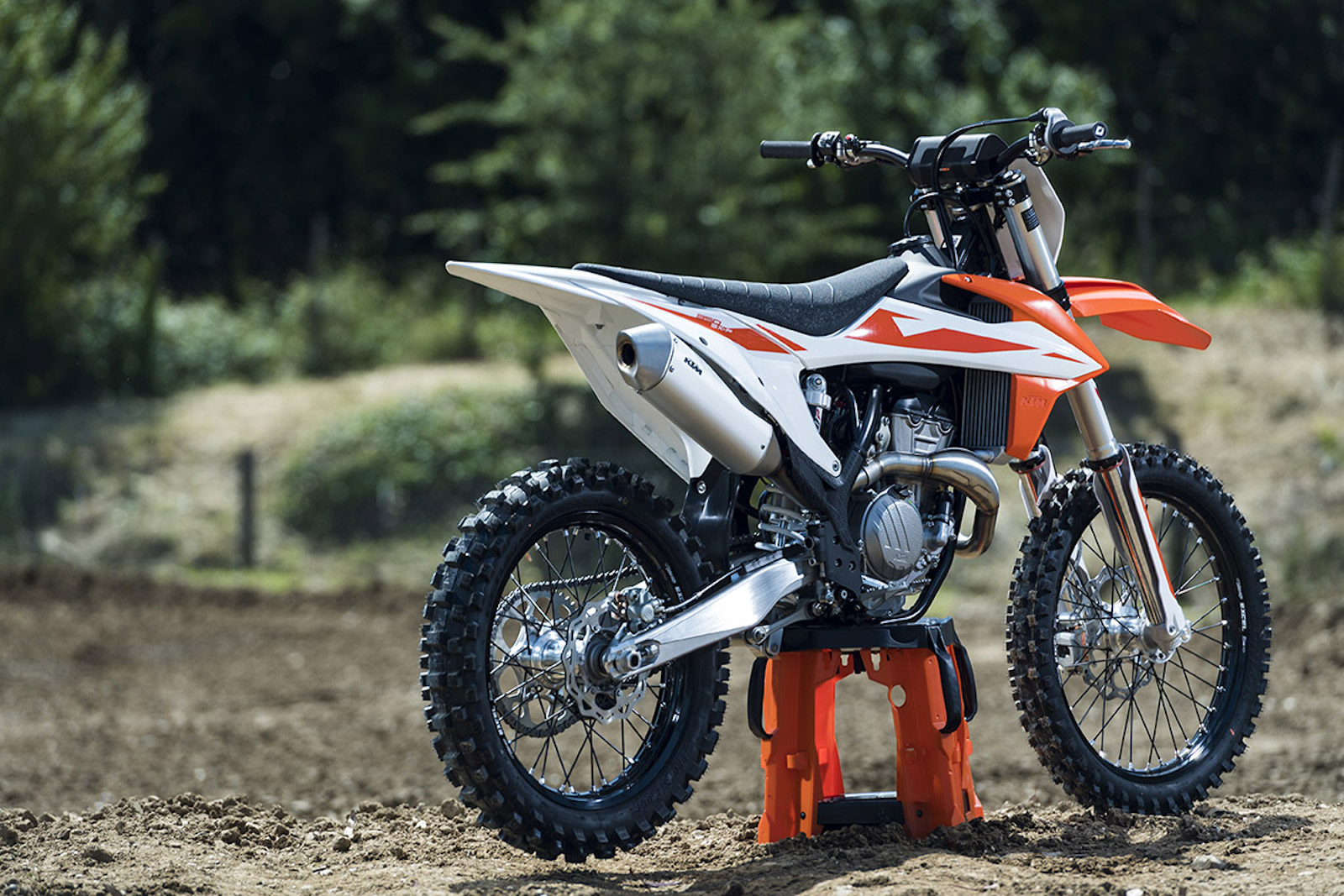 A new ergonomic seat design is more comfortable and rests on a 40mm longer aluminium subframe which delivers a stronger rear fender when you're hanging off the back.
The WP suspension on the new bikes is largely unchanged save for an improvement to the air forks damping and response – the aim is to help cornering confidence KTM says. The shock settings are the same as previous.
Radiators and cooling system have been re-designed for more efficiency but also positioned 12mm lower, and therefore lowering the centre of gravity. The coolant distributor has a larger tube with better flow and improved efficiency in the cooling system.
60% new parts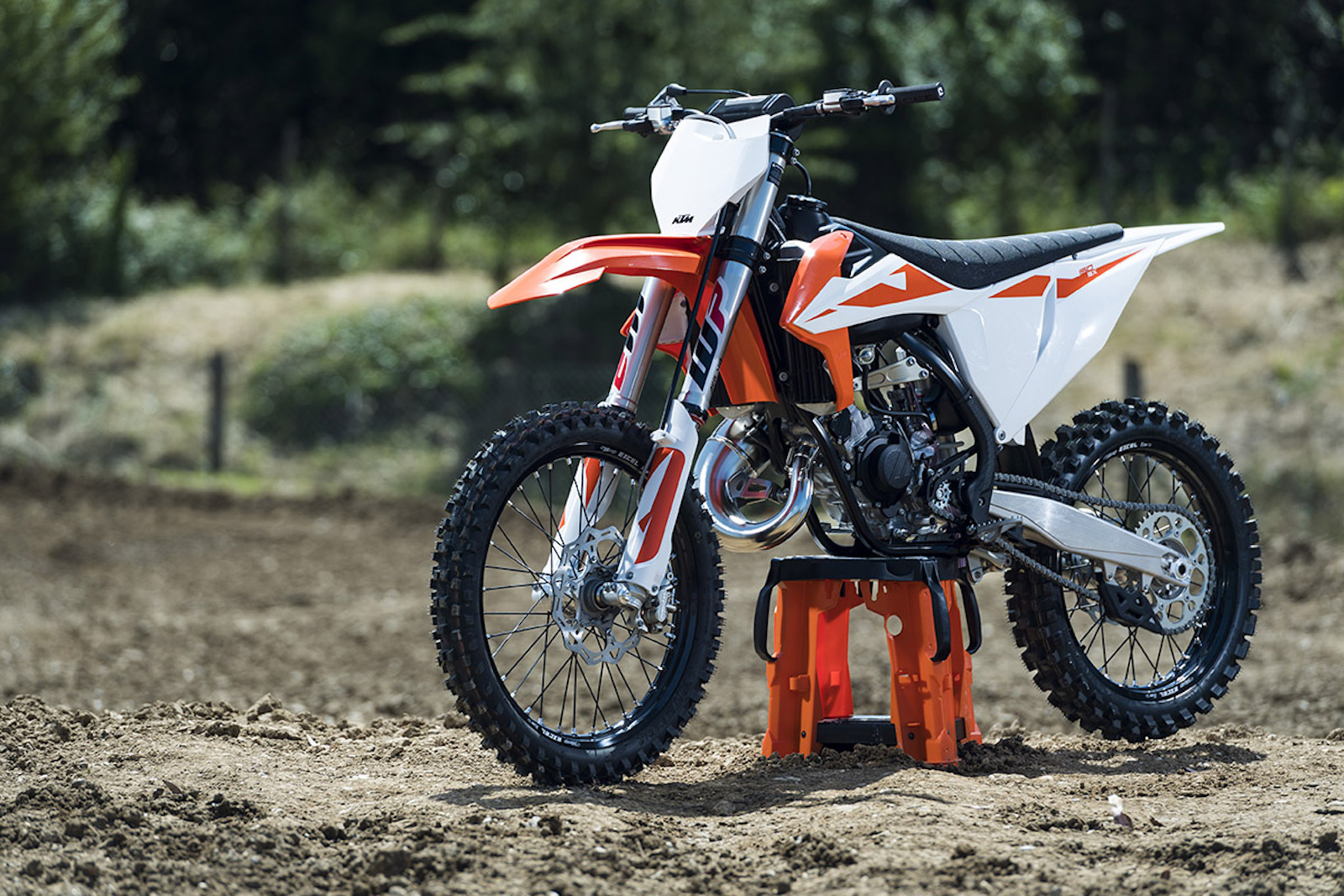 New side scoops on the bodywork have changed in part due the new radiators and make a slight change to the feel of the bikes when riding. The new graphics and colours give the bike a new look and, they say, a new feel.
This is all in addition to the already premium components such as Brembo brakes (stronger than EXC models), E-starter on four stroke models get a map select switch with integrated traction control, launch control as standard.
It adds up to bikes with 60% new parts KTM claims with R&D engineers in both Mattighofen, Austria and California, USA contributing to an improved line-up of SX models for 2019.
Riding impressions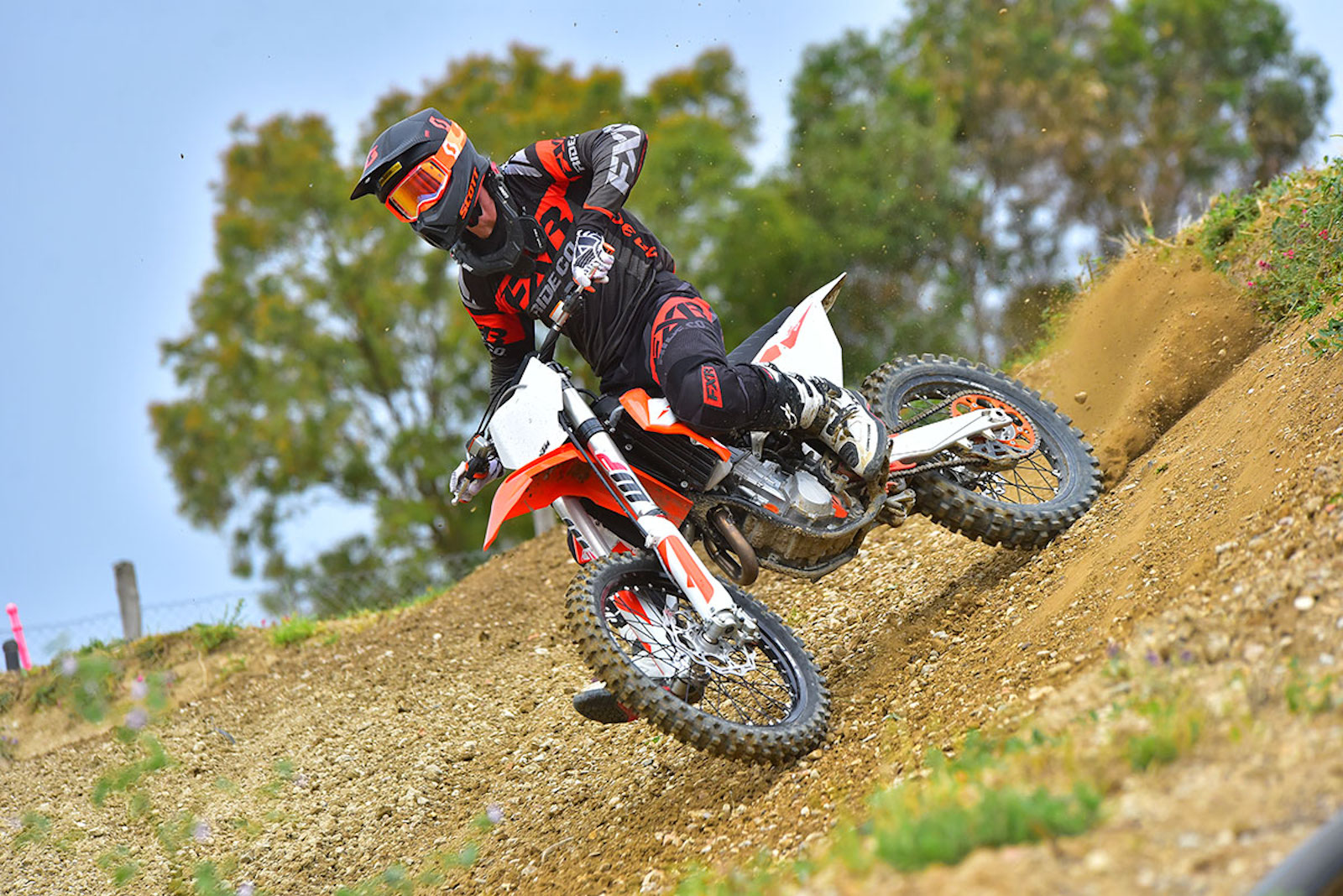 Highlights from the launch test at Malagrotta for me rested on the freer revving 250 and 350 F models which have responded well, perhaps best of the bunch, to the engine, airbox and exhaust changes.
They seem more versatile in their power range than previous models and let you use more of second and third gears around such an undulating track.
Malagrotta is a hell of a track – Tony Cairoli's test track as it happens – and the 250 SX-F was a huge blast of fun around it. Confidence boosting like nothing else.
The two-stroke SX models are a blast too. Seeing Ryan Dungey rip the track on the 150 was eye-opening particularly as he hadn't been on a two-stroke for years. The 125 and 150 take some getting your head around when you're used to bigger bikes with some of the Malagrotta big hills to haul but they're willing if you're on the pipe. Willing? Willing like kids who've had too many sweets and at times just as temperamental if you just wanted a quiet life.
Peachy 250 two-stroke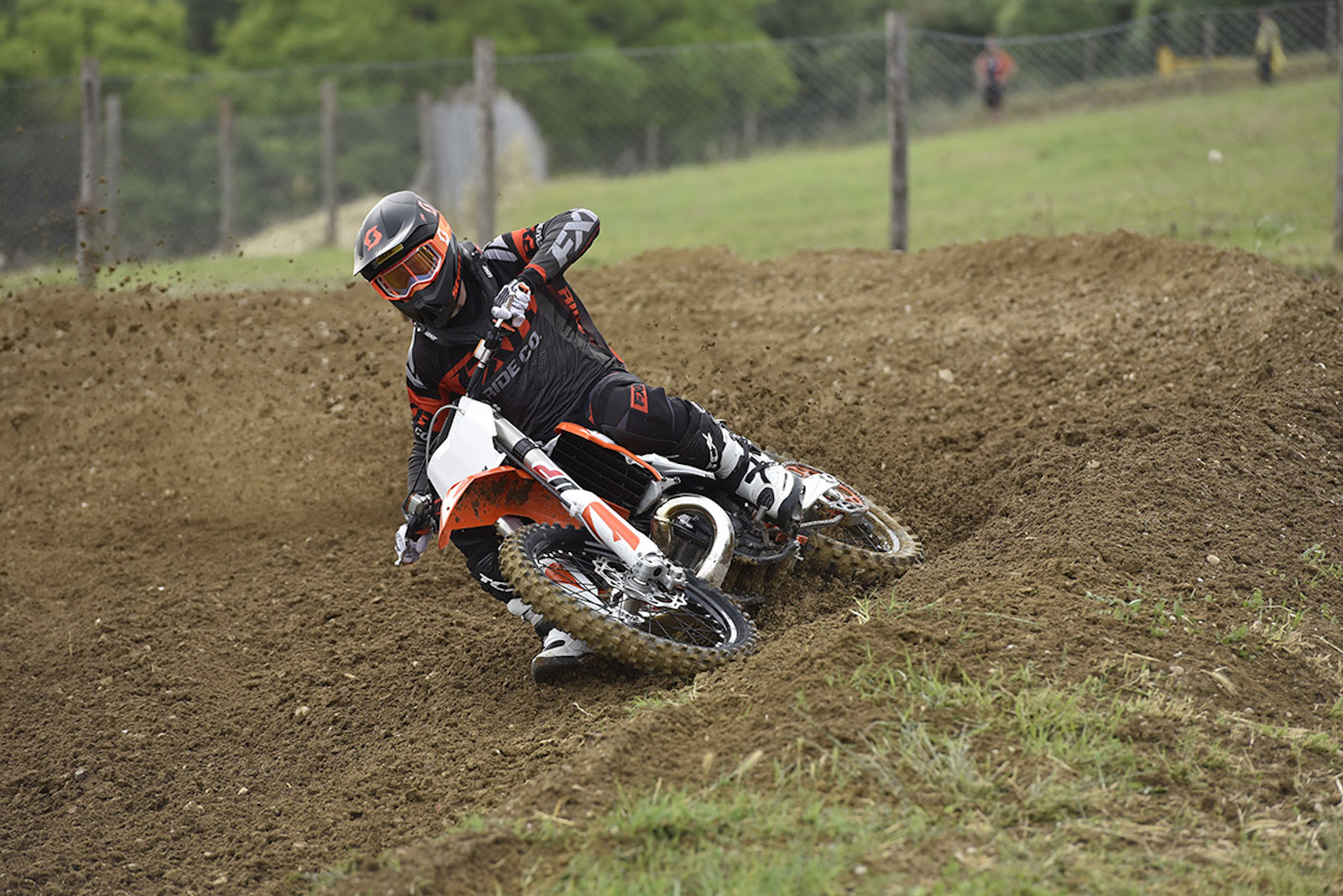 The 250 SX though is a peachy 2T motorcycle. Agile already with its tiny engine nestled inside the steel frame (all the more evident when you haven't got a bigger EXC fuel tank dropping down and hiding it) the 250 SX is ready to come out fighting whenever you want it too. If the 250 4T inspires confidence, the 250 2T inspires over-confidence with its peaky blinder motor.
Power changes on the new models maybe aren't as strongly felt on the two-strokes however. The 250 also seems to tail-off and go flat up at the top of its revs quicker than I expected.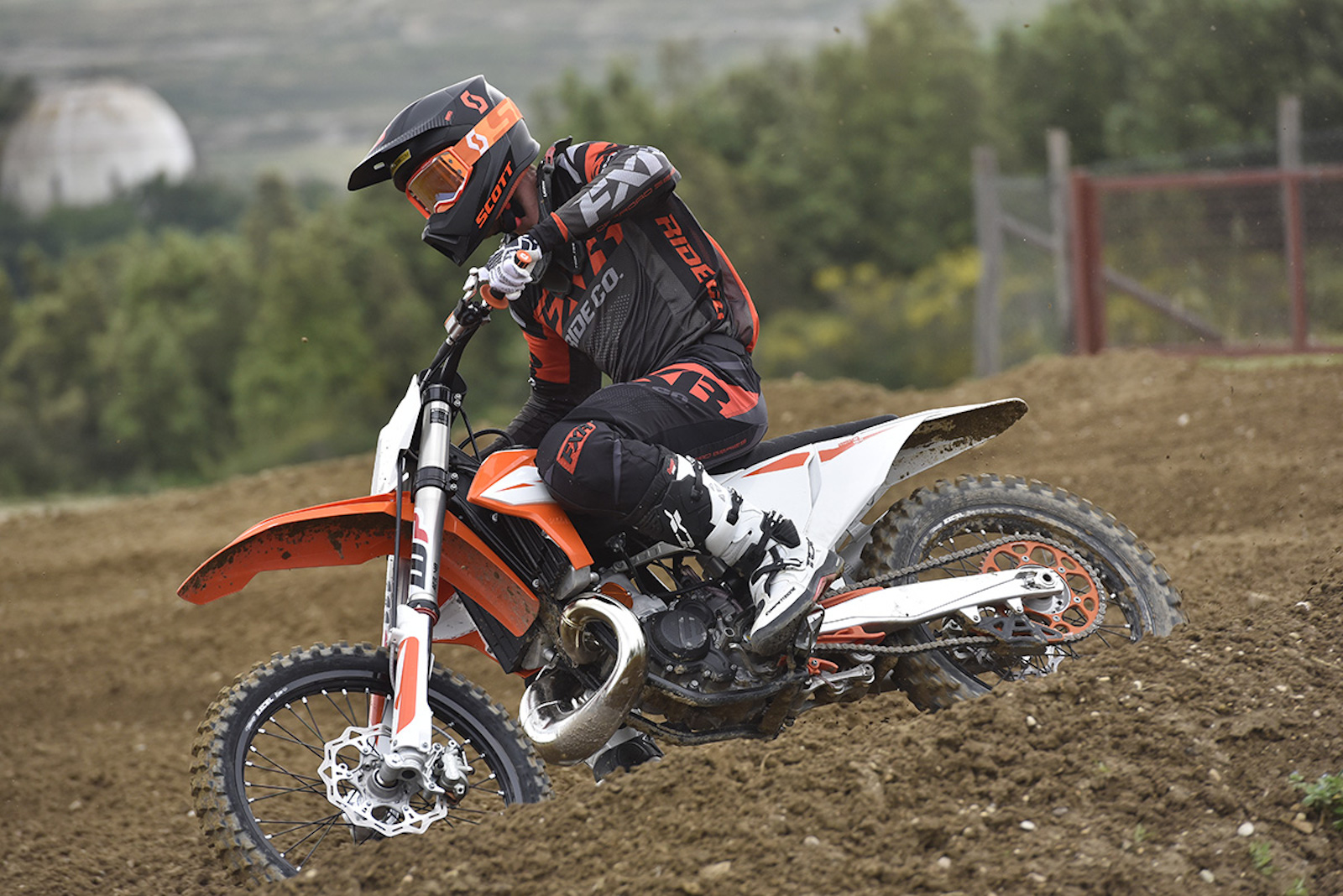 After spending so much time riding a fuel-injected 250 TPI model last year it's a difference I felt pretty strongly (bearing in mind they are obviously tuned and set-up for a different purpose).
That said the pleasure in riding a two-stroke round an MX track is turned up to 11 on this new 250 SX.
Bring your A-game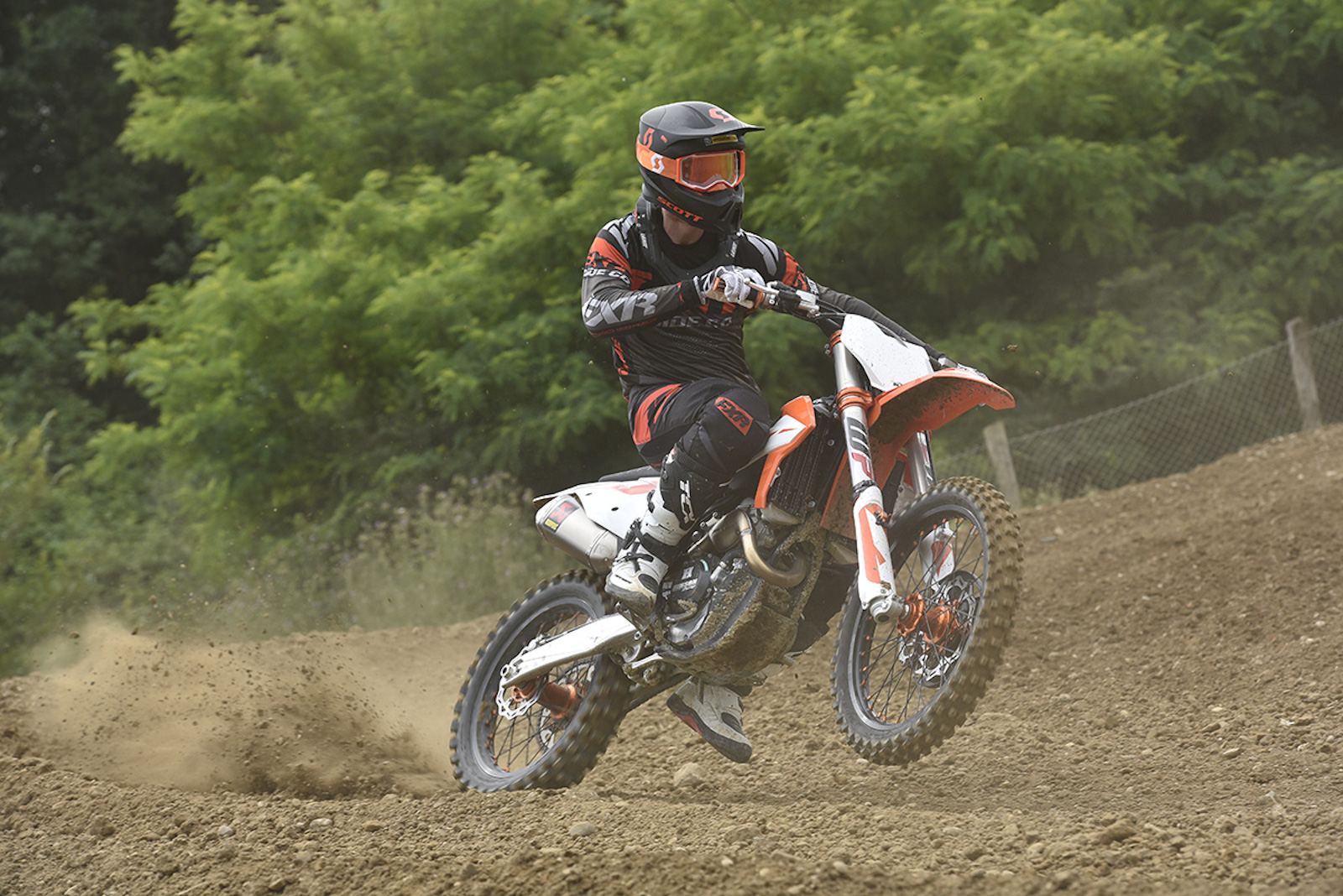 The new 450 is awesome too; impressive, incredible and a rocketship. The strength of any 450's engine is amplified by a shed load of depth compared to smaller capcity machines. The sharpened-up 2019 engine feels ready to pull buildings over.
This is not a bike for the timid and one which makes going fast (if you're like me) rapidly get tiring in a 20 minute track session. Bring you're A-game for this one.
In its favour also are the chassis changes which are more noticeable on the heavier 450. You notice the improved cornering skills more on the bigger bike where the new chassis is helping you pick lines, make the jumps and rail the ruts better.
All-in there's a clear change to KTM's 2019 SX models. Going faster got easier, even easier than before, which is not shock news from a new model launch but it is safe to say changes on paper translate to the track in a meaningful way here. Book a test ride when you can.
More information: ktm.com
Photo Credit: Marco Campelli and Sebas Romero