Celebrating Extreme XL Lagares: "It was not hard to sell it to Porto..."
Celebrating the weekend when WESS 2020 should have kicked off with Extreme XL Lagares, event organiser Paulo Moreira explains the story behind his spectacular Extreme Enduro...
Right now the historic streets of Porto should be filled with logs, tyres, banners, fans and riders getting ready for one of the biggest spectacles in Enduro – Extreme XL Lagares.
The decision to postpone Lagares was "inevitable" according to the main man behind the race, Paulo Moreira. Coronavirus might have put WESS and XL Lagares on hold for now (October 2-4 is the new race date) but that's not going to stop us celebrating this iconic event.
Enduro21 caught up with Moreira to find out more about his amazing race, how the event has been affected for the better by Covid-19 and what it means to Portuguese off-road fans…
In this week when we would have been in Porto for the 2020 Extreme XL Lagares, where do we find you?
Paulo Moreira: "At this time you find me at home, I have used this quarantine time to work on the route of Extreme Lagares, increasing and perfecting some areas that we didn't use for a couple years to use in the 2020 edition."
When Covid-19 arrived and Portugal went into lockdown, was it a difficult decision to postpone the event until October?
"It was a difficult decision to make but it was inevitable. The hardest thing was to get a second date. Porto is full of events and 2020 was busy already. The calendar was full and also it was difficult to match with other events outside of Portugal.
I saw some potential to do an Extreme race. I spoke with friends in a local motorcycle bar and after six months we did our first XL Lagares edition. It was as simple as that.
Paulo Moreira
"We took this decision as soon as possible to minimise the damage to our organisation and also the riders so they have time to cancel hotels, travel and reorganize their lives.
"It had a big impact because we already have all the licenses, had published the race date and the course was already clean. At this time of the year in Spring everything grows fast so now we have to clean everything again before October."
Is it certain the event will go ahead in October?
"From our side yes, but nobody can predict the future with this pandemic situation. We have to wait and see how Portugal and the rest of the world responds.
"In Portugal, the opening of outdoor competition is scheduled for June 1 with some limitations (public distancing) but we believe it will happen on this date."
Tell us some more about XL Lagares. Where did the idea for the event come from?
"In 2003 I broke both my arms and at the time I was competing in Supermoto and Enduro. Trying to not lose too much muscle mass, I started walking around the area of Lagares with my dog and every time I went there, I saw some potential to do an Extreme race. I spoke with friends in a local motorcycle bar and after six months we did our first XL Lagares edition. It was as simple as that.
https://www.youtube.com/watch?v=eQO2s6aDC_4&feature=emb_logo
"After the first XL Lagares, around 2008/09 we organized a couple of Extreme races around my area and in 2010 we started organizing Enduro races as well. To date we have clocked 102 races."
Was it difficult to make the event happen especially on the streets of Porto, a world heritage site?
"It was hard to convince people it was possible, we did a clip with a drone to show the route we wanted take. After that we had a meeting with Porto authorities, and they liked the idea so it was not so hard to sell it to Porto. But in the first year, because it was the first time and involved UNESCO, we needed the approval from everyone.
"After the first edition everybody saw the race was really good and the impact on the environment was almost nothing. After that it was easy to do the next editions and we always have the door open to do the race on those streets.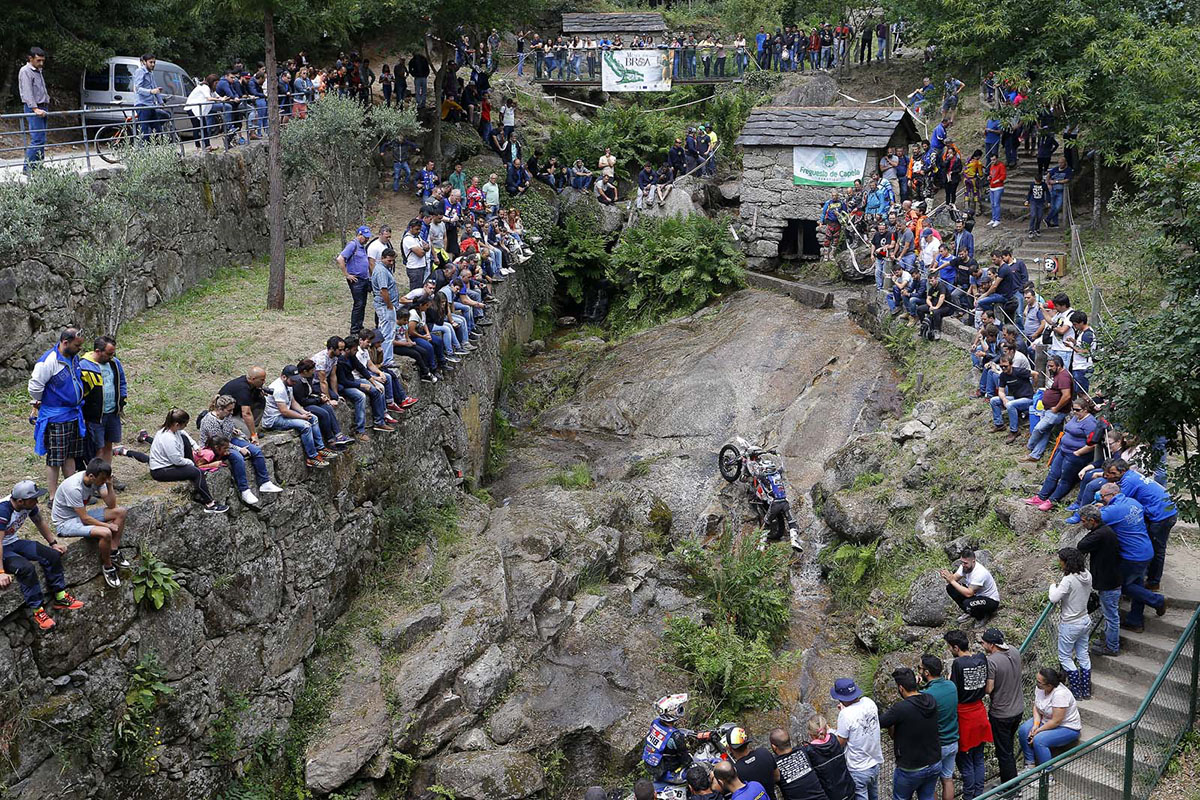 "We work with locals who live in the area also. Every year before the race we go there and go door to door and say 'Hi', give a t-shirt and explain what is going on. Every year they are waiting for us. This race is already installed in the lives of these people and in Porto in general."
It has grown to become one of the biggest Extreme events in the calendar, has being part of WESS helped with the profile of the event?
"Definitely. I think the creation of WESS was good for the sport and for XL Lagares. On the flip-side for sure it was difficult for us to have all the Pro riders at the same time (previously they had around six or seven Pro riders, in 2019 it was around 80 riders in Pro class).
"The way WESS works with their marketing and coverage is impressive. The social media platforms are really good and also everyone around the world can see all the videos from Red Bull TV. It's a privilege to be part of this championship."
The super-tough terrain of the main race and the long lap is also great for spectators to see the race – are those big galleries of spectators an important part of the event for you?
"As a fanatic of the sport and organiser I like to see as much as I can during a race. So if you have a race on a big course, you have more places to go and watch.
"Obviously if you are going to work as a videographer/photographer two laps are better because you'll see more riders together but if it's just one big lap you'll enjoy more and you can go to see two or three places.
"Usually our lap is around 20-25k but this year (2020) will be just one lap, more or less 100k with more spectacular points, amazing landscapes and with three different types of terrain. I think this year we did another step."
The north of Portugal is the heart of Enduro country – your team run the Portuguese Hard Enduro Series (PHES) also – is Portugal a very passionate nation about all forms of Enduro?
"Absolutley! Portuguese people love motorsports specially in the north, we can say that is the capital for the enthusiasts and Enduro riders. We have the best conditions around here.
"Right now, Hard Enduro is what everyone loves and where more people are riding. Of course, we still have the traditional Enduro lovers but for a couple years now Hard Enduro has grown.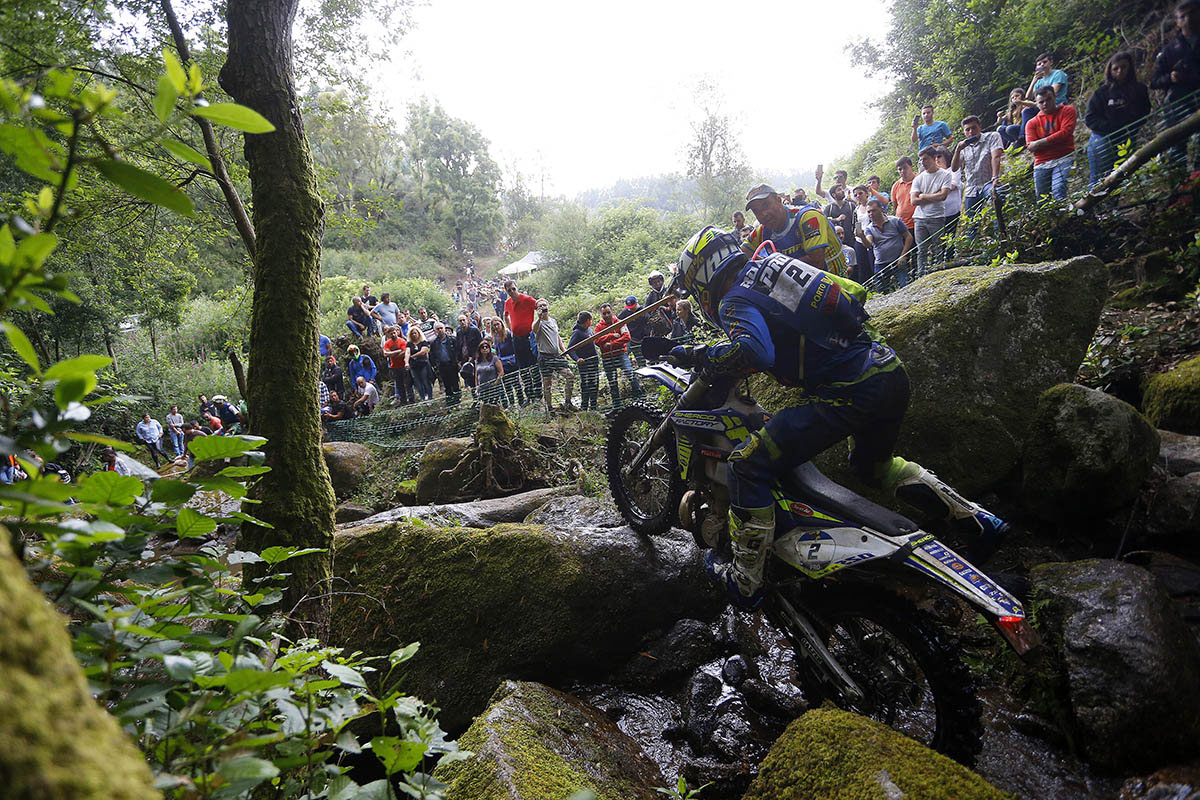 "When you go out there in the woods you see many people training the classic Enduro (special tests etc.) and also the people training for Hard Enduro.
"Around here when someone buys a new bike, they instantly prepare it for Hard Enduro with mousses, soft tyres, suspension and so on – only a few fix their bikes up for classic enduro, it's a minority."
We need your support
If you've enjoyed this article, if you've found it informative, interesting, entertaining even, please support us.
We want to continue doing what we do, to the best of our ability, serving the enduro and off-road community.
Please consider a donation, every little helps…
Thank you.
By contrast it was quiet last year down south in Portimao for the ISDE, do you think it was a shame they did not run the event in the north?
"I'm sorry to have to say I am sorry it turned out the way it did because I thought, and most of the people who are connected to bikes here in the north, thought it was a shame it ended up happening there (down south). No so many spectators, low publicity and media coverage in Portugal...
"We already had two Six Days in the centre and north of Portugal and you can see the difference with spectators and riding conditions. When we had the last day in Agueda, our MX cathedral with unique conditions, and if you go further North to places like Gondomar, Valongo, Penafiel, Paredes and Marco de Canaveses we have amazing conditions for a Six Days and for sure with a lot public track side."
Photo Credit: Enduro21/Philippe Teixeira/Robert Lynn/Andrea Belluschi