How To: Perfect off-road goggle prep' guide
From putting up with roost at the start of a race, dusty enduro trails to slogging away up hills between the trees, goggles have a lot to deal with when all we want is to see where we are going on a dirt bike...
Giving yourself the best chance of keeping a clear vision can be half the battle if you want to keep ahead of the next rider. Looking after and properly preparing your goggles is therefore one of the most important pre-race rituals.
But what is good practice for cleaning goggles? How do you look after a lens without scratching it? And how can you make sure you arrive at the start of any ride or race ready to go with clear vision?
Nathan Watson is a WESS round winner and Beach Racing Champion, plus a former MXGP and EnduroGP racer, so he knows a thing or two about what it means to have clear vision.
We've taken his advice and added some key tips for perfect goggle preparation. Check the video, read the guide…
https://www.facebook.com/enduro21official/videos/259289892119400/
Life has changed a lot since riders had one set of do-it-all goggles. Apart from the big advances in design, comfort, venting, vision and function of a modern goggle, manufacturers like Scott have a huge range for different riding conditions.
Different foam density to catch dust or allow more air to escape, different lens coatings, double lenses specifically for riders getting hot in enduro, as well as different options for tear-offs, roll-offs, rain lenses and more.
Look after your goggles
Best practice is to thoroughly clean your goggles after each race. Start the process by running water over them to remove the bulk of the dirt. Remove the lens from the frame to give extra care to the lens (see below).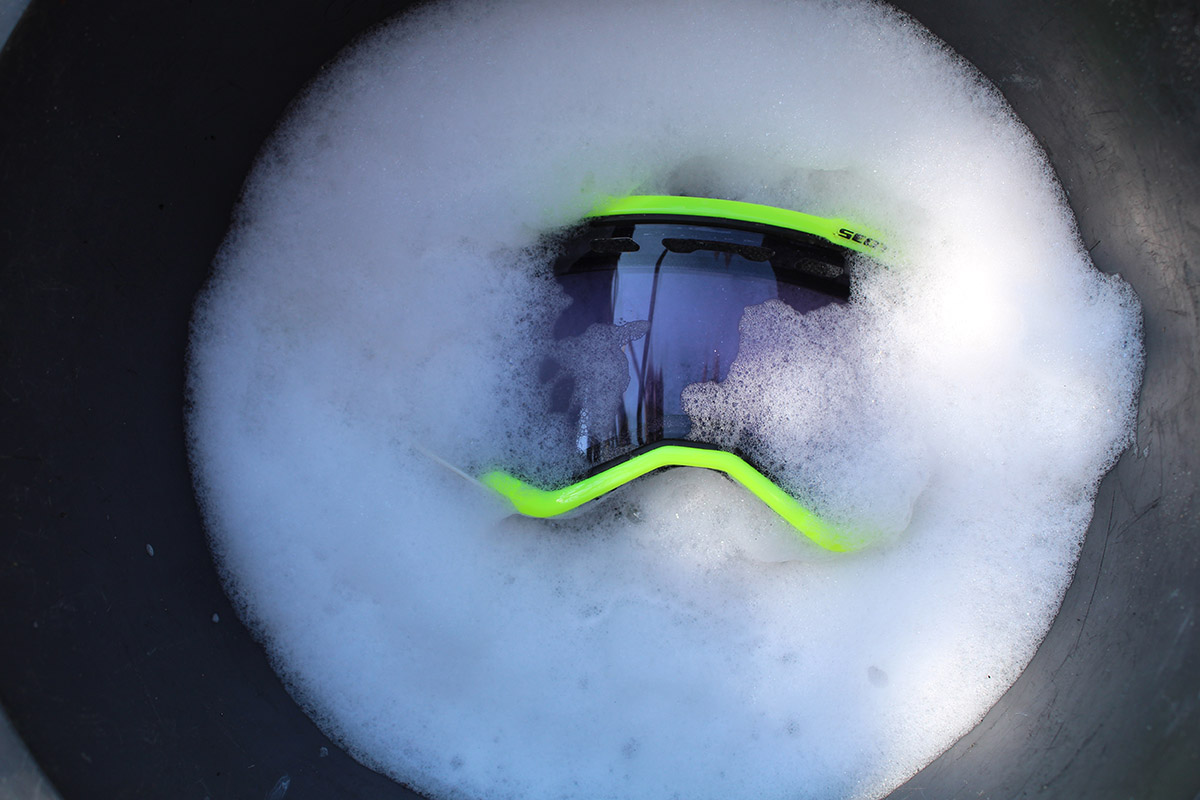 Clean the frames and strap in a sink or bath with a mild soap (like a kids shampoo) before rinsing with clean water. Pay particular attention to the soft foam areas. This process will remove sweat but also keep the holes in the foam clear – you need them open to let your face breathe next time you ride. Hang to dry in a warm place but preferably not in direct sunlight.
Lens care
With the lens removed from the frame, rinse under warm, running water. You can also follow that with a small amount of gentle soap, washing in a sink or bowel of water. Best practice is not to wipe a lens, but as we know sometimes dirt needs help to be removed from the surface so use a gentle thumb wipe in the water or a soft, clean cloth if you need to. But be gentle.
Don't wipe the lens dry especially the inside if it is anti-fog coated or the exterior is iridium. Instead shake or throw the water off and then dab dry with a soft, clean cloth. Don't use paper towels as they can scratch.
Prepare more than one set
As mentioned elsewhere, the range of goggles out there with different functions and for different riding conditions is awesome so if you can afford more than one set of goggles it makes sense to prepare more than one set for any race or ride.
The reasons for that are obvious – if you get filled in, the weather changes, you get steamed-up you can switch to a new set. Make sure the spare sets are protected from the weather and dirt while they await their call-up.
Roll-off or tear-offs?
Whether you choose tear-offs (multiple clear sheets which extend across the full lens) or tear-offs (metres of rolled film pulled across the main lens by a cord) could be down to preference or conditions.
As Watson says, in the potentially muddy (wet sand) conditions at Hawkstone Park, he opted for roll-offs on his Scott goggles because "you get more pulls, so basically more clear vision."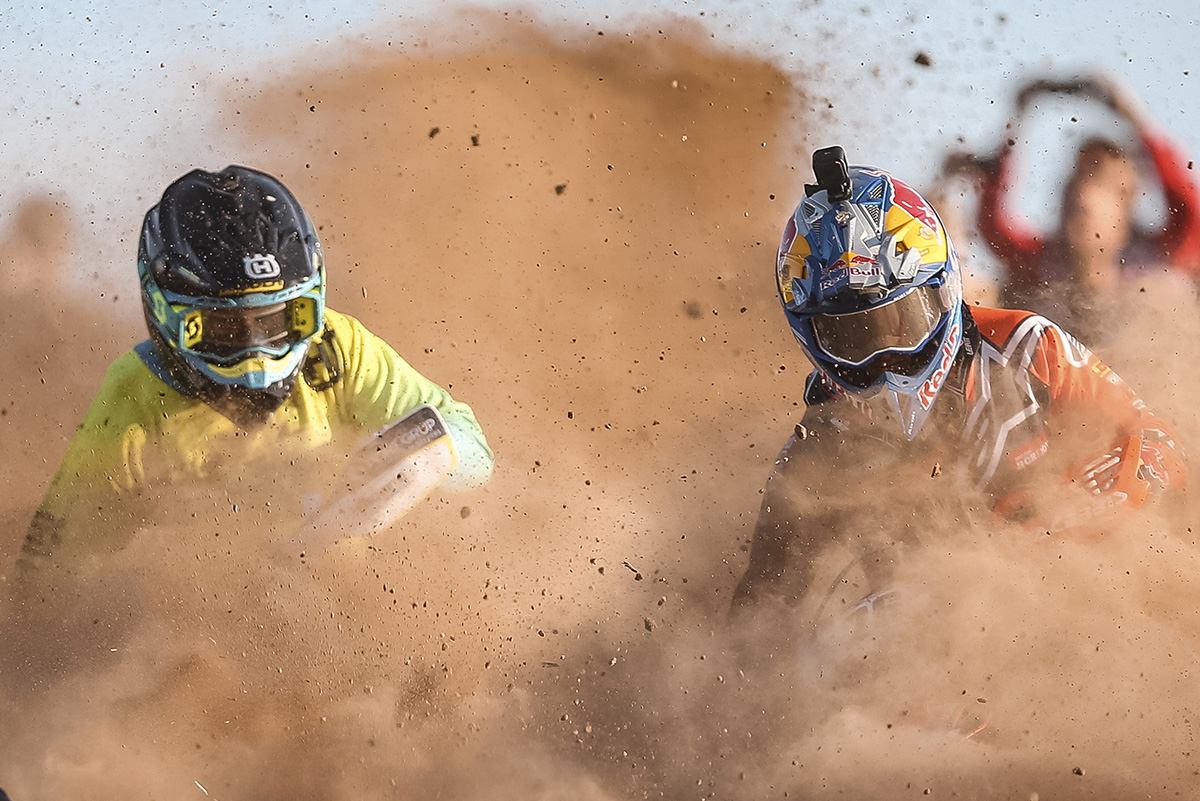 Many cross-country racers opt for a few sheets of tear-off for the start and opening laps where bikes are bunched up. But that option is increasingly being taken out of your hands with event organisers and tracks not allowing tear-offs these days due to environmental issues.
Both options need additional prep and care to make sure they actually do their job – how many times have we seen (or been) the rider who goes for one tear-off and gets all six at once, or has that long trail of roll-offs coming from their goggles as they ride past? Make sure they are lined-up, fitted to the lens correctly, the winding mechanism is clean and working and the roll is under its guide correctly.
Check the weather and track conditions
Key element numero uno is to know what you are up against. Check in advance what the weather conditions are going to be like on the day and also if they might change through the event. Bone dry, soft and dusty, mud fest? Each will make different demands on which goggles you need.
Look after them on the way to start
There's no sense going to all the trouble of the above and then getting your goggles soaked and caked in mud on the way to the start. If you can, carry them in a bag to the start and follow some simple rules like not letting them turn upside down and able to collect dirt or rain drops before you put them on.
We need your support
If you've enjoyed this article, if you've found it informative, interesting, entertaining even, please support us.
We want to continue doing what we do, to the best of our ability, serving the enduro and off-road community.
Please consider a donation, every little helps…
Thank you.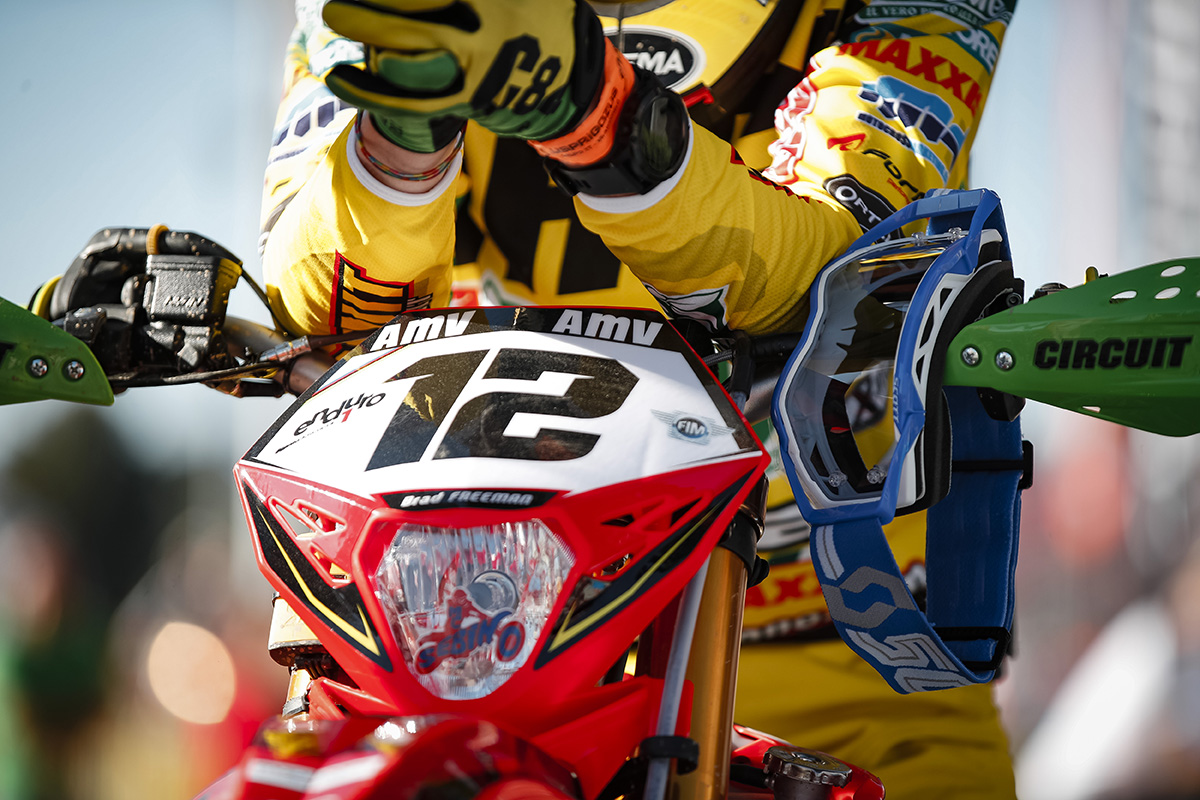 Put them on at the last possible minute will limit the time they can mist up.
Top goggle prep tips
Shake the goggles out before you put them on. We've seen pro racers do this on a start line, right? It's to ensure there's nothing inside because there's nothing worse than something floating and bouncing about in there as you ride (eventually going in your eye).
Check also the foam for stray hairs or whatever which can get rapidly annoying once you start racing.
Look after your head. It sounds daft maybe, but don't get too hot (sweaty) and worked up (breathing heavy), or even allow you head and hair to get rained on before you put your helmet on. Both can contribute to any misting problems.
Don't wash goggles in a washing machine. OK, lots of people do but seriously, manufacturers do not recommend it because it breaks down the foam, glues and helmet strap elasticity and grip. Don't be lazy.
Ride in the dry desert a lot or in wet forests? Check the different types of goggle and lens options available. From vented lenses to sand-trapping foam, you've got choices.
When conditions are really bad, some riders stuff soft paper towel under the helmet peak or into the top of riding pants to wipe dirt off lenses.
Prepare goggles during the week, not 20 minutes before a ride or race starts!
Don't ride with your goggle strap too high and especially too low. It's not cool.
Video Credit: Enduro21/Philippe Teixeira
Photo Credit: Enduro21/Andrea Belluschi