"I just nailed it everywhere" – Paul Edmondson, the "real" James Bond
"I just nailed it everywhere, dropped the clutch and lit her up!" Enduro21 catches up with the four-times Enduro World Champion and these days the guy behind the spectacular stunt scenes in the newest James Bond movie, No Time To Die.
Did you think Daniel Craig was really riding the bike in No Time To Die? "Actually, he can ride a bike pretty well." Says Paul Edmondson, 007's two-wheeled stunt double and the rider with balls enough to make the biggest scenes a reality in the newest James Bond film.
Edmondson is no stranger to stunt work, Enduro21 catches up with the four-times Enduro World Champion for a cup of tea in his motorcycle shop and beside us in his office sits a stunt bike he rode in one of the Bourne films alongside a championship-winning GasGas.
No Time To Die is the biggest yet though and not just because Paul is the stunt rider for Daniel Craig, but because this new Bond film has some meaty movie chase scenes featuring bikes and they aren't fake.
That's you isn't it Mr Edbondson? "Yeah, I'm Bond and also the bad guy Bond takes the bike off, and in the main chase scene filmed in Scotland, I'm the main rider in all those big stunts really."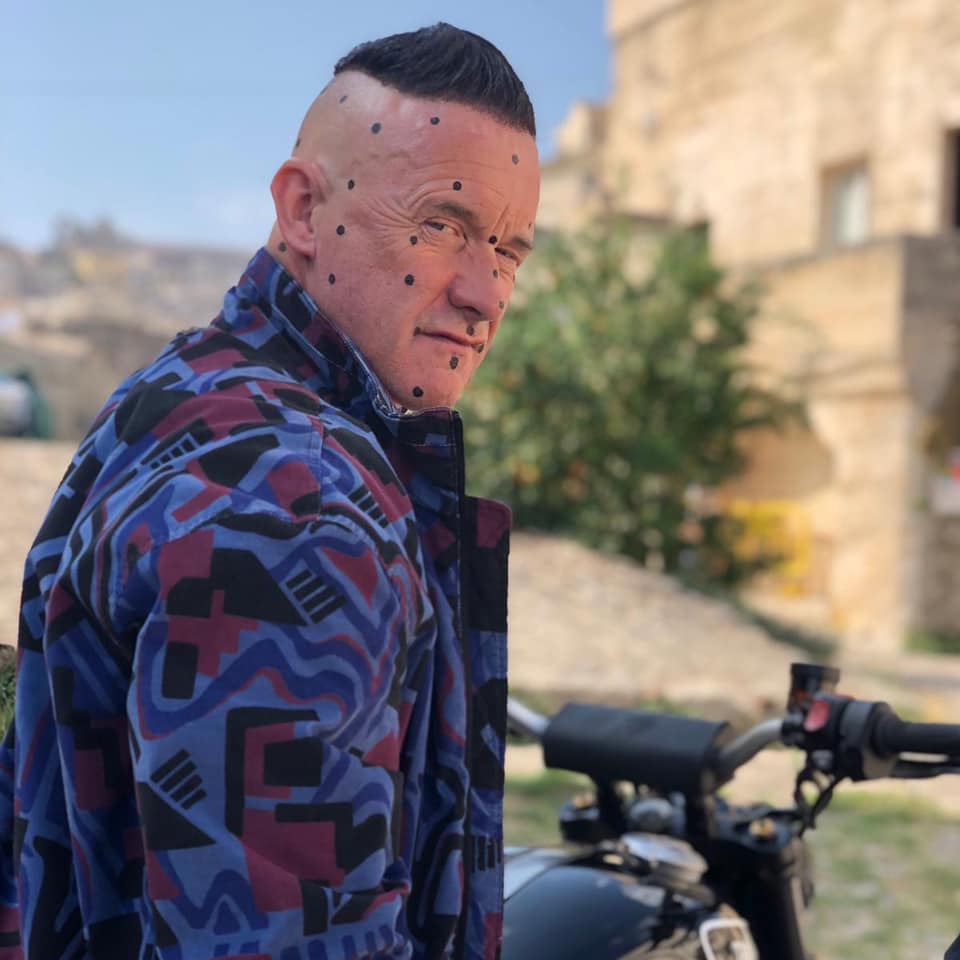 "It was great for me because every shot we did was flat chat, there was no messing about."
Bond films are famous for their action scenes and Edmondson's keen to point out his role in creating these stunts was because they needed to happen for real. Look closely in No Time To Die and the trademark Trials rider trick of one finger on the clutch and front brake lever give it away as Edmondson, "you can see my crooked, old clutch finger" Paul adds.
The biggest stunt scene in No Time To Die, from a rider's point of view at least, takes place on the old streets of the Southern Italian city of Matera. The sequence involves cars chasing through the streets and a ballsy jump by 'Bond' up Matera's ancient city wall – and it is a bloody big wall…"it wasn't dangerous to me you just have to be alert and equal to it. Anything can happen especially in those chase scenes where you're so close to other drivers or the margins are fine. When we're doing those scenes I'm really on my game because you have to be."
What about that massive jump, did you get time to practice?"No practice, no, you don't get time. This is where my enduro experience comes in. I basically I did a couple of runs just up the ramp to get a feel and then just went for it. You've got to.
"What you can't see is the one of the first times through on the Triumph, the back wheel actually clips the wall. It looked pretty damn cool but it wasn't what I was wanting – the next run I made sure I over-jumped it that's for sure!
"Anyone looking at that who knows about riding bikes knows it took some balls to do it. It was on my 50th birthday too…"
This video shows Paul's jump from various angles…

Sometimes films and TV scenes involving motorcycles, especially dirt bikes, can be a bit cheesy, we all know this. We've all been sat watching a film and called it bullshit when the bike part arrives.
But not so in the Bond films where the stunt coordination and people behind it are very much about making things happen for real. That's why they get people like Edmondson involved not just to physically be able to do the scenes but to make it look authentic. "I didn't have any direct influence on things but I'm never shy of giving my opinion and advice, not to be arrogant but, you know, as a rider what works and looks good.
"The stunt coordinator, Lee Morrison, likes the aggressive riding, he says 'you're Bond and you've got to be on a mission' so I just nailed it everywhere, dropped the clutch and lit her up!"
Enduro riders make the best stunt riders...
"I think so many years in enduro helped." Explains Edmondson of what his experience brings to the job of stunt riding. "The days are long and we're all used to that, but what people don't realise is that when they say 'let's go' and 'action' that's it, you have to just do it. I was able to concentrate and hit the marks when it mattered.
"You sit around for hours but when it is your time to perform and do the stunt, there's all the crew, cameras, helicopters, and you have to be perfect. There's no room for error and that bit, that ability to just be perfect when you need to be is normal for an enduro rider.
"It brings that adrenaline feeling which you get as a racer. You get a buzz like, the old ticker starts beating a bit. It is rewarding though when I got to do some of the big stuff."
The stunt crew behind No Time To Die rely on a quality team of riders too, not just for the lead rider like Paul. Among the riders working on the film are former British Motocross Champion Rob Herring riding the camera bike (Paul and Rob were once Mitsui Yamaha teammates back in the '80s) plus Extreme Enduro and old boy Trials rider (and Erzbergrodeo finisher no less) Martin Craven.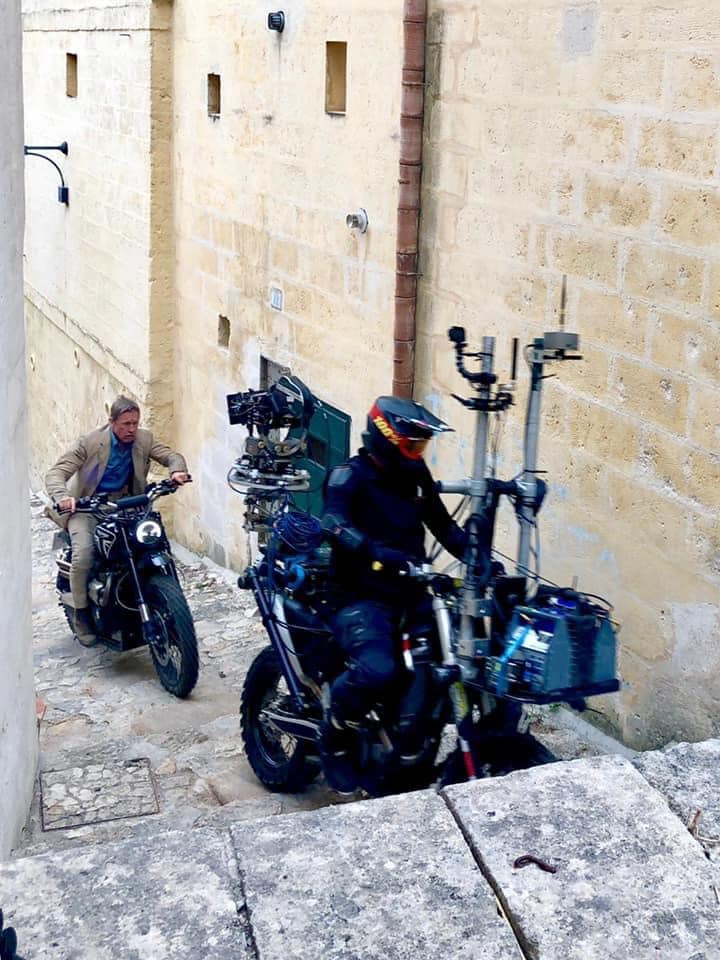 Did Paul get to meet the star of the film, Daniel Craig much? "Oh yeah, of course, he does some riding on the bikes, actually he can ride pretty well. He does the scenes where it is A-to-B so to speak and when it gets a bit exciting, C-to-D shall we say, we swap over.
"In the scenes where I'm the double there are points where you hand over to the actor and we're there together for those. I'm a similar build to Daniel and it was nice to have some hair for once!"
Which bike is it you're riding? Presumably not always a standard Triumph. "A lot of the scenes are on a Triumph Scrambler or Adventure model, yeah. The scene filmed in Scotland is on the Triumph Adventure bikes.
"For the main jump scene I was riding a fairly modified version of a Scrambler for obvious reasons. The thing is it is not just a case of jumping into an air bag. They're not about that, they want to see the actually stunt running from start to finish for real."
Were there any dodgy moments? "When you work with good people, you're not invincible but you're on the right track and I felt like I had to be on my A-game.
"There's one chase scene where I'm on the Triumph Tiger 900 and really in there, chasing a car which is bouncing all over the place. A big rock came up off the back wheel and it was one of those moments when you' re bracing yourself, but I just managed to dodge it."
"I'm really lucky to be involved with a good group of people and you would not believe how many people are involved in a film like this. But the team of people have got your back, everybody that helped me in those scenes has got my back."
Photo Credit: Enduro21 | Andrea Belluschi