Jane Daniels interview – EnduroGP Women's champion steps up to Rally
Enduro Women's World Champion and current ISDE Women's World Trophy Team holder and outirght champ Jane Daniels is set to make her Rally-Raid debut in Tunisia with Fantic. Enduro21 catches up with Jane to ask where the heck did that come from?!
We shouldn't be surprised, Jane Daniels has pedigree in enduro few other women can match, she tall, strong and all things considered, should a shoe-in for rally. But this week's news that Daniels is climbing up the off-road scale and onto the official factory Fantic XEF 450 Rally machine to race in rally raid still dropped like a bomb.
Beginning this week at the Swank Rally in Tunisia, the Team GB ISDE winner and reigning Women's Enduro World Champion says she was been handed the chance by Fantic who first sewed the seed at their Christmas party.
Balls start rolling and with Fantic pushing their race and customer rally programme after launching the XEF 450 Rally last year, this suddenly looks like an oppurtunity too good for both Jane and the Italian manufacturer to not at least explore.
Daniels admits rally was never even on her radar ("doing Dakar out the back of a van with Dad is plainly not on" she says), but Enduro21 wanted to know more, not least how this all happened and naturally what that means for the EnduroGP Women's class points leader for the rest of the 2023 season…
Jane, you're racing a rally bike?! When did all this come about?
Jane Daniels: "Yeah, I blame Dario Agrati (legendary Italian enduro journalist). Last winter he interviewed me for the Italian magazine Moto Sprint. It was a bit hurried, so I can't remember exactly the questions, but one for sure was something like, 'what are your thoughts on Dakar?' And in all honesty, I'd never thought about it.
"I watch the highlights every year like most people. But for me it's not possible. Doing world enduro out of the back of the van with Dad is doable, doing Dakar out of the back of the van with Dad is plainly not. It's not something I've ever contemplated on account of the financial implications. So, I just replied, 'if the opportunity was ever there then yes, I'd give it a go.' "
Okay, but that doesn't exactly get you to Tunisia in Mid-April…
"The thing was the people at Fantic read the article Dario had written. And so when I went over to see them for the Fantic Christmas party I walked through the office and they're teasing me, 'Wooo, Dakar eh?' 'So you'd like to ride Dakar?!' and I thought, 'oh, so you've all read the article then?!' It was a bit embarrassing.
"But then when we were discussing my 2023 contract, I asked them what was the best they could do and they said, we could take you rallying if you'd like? So, I thought I might as well take the chance whilst I can, so that's how we've ended up here in Tunisia."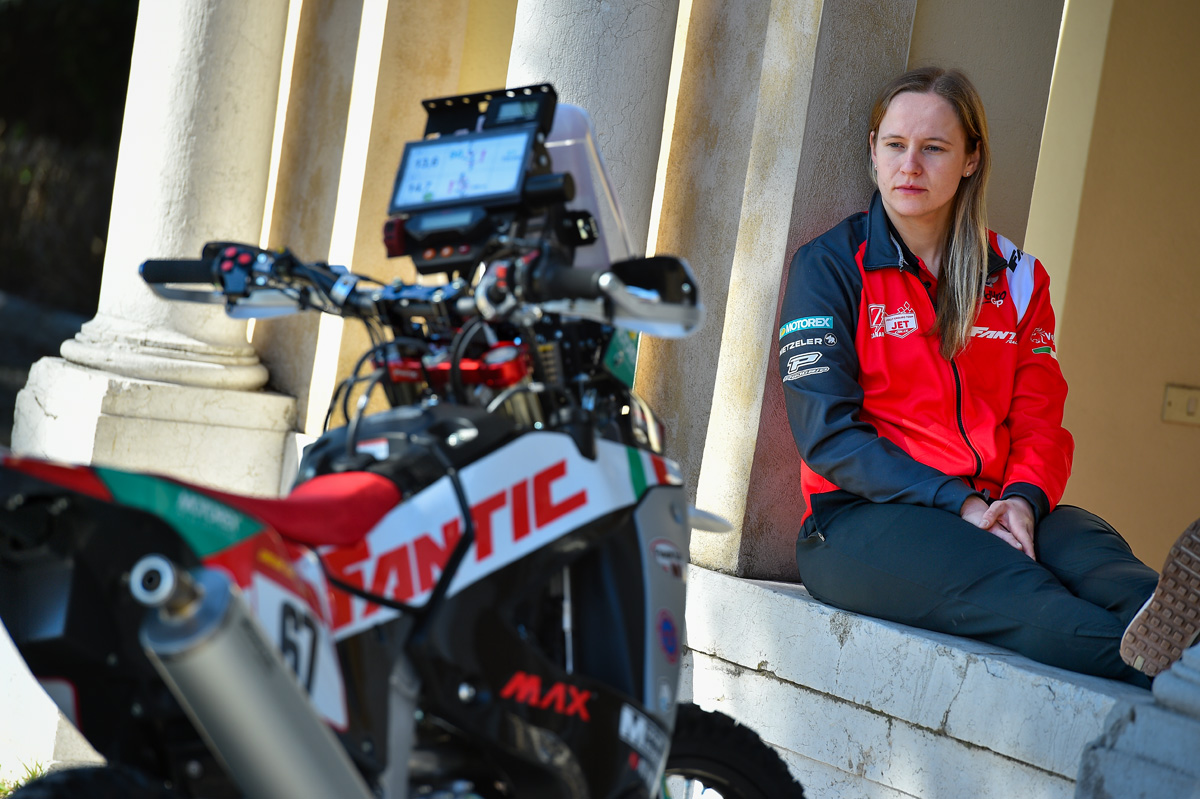 You think rally is a bit of you?
"I don't know, I know it's something special. It's not the pinnacle of enduro but a whole new thing. Rallying at top level would be like two weeks on the bike whereas the longest I've ever done is six days, so it's like a major challenge personally. I like to do different things with the bike, like sprints, enduro, motocross and trials. So why not throw rallying in there as well?"
What's the plan? And are you still riding enduro?
"Yes, I'm still committed to the World and British enduro championships, but rallying has definitely filled any free weekends that I did have.
"We have a little plan for some road book training and all the rally things you have to learn early in the year, then more events later. The first chance to get on the bike has been this Tunisian rally – it's ideal as there's a bit of a gap between the first round of the world championship and the next two. After that it's back on the enduro bike for a month or two, and then back on the rally bike for another rally, then back on the enduro bike again through until late October and then it's all rally again up to the end of the year."
So, we'll say the D-word – Dakar. What do you think?
"It's a bit early to suggest that. First off, you've got to do some rallies just to qualify for Dakar. I'm not 100% sure which ones they are, but the plan for now is to do a couple of rallies and then see where we are."
How was it the first time you got on the rally bike?
"Well, it's like no bike I've ridden before. First job is to get a feel for it and get set up because I've no idea how you set up a rally bike. For a start it's got a suede seat and that's a new one on me! And foam grips – like I used to have on a push and go scooter I had when I was about 10! That's before we think about road book and navigation. All knew things to experience and incorporate."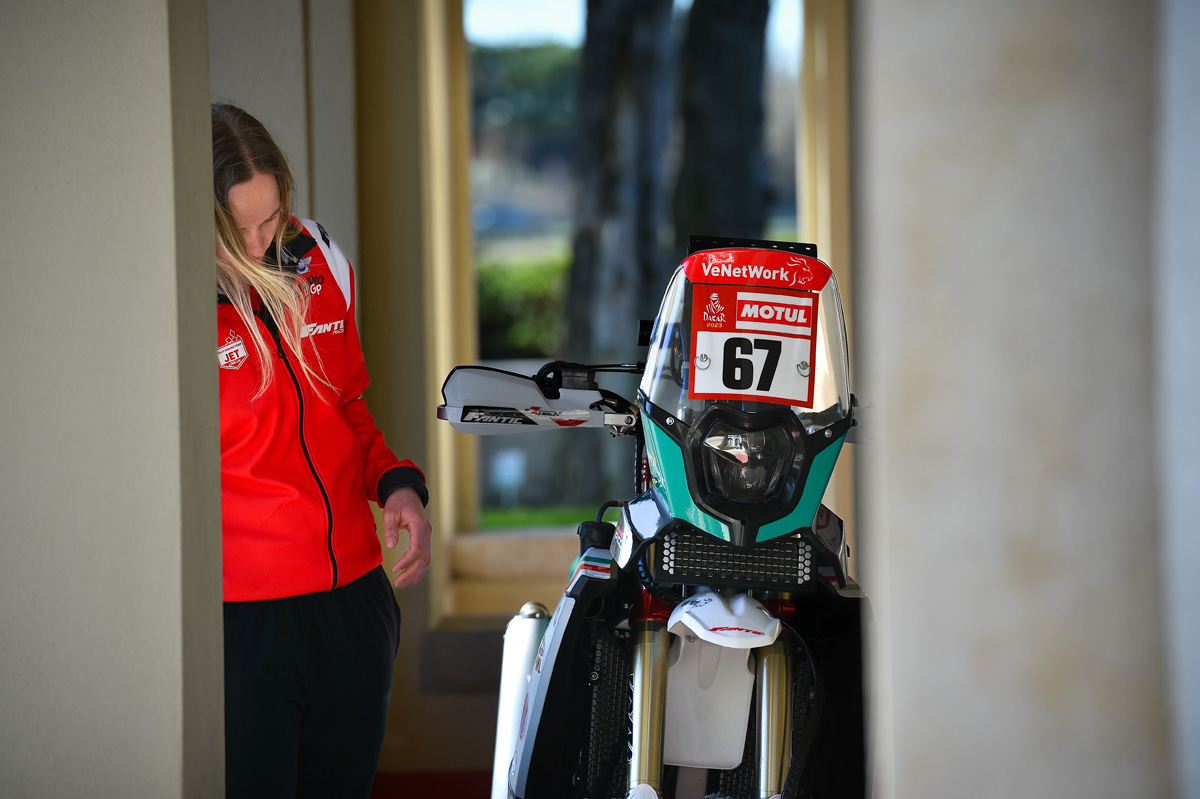 And it's a 450…
"Yes, it's a 450 while I normally ride 250. I've never ridden a 450 before, okay actually I've played on a few friends' 450s before but never raced one. No, sorry, actually I did once, in a cross-country race on stubble fields. That was nice and flat so I couldn't really get into any trouble; I enjoyed it for 2 1/2 hours, but not sure if I'd enjoy riding one for eight hours a day for two weeks!
"I guess the power is completely different and so is the riding position and everything else, so I don't think it'll be like getting on my enduro bike with loads more power. It'll be a whole new thing.
"I wouldn't say I'll be racing it, I won't be as sharp as on the enduro bike, it will be more like endurance, being safe but fast, not so much balls-out!"
Thanks Jane, good luck! Thanks also to Fantic UK for the help getting the interview.
Photo Credit: Fantic Motor