"Winning on a new bike and team would be perfect" – Kevin Benavides ready to defend Dakar Rally crown
Defending a race-winning crown is never easy. Retaining the golden trophy awarded for winning the Dakar Rally bike category is beyond difficult. The legendary motorcycle race is all at once mechanically, mentally and physically brutal and peppered every kilometre of the way with reasons why any rider is just as likely to not finish as he or she is to reach that flag – let alone win.
Winning back-to-back Dakar trophies can happen but hasn't in recent years. You have to go back to Marc Coma, 2015 and what now feels like another era in South America to find the last rider to do the double.
This is the task facing reigning Dakar champion, Kevin Benavides. To make matters harder, the Argentinian rider won on while riding for Honda in 2021, has since defected to the KTM Rally team but then suffered a sever lack of time gelling with the new bike after breakign his shoulder which kept him off his new 450 Rally for three months.
With the big race beginning in one month's time, Benavides has no easy task ahead if he wants to join that exclusive club of back-to-back Dakar winners. Enduro21 checks in with Kevin ahead of Dakar 2022…
"Winning Dakar on a new bike and a new team would be perfect but we know that in the Dakar you can't control everything, every time. It's not only you, there are a lot of factors you need to worry about and I learnt a lot of things last year."
Benavides' move from the HRC Rally squad was controversial – his win in 2021 was Honda's second in succession after Ricky Brabec won in 2020 making the Honda team arguably the favourites to win again in 2022, despite the might of KTM.
But Kevin steps into a driven and tight-knit team with vast resources, onto a new version of the KTM 450 Rally which just won the world championship with Matthias Walkner and, let's not forget, 18 Dakar wins stretching back to the turn of the millennium...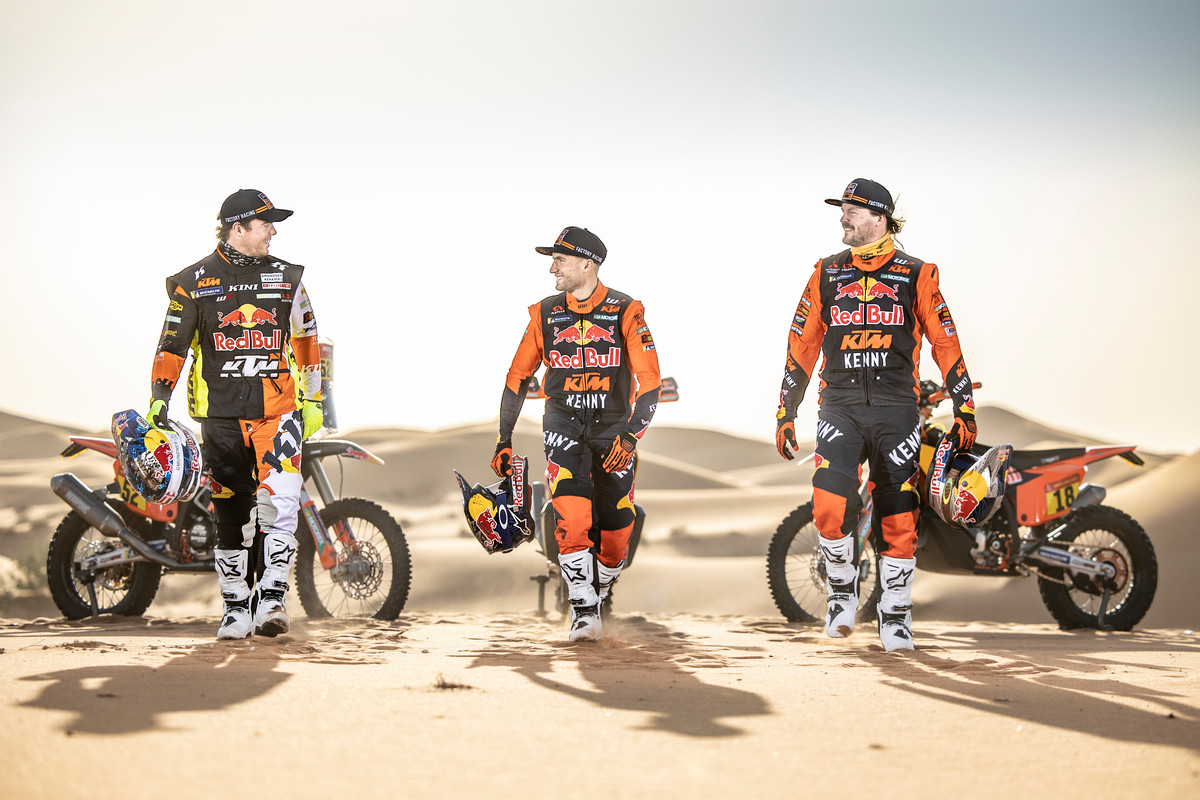 Shoulder injury set-back
His only problem, it seems, was crashing and breaking his shoulder in early summer which put the stoppers on crucial gelling time with team and bike.
"Right after signing with them, I had a crash and broke my shoulder which needed surgery and forced me to stay off the bike for three months.
"The Morocco Rally was the first race." Explains Benavides of his first real race back from injury with the Red Bull KTM Racing team. "Honestly, I didn't take it too seriously because I arrived at a 75% and the main goal was to learn how the bike and the team works. I wanted to know how everything felt to make a step forward in the set-up. We did a lot of changes after the race in the suspension and the engine and now I feel much more confident on the bike."
Despite some of his rivals, including new KTM team-mates, having clocked a good deal more race hours during the 2021 season, Benavides seems undaunted. It's not unusual for a professional rally rider to spend time out injured, it seems part of the game. It's also common for race teams and riders not to contest the Rally-Raid World Championship and spend the year training out of the limelight in order to be prepared for "the big one" in January.
After a quiet year then (despite the high-profile switch to orange), what is the plan for Dakar? "I know what I have to do this year and what needs improving. My strategy will be to focus day-by-day and see what happens during the first week, then on the second week is important to push a bit more. Anyway, we need to see how the first week goes and then just try to control the race on the second one."
More sand, less rocks – a safer Dakar?
The 2022 edition of the Dakar will be the third visit to Saudi Arabia and the route will be different this time around. Previous years have visited a dramatic and almost unique empty quarter of the vast country but the '22 race steers clear of it. Part of the change of route seems to be to slow things down, avoid at least some of the high-speed tracks which are proving unforgiving for too many riders.
Rally riders by nature push hard and take risks, navigating and reading the terrain while riding flat out brings risks of course. But Saudi has seen more than its share of high-speed crashes and serious injuries.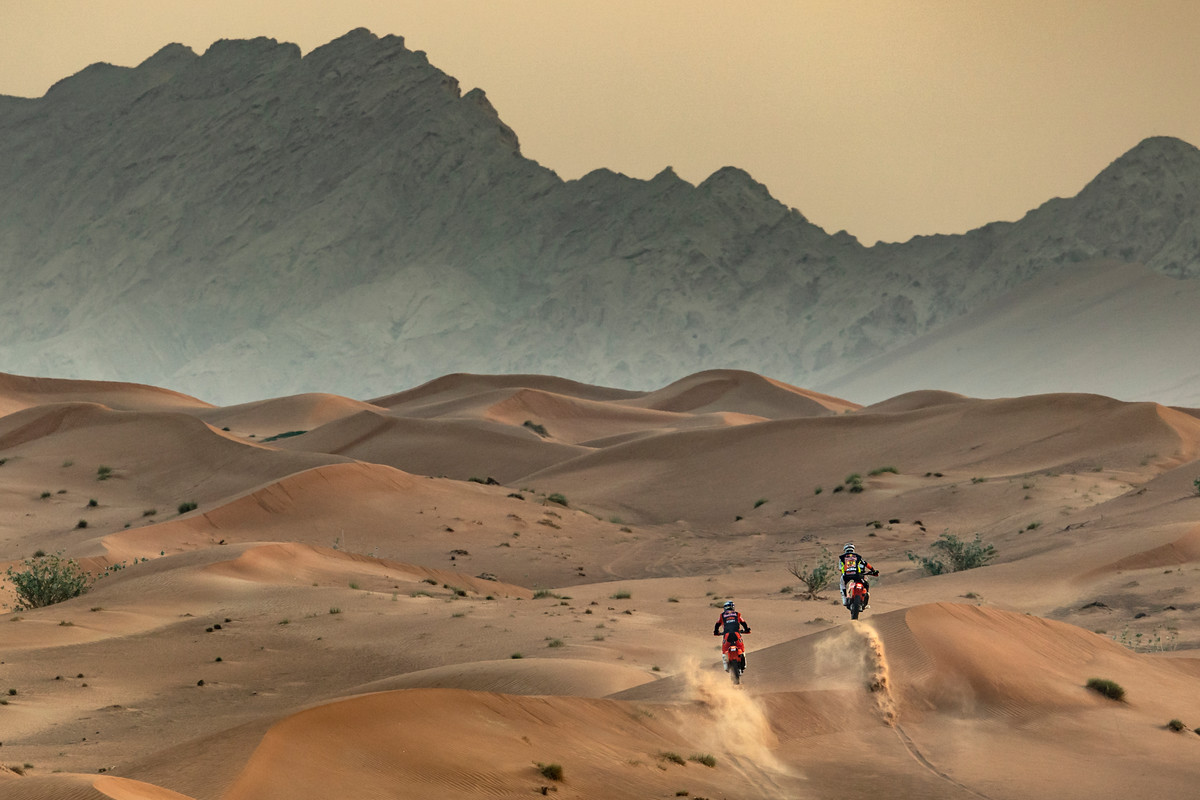 "More sand and less rocks" sums up the 2022 Dakar and should pave the way for closer racing and hopefully less serious injuries. "The 2022 Dakar route looks really interesting." Says Benavides. "I was in Paris for the presentation, and it seems that there'll be more sand plus there'll be five stages that will loop, which reduces the liaisons. Also, less rocky places which is positive. Navigation wise I think that it'll be interesting also so let's see how it goes."
With less than a month to the start of the 2022 Dakar Rally, what does a reigning champion do in the final weeks? "Right now, I'm just waiting to receive that bike back at home so I can start training with it. Now I'm hitting the gym twice a week and then I also change between cycling, jogging, rowing to keep it different. Just push all I can to improve my physical condition.
"When I get the bike I plan to do a one week rally training, it will help me emulate what I will face at the Dakar. I obviously want to win again so my strategy is to train as much as I can and then rest a little bit before flying to Saudi Arabia."
Dakar 2022 starts on January 1 and finishes 14 days later after completing more than 8000 kilometres. Enduro21 will bring daily coverage direct from Saudi Arabia, stay tuned.
Photo Credit: Marcin Kin + Rally Zone