"I know that next year, winning will be possible" – Mario Roman talks Hard Enduro World Championship
Sherco Racing rider Mario Roman takes stock of his 2021 season and assesses how the inaugural FIM Hard Enduro World Championship panned out including his fourth place overall and explains what his plans are this winter and looking ahead into 2022.
Mario Roman started the 2021 season ready to fight for a world title to add to his 125 Junior Enduro World Champion's crown. But things didn't quite go to plan.
After an aborted start the Hard Enduro World Championship (HEWC) season at Extreme XL Lagares (an event he has won convincingly style in the past), Mario crashed while testing two weeks before the actual first scoring round at Abestone Hard Enduro.
That forced him to race Abestone with a rib injury which ended up leading to a pulmonary infection and dragging on into the season. The Sherco rider finally finished fourth after podiums at Romaniacs and Getzenrodeo, and a fight for third with his teammate, Wade Young.
Enduro21 catches up with Mario to talk about his HEWC season, what he thinks about Billy and Mani's dominance and how extreme enduro is changing as a sport...
Hi Mario, where in the world are you right now?
Mario Roman: "Well, I've been to an event in Russia, as Motul's international ambassador, and right now I'm in the Dominican Republic. I have been in the Terra Inferno, a race that is very big here and wants to expand in the coming years."
Have you had time to take stock of your 2021 season?
"The truth is that after third place in the GetzenRodeo, the balance of the season is super positive. It is true that the objective was to finish on the podium and we have not achieved it, but we have been very close.
"I feel like it has been an unusual year, we haven't had a World Championship for a long time. In my case since 2014, so I was only used to extreme races (Mario focused on the major extreme races before 2021 rather than racing the previous WESS championship).
"This year, the whole championship still included some quick races and Wade adapted to them better than I did. But I am very happy with the result in the end.
"In both Romaniacs and Getzen I finished on the podium, plus a fourth, two fifth and a seventh. I think I have the level for more and we can only train harder to do better next year."
If it weren't for the injury at Abestone, do you think you could have been in the fight for the podium or the championship?
"You never know, we cannot go back in time. I arrived in good condition, both mentally and physically very strong, but before coming I cracked my ribs in a race in the United States and caught a lung infection that left me very depleted.
"I suffered a lot in that race and managed to finish seventh, which allowed me to score a good handful of points for the championship. Even so, I was very far from the fight for the podium, due to the injury I was carrying. In fact, that's my worst result this year.
"Then at Romaniacs I was at 98% and I was able to do a very good race. That's like the Olympics for us, so getting third place was great."
Billy and Mani have set a very high standard throughout 2021, what has made them stand out so much?
"The truth is that they have had a relentless pace, very strong and I can only congratulate them for the year they have done. Besides that, they are also friends and I think that is good for the discipline.
"I would say that they have professionalized the sport more and are very strong both in the more technical sections and in the fast races. I will have to put new batteries in to be in the fight with them next year!"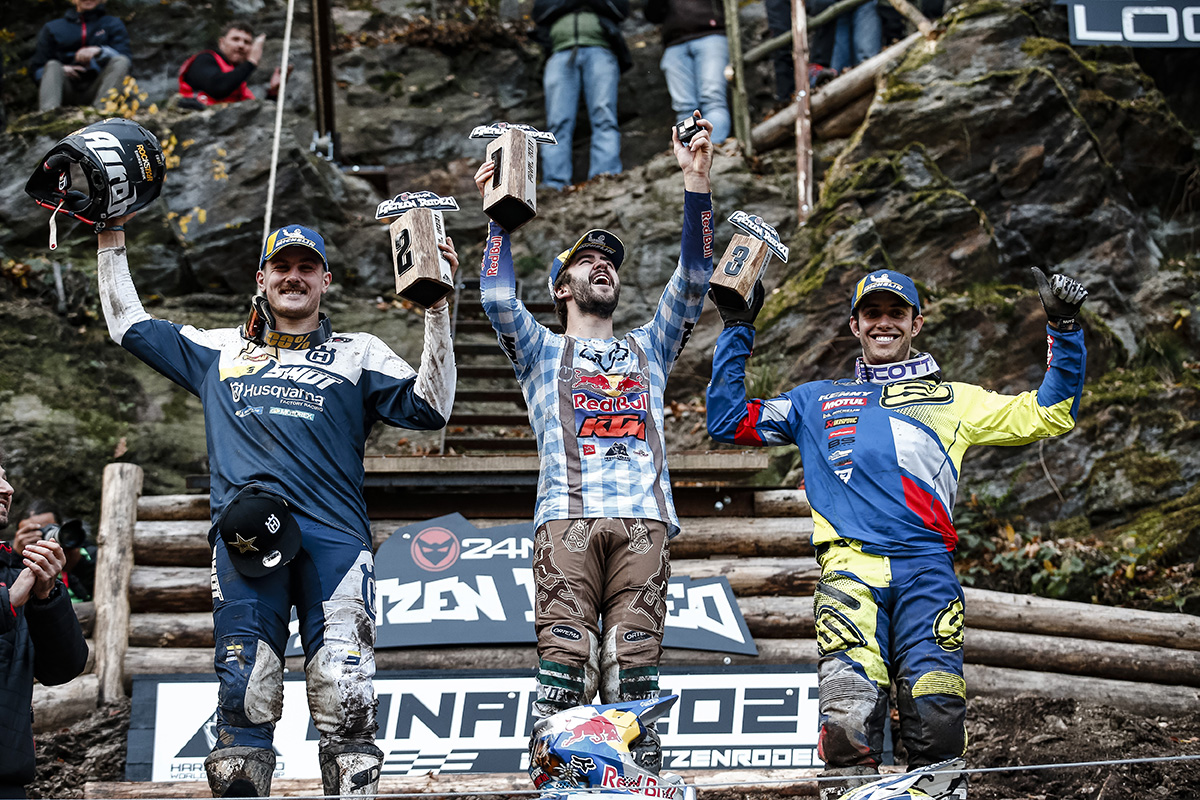 Overall, how do you see this first season of the Hard Enduro World Championship?
"Firstly I am happy that everything is back to normal and that races are being organized again. But I also believe it left something to be desired at times and the cancellation of Lagares did not help. Apart from that, for example, the Hero Challenge was a local race that did not have the necessary organizational level to be a World Cup event.
"Nor do I think that all races scoring the same is very fair. At the TKO (Tennessee Knockout) you race for 40 minutes and you get the same points that you get in the Romaniacs, where you spend about five hours on the bike for four days."
Do you have a certain bittersweet flavor for not having been able to win a race in this new World Cup?
"As I have mentioned before, I was injured at the beginning of the season and that hurt me. I am left with the bad taste of not having been able to win. In fact, in Hixpania, I really wanted to but couldn't, and in Getzen I finished on the podium, but without victory. Despite this, you have to know that things do not always work out and the good thing is that I have a lot of motivation and I know that next year, winning will be possible."
How was Hixpania? Did you miss the Spanish support at your home round?
"This year has been a slightly different edition than 2019, since the fans were quite limited. Many people wrote to me through social media to see if they could go. At the end some people came and they supported us a lot.
"It was a wet edition this year, on a fairly demanding and narrow track. We have been talking with the organization so that in future editions these traffic jams with the slower riders are avoided. I think it would be great if we could get some wider sections or a final with 15 riders say.
"But hey, in the end it was a great event and it's always a pleasure to be back at home again."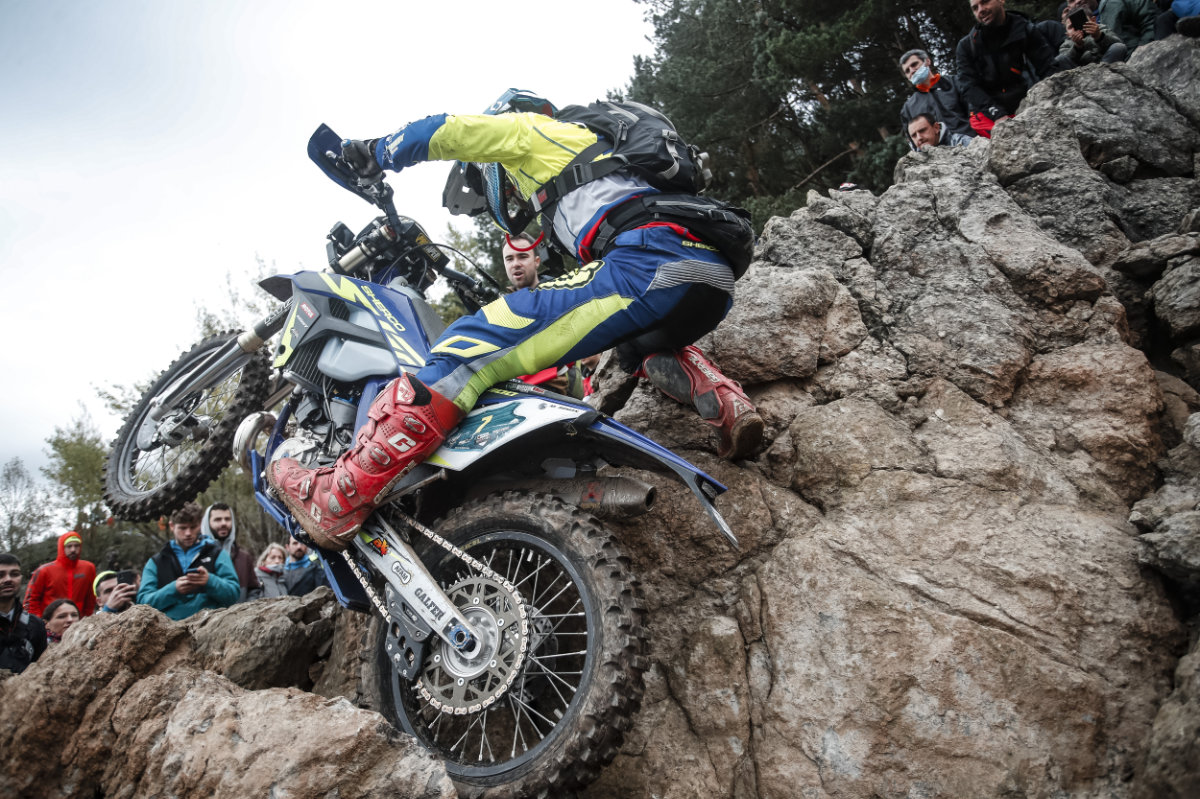 Has the "FIM World Championship" label helped Hard Enduro take a professional step forward?
"Extreme Enduro is a great sport and obviously the presence of the FIM gives Hard Enduro professionalism. I hope that it grows and that, in a couple of years, we will see the fruits of the work they are doing and that we can all benefit from it."
What do you think of the 2022 World Championship calendar?
"The schedule is cool, with three new events in Israel, Canada and Serbia. I've already been to Israel four times, teaching courses there, and I think it's going to be brutal terrain. Although we do not know exactly what format we are going to face, what we do know is that it will be a spectacular race at -400 meters, in the Dead Sea, the first time it has been run there.
"On the other hand Serbia, from what I can tell, are rivers and a lot of stone, so it will be something similar to Lagares. I hope it will be a very tough race. In Canada, from what I have been told, they have a brutal terrain and a demanding format, so I am looking forward to going there."
What are your immediate plans to close this season out?
"Now this season is over, I am planning the events and courses that I will do next year and I am also preparing the pre-season for when I arrive in Andorra for Christmas.
"I am taking the opportunity to do courses around the world and I will be in Russia, the Dominican Republic, Guatemala, United States, Mexico and Colombia during the months of November and December. I really enjoy teaching people, sharing experiences with them, travelling and helping people improve their riding.
"I just did the Terra Inferno in the Dominican Republic, where I finished second, and after that we are going to the United States for the Red Bull Override. A brutal six-hour race where last year I got the victory."
Photo Credit: Future7Media | Andrea Belluschi