Leatt 2021 moto collection – all-new helmet and enduro boots
An all-new carbon helmet, high-performance clothing range updates plus a new enduro-focused boot are the highlights from Leatt as they launch their 2021 off-road range.
South African brand Leatt's headline act, literally, for 2021 is an all-new, two model helmet range: the 9.5 Carbon and 8.5 Composite (shown below). With the same strong emphasis on safety inside a completely new design shell, the promise is to be "possibly the most comfortable helmet you'll put on your head" Leatt say of a helmet which now comes as a kit – you get the premium helmet plus a sun/mud visor, a set of the bullet-proof lens, Leatt goggles plus a neat helmet bag all for the same retail price.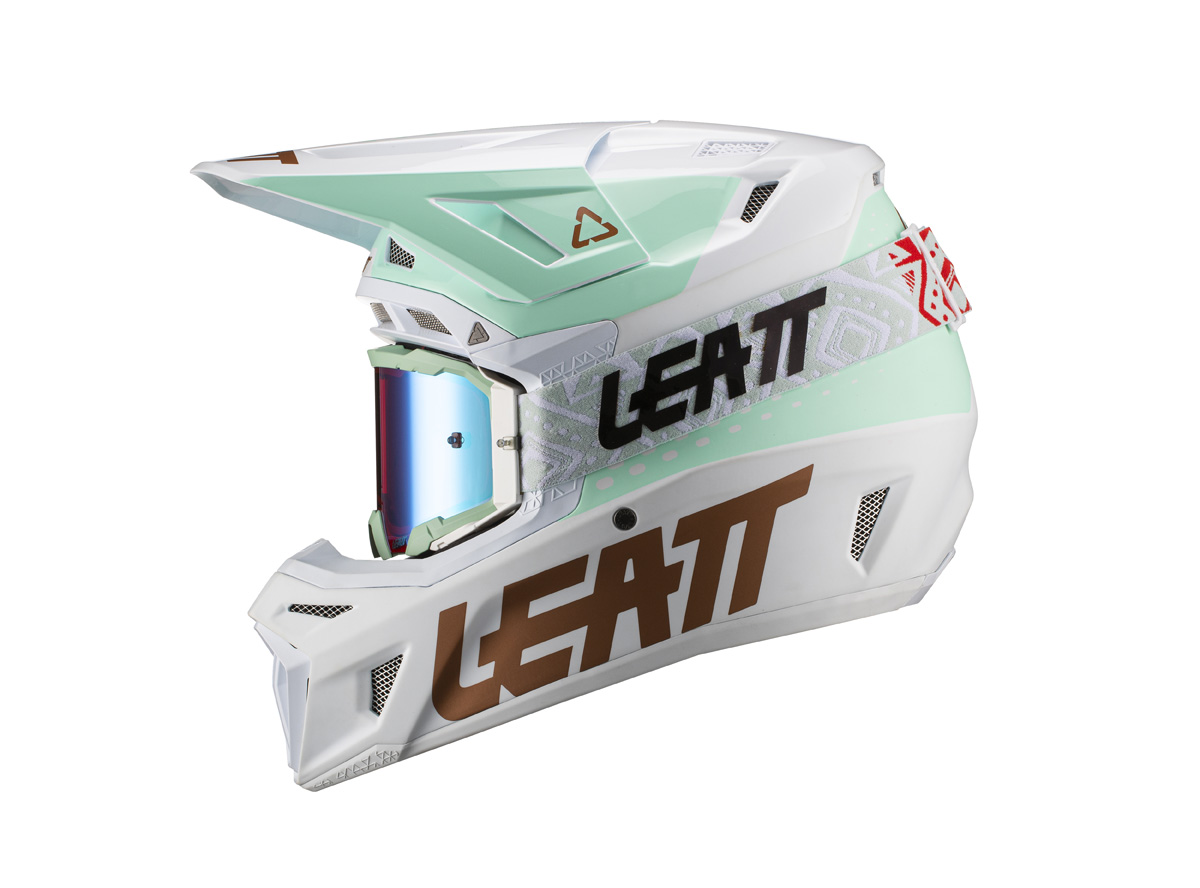 Leatt's 2021 9.5 + 8.5 helmet highlights:
A safety protection level which not only meets but exceeds the not yet implemented 22.06 ECE testing standard plus meets DOT approval.
New shell shape has impressive airflow at any speed through the redesigned ventilation system.
Two models are distinguished by the carbon shell 9.5 or the composite, lower price point, 8.5.
Both models focus on safety with a high level of impact protection using Leatt's 360⁰ Turbine Technology, which reduces forces associated with concussion and rotational acceleration to the brain.
Four densities of impact foam cut into five sections.
A new visor with breakaway function (a clip system rather than the magnetic type)
Emergency cheek pad removal feature.
A washable, anti-odour X-Static® Inner liner that wicks away moisture and increases breathability.
Pro-Fit elastic comfort liner.
Redesigned hydration port entry point and route for hydration tubing to mouth.
Compatible with the Leatt neck brace.
Leatt sent Enduro21 a helmet to test – we'll crack some hours in it and let you know how it fares – and we fitted a hands-free drink tube to try it out. The design is neater but still allows for the quick release cheek pad removal (the red clips fold back inside the helmet rim by the way).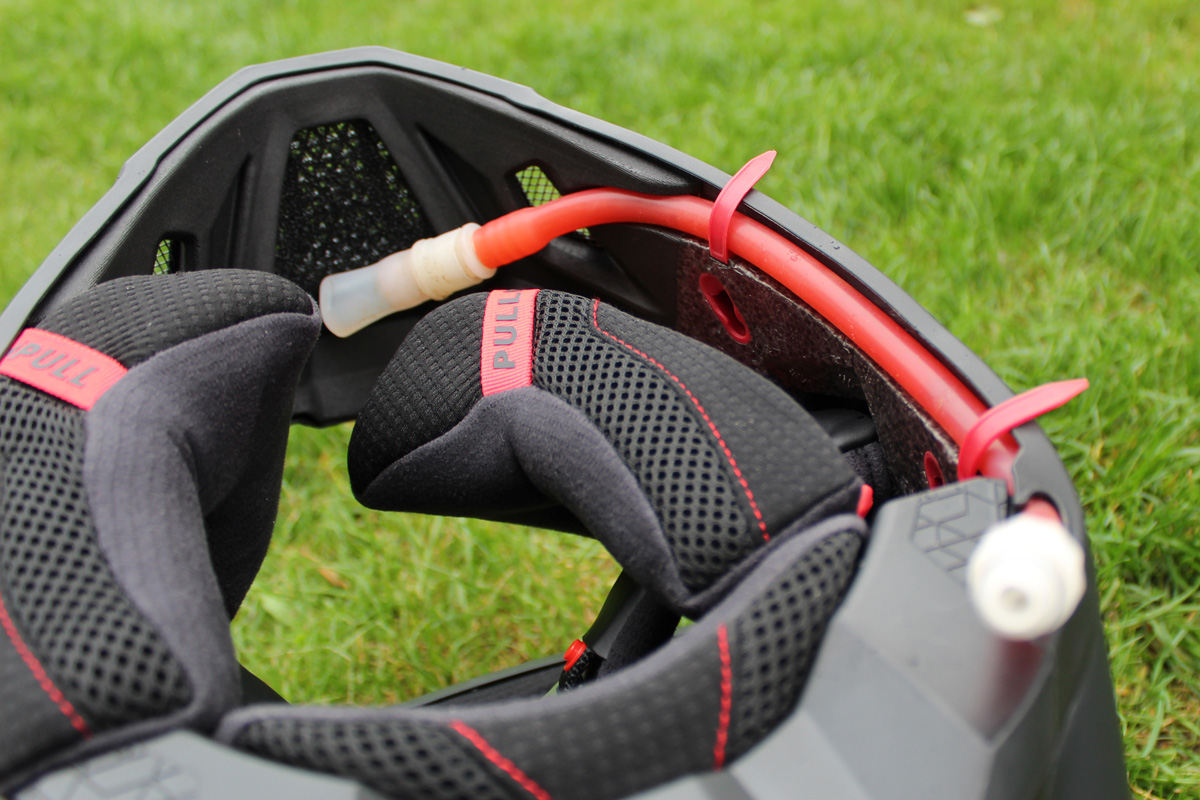 What else is new from Leatt for 2021?
Leatt's GPX 5.5 boots have been on the market almost a year now and have proved themselves, not least with us at Enduro21 with really good comfort and protection on the bike. The 5.5 boots run Leatt's FlexLock system which is designed to reduce forces to the ankle and the knee by locking out the ankle movement when over flexed.
New for 2021, the enduro-spec boot is distinguished by the little 'e' on the outside of the foot area and simply has more grip on the sole for those dabs on hills. Like the original 5.5 boot, this element is developed by Jonny Walker thoroughly during competition before arriving as an option on the market.
Leatt TWENTY21 Moto Launch video:
Here's what Leatt have to say about the rest of their 2021 product range:
Jackets
From heavy-duty Enduro to lightweight and super-ventilated, Leatt's striking range of 2021 jackets are packed with high-performance features like a lightweight, durable shell, water-resistant/breathable material, X-Flow mesh, pre-curved zip-off arms, Brush Guard and hydration pocket. Keeping you dry, ventilated and protected from the elements, for increased comfort and performance.
Jerseys
Leatt's bold, stylish 2021 jerseys include the 5.5 laser-cut and welded, ultra-light race fit jersey with MoistureCool stretch mesh and the 4.5 classic fit jersey that's super vented with X-Flow mesh. Dirt, water and stain resistant, these impressive jerseys will keep you cool and comfortable on the track.
Pants
The impressive 5.5 pants offer a pre-curved race fit, internal knee brace system to reduce wear and tear, and inner knee reinforcement with full-grain leather for superior bike grip. While the light and breathable 4.5 pants feature a pre-curved classic fit, RipStop stretch and X-Flow mesh panels for cool, ventilated comfort that keeps you at peak performance.
Gloves
Leatt's 2021 glove technology and features will not disappoint, with high-performance materials like: SubZero – cold weather insulated material, WindBlock - windproof and water-resistant four-way stretch material, light - breathable four-way stretch material and X-Flow – Vented four-way stretch mesh.
Leatt also offers two levels of palm, with a slim, durable MicronGrip palm setting a new standard for gloves in this price range, offering you good wet and dry grip. While the durable, breathable ultra-thin NanoGrip palm offers superior wet and dry grip and handlebar feel.
Leatt claim their 2021 gloves are touchscreen compatible and supremely comfortable thanks to FormFit finger stitching. The range includes the 3.5 and 4.5 Lite, 2.5 X-Flow, WindBlock and SubZero, and 1.5 GripR.
More information including your local stockists: LeattMoto.com