AMA National Grand Prix Championship: Triple NGPC crowns for KTM's Oliveira brothers and Brandy Richards
KTM USA Dante Oliveira, Mateo Oliveira and Brandy Richards claim a triple treat of Pro championship crowns in the AMA National Grand Prix Championship (NGPC) series.
With his sixth victory of the season at the Prospectors NGPC round in Blythe, California, FMF KTM Factory Racing's Dante Oliveira has successfully wrapped up his second-consecutive AMA title in this series.
As the reigning champion, Dante was super-consistent through the first nine rounds which has allowed him to wrap up the 2022 title one round early.
He wasn't celebrating alone in the orange truck at Blythe or at the Oliveira home KTM-supported rider brother Mateo and Brandy Richards clinched the Pro 2 and Womens Pro championships respectively.
On the start, Dante Oliveira was pinched off and had to fight his way to the front on the sandy track. Third by the second lap, dante tangled with another rider in the pro section but was soon in the lead and carried it to the checkered flag, winning round nine and the 2022 NGPC Pro Champion.
Dante Oliveira: "It was a super good race for me - my body felt awesome and the track was super fun. It was not as rough as it has been in the past but some of the insides were starting to chop up pretty good and the bike worked awesome.
"I got the championship one round early, so that's awesome. I wrapped it up here last year for Grand Prix as well, so I'm stoked to do that twice and just stoked on the year in general!"
FMF RPM KTM Racing Team's Mateo Oliveira claimed the Pro 2 class championship after notching his eighth win of the season in Blythe. After finishing second in the championship in 2020 and 2021, Mateo put all the pieces together to claim the title one round early this year.
Mateo Oliveira: "I'm stoked. I've been super close the last three years in this championship, so it feels awesome to finally win this championship by winning all but one race. I'm just stoked. I can't thank the whole RPM KTM team enough. And my family and friends that support me, thank you."
Richards' a class act
KTM rider Brandy Richards captured her third-consecutive Pro Women's title at round nine after taking her eighth class-win this year – and finishing 22nd overall no less. It was another convincing win for Richards who took an early lead right to the flag.
Brandy Richards: "I'm really stoked on my race today and winning the championship here in Blythe. This is one of my favourite tracks and the bike was so good out there. I can't thank everyone enough for their support today and this season."
NGPC round nine results (top 30 overall):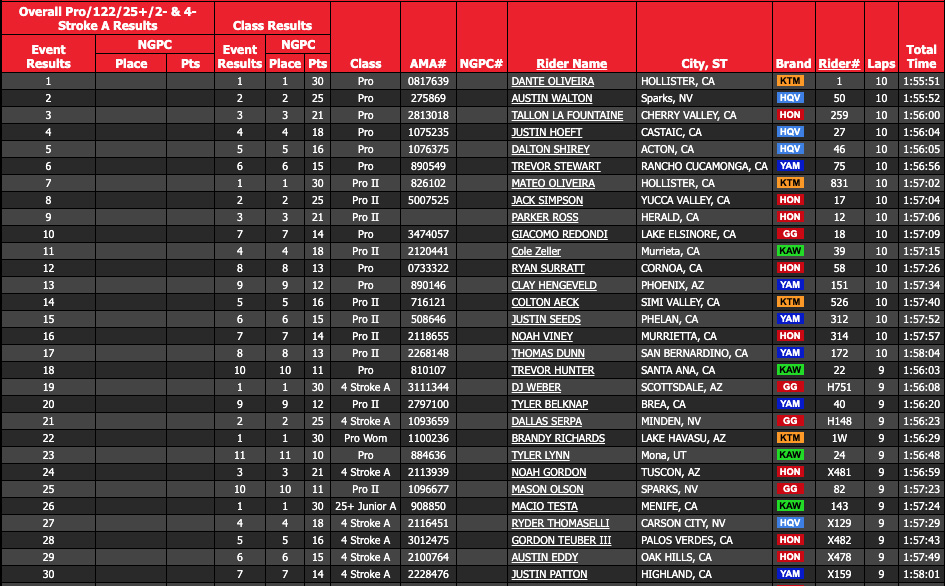 Final NPGC round of 2022: Lake Havasu, Arizona – November 13, 2022
More information: www.ngpcseries.com
Photo Credit: Kato Photo | Mark Kariya