Zach Bell back on top at NGPC Glen Helen 2
After a season of injury, Precision Concepts Kawasaki's Zach Bell finally got back on top of the podium at the Grand National Grand Prix Series (NGPC) Glen Helen 2 round with a comfortable Pro race win ahead of Dante Oliveira and Trevor Stewart.
Taking the win in Saturday's Open AA race bode well for Bell who got the holeshot in the Sunday Pro race, entered the famous Talladega first turn at Glen Helen leading and set about pulling a comfortable win over the 90 minutes racing.
"Today was good." Said Bell. "I really worked on myself and my body this week in order to prepare for the weekend. It definitely paid off. I've been taking it race by race to not go out and get hurt again. So, I'm glad I was patient because I'm starting to feel strong.
"[My return to racing] was a little difficult at first, with how rough the tracks get, and the pace. But I'm excited with how this weekend went: to win yesterday (in AA) and then today. Overall it was a good weekend and it feels good to get back on top."
NGPC Glen Helen 2 Results: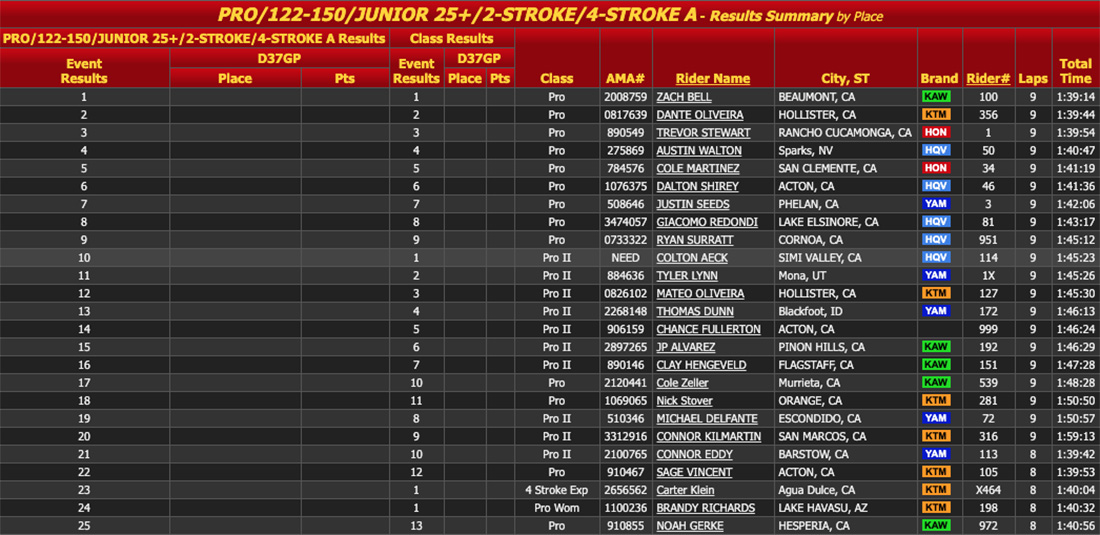 Photo Credit: Dirt Nation Magazine