EnduroCross: First win of 2021 for Trystan Hart on gnarly Reno track
Trystan Hart has taken his first and KTM's win of 2021 AMA EnduroCross series on a gnarly track in Reno with a perfect 1-1-1 scorecard ahead of championship leader Colton Haaker.
Another exciting night of EnduroCross racing began with the top 14 pro riders running hot-laps to open the evening programme and earn their gate picks for race one.
Points leader and reigning champion Haaker set the fastest time of 56.129 ahead of Cooper Abbott second with a 57.789 lap. Will Riordan rounded out the top three narrowly behind on his RPM KTM with a 58.101 lap time.
Max Gerston was fourth ahead of Tim Apolle with Hart back in seventh after dropping his bike, it just enough to get onto the front row of eight riders.
Ride onboard for a hot lap with Nick Thompson...
Three motos, one winner
Haaker, Hart and Gerston blasted to the front to start the first moto and Abbott had to fight his way up to fourth after a mediocre start. Haaker ended up going down and that allowed Hart to pass him and then Haaker had a second fall that allowed Hart to open a safe gap.
Haaker held onto second place in the moto while Abbott made a late-race pass on Gerston for third. Gerston finished fourth and Cory Graffunder was fifth.
Second moto gate picks are reverse order and Utah's Nick Thompson took advantage to lead the first lap with Spencer Wilton and Ty Cullins chasing. Hart was the first of the top riders to work through the pack and was up to third by the end of the first lap.
Hart took the lead on the second lap though while Haaker took another lap to work his way into second.
By that time Hart held a safe gap and went on to take his second moto win of the night. Abbott, who crashed on the first lap worked his way through the field to take another third place. Gerston finished fourth again and Cullins finished a strong fifth.
Show-stopper third moto
The third and final moto proved to be a real show-stopper with the fastest three riders battling for the win and fast pace all race.
Hart, Haaker and Will Riordan exited the first turn in the top three. Abbott was fourth and quickly around Riordan to join the battle for the moto win. Those top three riders were close for several laps before Abbott made a move past Haaker for second and applied heavy pressure on Hart for P1.
Haaker closed back in but got stuck at the bottom of the Rocky Mountain ATV/MC rock garden and lost touch with the top two. Abbott was the fastest rider on the track and pressured Hart for a few laps before a mistake in the firewood pit allowed Hart to get away for this third moto win of the night. Riordan finished fourth in the moto and Gerston rounded out the top five.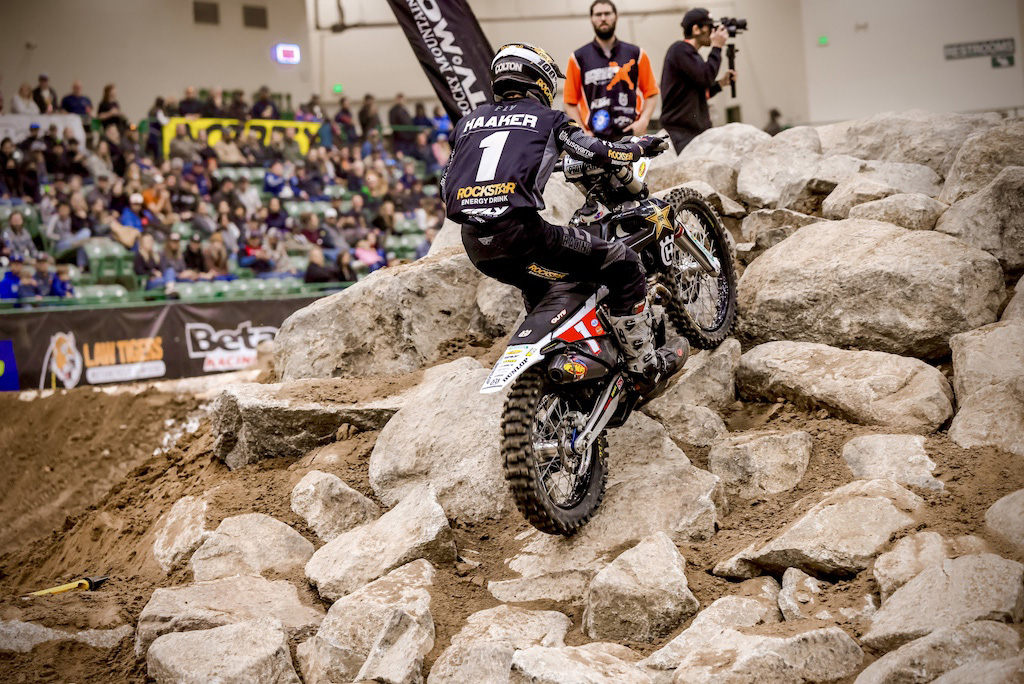 Hart's perfect night, the first of his career, delivered a timely overall for himself and the KTM team who must be missing the EX race wins since Cody Webb departed. Haaker's 2-2-3 was good enough for second and Abbott's 3-3-2 rounded out the overall podium. Gerston's 4-4-5 earned the GasGas rider fourth overall. Graffunder had a quiet night for fifth overall on his SRT Yamaha with 5-6-6 finishes.
Riordan was sixth overall with 8-8-4 moto finishes on his KTM and for the third race in a row was the top finishing rider in the under-21, Junior standings.
Cullins finished seventh overall on his TM with 10-5-7 scores. Ryder LeBlond was eighth overall on his Husqvarna with 14-7-9 finishes. Ninth overall went to Thompson with 11-10-10 finishes on a KTM and Anthony Johnson rounded out the top ten on a Sherco with 7-13-11 results.
2021 Reno AMA EnduroCross Rnd 3 results:
Trystan Hart, 1-1-1, KTM
Colton Haaker, 2-2-3, Husqvarna
Cooper Abbott, 3-3-2, KTM
Max Gerston, 4-4-5, GasGas
Cory Graffunder, 5-6-6, Yamaha
Will Riordan, 8-8-4, KTM
Ty Cullins, 10-5-7, TM
Ryder LeBlond, 14-7-9, Husqvarna
Nick Thompson, 11-10-10, KTM
Anthony Johnson, 7-13-11, Sherco
Noah Kepple, 9-9-14, Husqvarna
Spenser Wilton, 14-12-8, GasGas
Brandon Petrie, 12-11-13, KTM
Cody Miller, 13-14-12, KTM
Angus Riordan, 16-15-15, KTM
Tim Apolle, 6-16-16, Beta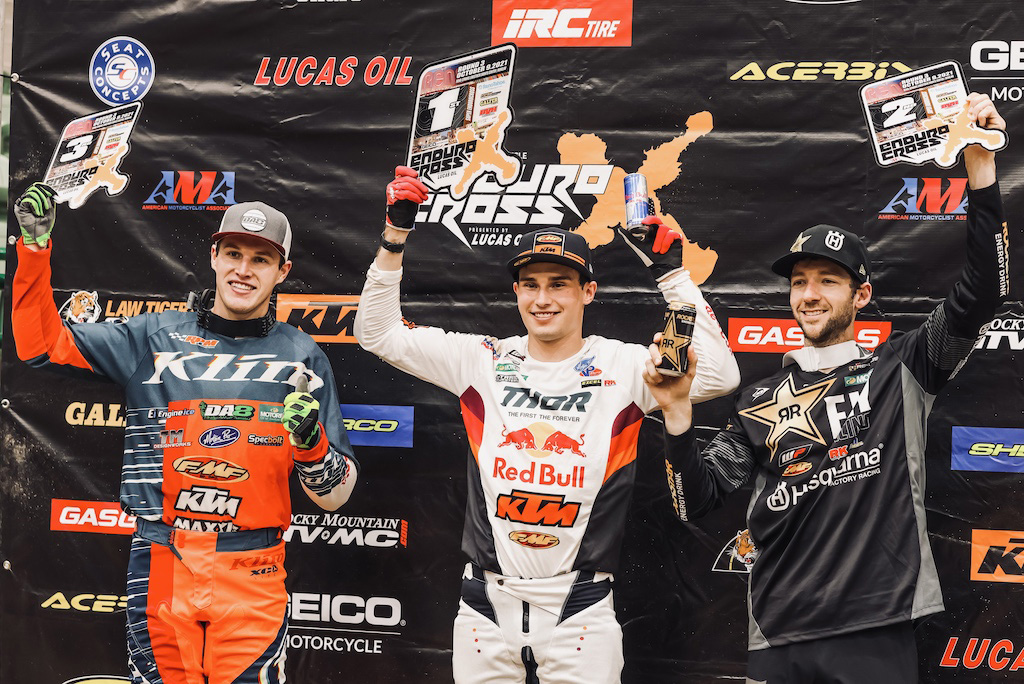 Say what? Top 3 riders explain their nights…
Trystan Hart was happy to get his first win of the season. "I don't take losing very well and my team manager was putting some pressure on me to get it done. This track was technical and suited my style and I just rode really good. I had a lot of pressure on me from Colton and Cooper in that last moto but I was steady and it feels so good to win all three motos."
Colton Haaker said it just didn't go his way in Reno. "I just had a few too many mistakes tonight. That's just EnduroCross because I had the speed but sometimes the track bites you. It is hard to be one hundred percent perfect at EnduroCross and I tried my best. I am happy with that and I will be back for the next one."
Cooper Abbott had another strong night for third overall. "The first two motos were pretty tough and I had to work hard to get up to third in both of those. In the final moto I got up to Colton and Trystan and we were pushing the pace. That was the first time I have ever passed Colton straight up so that felt great and I am happy with third but want more."
Want to hear more from the Pro riders? Check out the Seat Time podcast...
Forsely takes EX Women's class win
Louise Forsley turned around a string of second places to win the Women's main event. The Sherco USA rider put in a wire-to-wire performance and take her first win since returning to EnduroCross last season after several years away from the sport, and with that bring an end to Shelby Turner's winning run.
Reigning champ Turner put up a good fight for second on her KTM with Morgan Tanke rounding out the podium for Beta.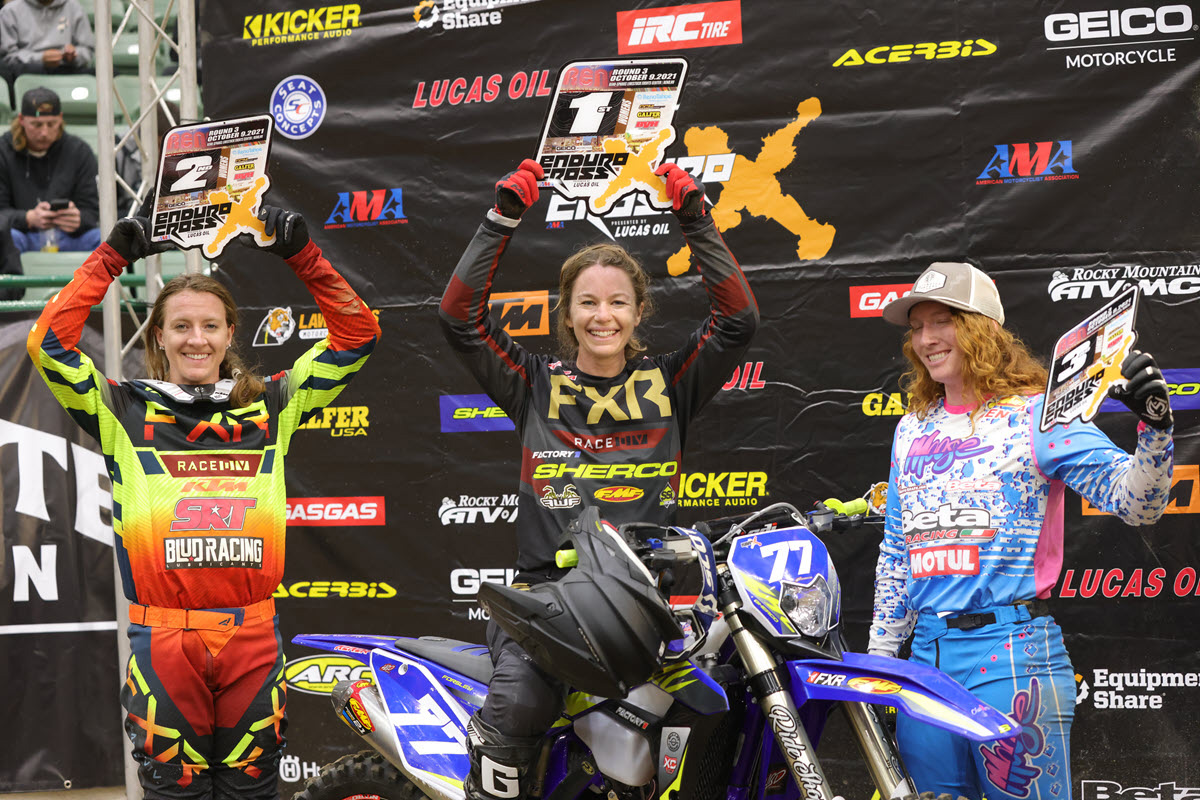 Nathan Rector made a long drive from Missouri pay off with an intermediate class win on his KTM. Coleman Johnson finished second ahead of a real fight for third which Anson Maloney took after a last-lap pass on Agustin Pascal for the final podium spot.
Parker Smith won the amateur class on a KTM over Michael Taylor with Dan Hayakawa taking one of two podium finishes for the night in third.
Craig Thompson took his second win in a row in the Vet 35+ class, dominating a large field on his Husqvarna ahead of Michael Taylor and Dan Hayakawa in third.
Riley Bender won the Junior Trials class – limited to riders that are 12 to 17-years old – riding an Electric Motion bike. Dylan Lozano finished second and Ruffin Dodson was third.
The 2021 GEICO AMA EnduroCross series move onto Prescott Valley, Arizona for round four on Saturday, October 23.
Photo Credit: Jack Jaxson