EnduroGP of Hungary results: Garcia does the double – Verona and Pichon crowned '22 World Champions
Results from day two of the 2022 EnduroGP World Championship round six in Hungary where Josep Garcia completed a perfect weekend with a convincing victory – Andrea Verona and Zach Pichon claim the first Enduro World Championship titles of the season in E1 and Junior classes.
2022 EnduroGP of Hungary day two in a nutshell:
While day one initially unfolded with a whole heap of potential winners, there was never really much doubt on day two in Hungary. Josep Garcia led from the start and in collecting six out of the 12 test wins he was in a class of his own to finish almost half a minute clear. Hot, dry and hard-pack conditions probably suited the Spaniard as much as anybody but when he's in this mood he can be untouchable: "I won both days but to be honest I did not expect that result. It is incredible." Said the KTM rider. "I felt good on the bike from the Super Test so I knew if I could ride with that feeling I could fight for the win. I know I have some work to do to be at 100% but the results here couldn't be better. Now onto the ISDE and the final round."
The first of the 2022 World Enduro Champions was crowned this afternoon, and it was the most obvious one of the lot. With second overall after storming the last lap today, Andrea Verona claimed his third E1 world crown (actually his fifth title in a row including Juniors) with an unassailable points lead and one round remaining.
"I am really happy with this result, five in a row is amazing." Says Andrea. "I had a good weekend with 3-2 overall and a double win in E1. Saturday I crashed many times and I was a bit disappointed because it cost me a lot of time. Today was better, just one mistake really and I did some good test times. Now we have a good points leads in EnduroGP and we'll focus on being as prepared as we can be on the last GP."
The GASGAS main man was the clear E1 winner today, almost a minute ahead of Jamie McCanney and Matteo Cavallo who completed the podium.
Third on the day and keeping his head in the right place despite yesterday's disappointing DNF for him and his TM Boano Racing team, Wil Ruprecht remains in charge of the E2 standings and second place in EGP scratch – although with a 28 point lead after today, Verona now has one hand on the 2022 overall crown too.
Apart from his double win at the Italian GP, Mikael Persson must feel like whatever he does, a different E3 class rival is ahead of him. One day it's Brad Freeman, another Jaume Betriu…today it was Marc Sans who headed the big bike class home by 15 seconds and a creditable fourth scratch for the Spaniard's best result of the year.
Honourable mention must also go to Alex Salvini again. He fought off the attentions of Hugo Blanjoue and Steve Holcombe for the final spot on the super-competitive E2 podium. There's life in the old dog yet.
Though his 100% winning record for the season faltered to mere podium places for a couple of rounds, Zach Pichon has been head and shoulders the best Junior rider this season (and oftern in side the top 10 overall). With the double victory in Hungary, the Frenchman has claimed another World Championship trophy for the Pichon household, as well as for Sherco and the CH Racing team in the Junior class.
"For now I can't take it in!" Says Zach. "To be world champion in your first year feels amazing. I was really happy to be back on the top step of the podium this weekend. The last three GP days was a struggle but I really felt comfortable this weekend on the tests. I made some good times. I must thank everyone for their job, everyone who helps me. We will have a party tonight but in two weeks it is the ISDE in France and we also have the J1 title to focus on in Germany."
Kevin Cristino made sure there wasn't any doubt in the Youth class results on day two. The Fantic rider went one better than Saturday with a start to finish win. A half-minute winning margin is almost unheard of in this class. Behind him Sami Puhakainen came home second, narrowly on top of a typical titanic fight for the podium with Harry Edmondson and Thibault Giraudon, third and fourth by mere seconds respectively.
Italian Roberto Rota made it 1-1 for the weekend in the Open class scratch results (and Open 2T class). Alejandro Ceballos-Escalera jumped up to P2 today beating home hero Norbert Zsigovits to the 4T class win.
GP of Hungary day 2 results – EnduroGP scratch: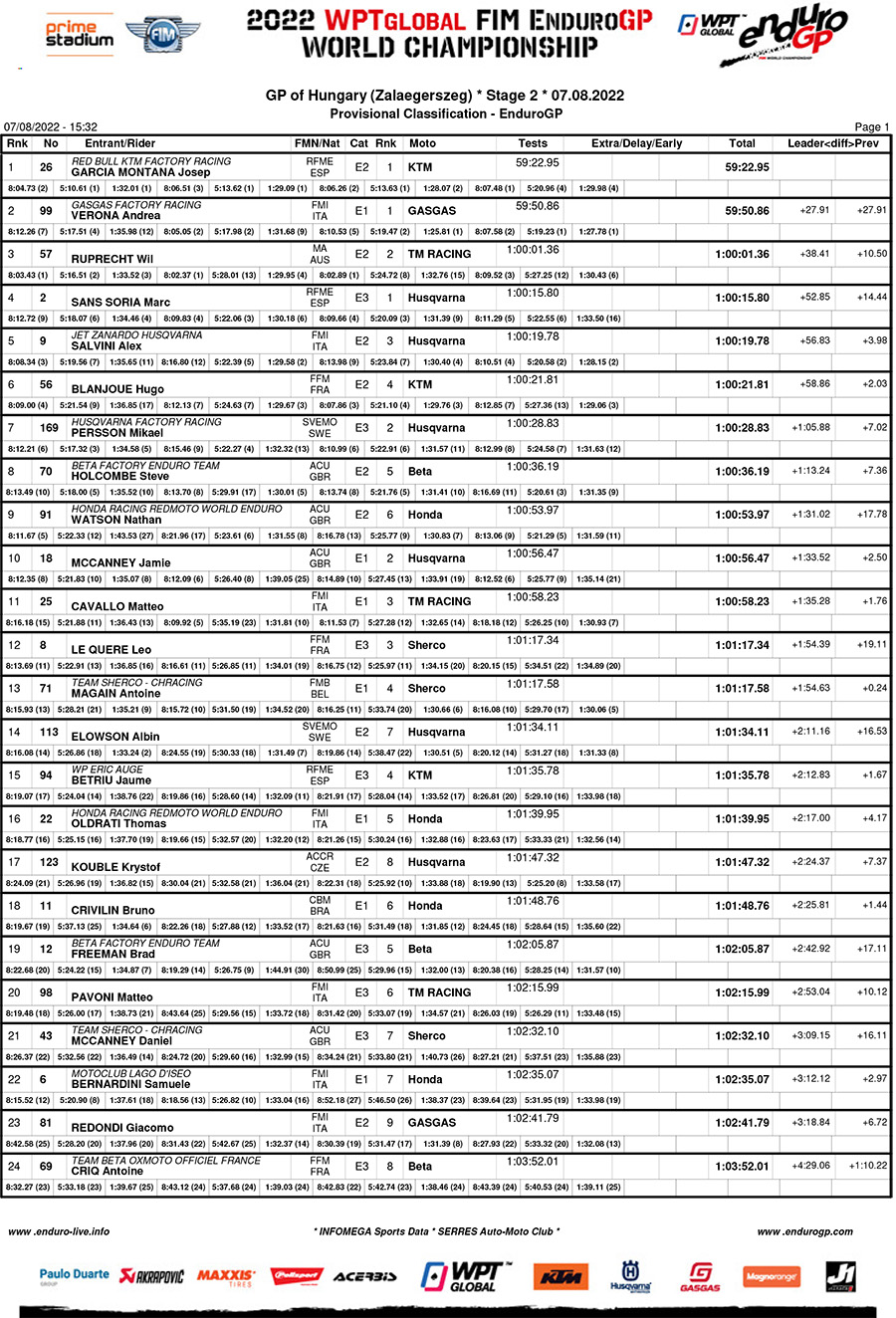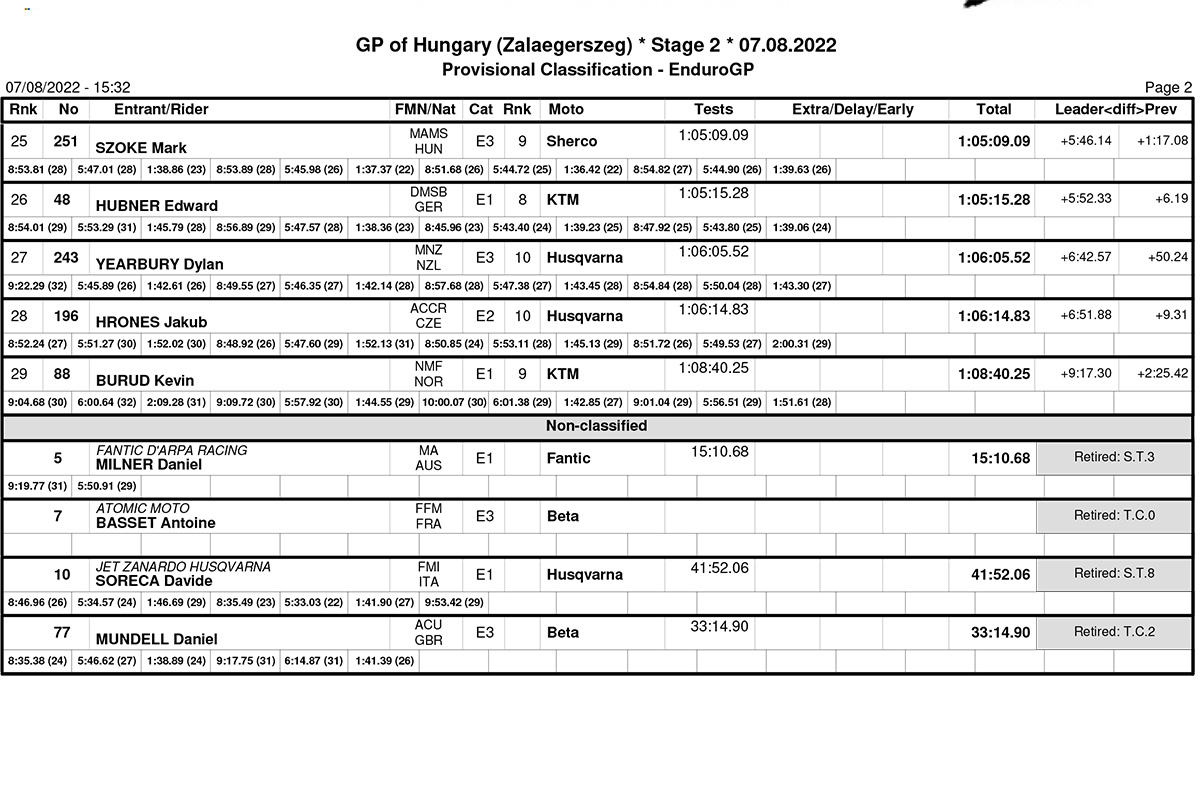 GP of Hungary day 2 results – E1: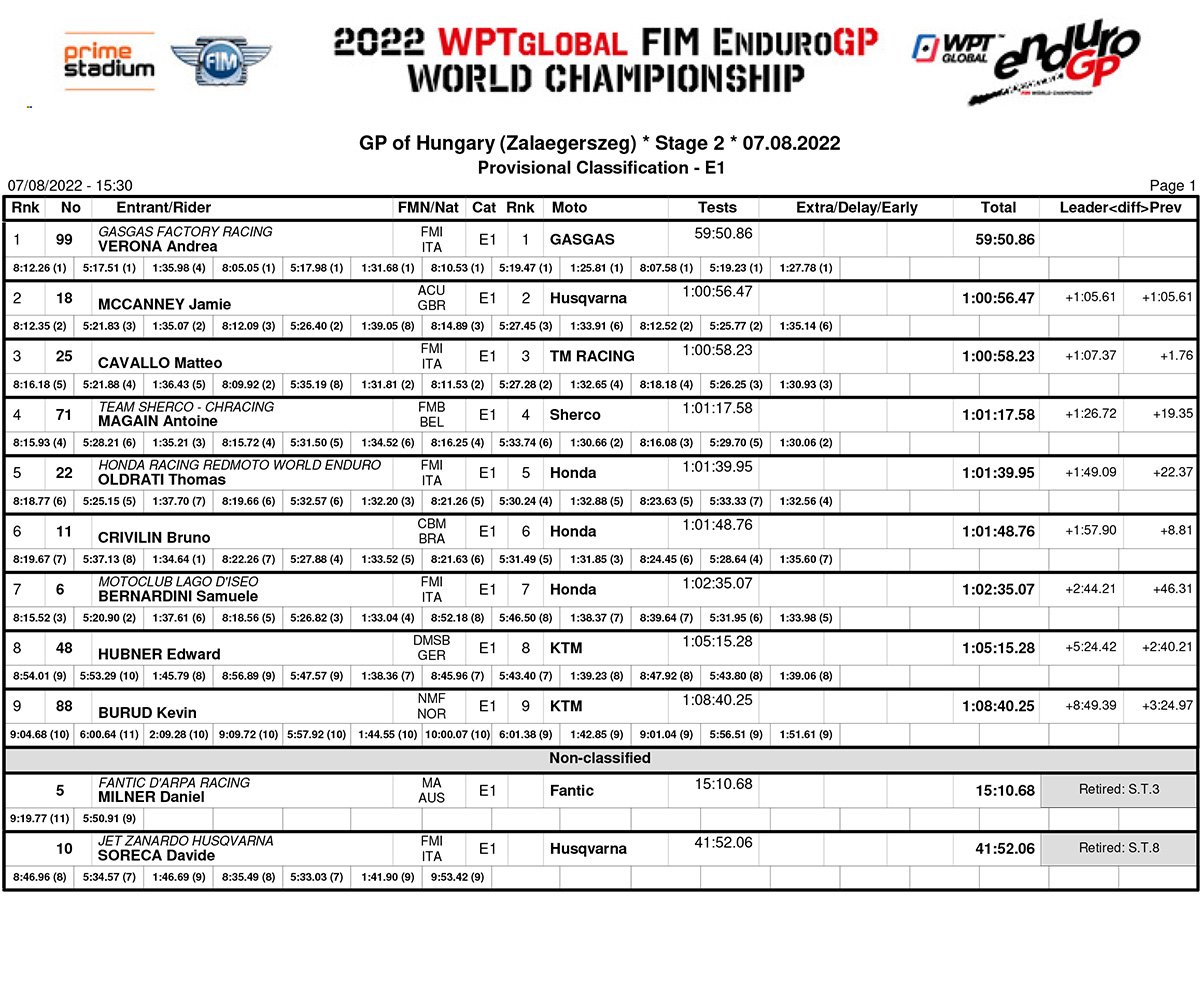 GP of Hungary day 2 results – E2: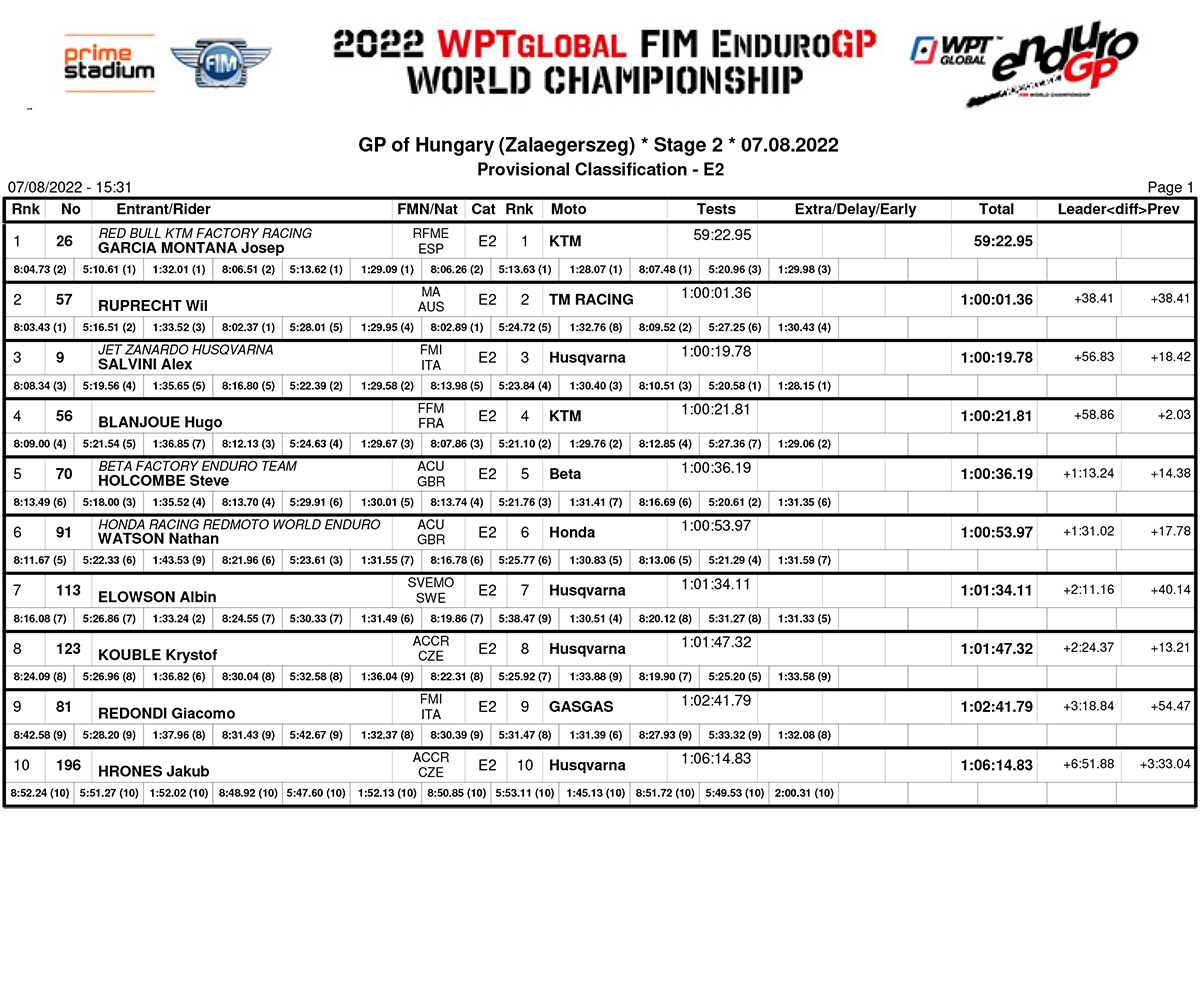 GP of Hungary day 2 results – E3: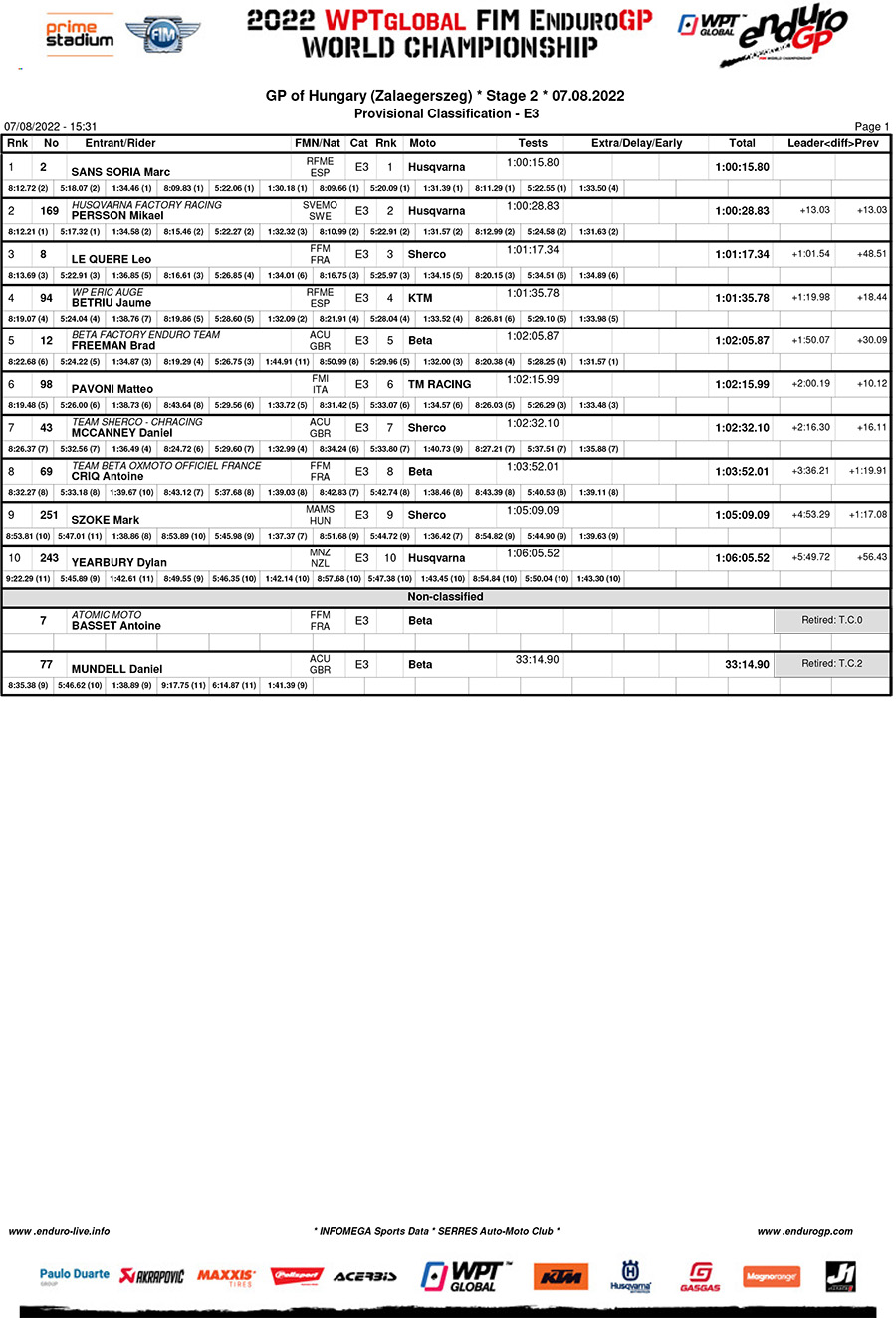 GP of Hungary day 2 results – Junior scratch: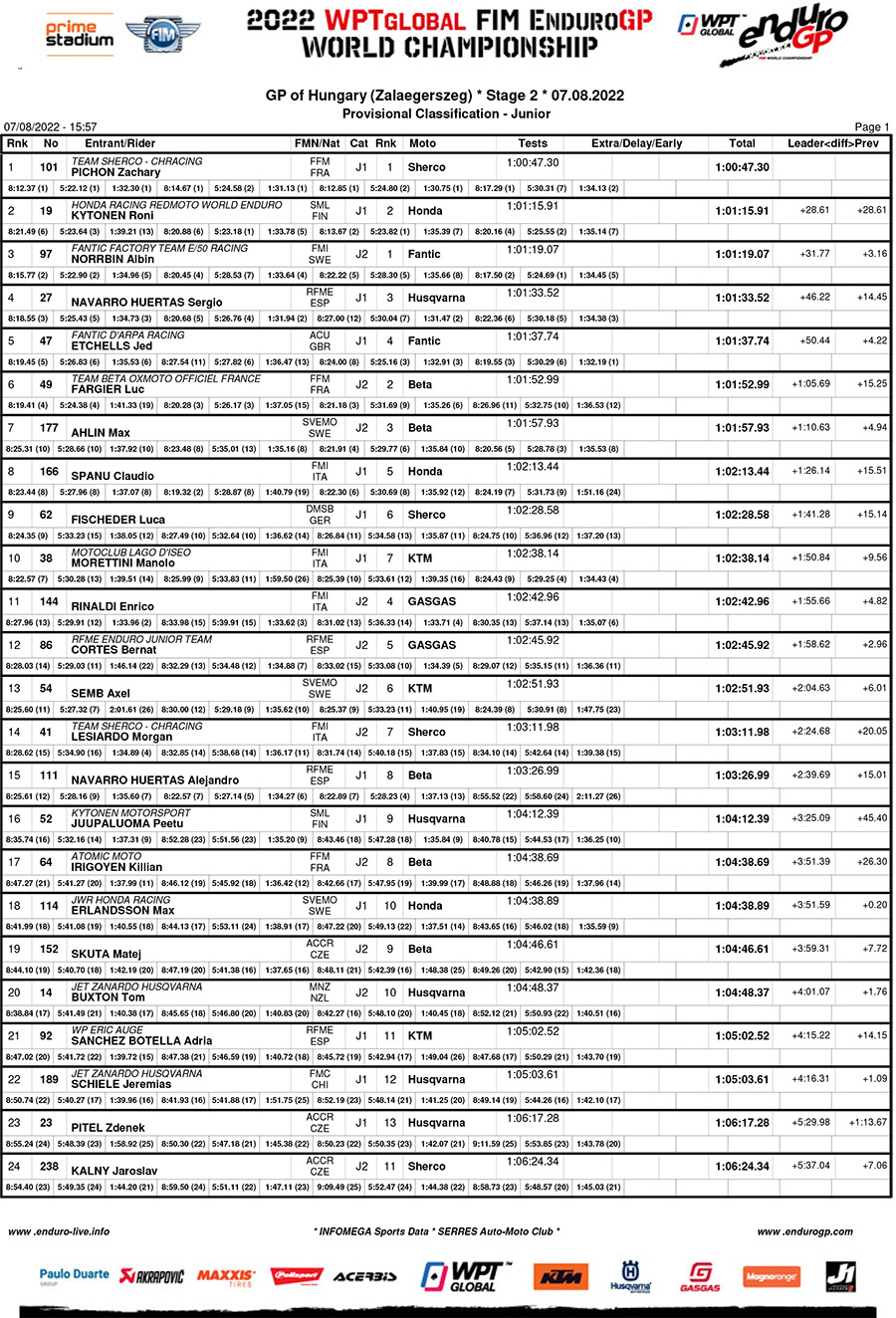 GP of Hungary day 2 results – Youth: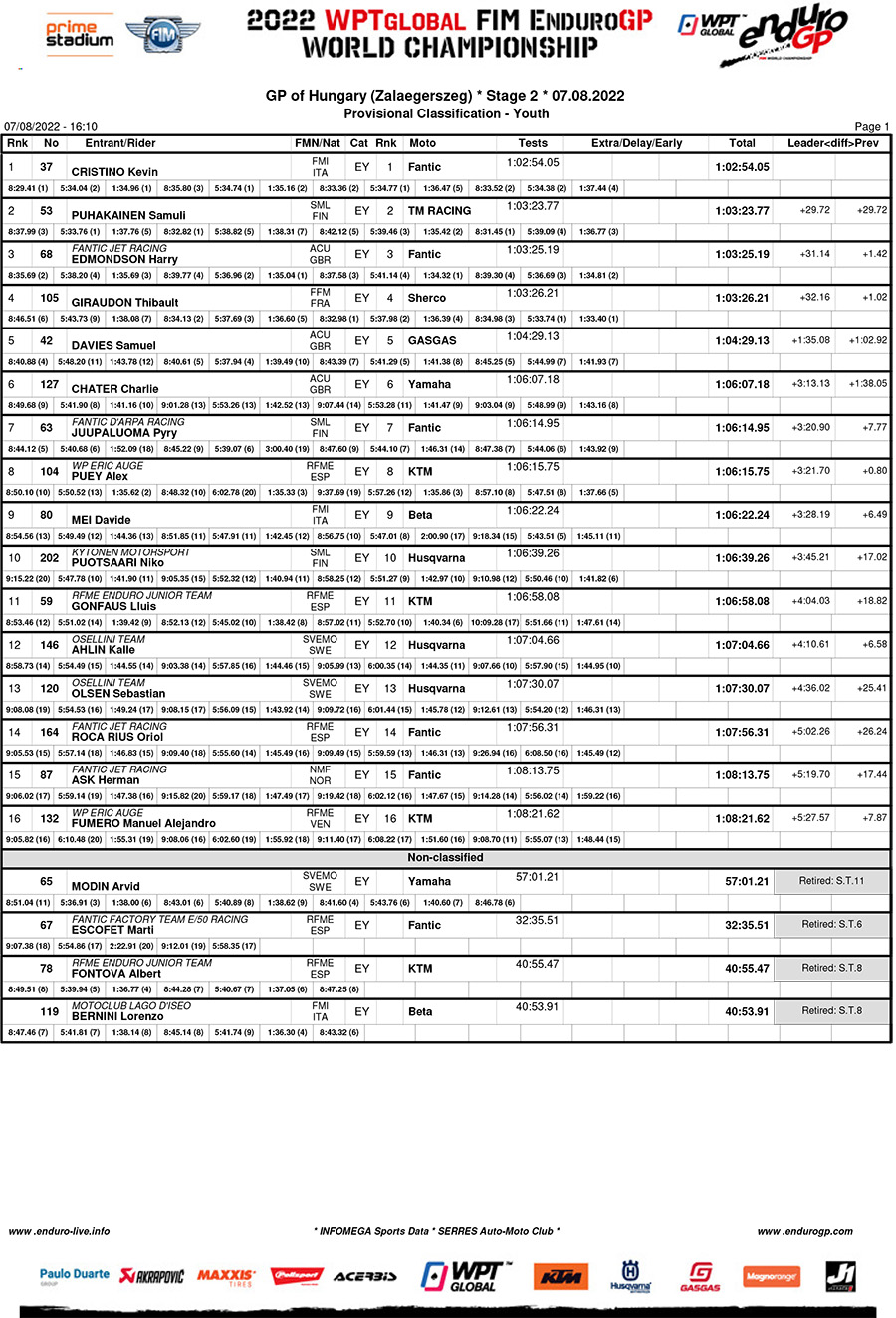 GP of Hungary day 2 results – Open (scratch):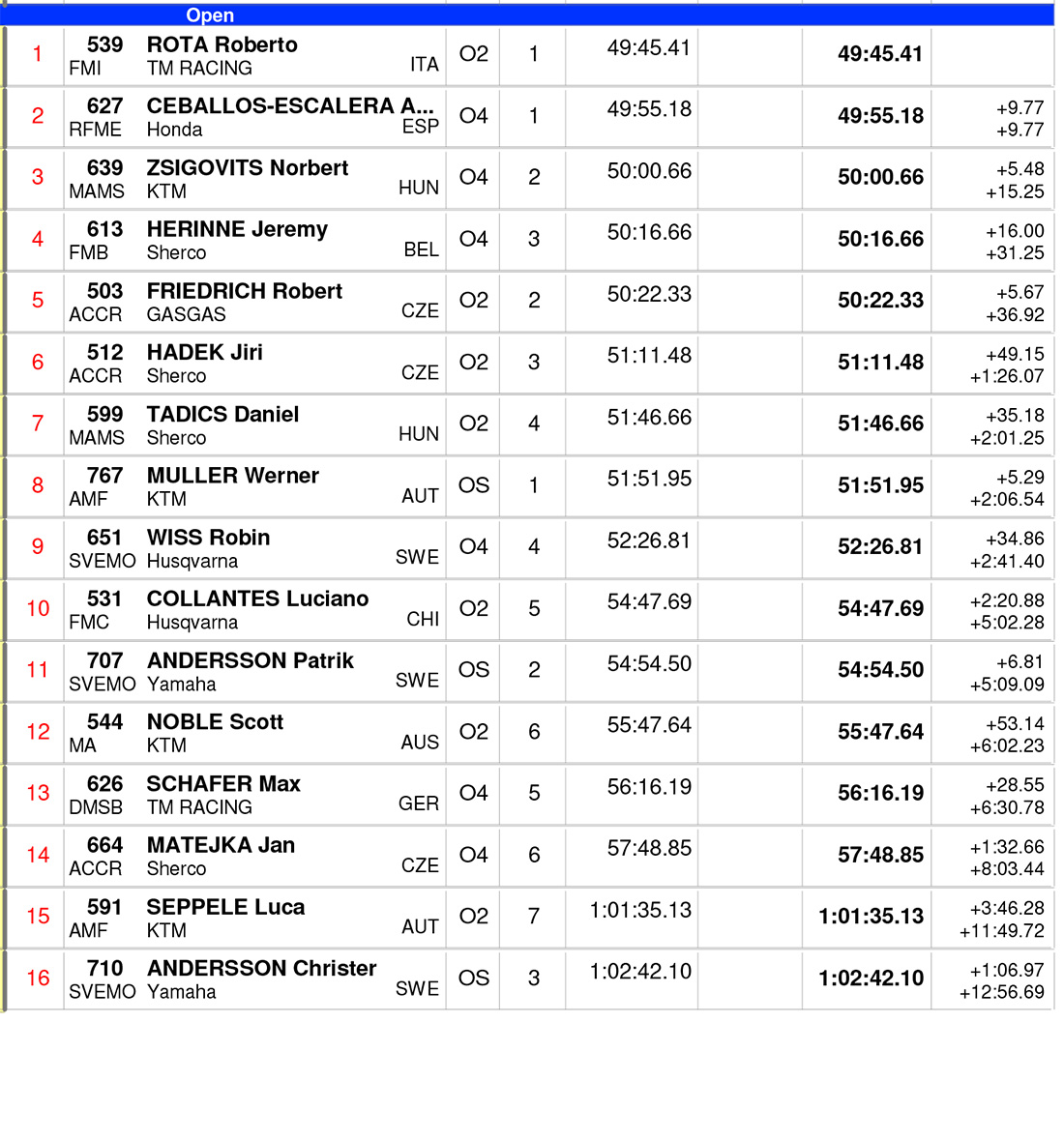 Photo Credit: Future7Media | Nicki Martinez