EnduroGP results: Freeman and Garcia take it to the wire on day 2 in Estonia
Results feed from day two of the 2021 EnduroGP World Championship in Estonia where Josep Garcia and Brad Freeman were on another planet battling right to the final test where the KTM factory rider snatched the win by margin of less than one second.
Estonia EnduroGP day 2 in a nutshell:
An early blitz in the tough Enduro test on lap one established a scratch lead for Brad Freeman which he then had to defend for the remaining 11 tests – it was a long day! The question was: could Brad keep his buffer or could the relentless Josep Garcia close it down?
After the first test of the last lap that buffer remained just shy of eight seconds but the penultimate special, a final visit to a heavily beaten-up Enduro test, proved pivotal as Garcia blitzed it and gained almost six seconds, setting up a showdown.
With everything on the line for a final visit to the Super Test, Josep again let it all hang out to finish 2:43s faster than Brad and with it snatch the win by 0:45.
"With the gap at less than two seconds in the final test, I said to myself if I crash, I crash but I have to try." Explained Garcia of his last-gasp win.
For his part Brad pointed his finger at "too many crashes" but the reality is they were few and far between on a day which saw this pair pushing so hard for small margins that it was inevitable a mistake would decide it. It was an impressive display from both.
Third place on the day, and almost a minute down, was Andrea Verona creating a repeat podium from day one. The GASGAS rider takes his second overall podium on the bounce and the E1 class points lead to round four next weekend in Sweden.
His E1 rival, Davide Guarneri again took test wins on route to fourth overall with Wil Ruprecht, still suffering at least inside his head from a day one crash, taking fifth.
Lorenzo Macoritto turned the tables on his TM teammate Matteo Pavoni in the Juniors with in the end a comfortable 17 second margin with reigning Youth 125 champion Sergio Navarro completing the scratch podium, his first in the Juniors.
Albin Norrbin didn't have quite the same comfortable margin today as he did on day one, just half a minute compared to a whole one… But the result was the same and the Swedish rider heads to his home GP next weekend in charge of the 125 two-smoker class. Pyry Juupaluoma repeated his day one performance in P2 with Samuli Puhakainen bagging third.
Similarly, it was another repeat performance in the open class for Goncalo Reis maintaining his 2021 winning run. Ditto for Priit Biene with another second while Elary Talu joined his fellow Estonian Biene on the podium in third overall.
Estonian EnduroGP results, scratch: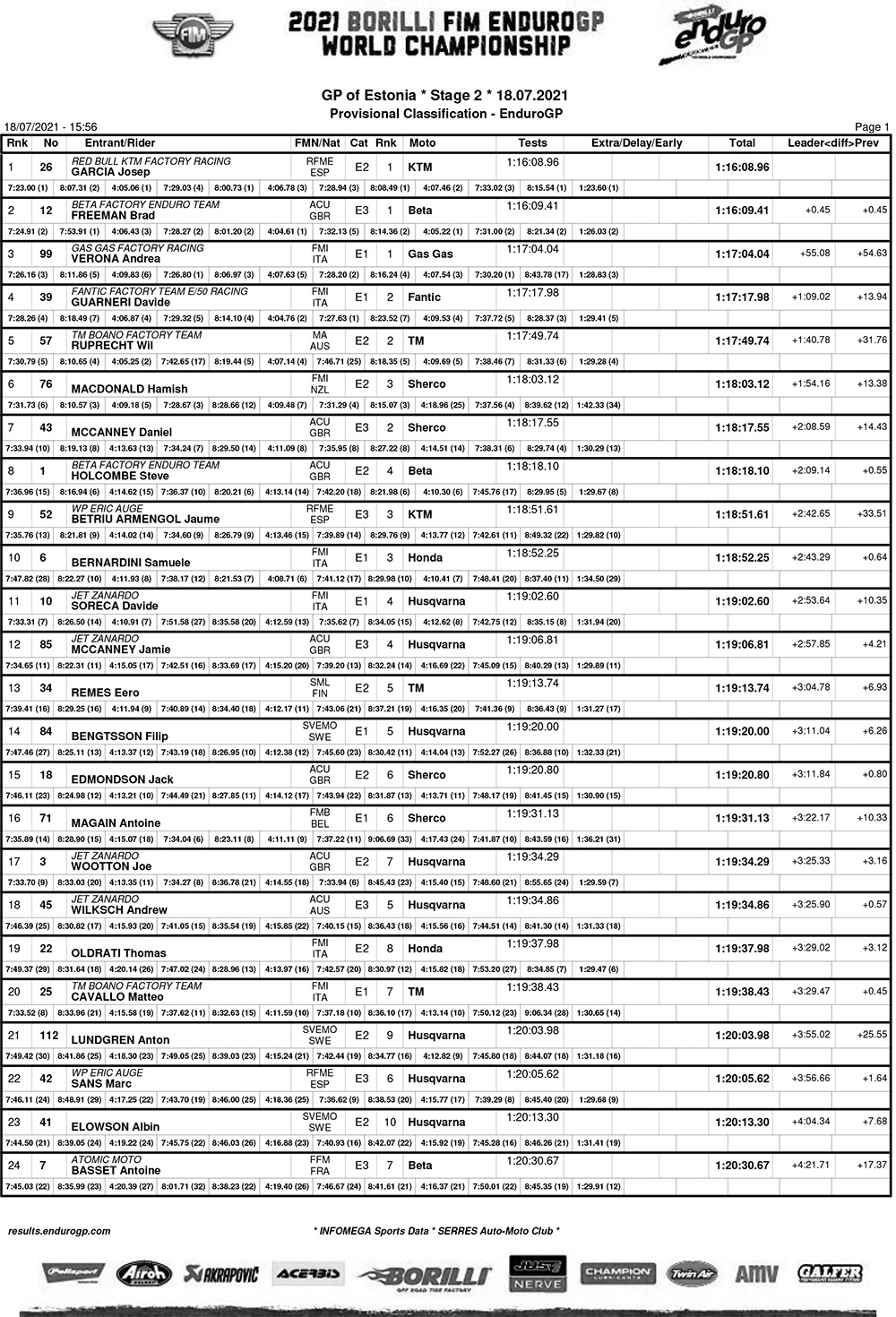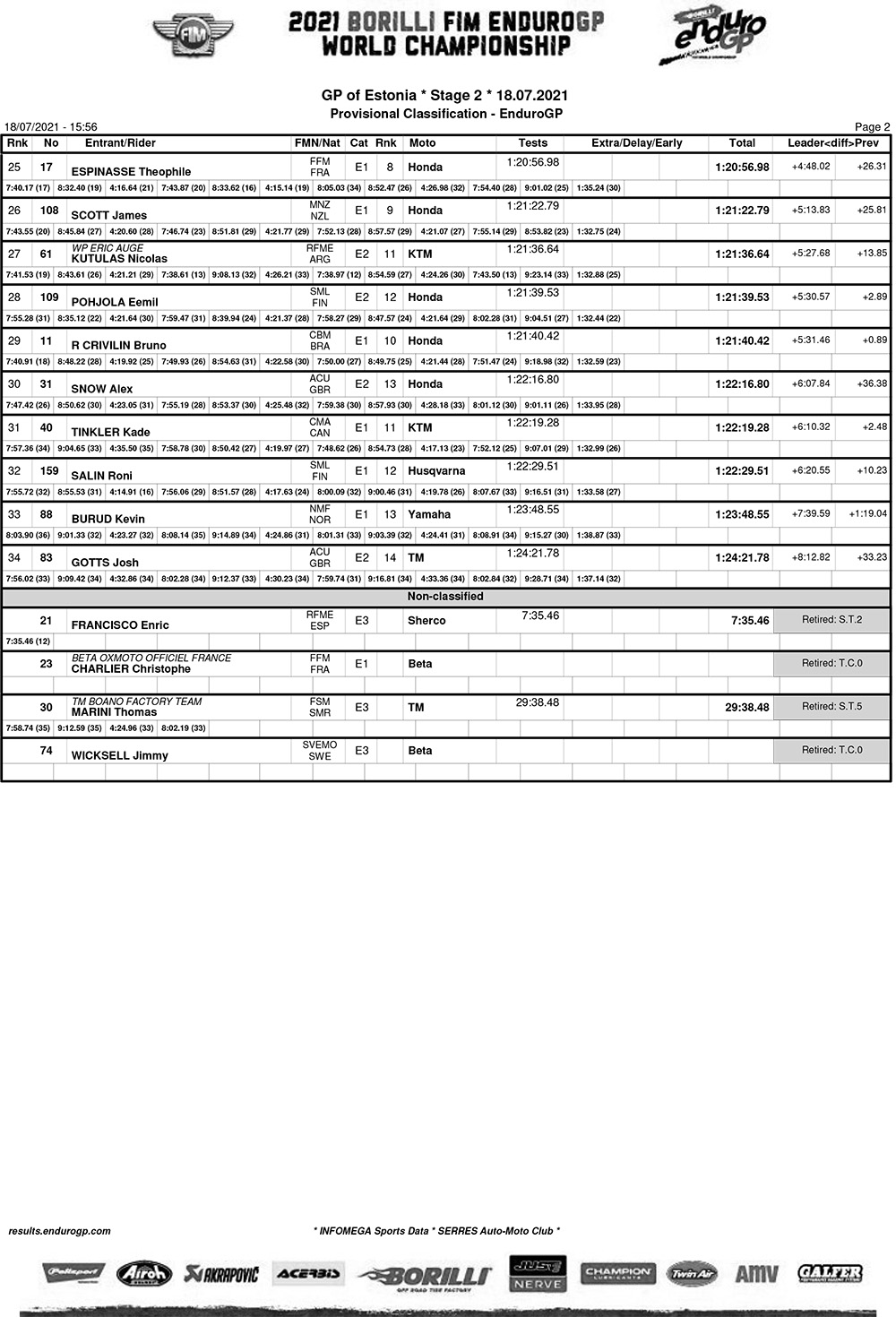 Junior scratch: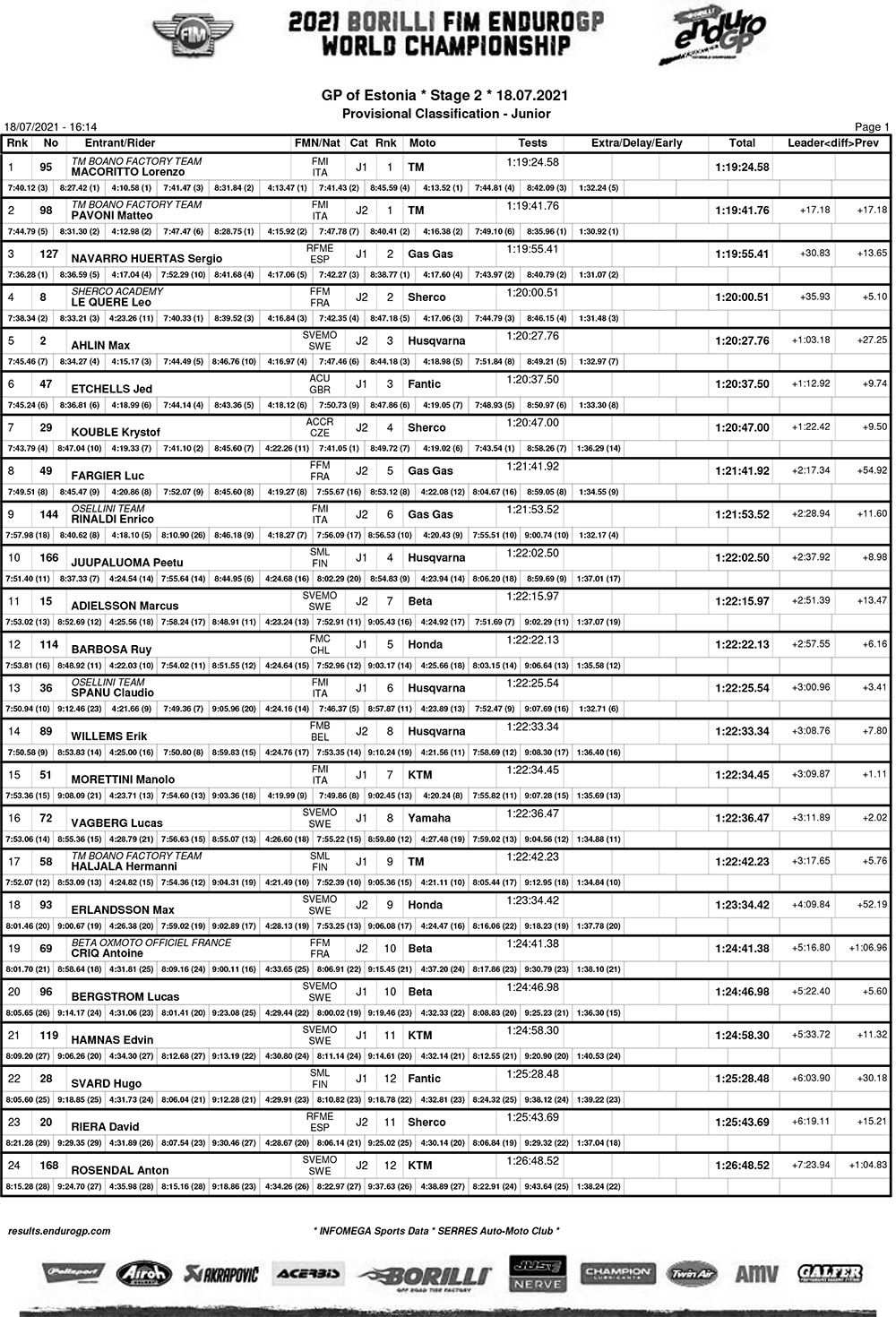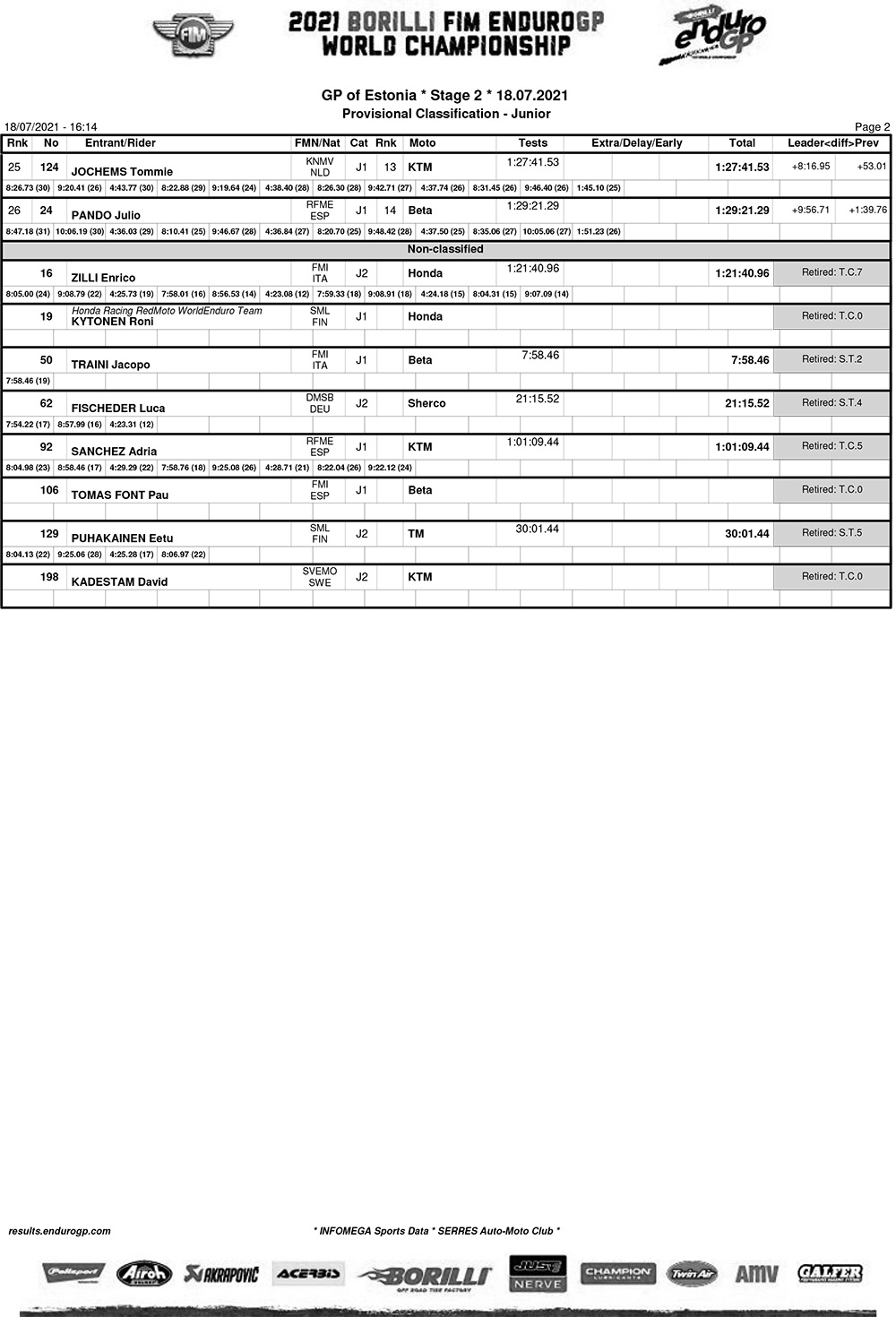 Youth 125: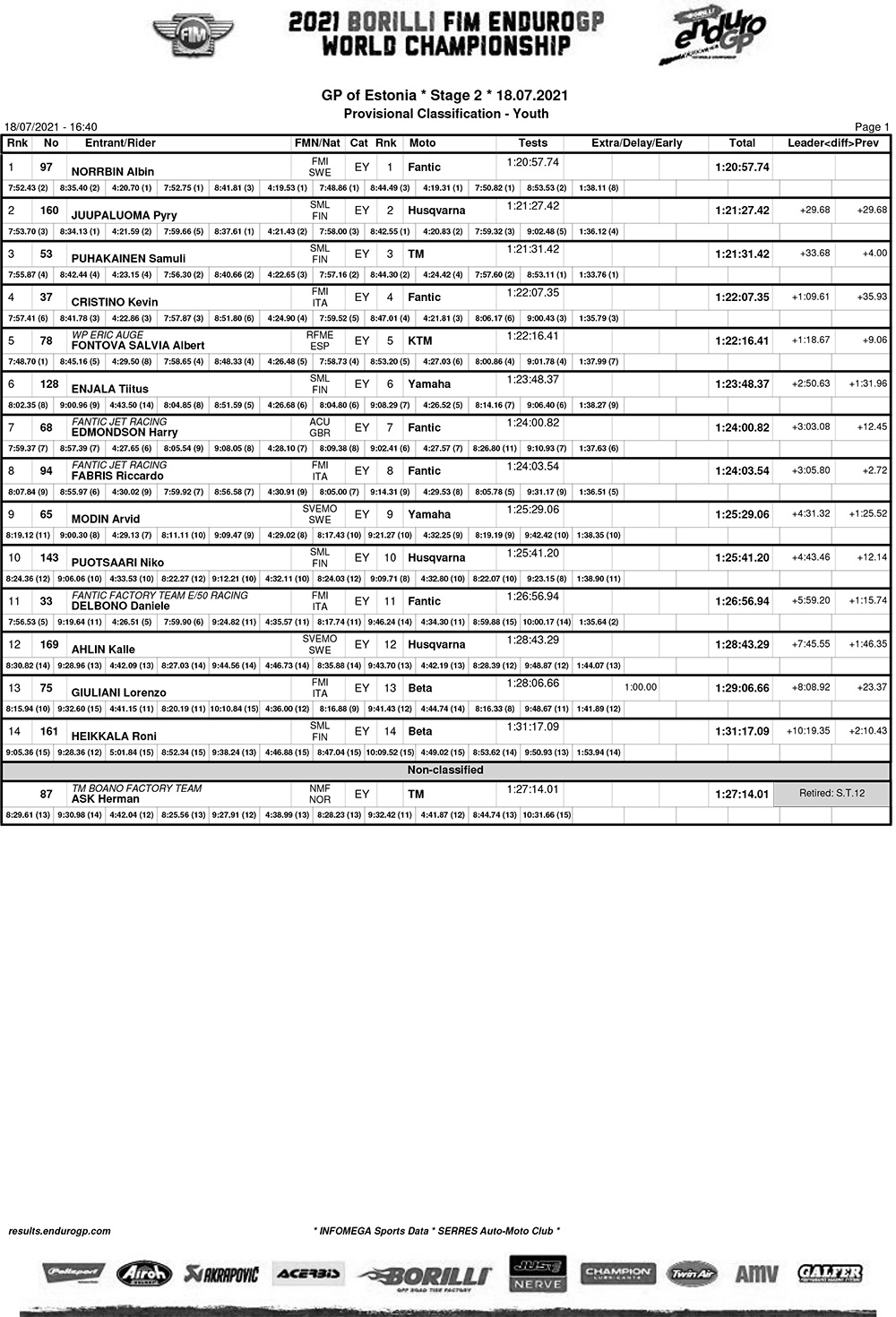 Open class scratch: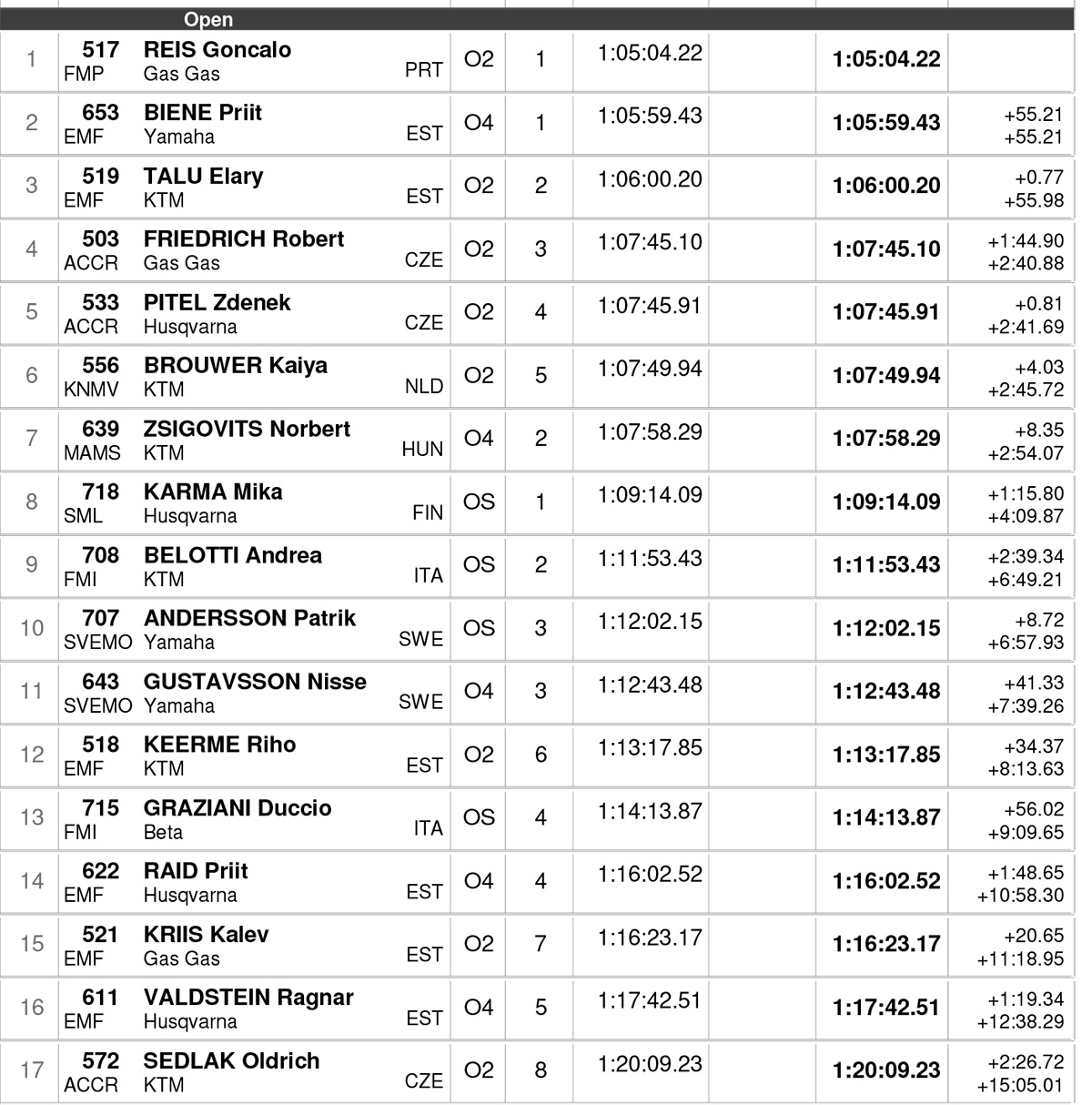 Photo Credit: Enduro21 | Nicki Martinez