EnduroGP results: GP of Sweden, day 1 – Ruprecht keeps it clean
Results feed from day one of the 2021 EnduroGP of Sweden in Skovde where TM Boano Racing's Wil Ruprecht has kept his nose clean on tricky tests to win ahead of Josep Garcia – Laia Sanz looks her confident best taking the Women's class win.
2021 Swedish EnduroGP day 1 in a nutshell:
Brad freeman stole the march early doors on day one at the 2021 Swedish EnduroGP but by the end of lap one Wil Ruprecht was in his stride taking test wins back-to-back and holding Josep Garcia at arms length in second.
With the penultimate test complete Wil had an 11 seconds advantage and could have afforded a more relaxed final Cross test. But the TM Boano Racing rider kept it pinned for another fastest time to clock a 20 seconds winning margin clear of Garcia in second. In this season that is a big margin.
"The goal of the day was to stay clean, hit my marks and don't override the bike and we executed that quite well." Explained Ruprecht after the win.
Winner last week at the Estonian GP, Josep Garcia was typically tenacious and kept Ruprecht on his toes all day but pointed at three crashes which cost him time.
Championship leader Brad Freeman admitted to a hard day on the factory Beta where he "struggled to get into it" and hinted that some of the tests were maybe not enduro enough. Third on the day and first in E3 maintains his championship lead.
Behind them a pretty intense battle in the ranks played out all day. Riders between fourth and just outside the top 10 traded places and included names like Macdonald, Betriu, Jamie McCanney, Magain, Elowson and Remes.
Davide Guarneri topped that gaggle to finish P4 and first in E1, his second class win of the season despite a heavy crash in the last Enduro test. Samuele Bernadini had his best result of the season with fifth overall and second in class ahead of E1 points leader Andrea Verona.
Steve Holcombe ended up disappointed down in 21st but was honest enough to say he struggled with confidence after two crashes.
Lorenzo Macoritto was kinda comfortable out front in the Juniors again and managed a 10 second-ish lead to the finish. But behind him (in the order they clocked off) Matteo Pavoni, Max Ahlin, Jed Etchells and Ruy Barbosa were like a pack of wolves and always spectacular on the tests.
It's the news the rest of the Women's class likely don't want to hear but Laia Sanz looked back to her best on day one in Skovde. Despite it "not really suiting my style" she explained, a near 50 seconds win at the finish was comfortably ahead of Jane Daniels with Mireia Badia completing the podium.
Homeboy Albin Norrbin ran away with things once again this season with nearly a minute advantage in the Youth 125 class. Kevin Cristino was second with Harry Edmondson getting the better of Samuli Puhakainen for the final podium place.
For the first time this season a new name topped the Open class scratch results sheet. Belgian Max Warenghein took the win overall by 24 seconds and Open 2T class honours ahead of championship leader Goncalo Reis. Hungarian Norbert Zsigovits was third overall Open 4T winner.
2021 Swedish EnduroGP day one results: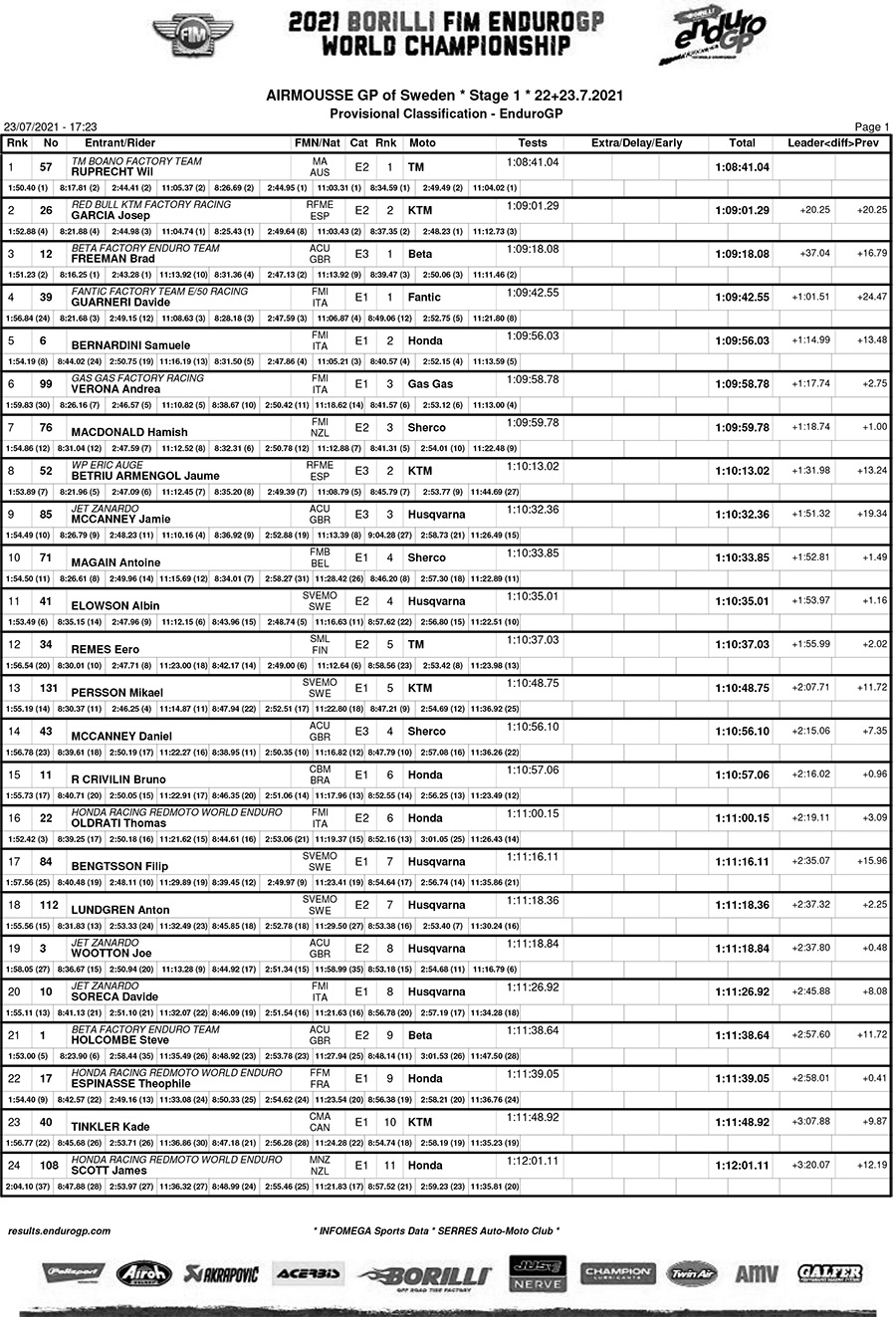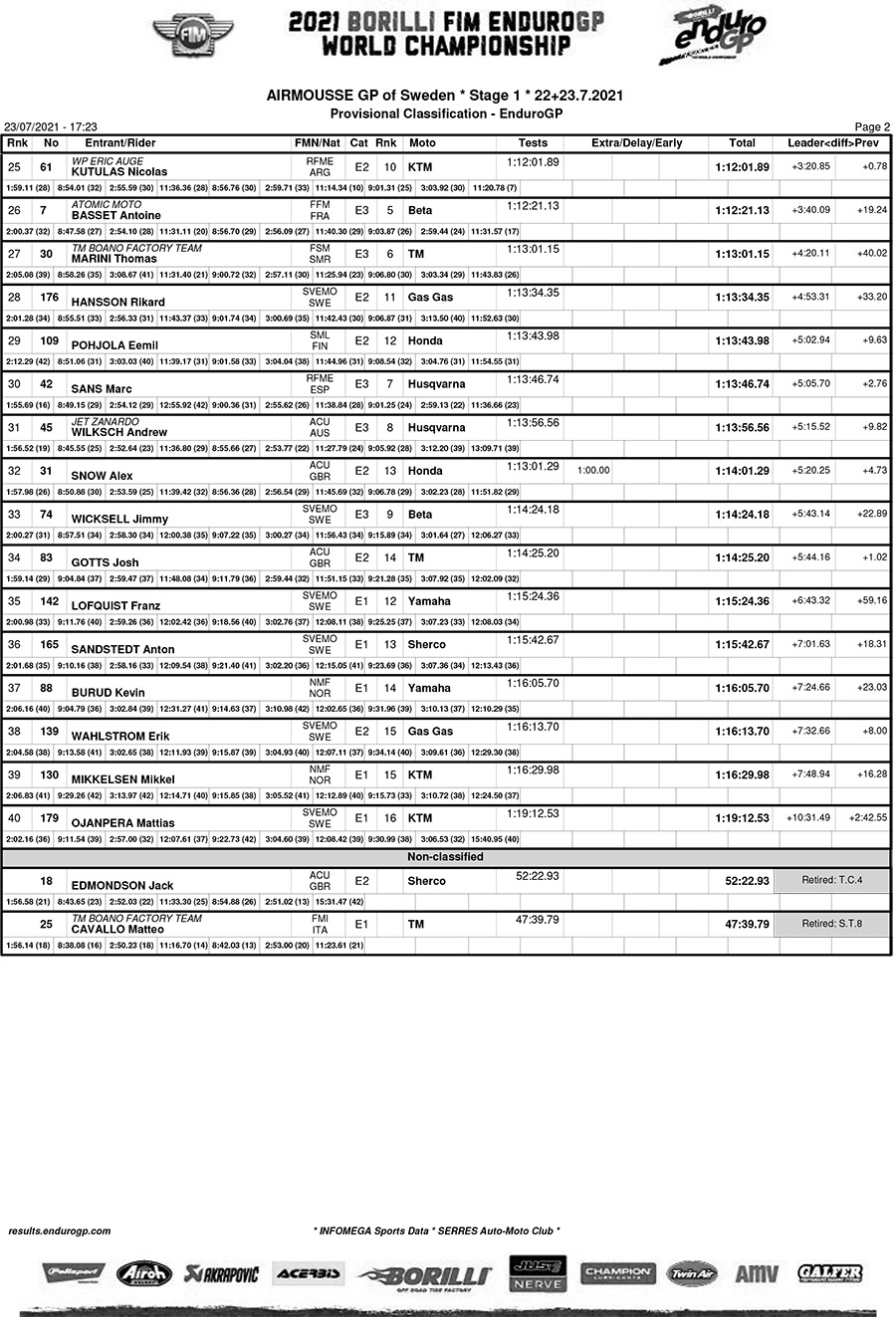 Junior scratch results: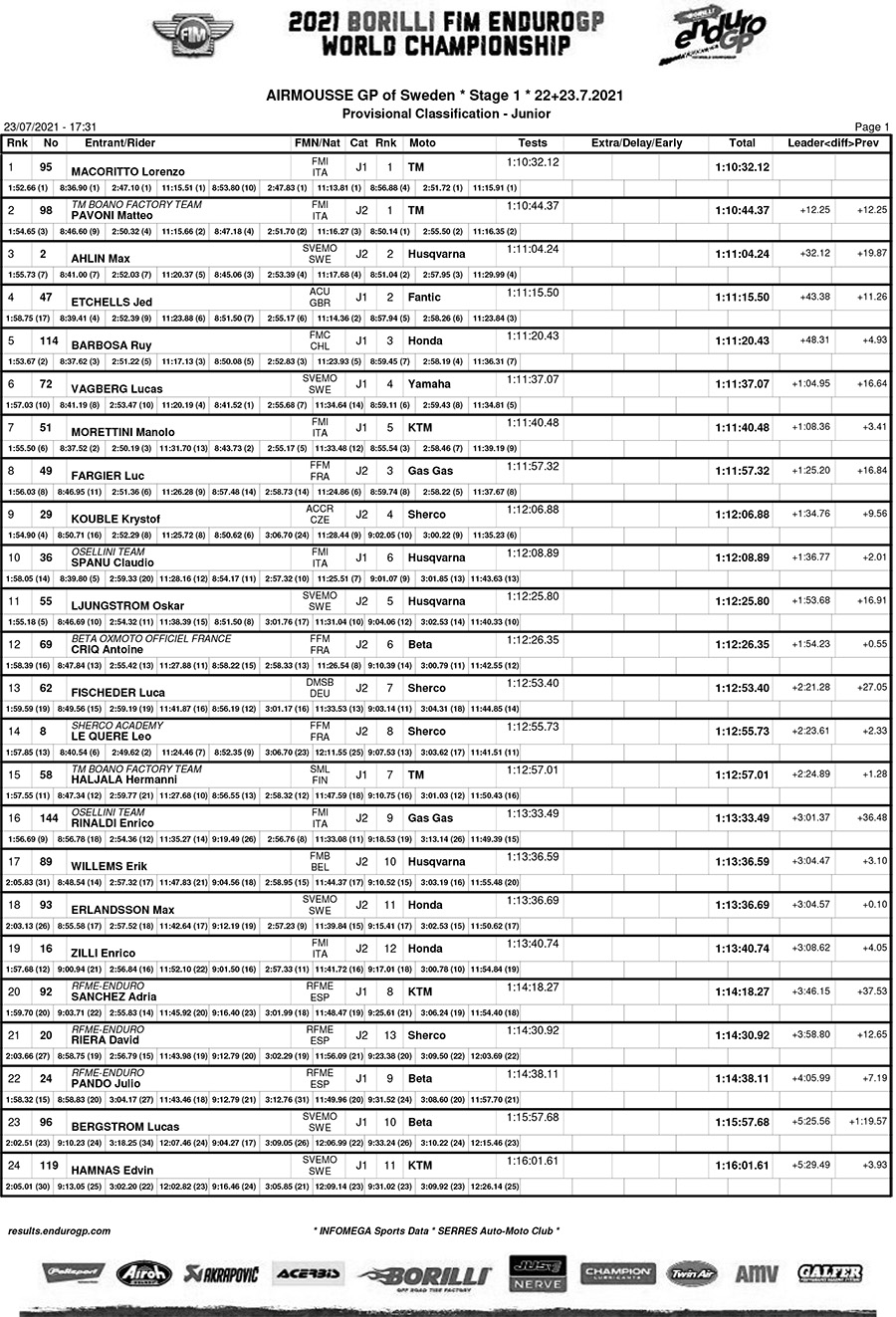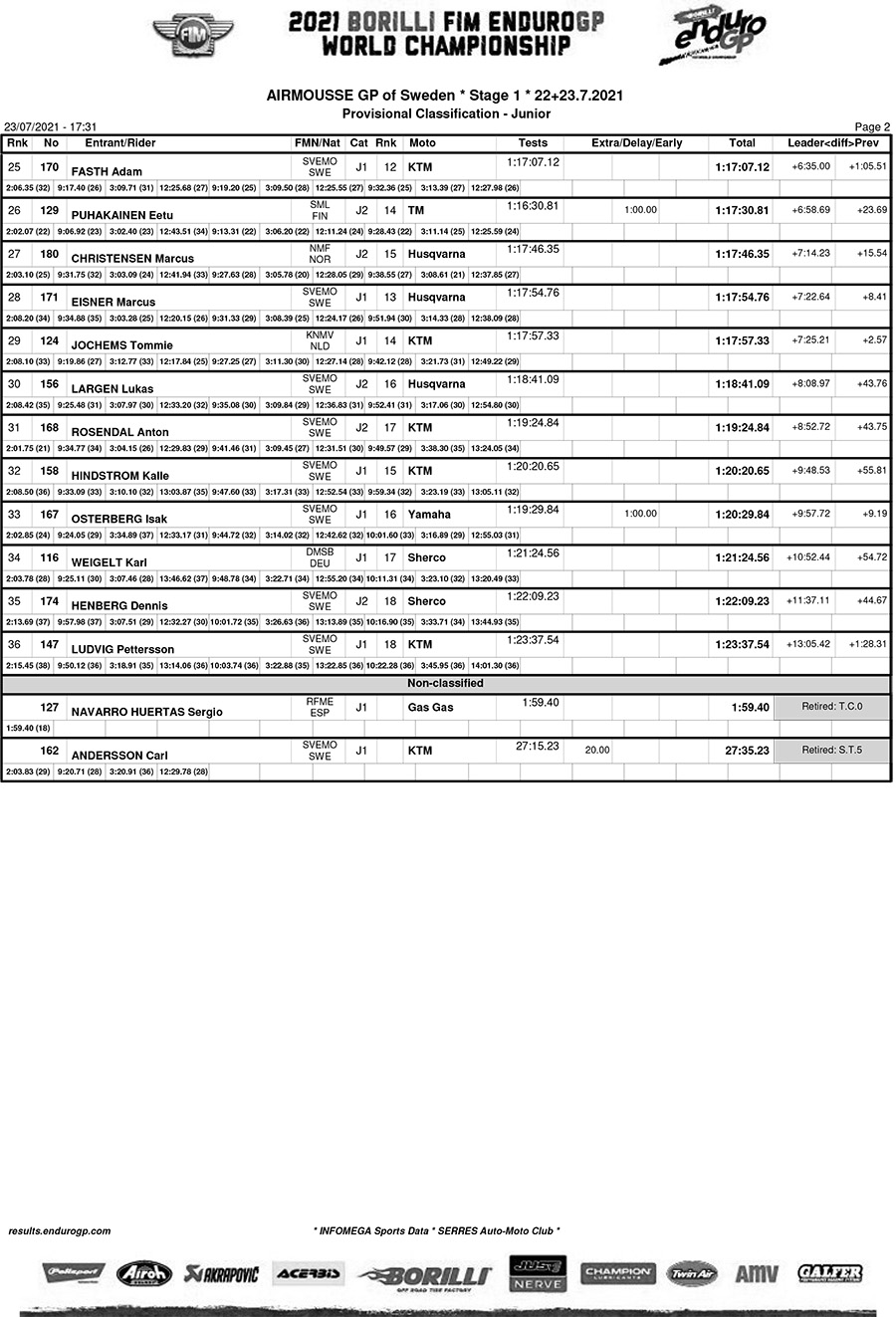 Youth 125 results: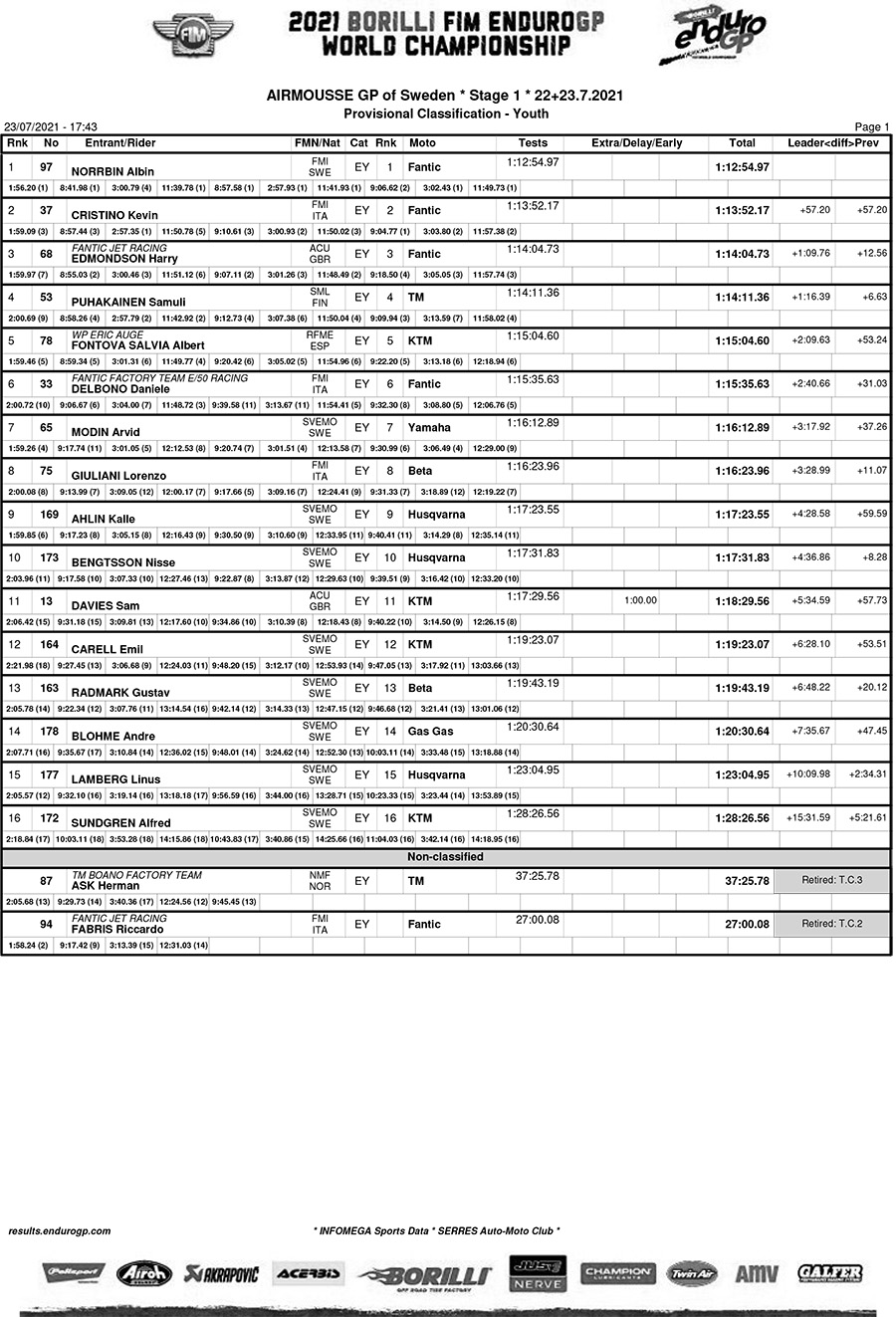 Women's results: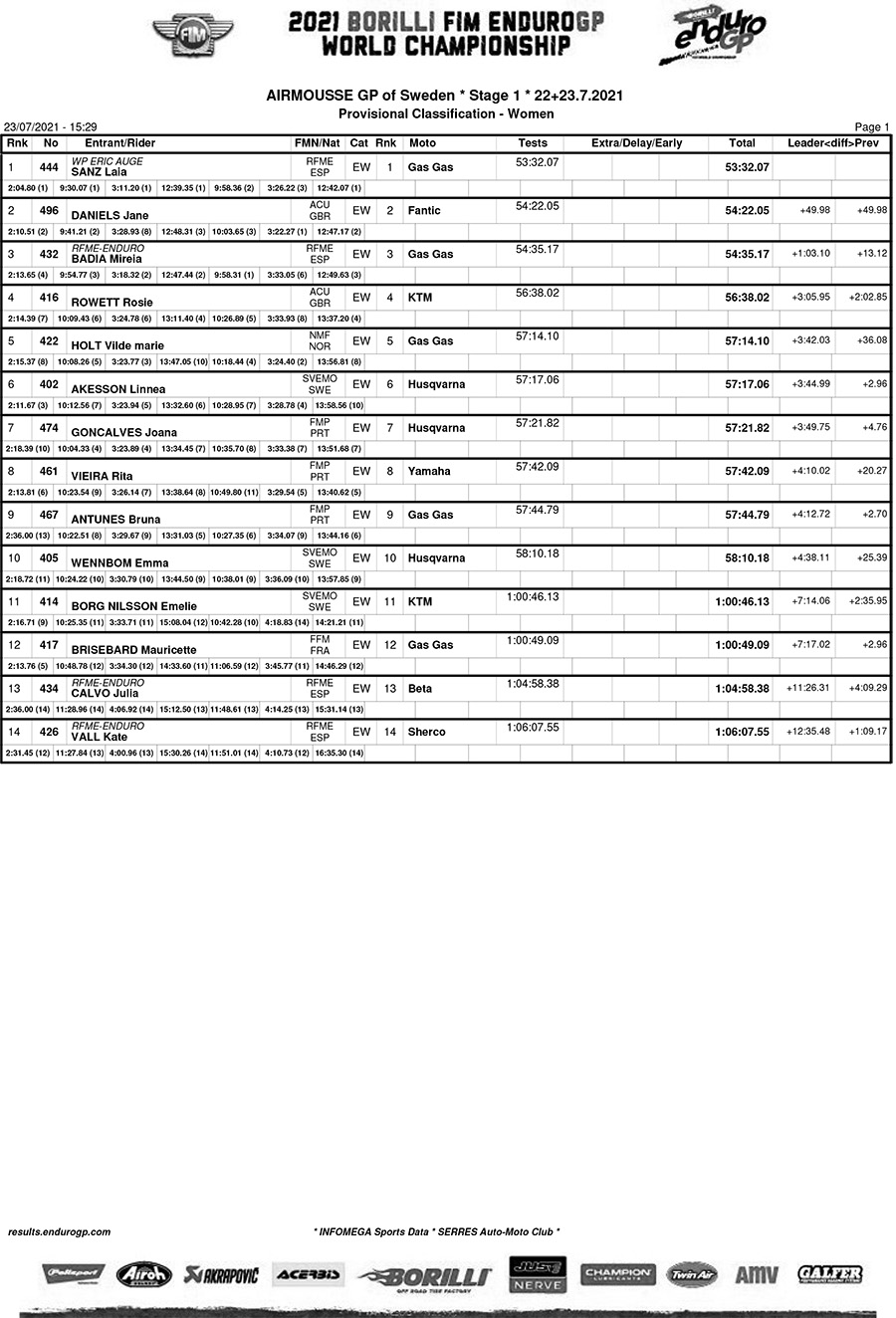 Open class scratch results: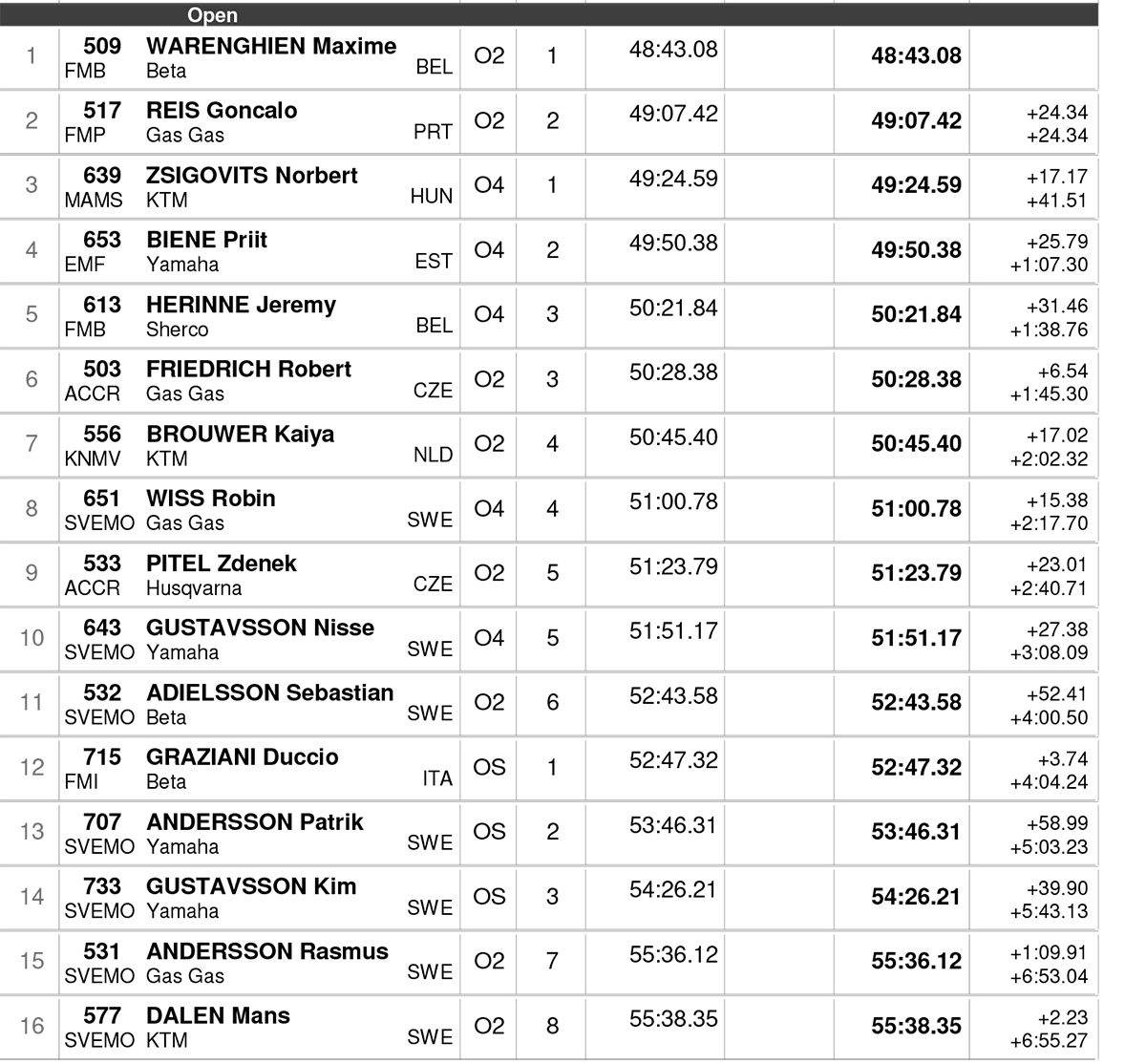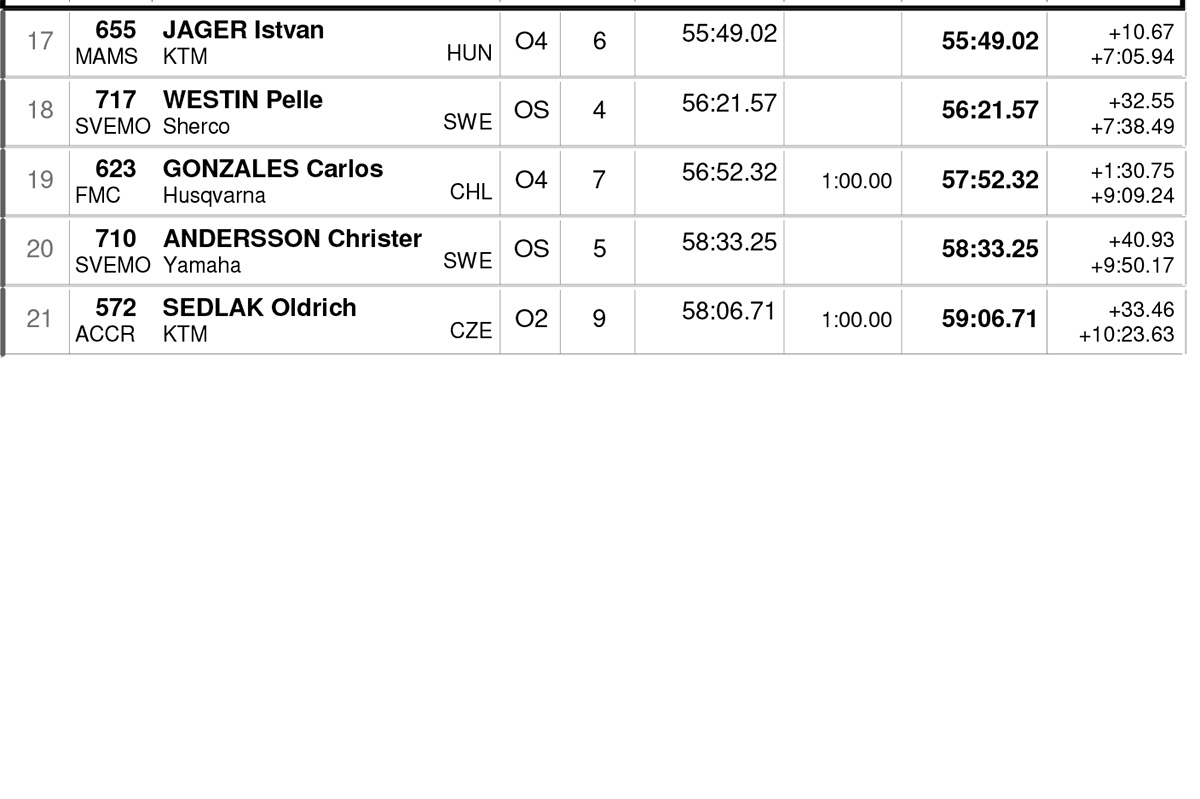 Photo Credit: Enduro21 | Nicki Martinez + FIM | Dario Agrati