2021 AMA Extreme Enduro: Hart wins Iowan Hard Enduro
FMF KTM Factory Racing's Trystan Hart wins the 2021 Iowan Hard Enduro, round two of the AMA East Extreme Championship ahead of Cody Webb and Colton Haaker.
The Spragueville hills in Jackson County, not far from the upper Mississippi river, threw up some tough challenges for the 2021 Iowan Hard Enduro – this year forming part of the new AMA Extreme series. The single day race format consisted of a hot lap qualification race for start positions ahead of two races of one lap and three laps respectively.
Ryder Leblond set his sights high with a storming ride to take the fastest qualification time ahead of Taylor Robert and Colton Haaker. It was a less successful start for Trystan Hart however who got stuck between two boulders and then derailed his chain to eventually finish in ninth position and for a second row start position behind his main rivals.
As the 26-minute, single lap race got going that second row start quickly proved irrelevant as a battle for the win unfolded between Hart, Robert, Haaker and Webb. It was a very tight battle with Webb trying to muscle his way through but with Hart eventually edging the win ahead of Robert and Haaker.
The final moto saw Hart capture the holeshot ahead of the same usual suspects. Angry from his moto one fourth place result, Webb took the lead but by his own admission made too many mistakes in his battle with Hart. Eventually, Cody did take the win by seven seconds after almost 90-minutes of racing but with his 1-2 scorecard, Trystan was the overall winner ahead of Webb (1-4) and Colton Haaker (3-3).
"The day started off horrible with ninth in hot laps and a derailed chain." Said Hart. "I was fired up for the first moto and came out charging, ultimately winning the sprint. In the final, Cody and I went back and forth most of the race and we had some really good battles. I'm happy to end up with the overall win!"
Webb not happy
"I really wasn't too happy with how the day went." Says FactoryONE Sherco's Webb. "It was a pretty simple course for a Hard Enduro and the conditions weren't on our side. In moto one, I got a bad start and just couldn't get around those guys. I tried a few times, but just couldn't make it happen and settled for fourth.
"In the final moto, I rode angry and charged hard. I rode a little tight with the other guys right on my tail for the first half before opening up a nice lead. I then suffered some issues and lost all the time I gained and fell back. I charged hard and was aggressive which allowed me to take back the lead right before the finish and get the win in moto two. I was happy with how I rode overall, just not how I executed that first moto, which ended up costing me."
Haaker happy despite a crash
Rockstar Energy Husqvarna Factory Racing's Colton Haaker had a solid day, finishing third overall with a pair of hard-fought finishes. Colton was among the leading riders battling for the moto one win and finished just one second behind Taylor Robert.
In moto two Colton got away with this crash...
Despite the above interface with EnduroWurx, the EnduroCross Champion says the weekend was a good one overall and he was pleased to have made improvements in his riding. "This weekend, I was more in the mix and ran up front a lot," said Colton. "I was pushing hard but I had a couple too many mistakes that kept me from finishing better. Even though the overall result is the same as the last round, progress was made! I'm going to take the positives and have another go at it in two weeks for Last Dog Standing."
WORCS champ Taylor Robert says the intense mix of hare scramble and technical terrain made it a fun day: "We had a pretty good battle in the final race but I just wasn't able to nab that podium. The intensity was high and the obstacles were a good mix of hare scramble and then some really a highly-technical and high consequence rocks, which made it a really fun day of racing."
2021 Iowan Hard Enduro Moto 1 results: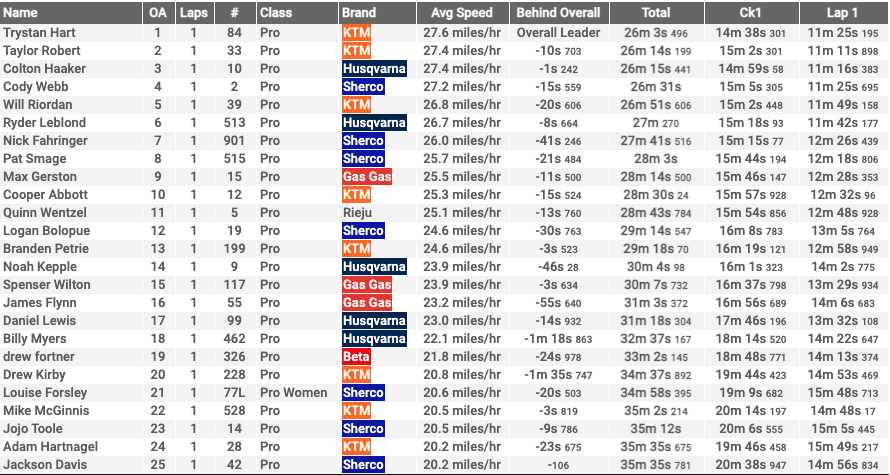 2021 Iowan Hard Enduro Moto 2 results:

Women's class win for Forsely
FactoryONE Sherco's fastest female pilot Louise Forsley took the top step in the Women's class ahead of Shelby Turner and Kristina Smuda and extend her points lead in the championship. "The races went really well for me." Said Forsley. "I stayed patient and was able to make passes when the opportunity was there. Then I just focused on riding a smooth race and making minimal mistakes. Luckily it all came together!"
Round four AMA Extreme Enduro series is Last Dog Standing in San Bernardino, California on May 15-16.
Photo Credit: MJSMotoPhotos