Extreme Enduro Lika – Rudolf takes first major Hard Enduro win
Results and onboard video footage from Extreme Enduro Lika in Croatia where Dieter Rudolf clocked up his first major Hard Enduro race victory ahead of David Cyprian.
After a series of pandemic-related cancellations across Europe, the Extreme Enduro Lika was one of the first major hard enduro events of 2021. It meant a high number of entries and a strong rider list of gold class riders from across central Europe including David Cyprian, Kevin Gallas, Leon Hentschel and Romaniacs mountain goat (and course tracker) Mike Skinner – we hope none of them were expecting warm weather in Croatia though…
Dieter Rudolf coped well with the wintry and muddy conditions taking fourth place in the prologue on Saturday. It set up a good start position in the leading group on Sunday which meant a clean track and no queues.
The Austrian went on to control the race on his KTM and took victory just over two minutes clear of David Cyprian (on his first ride back after an ACL ligament injury) with Toni Mulec from Slovenia third.
"I absolutely did not expect this victory!" Explained Rudolf. "There were a good 10 riders at the start who are almost full professionals, who definitely have a lot more time for training than I do. This is the first international race that I was able to win. The joy is huge."
2021 Extreme Enduro Lika top 10 results: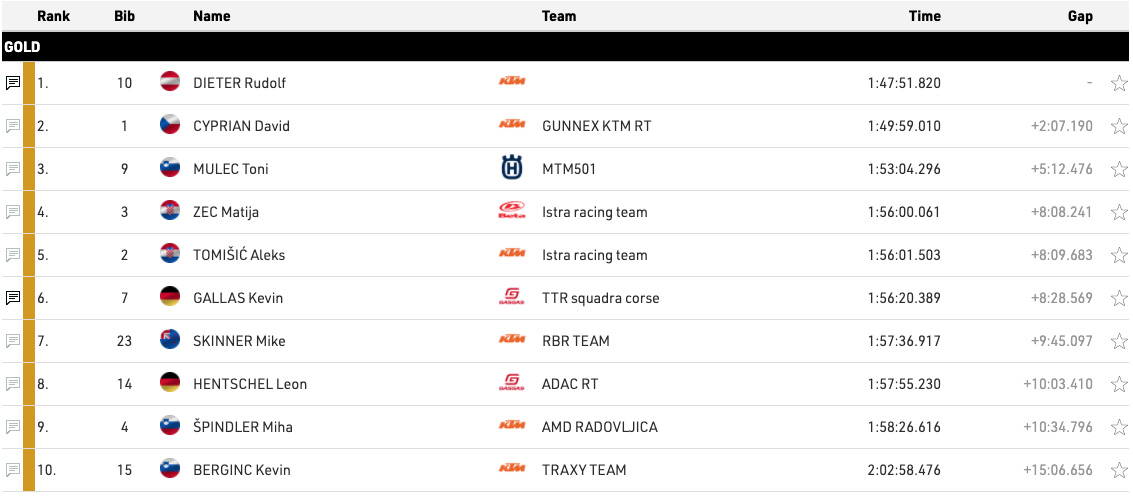 Ride onboard in the Croatian snow with Kevin Gallas:
Photo Credit: Denis Peros | Extreme Enduro Lika