Extreme XL Lagares: Mario Roman takes second win at classic Portuguese Hard Enduro
Results and onboard video highlights from the 2022 Extreme XL Lagares Hard Enduro in Portugal which saw Mario Roman take his second victory at the classic extreme race ahead of his Sherco Factory Racing teammate Wade Young and Eurotek rider Will Hoare in third.
The return of the Extreme XL Lagares in Portugal has been a long time coming. What feels like a lifetime ago now in 2019 was the last time we had a true running of the iconic event with its prologue on the streets of Porto and epic main event, which this year started and finished on the Doll Mountain in Penafiel.
Mario Roman is a master of the infamous slippery rocks at Lagares and took the win way back in 2019 ahead of Jarvis, Bolt, Walker and the boys when the event was a round of the former WESS championship.
Roman kicked off his defence of that main event crown taking the prologue win which returned to the streets of the Porto, albeit on the other side of the river.
Roman's full onboard prologue race win:
Endurocross finals
The Saturday evening Endurocross races didn't go so well for Mario who's bike had an electrical fault ahead of the race meaning he make the didn't start.
Wade Young stepped up and took the early lead in the night-time Pro final with SuperEnduro World Championship contenders Diogo Vieira and Will Hoare on his tail.
All three made mistakes but took turns to lead. When Young made his first mistake in the rocks section, Vieira took the lead with Will in tow and they would eventually lap Young. Hoare took his turn out front before a crash on a set of tyres. Diogo then looked to have it in the bag but came up short in the rocks on the final lap to allow Eurotek rider Hoare through for the win.
Ride onboard with Will in the Pro Endurocross final:
Time deficit doesn't stop Mario
After the victory in the Everest Prologue and the DNS in the Endurocross finals, Roman had work to do to get out front and make up a time gap to compensate if he wanted the overall win.
But as ever the Spaniard was the master of the slippery Lagares rock streams and loose climbs and took the win, completing the single lap course in just under three hours.
That time was over six minutes faster than Wade Young with the accumulative time for the three elements (prologue, endurcross and main race) meaning Roman secured his second Lagares win by almost three minutes from his teammate.
After securing the Endurocross finals, Will Hoare went on to finish third in the main event, 15 minutes behind Young but five minutes clear of rival Vieira. His accumulated times secrured the final podium place in the 17th edition of Extreme XL Lagares.
2022 Extreme Lagares results (Pro class):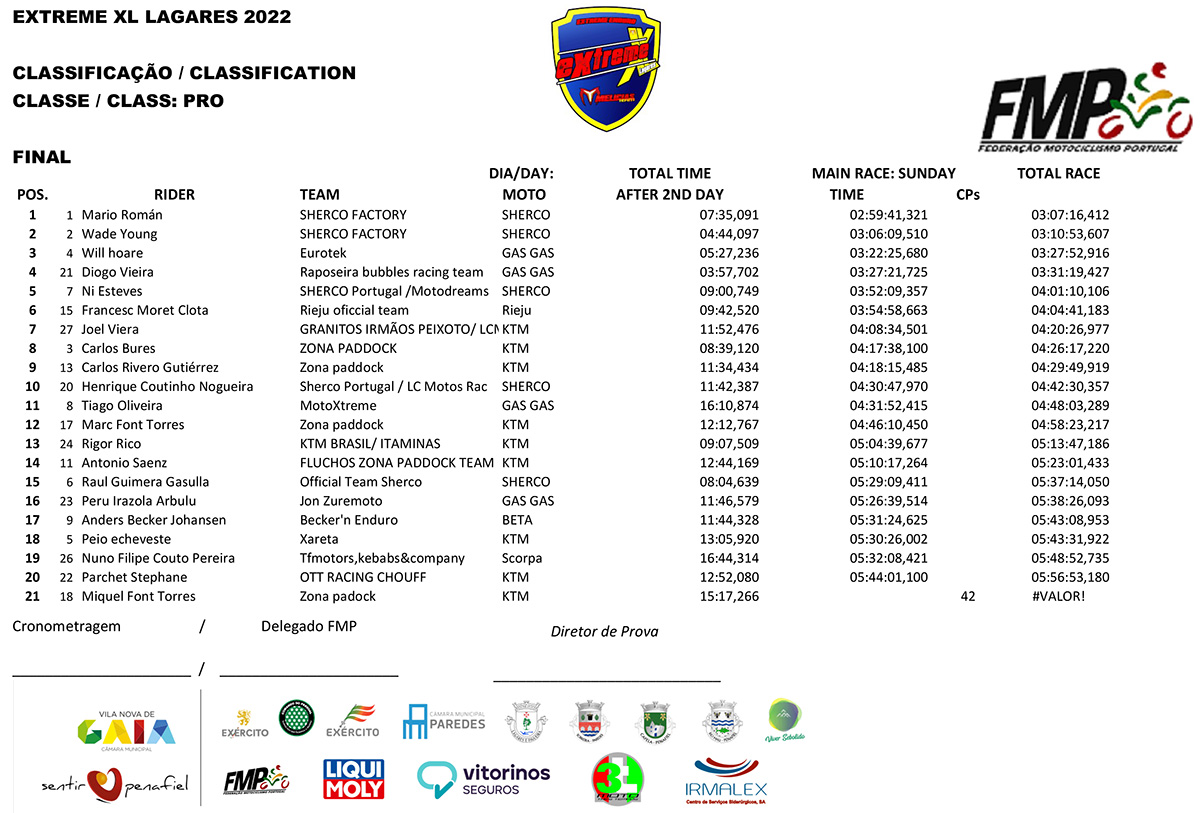 2022 Extreme Lagares Prologue results: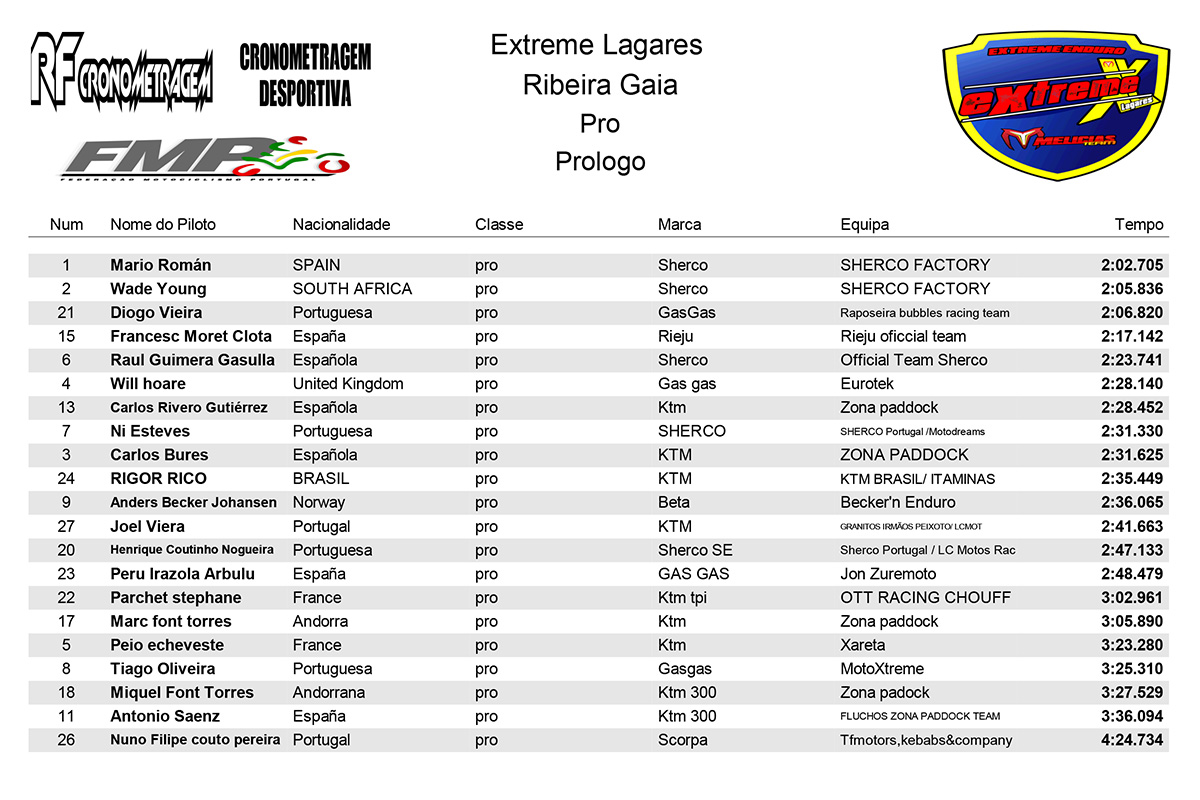 2022 Extreme Lagares Endurocross race results: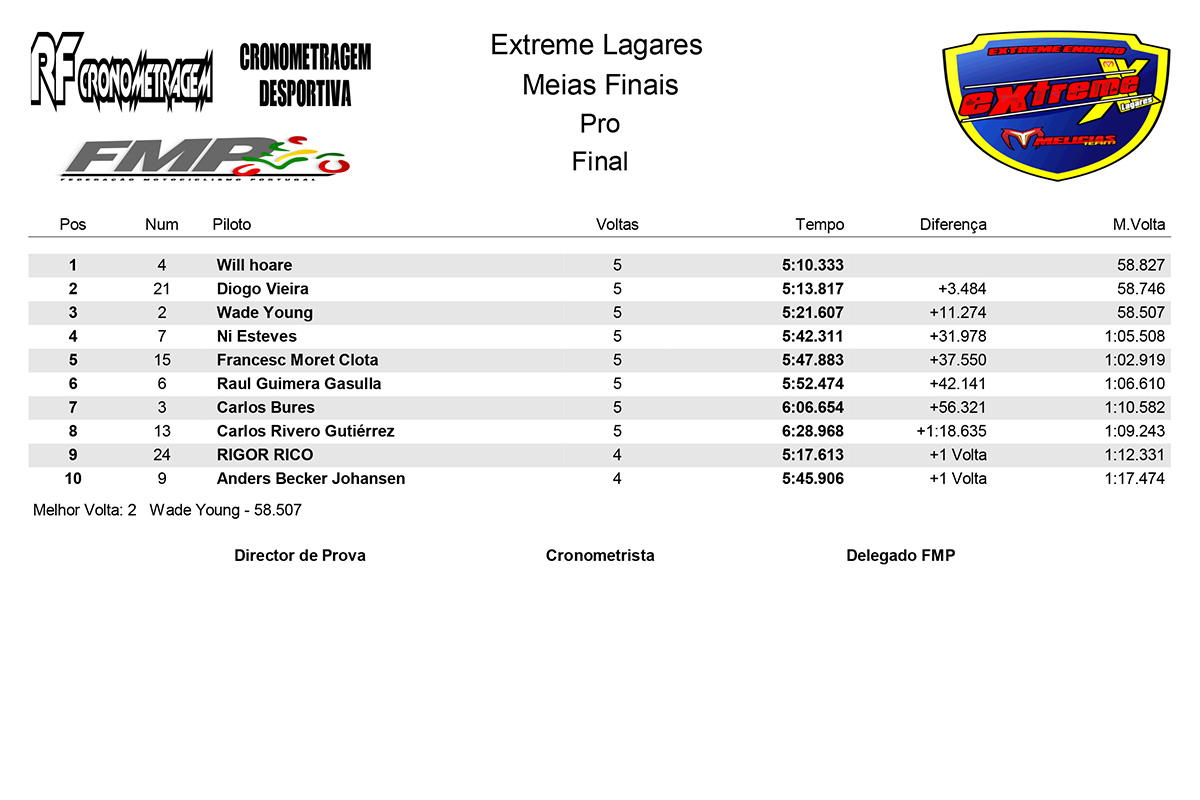 More information: www.extremelagares.com
Photo Credit: Extreme XL Lagares | João da Franca