2021 Snowshoe GNCC: crucial "about time" victory for Ben Kelley
FMF KTM Factory Racing's Ben Kelley clinched his second victory of the 2021 AMA Grand National Cross Country Series at one of the toughest races in the season, the Snowshoe GNCC, and swung the championship back away from the man in form, Steward Baylor.
The Snowshoe Mountain Resort, round nine of the 13-race series was an important one for many reasons. Firstly because it is the last race before the series heads to a summer break till after the ISDE in September.
It was also a crucial race in terms of the championship protagonists: Steward Baylor could continue his run of form and finally slam the door on the points deficit he's been chasing all season. Or points leader Ben Kelley could deliver a second win of the season, get a monkey off his back and lay down a marker to his rival which says you're not having it that easily.
2021 Snowshoe GNCC in a nutshell:
It was a classic Snowshoe rolling start for the front row – classic in that Steward Baylor nailed the getaway and then stacked it into the straw bales on the asphalt at turn one. From 58 rows of riders getting away the start, Stew was the only one to crash.
It made little difference as Baylor was soon out front and taking turns to lead with Jordan Ashburn in the first hour with Ben Kelley half a minute back third.
The legendary course, flat-out and wide dirt tracks on one side, gnarly woods, rocks roots and the fans favourite Howards hole on the other, got a dose of rain about an hour before race start but the dust was soon back wherever the trees weren't covering.
By mid-race, Baylor was out front and once Kelley got past Ashburn, he was closing down the leader. By the end of the lap the relentless pace from Ben saw him leading as they headed up to the top of the hill.
In the last hour Kelley held the gap constant and despite Baylor trying, it was always in the bag for the KTM rider who takes his second win of the season, his first since Florida at round two.
Crucially it stops the rot for Kelley as the GNCC season heads to its summer break. Baylor had the momentum but the pendulum swings back towards the championship leader Kelley who now holds a nine-point lead heading into the summer break.
"I needed this win." Said Ben Kelley after the race. "I never had a big points lead all year, and Stew was digging himself out of a big hole, but I was in a weird place. All year I never really had to win to keep the points leads but here I needed to win to keep that lead and that's what I did."
It's been a long run since Florida and Kelley's first win of the season which established his points lead. It's not like he hasn't been in with a shout of the race wins but too often a race lead was getting closed down and taken away from the FMF KTM rider as the flag flew.
"I learned from every race and I changed up my routine here. The last few I led the whole race and got past in the last lap, so I wouldn't say I cruised the first laps but I wasn't hanging it out to stay with those guys.
"At one point they were so far ahead of me I was like, 'what the hell', because I was still going good. But I dropped the hammer and I'm stoked to get the win, it has been a long time coming."
Steward Baylor meanwhile had said it was a race he needed to win, at the very least badly wanted to win to finally overturn that points deficit he's worked so hard to claw back since early season mechanicals robbed him of points.
But the AmPro Yamaha rider made hard work of his Snowshoe race, not just by stacking it in the first turn but with multiple crashes, issues with slower riders and ultimately too many errors on a day when his rival was on form.
"I struggled all day to find a rhythm." Explained Baylor. "Every time I felt like I had a cushion I wrapped-up with a lapper, on lap three I had a real good one and hit my head pretty hard and after that I was just off.
"I felt like I was riding pretty good in the technical stuff on that side of the mountain. But I was just really frustrated with myself and a few issues we had going on.
"Like I said before the race, it was not do or die here, we still have a long way to go. I know that I'm the guy to beat right now and moving to those final rounds I know I'm riding to be paying for diapers so I gotta bust ass." (NB. Steward is due to become a parent during the summer break).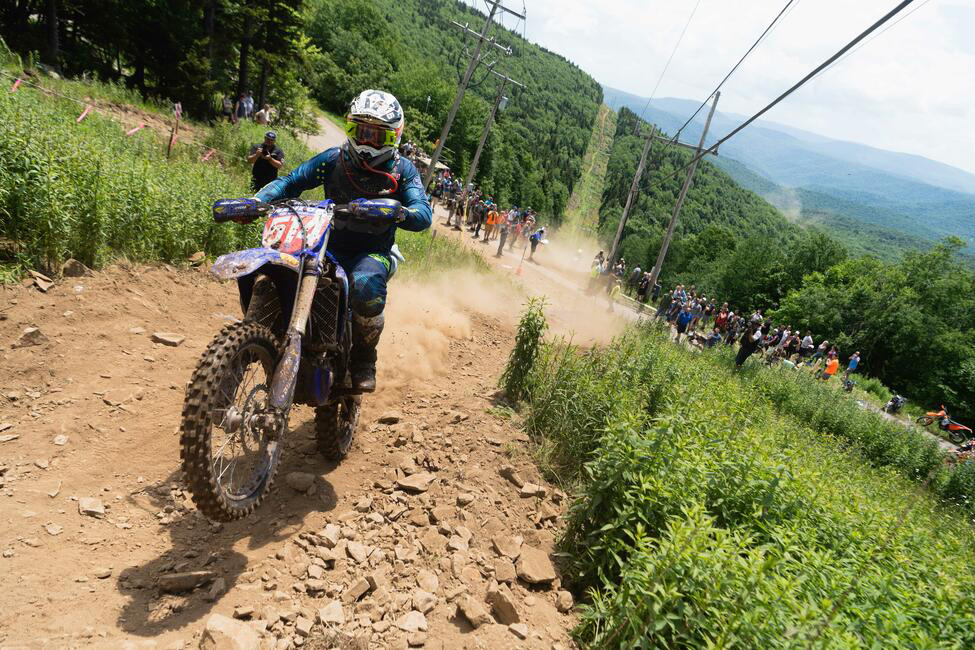 Jordan Ashburn set his number three plate and back into third spot in the points table in with a solid ride on the Snowshoe mountain. Ashburn laid down the early race pace with Baylor before dropping just off in the final hour.
"I'm happy to get up here on the mountain and get back up on the podium, it tailors to my style of riding." Said Ashburn. "I felt good all through the day and just made a few mistakes and let those guys get away. Once they got away, you get between some lappers and the dust was really bad in places and you can lose a lot of time. But it was a great day and I'm happy with my ride."
Snowshoe GNCC Pro XC1 results: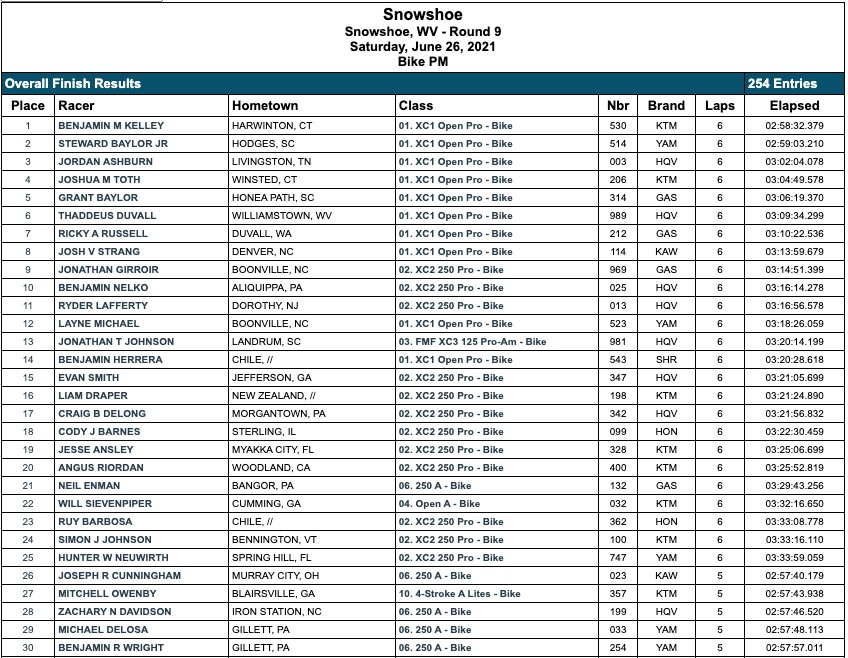 2021 GNCC championship points after round nine of 13: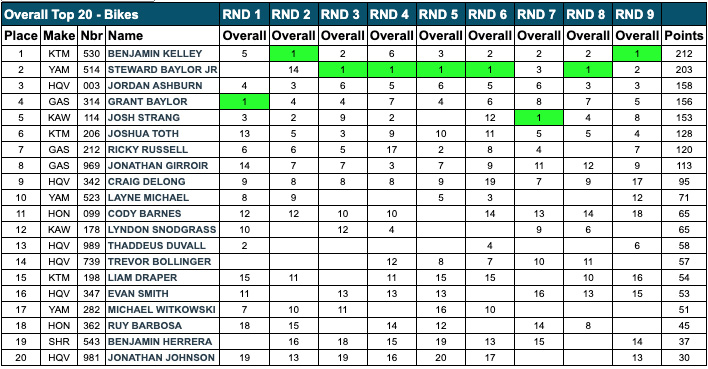 Crashes the feature in XC2
Coastal GASGAS Factory Racing's Jonathan Girroir earned his sixth win of the season at Snowshoe but he, along with many of his rivals, didn't get through the race without incident.
Girroir says he was almost in tears during the first laps after two "cartwheel" crashes. He regrouped and took the lead after two laps and continues to lead the championship standings as the series heads into its summer break.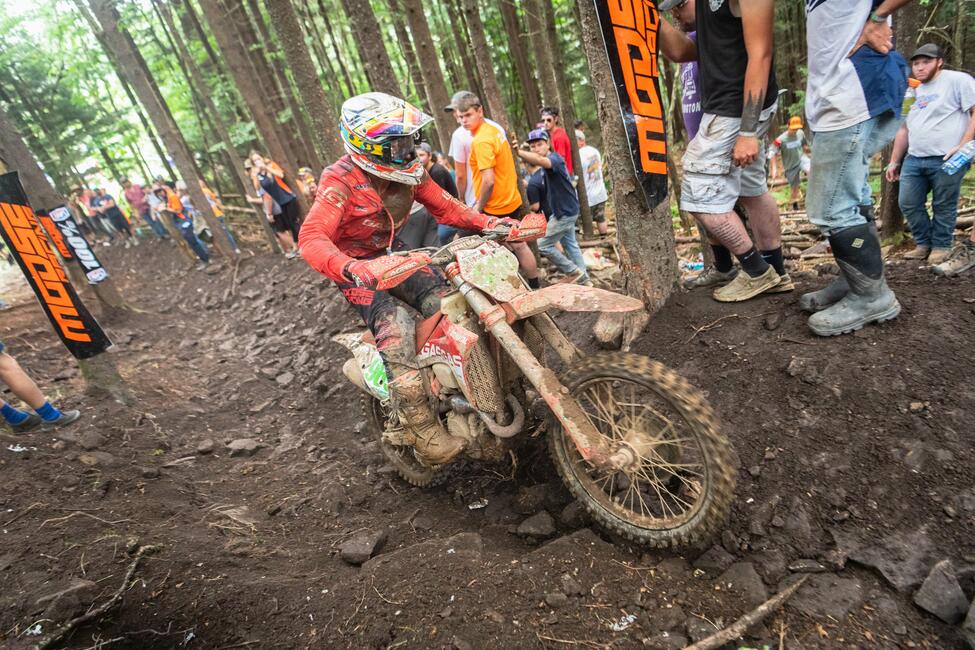 Behind him it was an arguably unexpected results as reigning champion Craig DeLong also took a hard crash and would eventually finish in sixth. Winner at the previous round, Lyndon Snodgrass also went out at the midway point.
Ben Nelko it was then who stepped up and earned his first XC2 podium finish. After coming through in 13th on the opening lap, Nelko put his head down and steadily moved through the pack at Snowshoe. It was another surprise contender he had to battle with on the last lap for the podium places in Ryder Lafferty. After missing three rounds due to an injury, Lafferty came back with in some style at this tough event to earn third in the XC2 class after Nelko's last lap pass.
Archer back on top
The WXC class battle took another twist in the morning race at Snowshoe. Just when you think either Archer or main championship rival Becca Sheets has it nailed, the other one comes back and takes a win.
At Snowshoe it was AmPro Yamaha's Archer who won but she had to earn it after a battle with Tayla Jones.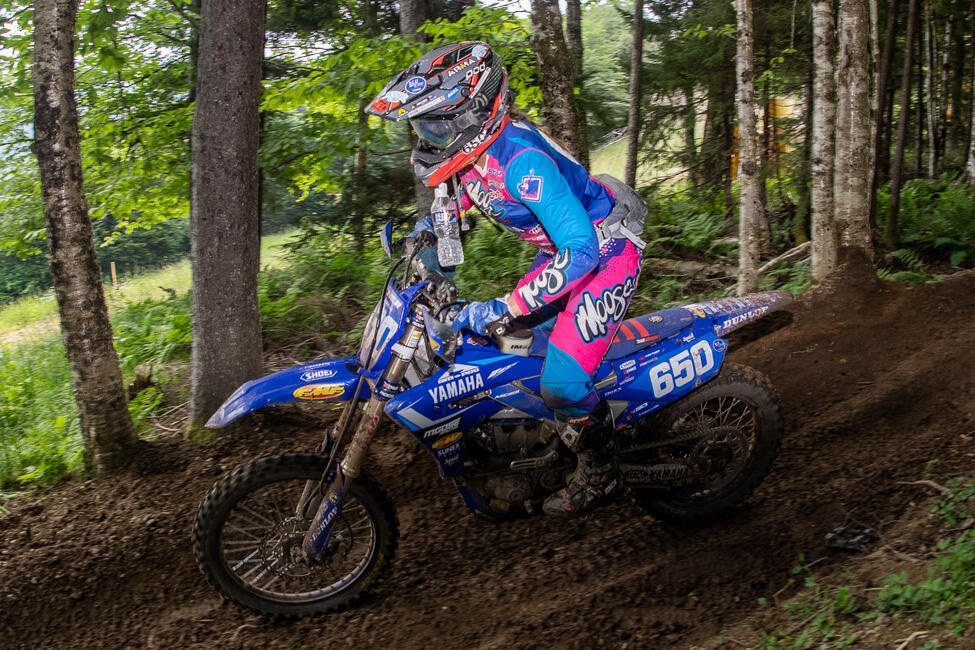 Tayla has been battling back to form for what feels like forever and at this harder than most race, she was back to challenging for the win. In the end a pass in the infamous Howard's hole saw Archer take the lead which she never relinquished and Jones settled for second ahead of Shelby Turner who took her first-ever WXC podium finish.
Snowshoe GNCC AM race top 20 results: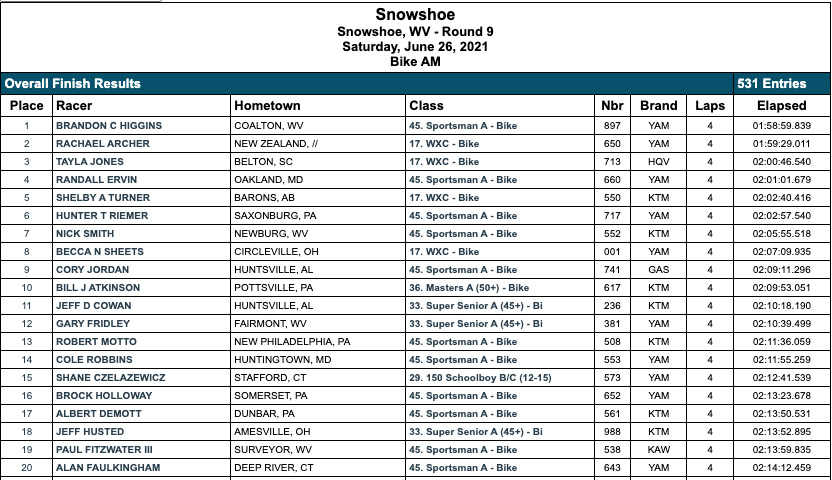 Photo Credit: Shan Moore + Mack Faint