2022 Dakar Rally Results: Danilo Petrucci wins stage 5 – Sam Sunderland maintains overall lead
Danilo Petrucci has won stage five of the 2022 Dakar Rally ahead of Ross Branch – Sam Sunderland maintains overall lead for the fourth consecutive day.
Dakar Stage 5 in a nutshell:
A twist to the plot on stage five of the 2022 Dakar saw riders go their own way, separate from the four-wheelers on a 345 kilometre loop out and back to Riyadh. Organisers said it was a first but we reckon they've done it before in South America.
Either way, the cars and trucks completed a separate 421km route which the bikes will do tomorrow – hence there was no live tracking today so competitors could not look at tomorrow's routes (though they can all talk to each other in the bivouac…).
Splitting the competitors caused a logistic issue with helicopters – the stage had to be halted for the moto and classic categories while the copter dealt with stuff and in the end high winds meant a premature finish for some.
Starting in 29th place, Toby Price rapidly set about gaining time today and went on to top the timing sheets but a speeding penalty meant six minutes were added and he finished in fifth.
Daniel Sanders had been in P1 for most of the stage but suddenly lost over 12 minutes, not because of another one of his picnics but for struggling to find a waypoint. The error put 14th but him on par (in time) with the leading quartet scratch – Sam Sunderland, Adrien Van Beveren, Matthias Walkner – which gives all five a good start position tomorrow.
Sunderland continues to lead for the fourth day in succession despite a crash yesterday which is making riding painful for the British rider he says. GASGAS riders have in charge across all days so far.
Overall Sunderland lost a little time on second placed Matthias Walkner today, it was the same for Adrien Van Beveren in third but there's not much in it between them all with Sanders fourth and Skyler Howes fifth. The top 10 has five different manufacturers including leading privateer Stefan Svitko in 10th.
When you get knocked down you get back up again, literally in Danilo Petrucci's case. The KTM rider initially bagged a stage podium yesterday but was docked 10 minutes for speeding. Undaunted, the former MotoGP star went full gas from 15th off the start to place second overall behind Price before inheriting the stage win after Price got his own speeding ticket. What goes around comes around.
That also promoted Ross Branch to second on the Monster Yamaha. The Botswanan has had a quiet Dakar so far but second, just two seconds behind Pertux and three seconds in front of Jose Cornejo third, is his best stage result (and shows how close times were today).
Honda's Joan Barreda and Pablo Quintanilla continued with a pattern the rally leaders are tactically trying to avoid. First and second yesterday for the HRC boys switched to 27th and 23rd today but Barreda suffered a heavy fall late in the stage, injuring his shoulder.
Bad news also for Skyler Howes today who joins a growing list of riders who've crashed heavily in the last couple of days. Though he still managed to complete the day, the Husqvarna rider was taken to hospital after the stage and the diagnosis is he will not continue.
* results will update
2022 Dakar Rally Stage 5 results: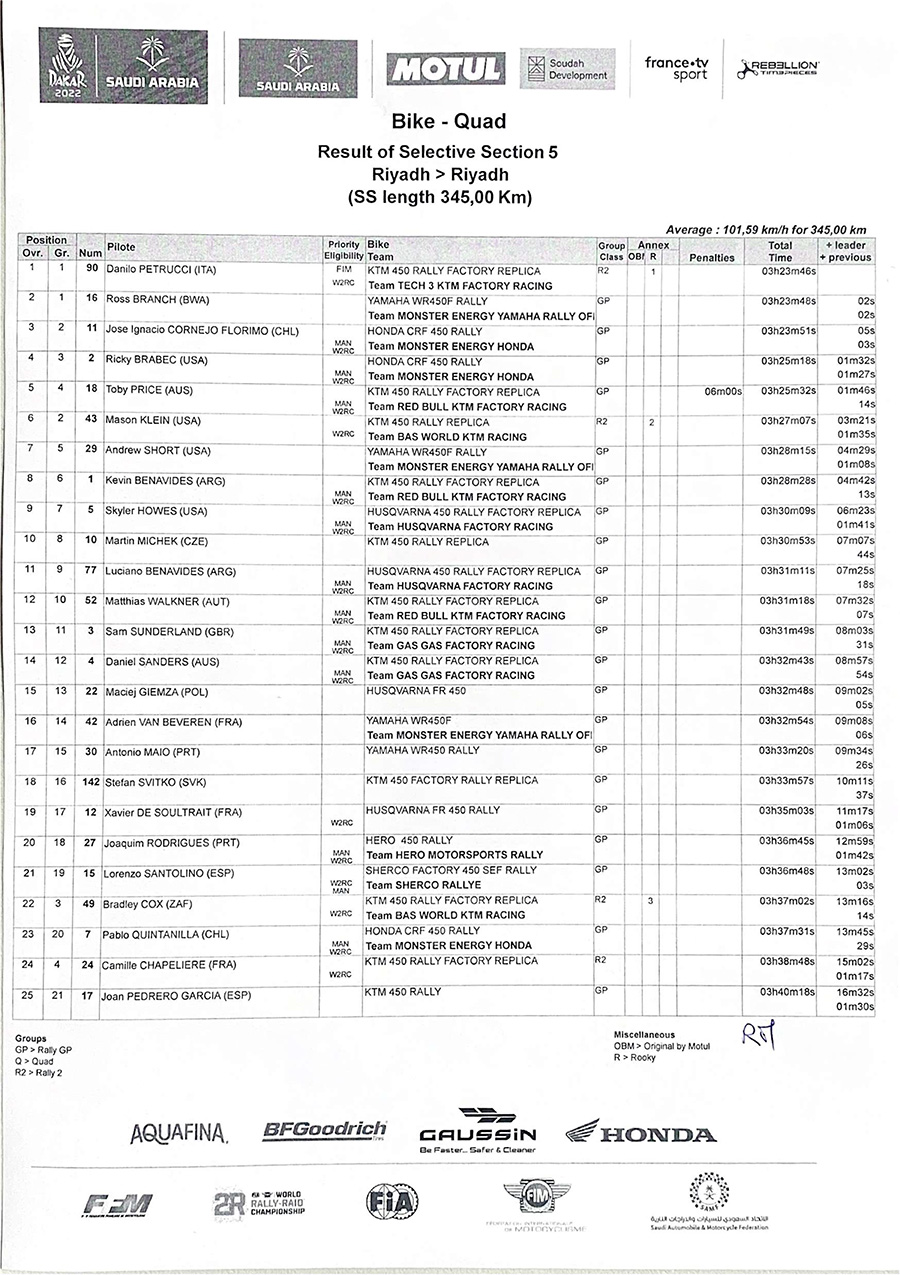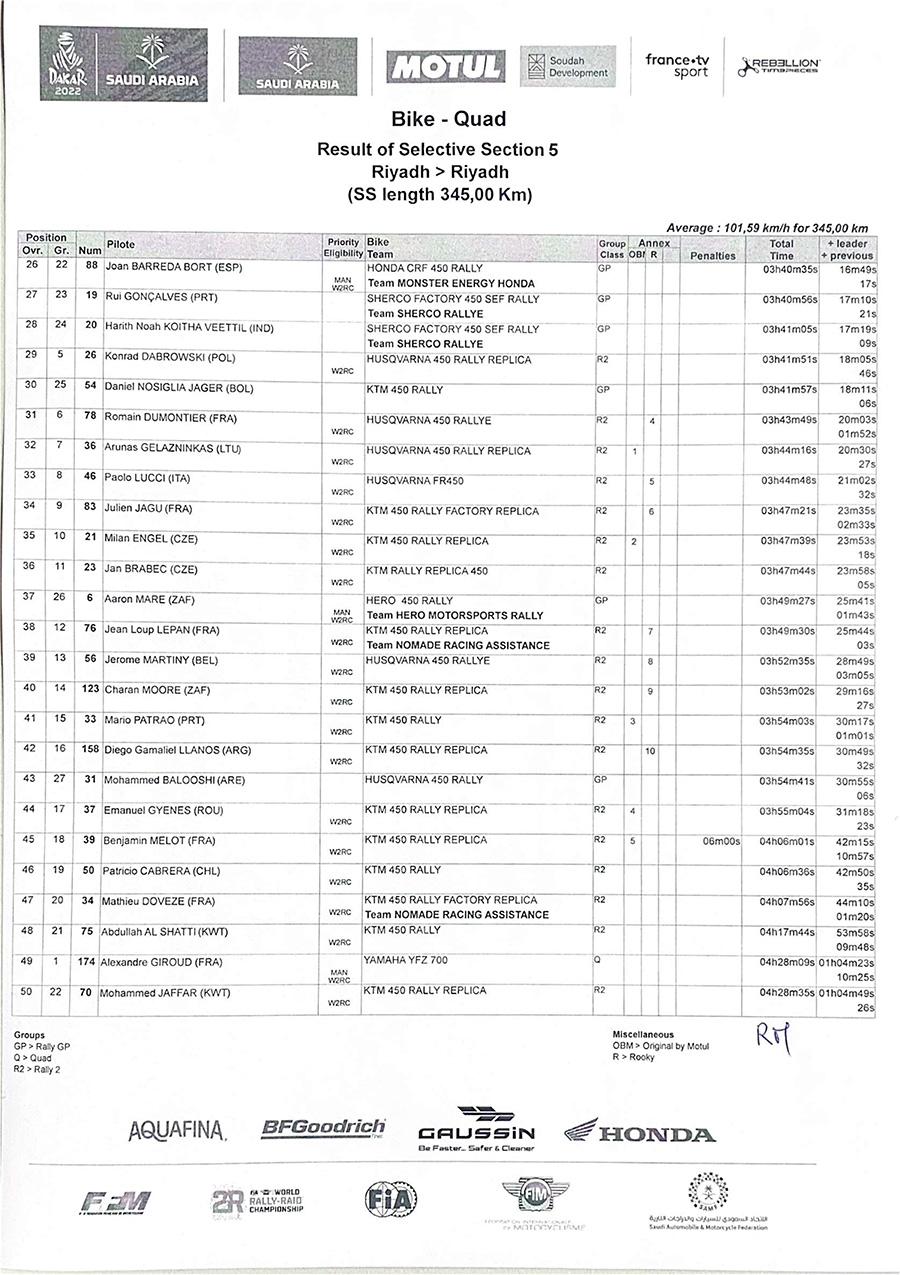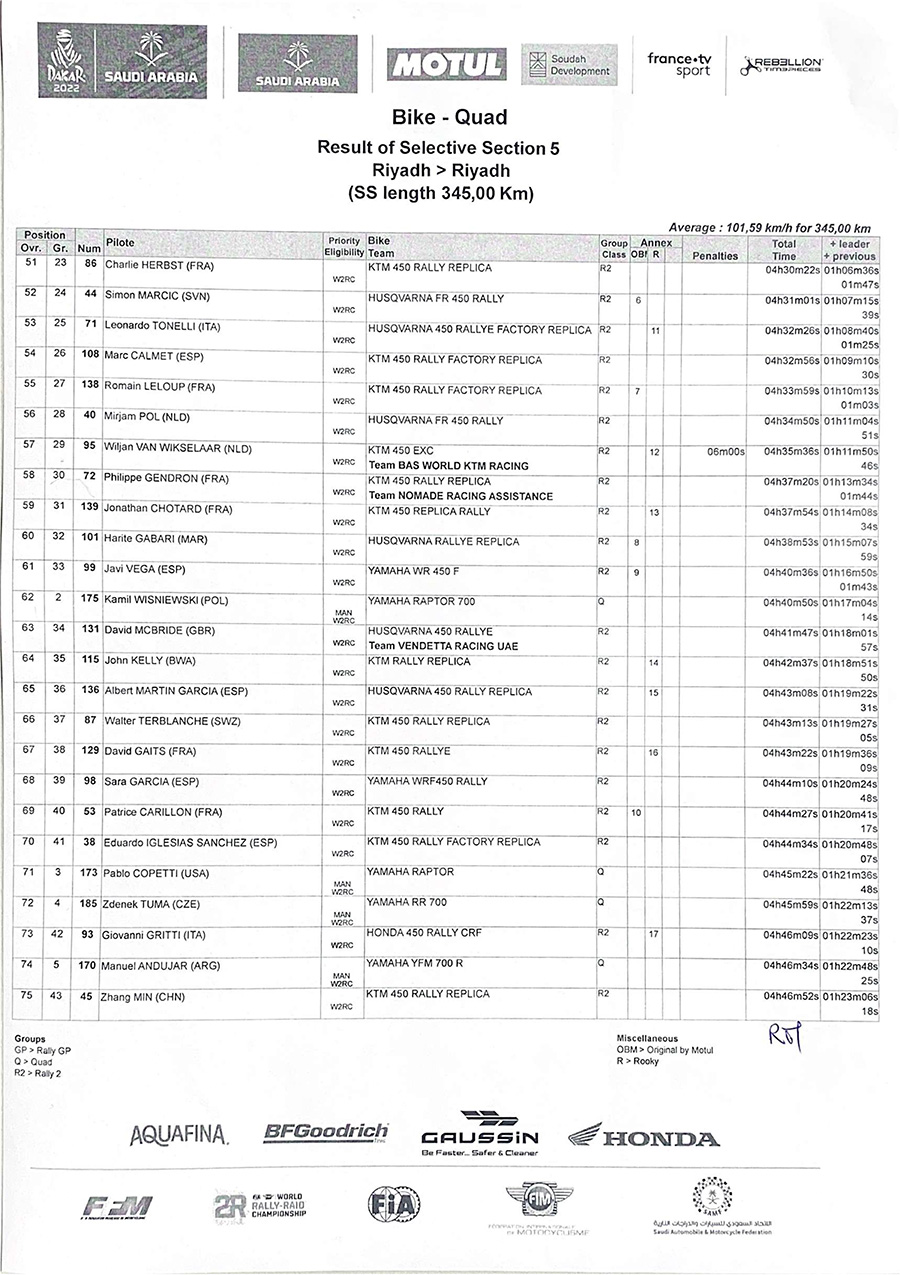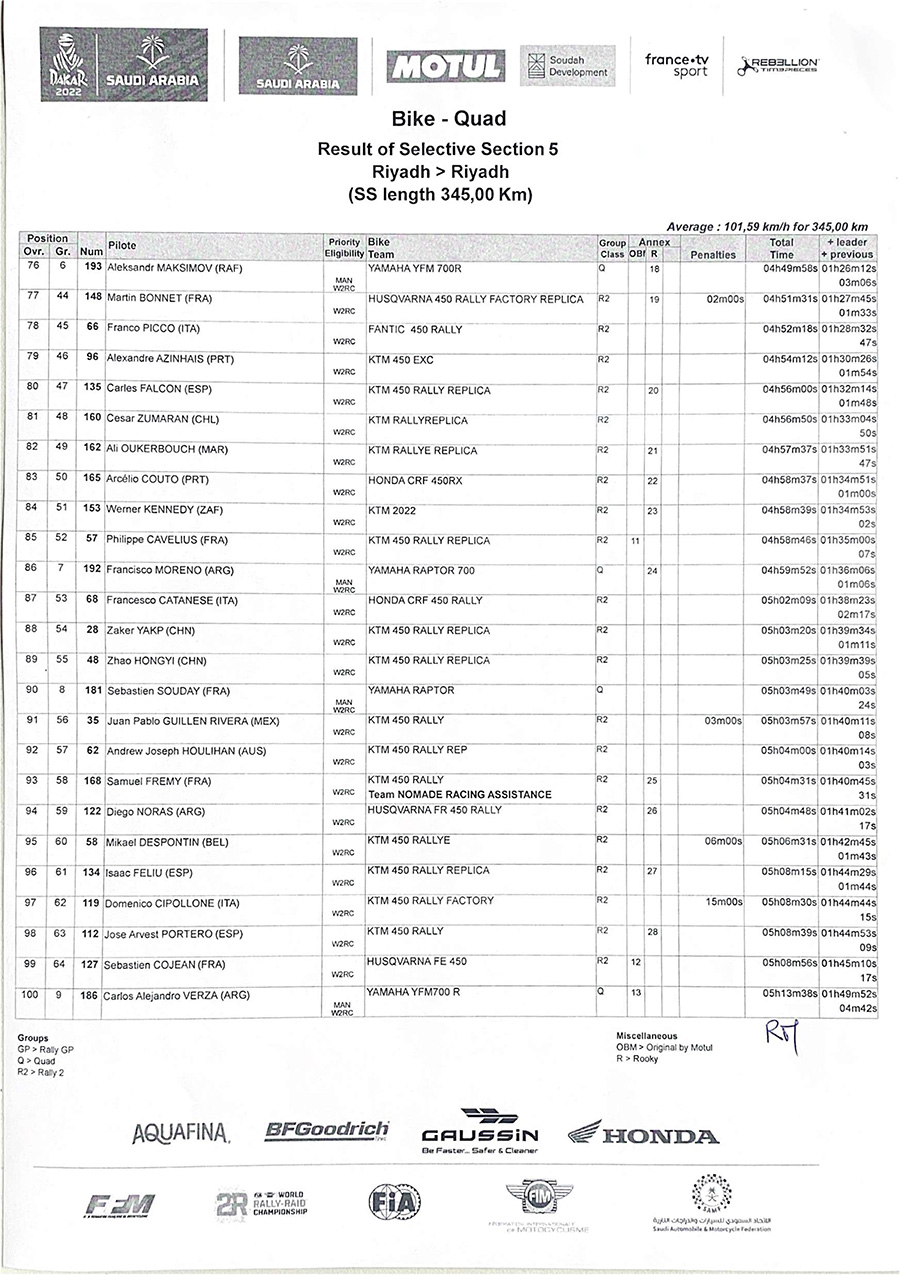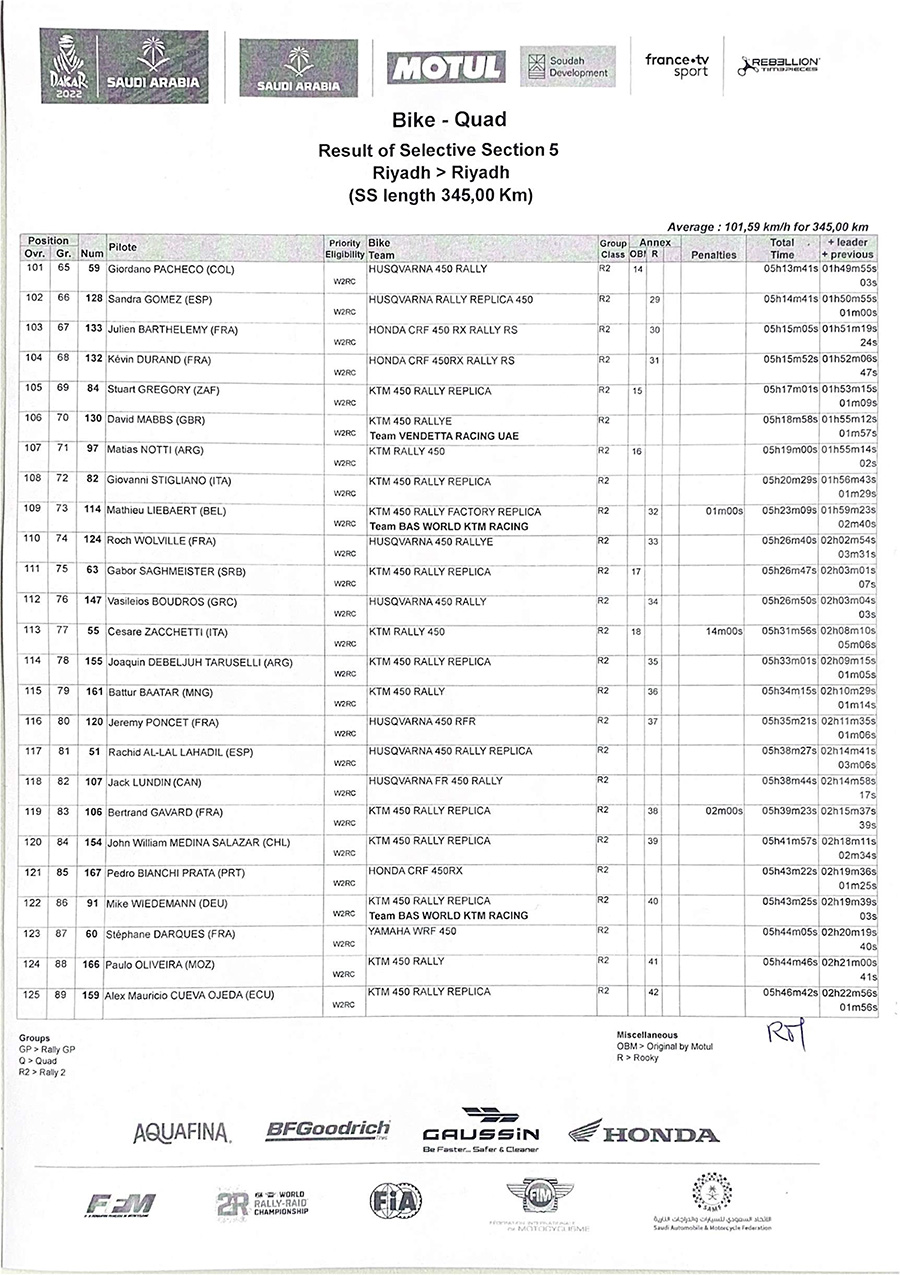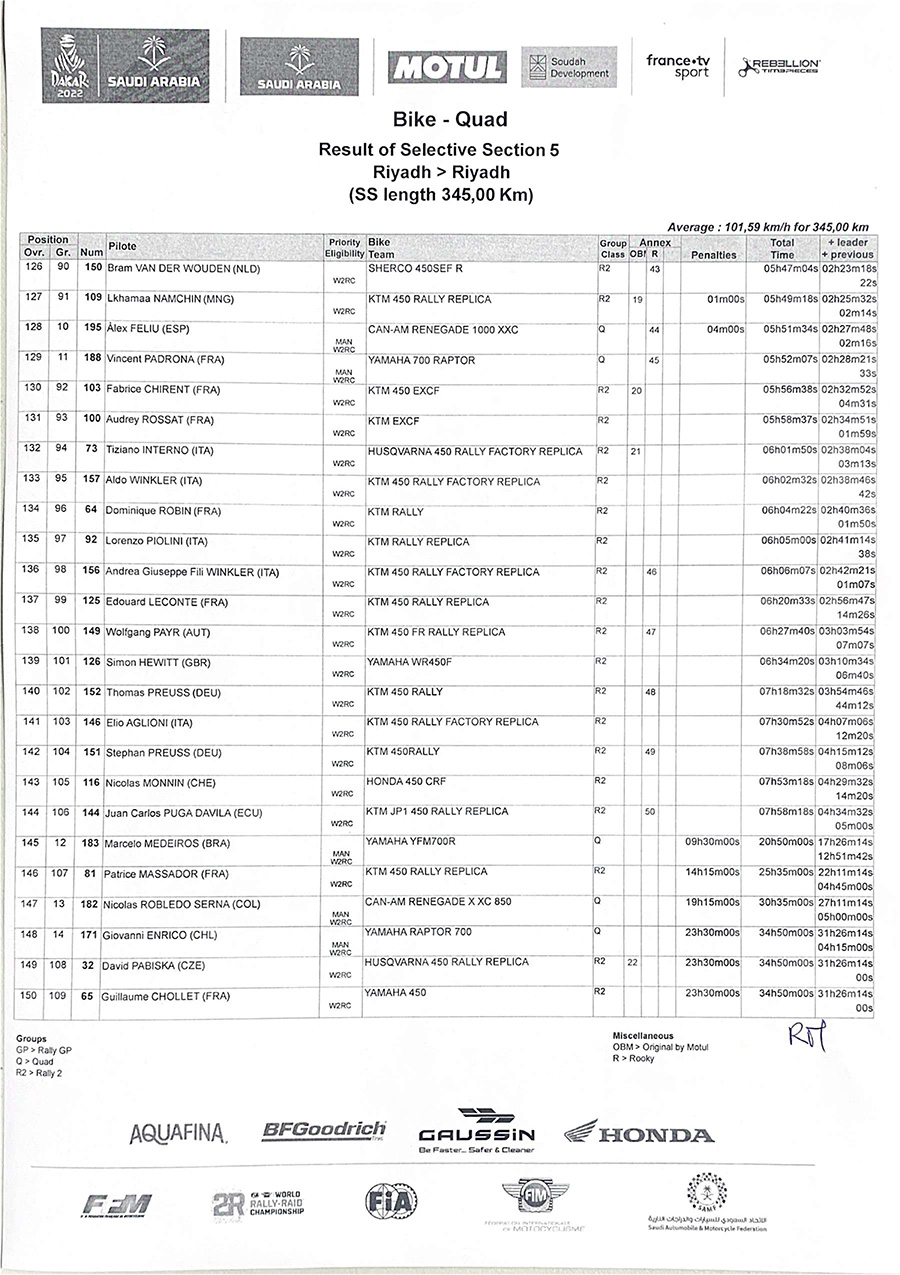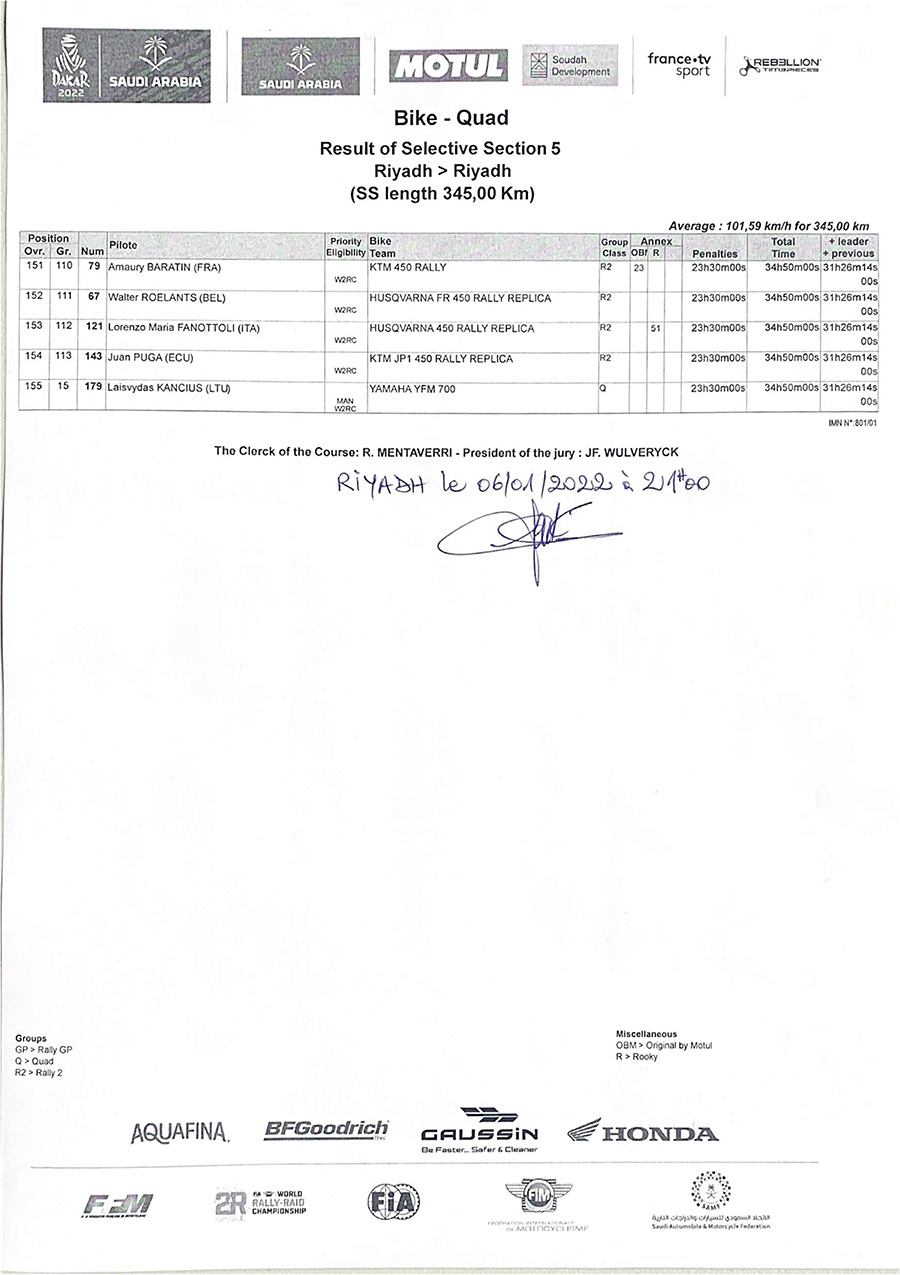 Provisional overall classification after stage 5 (top 30):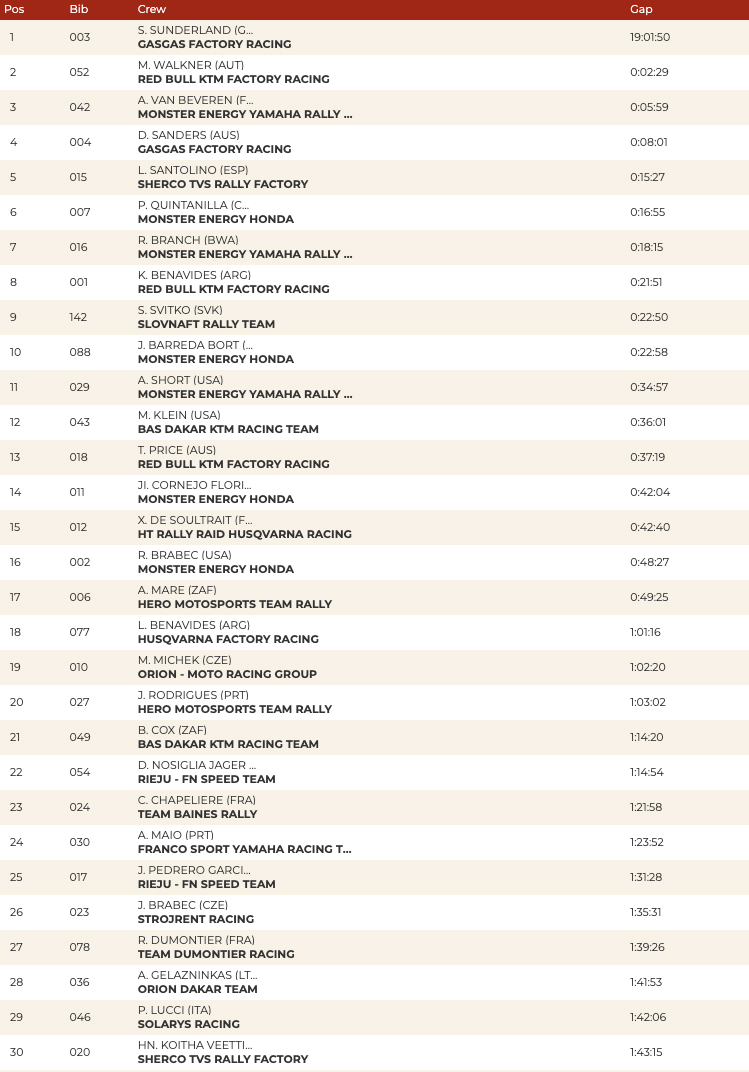 Photo Credit: RallyZone + MCH Photo CZ