2022 Dakar Rally Notebook: stage five – Petrucci's class act and all kinds of crashing
Enduro21's daily Dakar Rally notebook from stage five discusses the string of crashes, puts to bed the De Villiers versus bikes "incidents' and salutes the unique achievement of Danilo Petrucci.
Not many humans on this planet have won a MotoGP race and a stage of the Dakar Rally. After setting the fastest time on 345 kilometres of the fifth day of this year's event, Danilo Petrucci is in an exclusive club of…one. Yup, no-one else has ever done what he did today.
If you can ride a bike, you can ride a bike
Having technically retired on stage two only to be allowed back in (for no award), Danilo Petrucci is riding care-free while everyone around him is concentrated on the big prize. He's basically living his dream as a factory KTM pilot, riding the most epic event in the off-road world with zero pressure.
Clearly if you can physically operate a MotoGP bike at race winning levels then bike control is not an issue. Although you can argue he has broadly the same bike skills as the blokes around him (level = exceptional), and has spent a few stages by now learning from the best in the world, the Italian still needed to piece this incredibly difficult puzzle together.
MotoGP riders are not strangers to the Dakar Rally. Jurgen vd Goorbergh is one notable former MotoGP winner who nailed the rally game. He is from way back in the two-stroke days (remember them?!) but the Dutchman won the Dakar Malle Moto class in 2016 over in South America. Danilo joins Jurgen in this elite club.
An emotional Danilo explains what it means to win a Dakar stage...
Dakar takes no prisoners
As this week progresses a growing list of riders are crashing and hurting themselves. No surprises there we hear you cry. Sam Sunderland, Daniel Sanders, Skyler Howes and Joan Barreda are just four riders who can tell you about crashing on the Dakar in the last couple of days.
So many kilometres and hours already clocked (just short of 20 racing hours so far, ignoring all the liaisons) means an immeasurable number of chances to make a mistake. Riding like these guys do with so much bike weight half the time with the fuel onboard, and navigating…no wonder they crash.
Stage five winner Danilo Petrucci seemed amazed he'd got so far through his maiden Dakar without crashing. Today though he pitched off while avoiding a camel.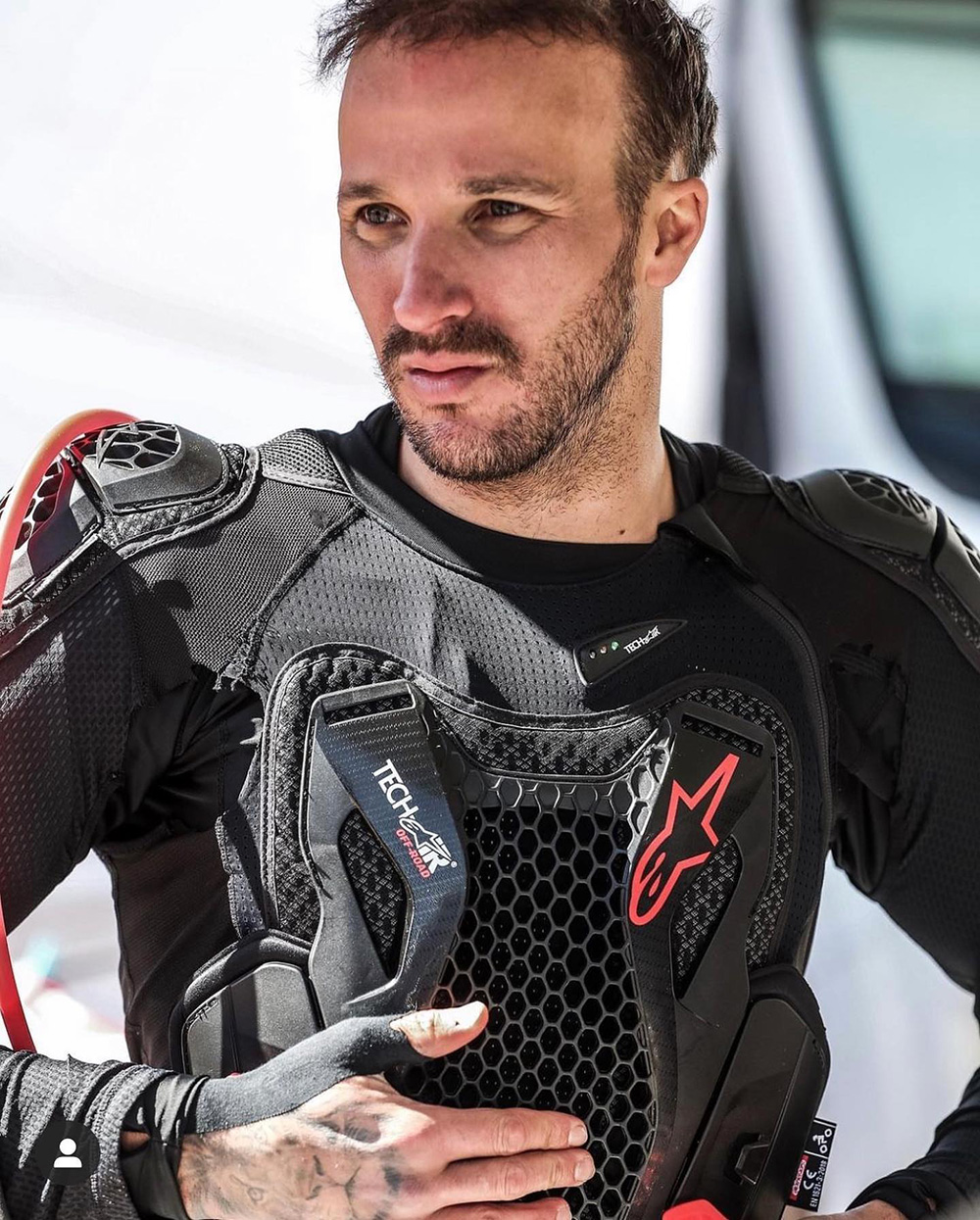 Sunderland is reporting stiffness in his neck and shoulders from his stage four crash while Sanders actually dislocated his shoulder today (but 'luckily' it popped back in).
Howes and possibly Barreda will not start tomorrow due to their injuries sustained today. It's a blow for any rider, whether you're a podium contender or not, but the Dakar never has taken any prisoners.
Pay attention!
There was no accounting for a sandstorm which caught riders out today but nightly briefings do give them some clues for the following stage. The daily roadbooks they use to navigate are handed out 20 minutes before the stage each morning but the briefings can help.
Start times, any changes to the route, where and at what kilometres the fuel stops are located, the basic lay of the terrain and any logistics are all briefed. They also run through points of attention on the route and any particularly dangers in the stage.
The stage five briefing last night talked again about a mixed bag of terrain including some wet wadi or river crossings. Riders were told to expect some open landscape with no features in places, technical rocky gullies and a section of difficult dunes.
Basically, if they mention something it's a warning to pay attention. Today one section of the stage ran along the top of a savage gulley (you can see it in some of today's video highlights).
In this featureless landscape, these kinds of hazards are very real indeed but if you don't listen at the briefing, well, at least it's written on the roadbook…(you got this?)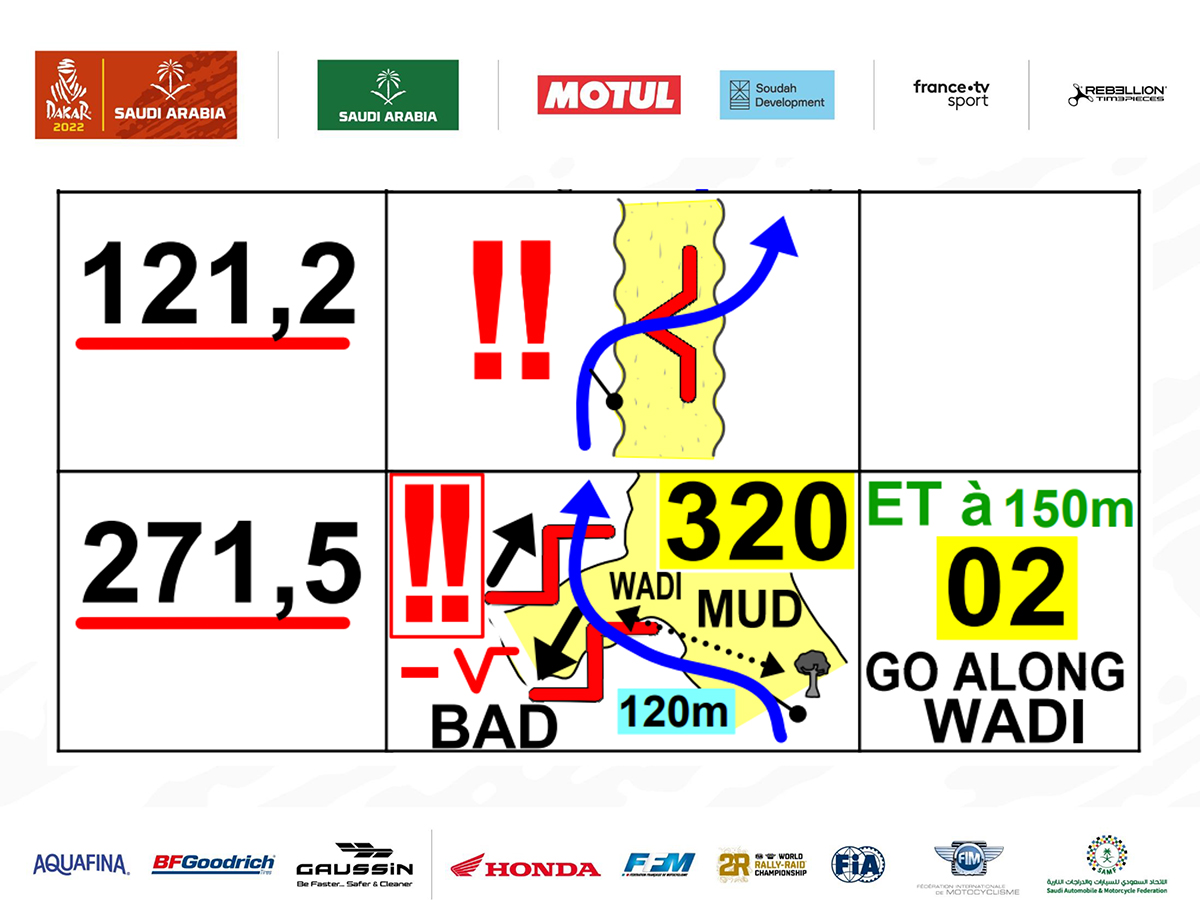 One more day till rest day
The pattern (as we mention every day) is not to lead out a stage this week because it loses too much time. A grand game of chess is emerging as we head towards the rest day on Saturday – tomorrow could be another day where the lead riders basically match each other to make it safely to their day off.
Next week the situation will be different and they will have to pull out stops if they want to make a break. But for now, it's damage limitation with the body and on the time sheets.
A.O.B. Respect
A rumbling side issue which has raged in some quarters this week involves Gini de Villiers and his lack of ability to see a couple of bikes. The veteran car racer had his eyes too much on his own prize on Monday and knocked a rider off, Cesar Zumaran, while trying to squeeze past him on a narrow rock section.
January 4, 2022
On the same day Mohamedsaid Aoulad Ali dropped his bike on the other side of a dune which De Villiers then drove straight over the top of, damaging the bike so badly it put the guy out the rally.
Stuff like this can happen by accident, the trucks are notorious for not giving two hoots about the bikes. Tail end riders often talk of being scared for their lives as the behemoths plough on through the desert regardless.
But De Villiers, a multiple Dakar stage winner, should know better with all his experience and on both occasions he failed to stop and check the riders were ok.
He has apologised personally and publicly but the organisers have dealt with it by slapping Gini with a five-hour time penalty. De Villiers also offered to pay for the damaged bike and for Mohamedsaid's entry for Dakar 2023. Hopefully that put the matter to bed.
Find stage five results in our separate story: 2022 Dakar Rally Results: Danilo Petrucci wins stage 5 – Sam Sunderland maintains overall lead
Photo Credit: RallyZone + MCH Photography + A.S.O.