AMA National Enduro: Josh Toth Wrangles 2021 Rattlesnake NEPG
Josh Toth claimed his second win in a row in AMA National Enduro competition with an impressive victory at this weekend's Rattlesnake National Enduro in Cross Fork, Pennsylvania.
The FMF KTM rider Josh Toth might have finished just fifth in the opening test at the Rattlesnake but he picked up momentum as the day wore on, finishing third in test two, and second in test three, before winning tests four and five.
A solid runner-up finish in the sixth and final test behind Steward Baylor was more than enough to seal the victory and continue his rich vein of form in the NEPG series.
"It was a good day," said Toth after his 34 seconds winning margin. "Actually, I rode pretty conservative and just stayed off the ground… I never went down once. I just focused on staying smooth. I was fifth in the first test, but from there on it got rockier; and the rockier it got, the better I got."
With the win, Toth moves into second place in the series standings behind Steward but the position change was helped by Grant Baylor's DNF on the KLM Milwaukee GASGAS after he injured his collarbone in test three and was forced out.
Check the Paddycam chase footage of Toth between the trees...
With four rounds remaining, Steward Baylor leads the standings with 135 points, followed by Toth on 109 and Grant with 101.
Stew Baylor turns it around in final test
Steward mixed it up with Toth and FMF KTM's Ben Kelley for most of the day, and entered the final test of the race sitting in third, just a few seconds behind Kelley. However, the South Carolina rider turned in a blistering ride to win the final test, moving him into second overall ahead of Kelley in the final results.
"I really had a solid day, all in all. We just had some issues," said Steward. "I burnt up a clutch in the fifth test. Just a couple mistakes on my end. I stalled the bike in the first test twice, and then stalled it again in test three. I'm a little bit frustrated with some of the stuff that I had going on today, but it was a good day. I knew I had to recover in that last test and that's what we did."
Third place meanwhile for Ben Kelley is his best National Enduro finish of the season."Overall, the day was good and I stayed off the ground," said Kelley. "I was a little stiff in the first test, but I felt like I loosened up and rode really good the next two. I was right there battling with Josh for the lead. I was going into the last test in second, but Stew crushed that one and ended up sneaking by me, so I'm a little bummed about that. Third overall on the day is okay. I think it was my best one so far this year, so I guess I'm happy with it."
After kicking off the year with a podium (third place at Sumter), Craig DeLong got back on track with a fourth overall in Pennsylvania. The Rockstar Energy Husqvarna rider started fast and maintained a strong pace all day.
"I had a good first test, a couple seconds out of the lead, which always sets you up for a good day," said DeLong. "I just tried to carry that momentum through the whole day. After the third test I was in fourth, but we were all within less than 10 seconds of each other. So, to be halfway through the day and to be that close, I was excited for sure. I tried to maintain it all day, but those guys clicked up another gear the last three tests and kind of left me in the dust."
Four-stroke is faster for Devlin
Beta USA's Thorn Devlin switched from a two-stroke to a four-stroke for the PA event and promptly turned in his best finish of the season with a fifth overall.
"I've ridden the 350 three times since February, socoming into today we kind of wanted to get some testing done on it and just commit to racing it," said Devlin. "I had no expectations. I figured we could only get better from what our results have been. So, it was a pretty good day."
Trevor Bollinger, fourth at the previous round in Georgia, got off to a quick start with a win in the opening test of the day, which was a first for him. In the end, the Rockstar Energy Husqvarna rider settled for sixth after "a few little tip-overs" on the trails which proved tricky in places where ferns covered the line of sight.
XC Gear/Enduro Engineering/Moose Racing/Husqvarna's Ryder Lafferty was fourth-fastest in test five, and spent most of the day hovering around seventh, which is where he finished in the final results.
After missing the previous round with a hand injury, Coastal Racing GASGAS' Ricky Russell returned to action with an eighth overall ahead of Husqvarna/Max Motorsports/FXR Racing's Evan Smith.
Perfect Pro 2 run for Ansley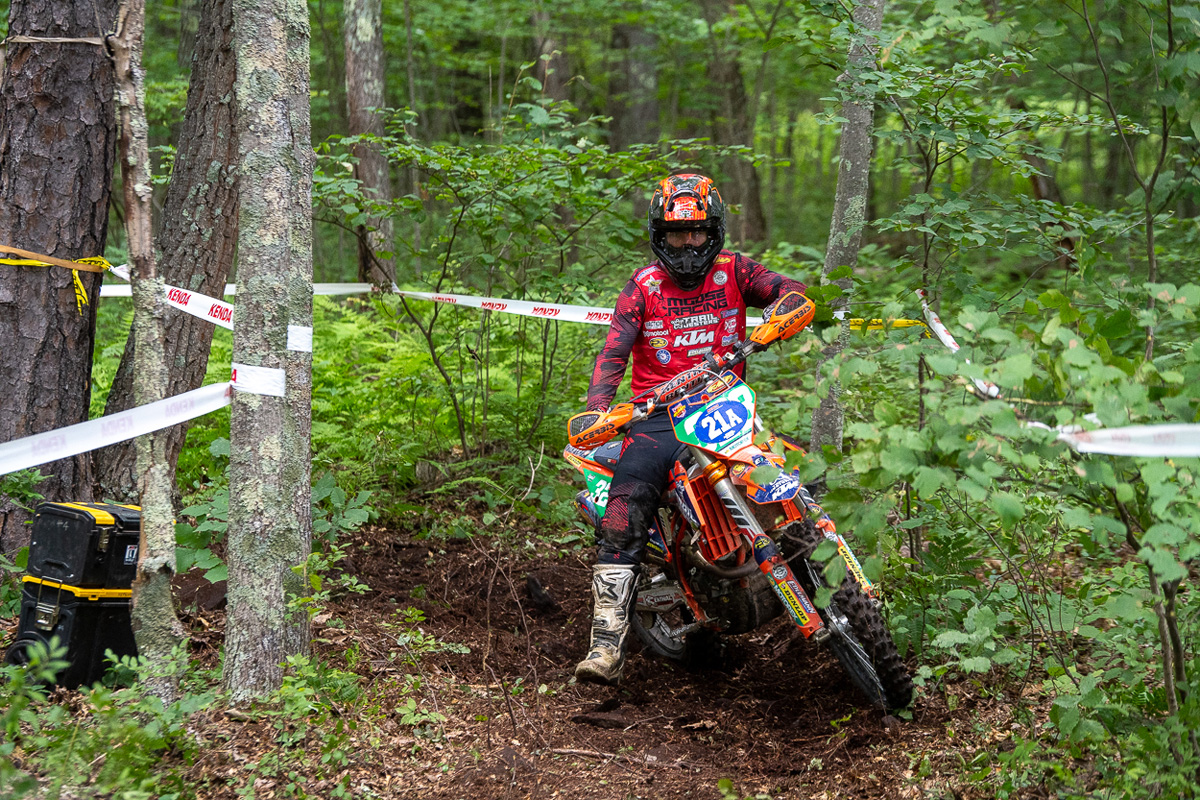 Trail Jesters Racing KTM's Jesse Ansley remained perfect in the NE Pro2 division with his fifth win in five rounds, which also put him in 10th overall.
"I had a pretty slow start; crashed the first test and then it just took me forever to get comfortable," said Ansley. "It definitely wasn't my best day on the bike, for sure. I just wasn't comfortable all day. I was able just to make up time when I could but the bottom line is we're five for five now. I've been loving these, so I'm just going to keep at it."
Kawasaki-mounted Vincent Smith was second in the NE Pro2 division with an 11th overall, while Hard Enduro ace Ryder Leblond was third overall on a Husqvarna in 12th overall.
Eight-time AMA National Enduro champ Mike Lafferty (KTM) made a rare appearance and came away with the win in the AA class. Lafferty's finish put him in 13th overall. Nathan Rector (KTM) was second in class and Jason Tino (KTM) was third.
Gavin Sievenpiper won the Open A class on a KTM, while Mitchell Owenby (KTM) was tops in the 250A class.
Fab five for Archer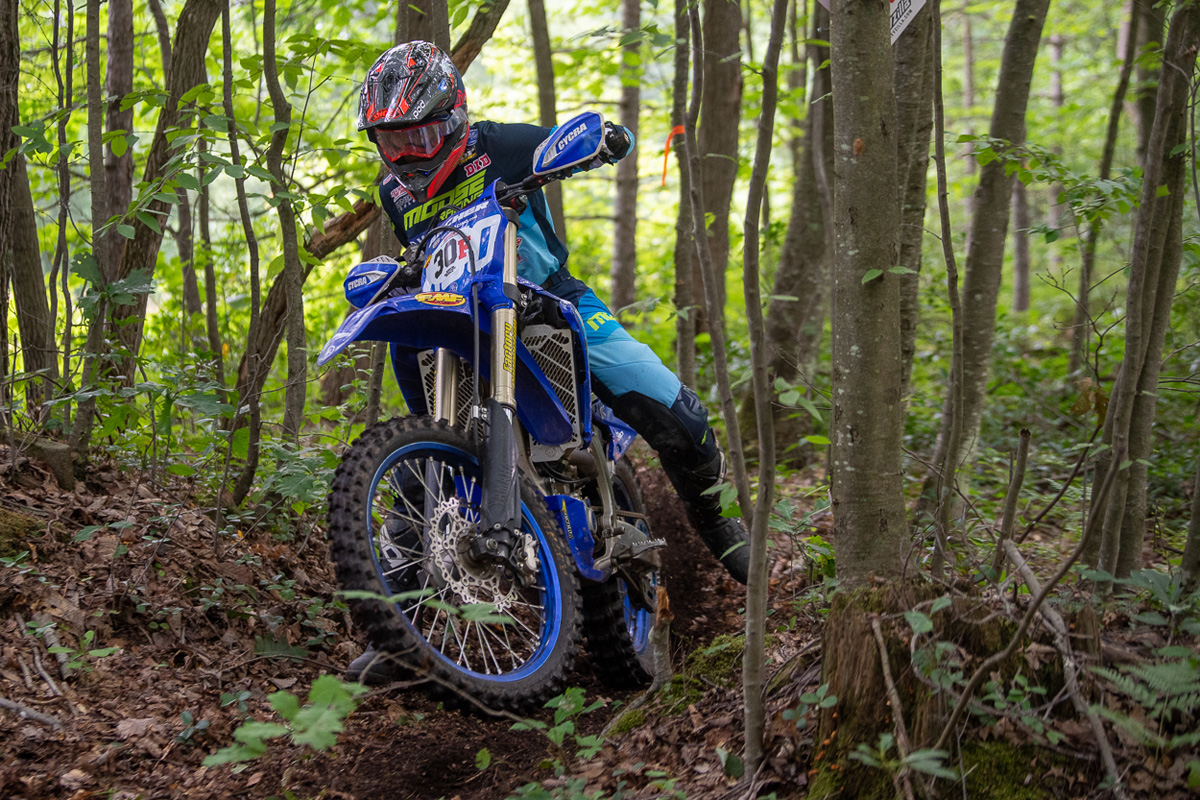 AmPro Yamaha's Rachel Archer swept all five tests to win the Women's Elite class in impressive style. Enduro Engineering/Fly Racing KTM's Mackenzie Tricker by over four minutes.
Rachel Gutish finished third on a privateer Husqvarna, with Brooke Cosner finishing fourth on a GASGAS.
2021 Rattlesnake National Enduro top 10:
1. Josh Toth (KTM)
2. Steward Baylor (Yam)
3. Ben Kelley (KTM)
4. Craig DeLong (Hsq)
5. Thorn Devlin (Bet)
6. Trevor Bollinger (Hsq)
7. Ryder Lafferty (Hsq)
8. Ricky Russell (GG)
9. Evan Smith (Hsq)
10. Jesse Ansley (KTM)
The Kenda AMA National Enduro Series resumes on August 22nd for the Lumberjack National Enduro, round six of the series, in Bergholz, Ohio.
More information: www.nationalenduro.com
Words and Photo Credit: Shan Moore