Kailub Russell Clinches Title At Rockcrusher Full Gas Sprint Enduro
Kailub Russell takes the overall win and 2019 title at the Rockcrusher Full Gas Sprint Enduro, round seven of the 2019 series in Young Harris, Georgia, ahead of Thad Duvall and Josh Strang.

With his overall victory this weekend at the Rockcrusher Full Gas Sprint Enduro in Young Harris, Georgia, Kailub Russell became the first two-time champion of the Kenda Full Gas Sprint Enduro Series, having also won the title in 2015.
Having won six of the seven rounds held so far this year, Russell's performance at Rock Crusher Farm this weekend was enough to clinch the 2019 title with one round remaining on the schedule.
On Saturday, Russell won four of the six tests, sweeping all three of the Enduro tests and winning one of the Cross tests. On Sunday, the FMF/KTM rider won two Enduro tests and one Cross test, giving him a 30-second-plus cushion over runner-up Thad Duvall at the end of two days of racing.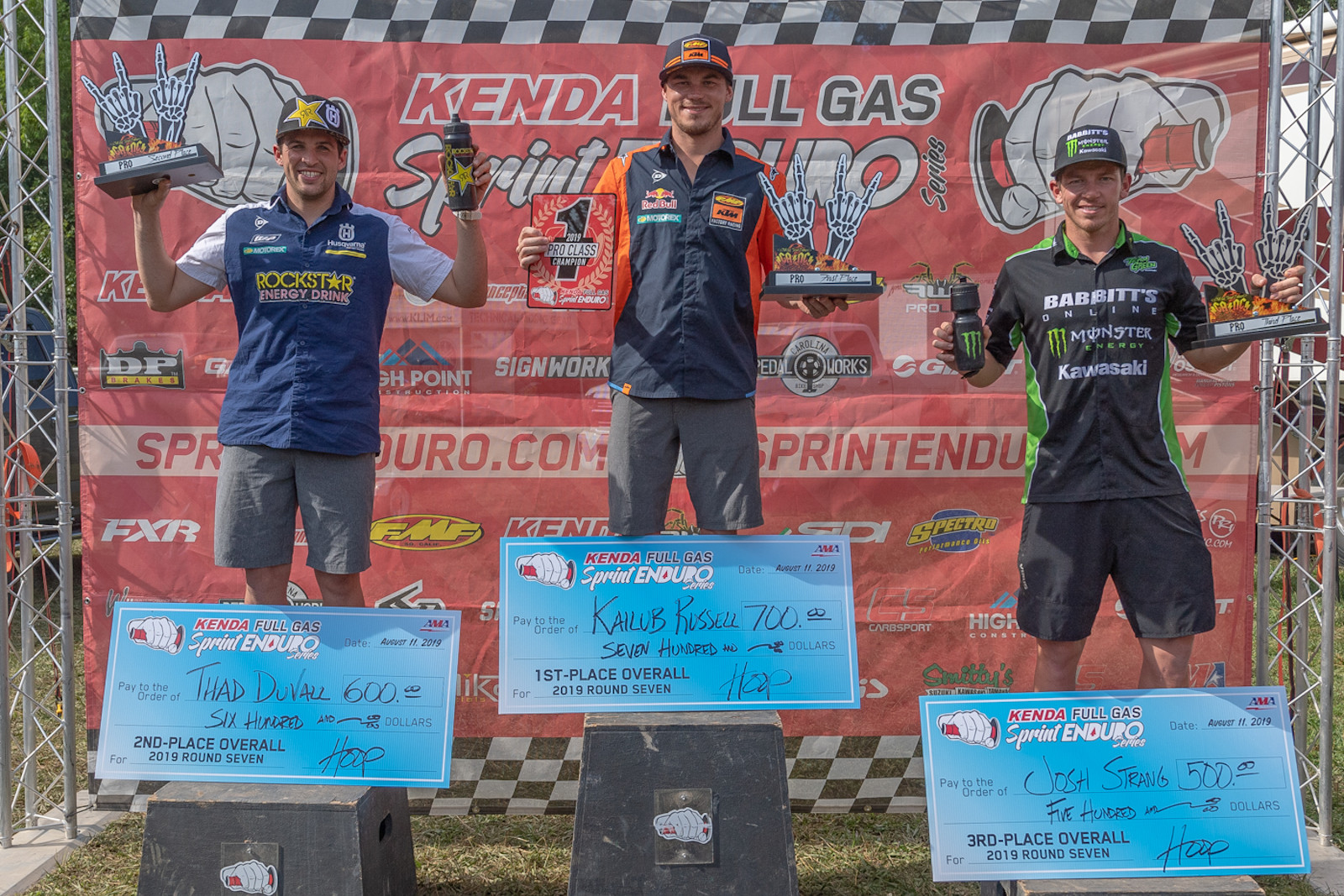 "It's always nice to wrap up a championship a race early, which kind of takes the pressure off," said Russell. "I really liked the Enduro test this weekend. It was really technical, and I had a good flow. When you've got a good flow and you're enjoying it, it translates into going fast."
Duvall won the final two tests on Sunday, and was consistent enough to claim second overall for the weekend. The Rockstar Energy Husqvarna rider had brake problems in one of the Cross tests on Sunday, but still managed to edge out Josh Strang for the runner-up slot by 33 seconds.
"It was a close battle between me and Strang, but I just kept chugging along," said Duvall. "I really want to win one of these things. It's been a while. I felt like it was a good weekend, but I just couldn't limit the mistakes, and when I did I was able to get a couple of wins. I just need to be better on Saturdays and stay within striking distance for Sundays."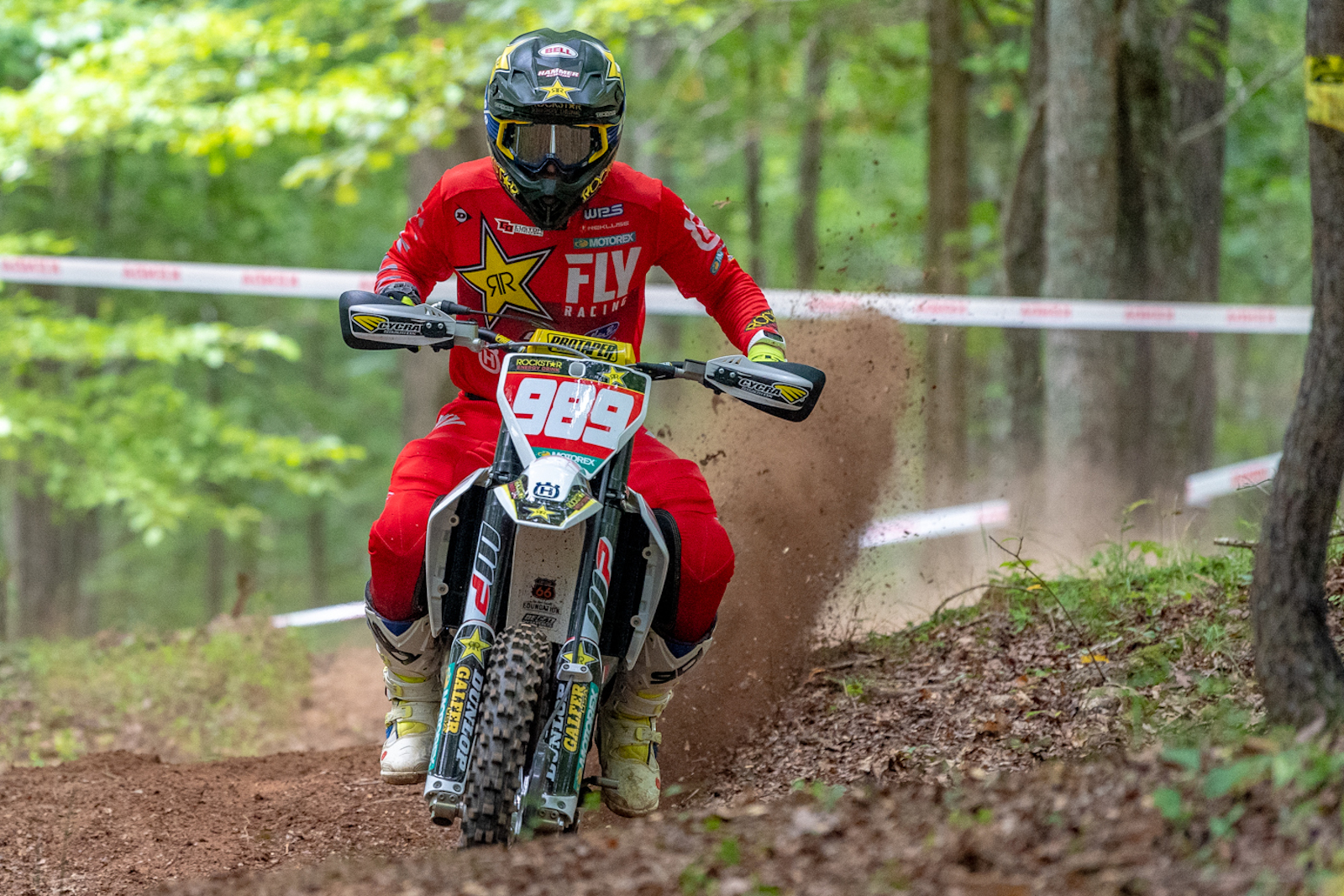 Strang is notoriously strong in the Cross tests, and the Babbitt's Monster Energy Kawasaki rider came away with three Cross test wins.
"My times in the Cross test were good and competitive; I think I won three out of six, which is good," said Strang. "In the Enduro test, I was just a little off. I felt like I was riding well. On five out of the six I felt comfortable and fairly good, just not as fast as Kailub and Thad. Then the second (Cross) test on Saturday I wrapped the brake pedal around my foot peg, so I kind of ruined Saturday. That kind of messed me up a little bit for the overall."
Husqvarna-backed Layne Michael turned in a solid performance for fourth overall, missing the podium by just 21 seconds. Michael suffered through two surgeries after breaking his collar bone at the start of the season and is just now finding his form.
"I've been back for about a month now and I'm feeling good," aid Michael. "I'm making huge leaps forward every time. I've just got to keep building and get back to where I should have been the past couple years. Right now, I just appreciate being back at the races battling and making that progress. I'm seeing it. I've just got to keep working."
Babbitt's Monster Energy Kawasaki's Jordan Ashburn rounded out the top five. The Tennessee rider made good time in the Enduro test, but spent most of the day looking for faster times in the Cross test.
"This series really went to another level this year," said Ashburn. "Everybody is really pushing each other hard and we're just a little bit off. We're searching for time on every test. Sometimes we're a second off and sometimes we're three or four seconds off. It just adds up over the weekend. It's been a tough weekend for sure. I'm just trying to find time in stuff."
Evan Smith tops Pro2 class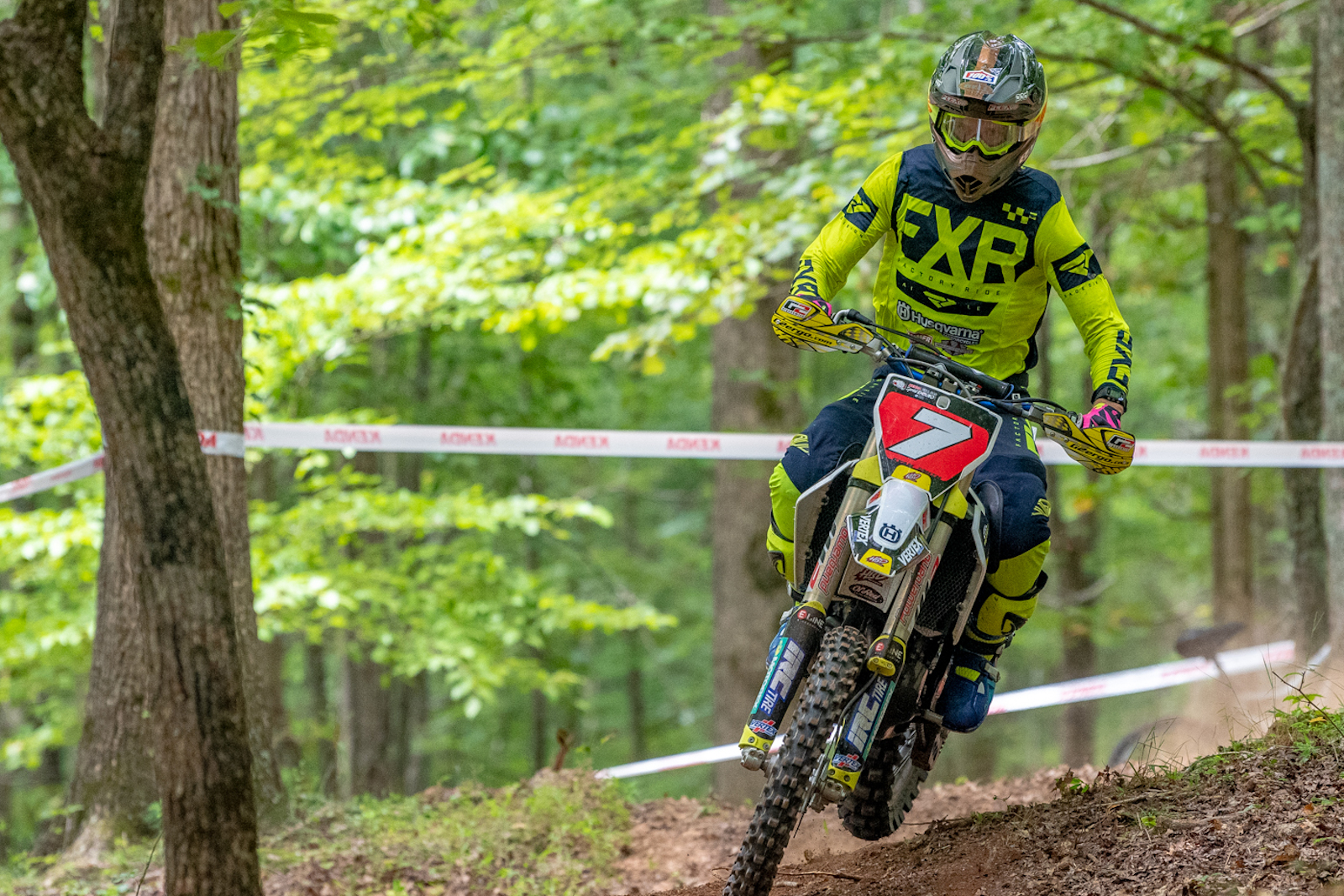 Sixth overall and first in the Pro2 division went to Husqvarna/Max Motorsports/FXR's Evan Smith. Smith got off to a slow start, but did what he needed to do to get the "W".
"I had a slow start," said Smith. "I didn't feel very good at the beginning yesterday, but about halfway through the day I started to figure it out. Today went pretty well. Didn't go as fast as I'd want to go, but still won."
Trail Jesters Racing KTM's Jesse Ansley rode a KTM 125 SX to seventh overall and second in the Pro2 class, which included two test wins in the division.
Mike Witkowski was another of the Pro2 riders that broke the top-10, putting his factory Beta into eighth overall and third in the Pro2 class.
Coastal Racing Husqvarna's Craig DeLong turned in some solid rides to finish ninth overall, while Ben Parsons rounded out the top 10 on a Husqvarna for a fourth-place finish in Pro2.
Tayla Jones claims the overall and Women's Pro title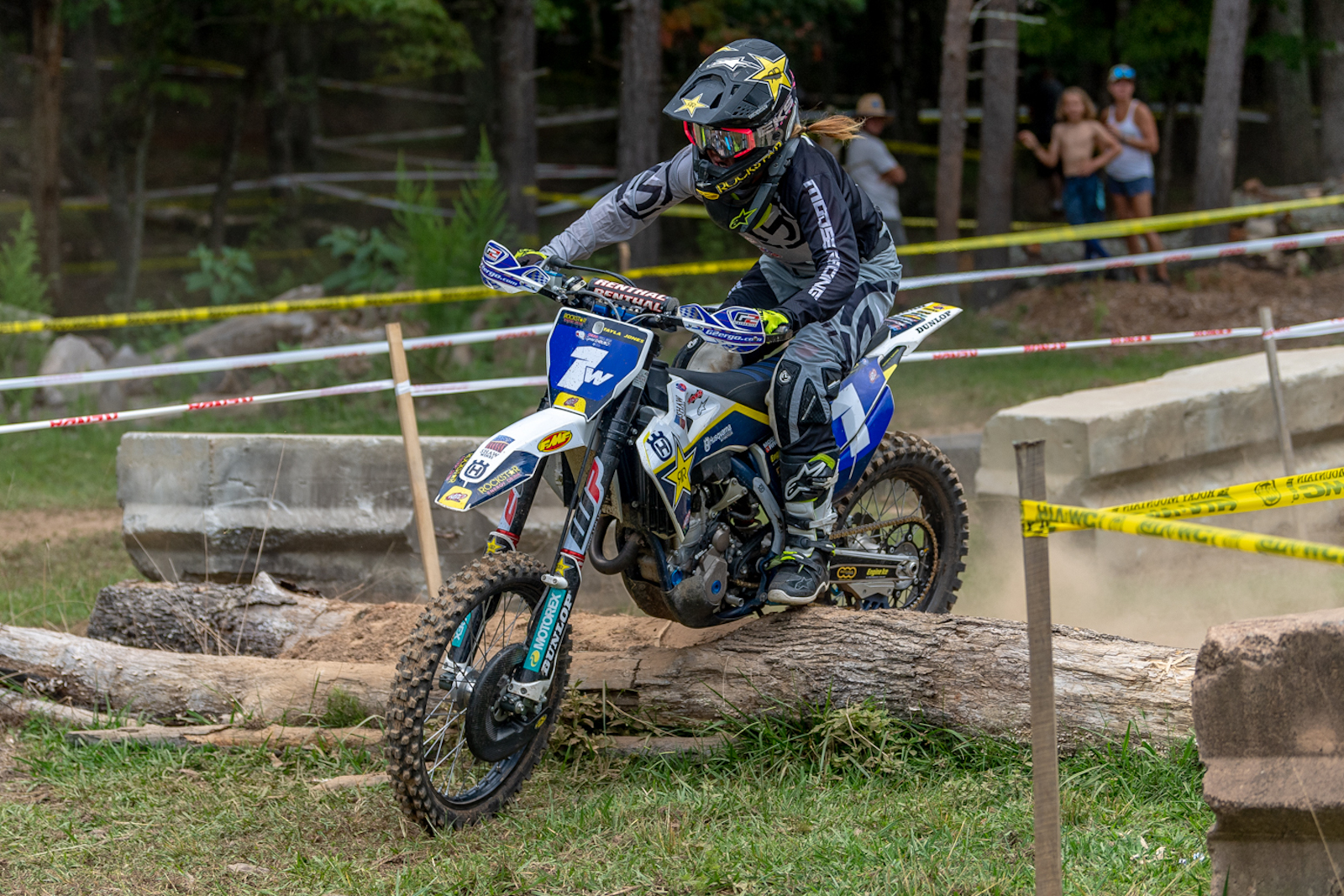 Tayla Jones missed the previous round due to a nasty hand injury and a surgery but still managed to wrap up the Women's Pro title one round early with an overall victory at the Rockcrusher.
"I was kind of nervous coming in. I hadn't been riding too much because of my fingers, but overall I had a good weekend," said Jones. "I had a few crashes, but nothing major. My hand held up pretty good. While I'm riding, my fingers don't hurt, but as soon as I finish is when all the pain hits. So, every time I stopped, it hurt a lot more."
Second overall in the Women's Pro class went to MEP MX/KTM's MacKenzie Tricker, a minute-and-a-half behind Jones, while Maxxis/KTM's Becca Sheets rounded out the podium in third.
Beta USA's Korie Steede, was fourth overall, ahead of Team Green Kawasaki's Shelby Rolen. Meanwhile, former Women's Pro Motocross champion Jessica Patterson showed up to finish sixth.
JR Cook (KTM) was on his game and claimed a solid win over Billy Schlag (KTM) in the Pro-Am division. Brewer Cawley (KTM) rounded out the podium in third.
"I got off to a slow in the Cross test but I had a really good first woods test," said Cook. "That gap kind of just kept growing as the weekend went on and I ended up grabbing a win. I definitely felt more comfortable on the Enduro test. The Cross test, for my style on a two-stroke, it was a little choppy, a little rocky, a little rooty out there. It was hard to keep the bike planted, but it worked out for me."
Zach Nash (KTM) won the Open A division over Sam Forrester (KTM) and Andrew Matusak (Hsq). Meanwhile, Henry Symanski won the Lites A class over fellow Yamaha rider Dalton Seals. Dylan Zimpel was third on a Husqvarna.
Rockcrusher Full Gas Sprint Enduro Overall Results:
Kailub Russell (KTM)
Thad Duvall (Hsq)
Josh Strang (Kaw)
Layne Michael (Hsq)
Jordan Ashburn (Kaw)
Evan Smith (Hsq)
Jesse Ansley (KTM)
Mike Witkowski (Bet)
Craig DeLong (Hsq)
Ben Parsons (Hsq)
The Kenda Full Gas Sprint Enduro Series returns to action on September 1-2 at Chestnut Corner in Laurens, South Carolina for the eighth and final round of the series.
More information: sprintenduro.com
Photo Credit: Darrin Chapman
Word Credit: Shan Moore