Ryan Sipes tops USA's best at Full Gas at Sprint Enduro final round
2019 ISDE Portugal Team USA looking ominous as Ryan Sipes takes Full Gas Sprint Enduro win ahead of Kailub Russell and Taylor Robert.

The best of the east met up with the best of the west at the final round of the Kenda Full Gas Sprint Enduro Series, in Laurens, South Carolina, saw the North America's best riders go shoulder to shoulder ahead of the 2019 ISDE.
All-around off-road ace, Ryan Sipes was the rider who came out on top after a close battle with newly crowned Kenda Full Gas Sprint Enduro Series champion, Kailub Russell with Taylor Robert completing a Red Bull KTM Pro podium.
The final round of the Kenda Full Gas Sprint Enduro Series was designated an ISDE camp by US team manager Antti Kallonen, so the entire US ISDE team (World, Junior and Women's squads) showed up to do battle, pitting the best from each of the major series in the United States against each other: Full Gas Sprint Enduro, AMA National Enduro, Grand National Cross Country and WORCS.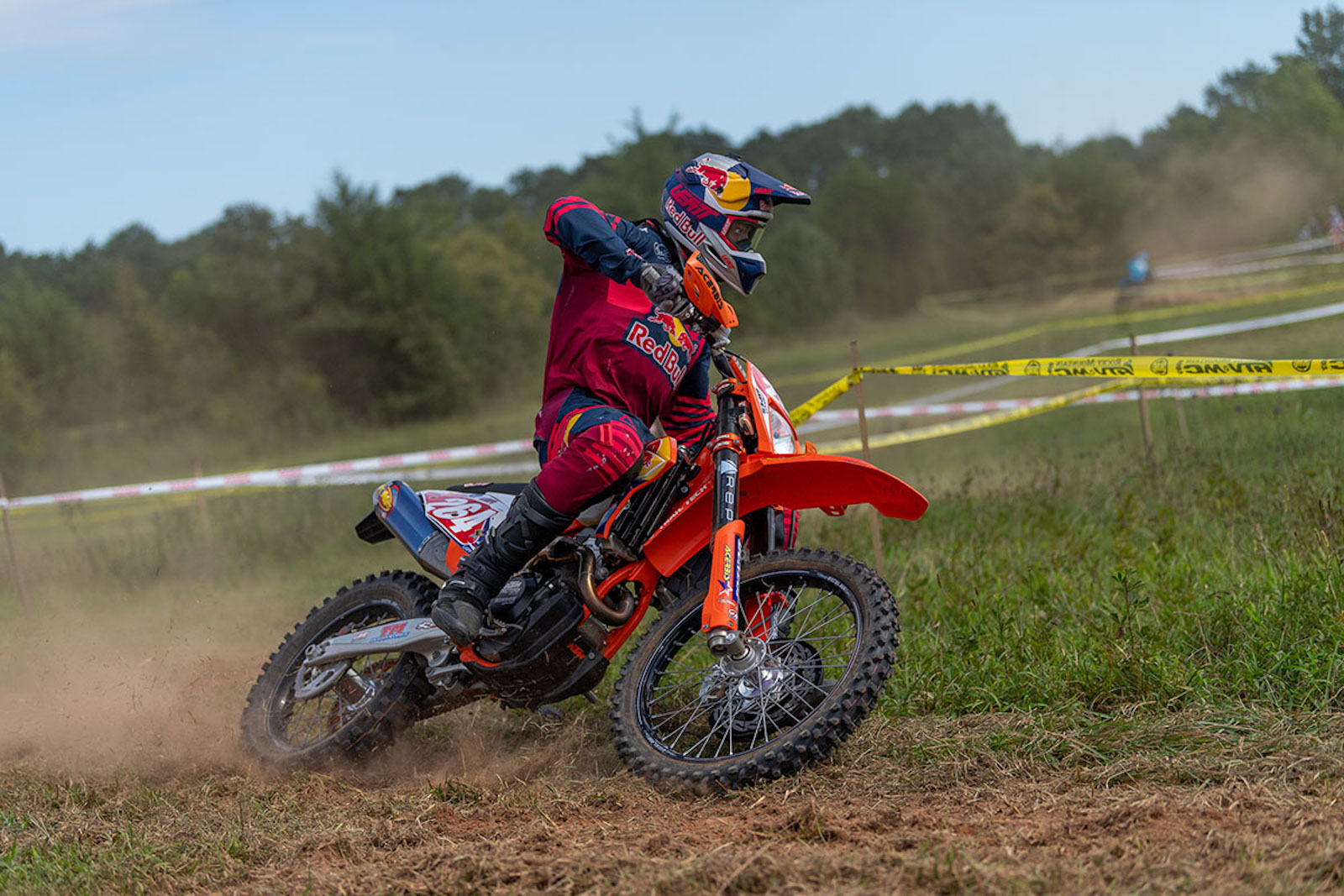 After two days racing and 12 timed tests, Sipes edged fellow factory KTM rider Russell by just 22 seconds for the overall win.
Sipes admitted his was a bit surprised by the win and since the event also served as a warm-up and training weekend for the upcoming International Six Days Enduro in Portugal, he thinks the US squad is ready to win back the title it claimed in 2016.
"I had no clue where I'd be against these guys since I haven't raced one of these all year; I didn't know where my speed would be, so I'm really happy," said Sipes. "I knew I would do okay in the Cross test, I just wasn't sure about the Enduro test. I got a little lucky with this woods test. It was technical, but not very tight, so that played to my strengths."
Russell stayed within a second or two of Sipes for most of the weekend and held the lead on two occasions, but threw it away with a crash in the final test.
"I made a lot of mistakes," said Russell. "It was tough – super dry and slick and I just couldn't keep it off the ground. I've only fallen like two or three times all year at these races and I probably had four falls this weekend. It's hard to compete for the win when you're on the ground.
"Ryan was in a league of his own on the Cross test, but I had some fast times in the Enduro test. I got in the lead on Monday after the Enduro test, but then I fell in the Cross test and threw it away. Then I was close going into the final test so I went for it and fell again."
FMF/KTM's Taylor Robert, the 2016 ISDE Individual champion, kept the two front-runners honest with a solid third place finish, even though the event marked his first taste of woods racing in over a year. Robert got off to a slow start but was able to work his way into a podium position.
"I started off pretty slow but I picked it up in the afternoon – I went from 10th place to third by the end of the day," said Robert. "Even though this woods section wasn't very tight, it's still tighter than anything I ride, and it's mainly the tree roots I don't get to ride, but it's good prep for Six Days and it's always good to practice something different."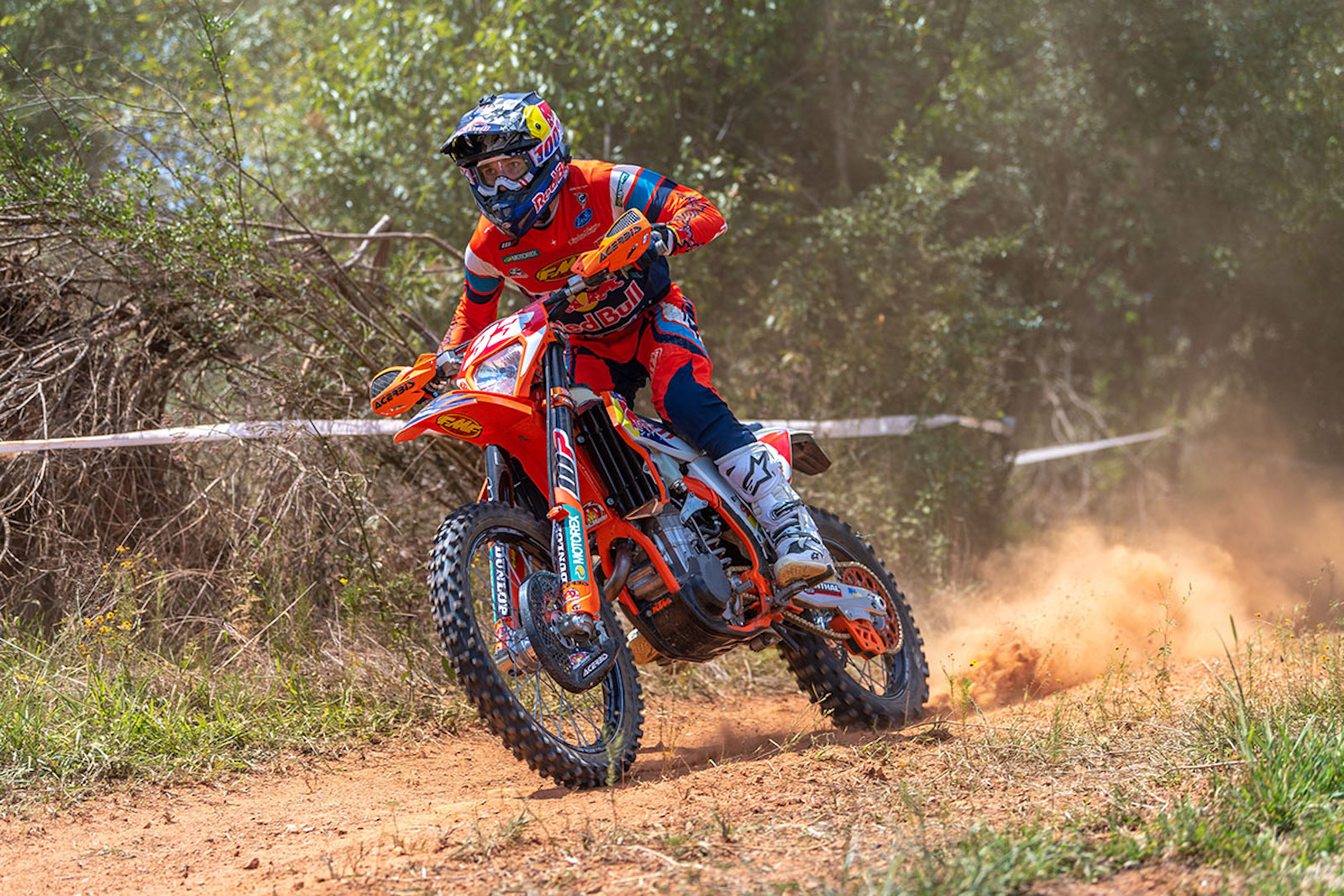 Since he will be the designated E3 rider on the US Trophy Team, Tely Energy Racing's Steward Baylor (who normally rides a 450) will be riding a KTM 500 in Portugal, and he spent the first day in South Carolina getting used to one at the Chestnut Corner event. After a slow start, Steward put the big KTM into fourth overall.
"The 500 is a big change, and I've been trying to adapt to it," said Steward. "It didn't help that I stuck my bad knee into the ground on the first day. I always start slow anyway, so I picked up the pace on the second day and was riding pretty good."
Fifth place went to Rockstar Energy Husqvarna's Thad Duvall, who was part of the winning World Trophy Team in 2016, but who has elected to sit out this year's ISDE.
Grant Baylor, also riding a 500 like his brother (on the Junior Trophy Team), was sixth overall, just two seconds ahead of Husqvarna/Max Motorsports/FXR's Evan Smith – Smith also won the Pro2 class with his seventh overall finish.
"This was kind of a sketchy track, so it was important to be consistent and not make any mistakes, and aside from a couple of crashes on the first day I was able to do that," said Smith.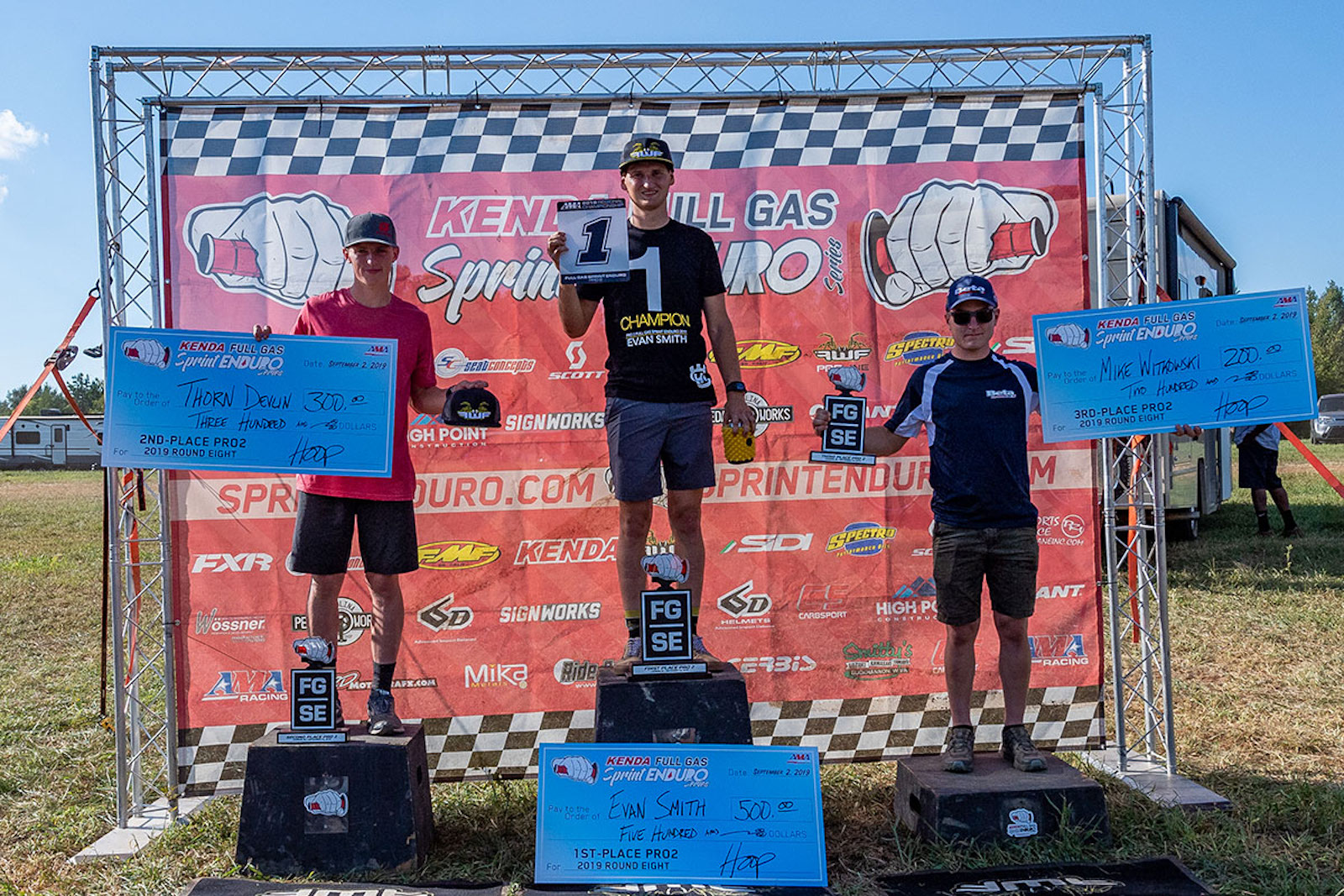 Babbitt's Monster Energy Kawasaki's Jordan Ashburn, Trail Jesters Racing KTM's Ben Kelley, and GasGas North America's Thorn Devlin, rounded out the top 10. Devlin also finished second in the Pro2 division, with Beta USA's Mike Witkowski taking third in the Pro2 class with a 12th overall finish.
Josh Hill finished 13th in the first Cross test and 12th in the Enduro test, and then elected to sit out the rest of the race. Meanwhile, Babbitt's Monster Energy Kawasaki's Josh Strang, the defending series champ, crashed in the second test and dislocated his shoulder.
Women's win for Tricker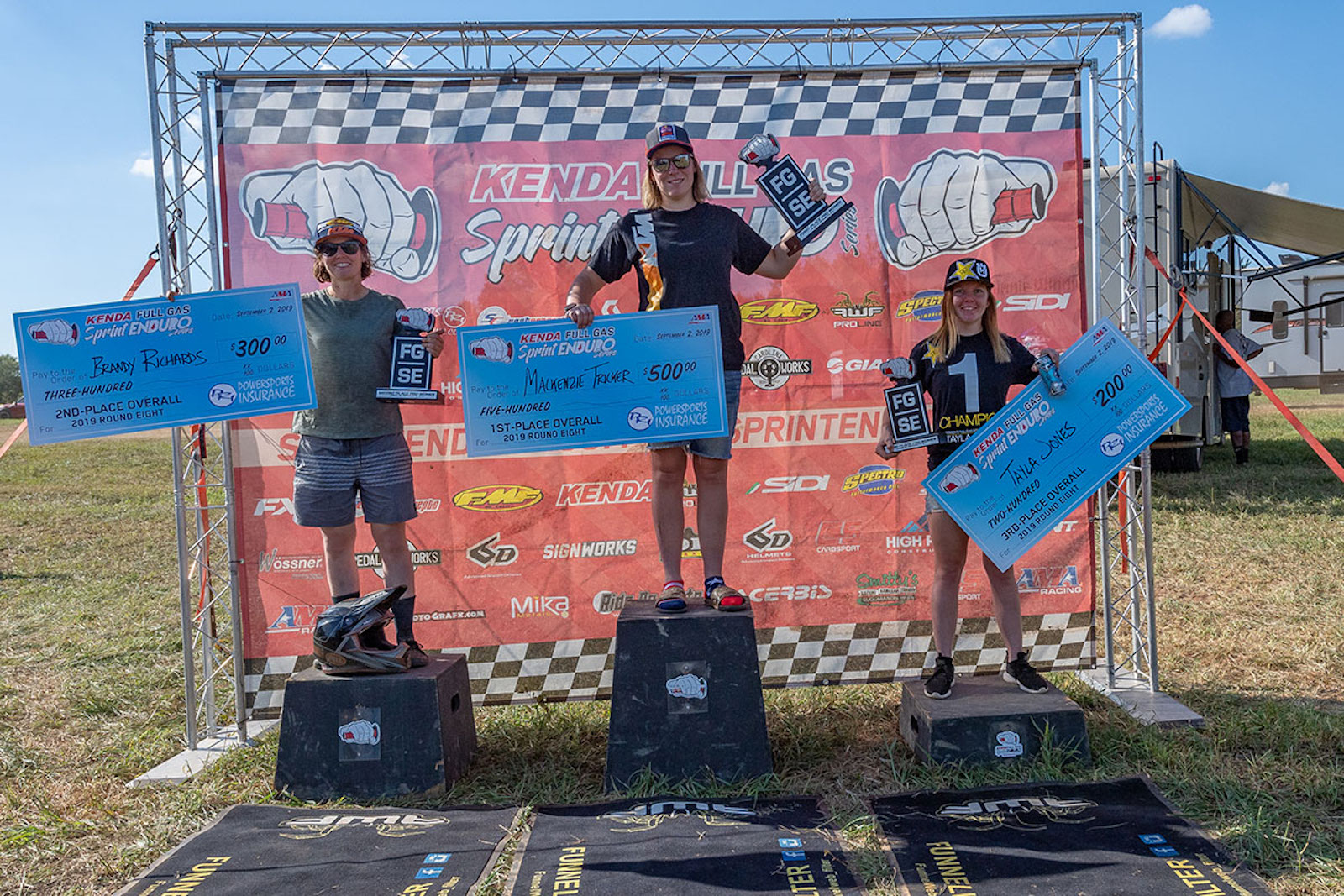 In the Women's Pro class, MEP MX/KTM's MacKenzie Tricker rode a 350 KTM instead of her usual 250 and grabbed her first win of the season ahead of KTM's Brandy Richards and Husqvarna's Tayla Jones.
"I started off the first day with a couple of test wins, but I crashed a couple of times and Tayla won the day," said Tricker. "I was able to get it together on the second day and come away with the overall, so I'm pretty happy since it's my first overall win in this series in over a year."
Jones wrapped up the Women's Pro title at the previous round.
Brody Johnson won the Pro-Am class in 18th overall, ahead of Zach Nash (20th overall) and Brewer Cawley (23rd overall).
Chesnut Corner Full Gas Sprint Enduro top 10 results:
Ryan Sipes (KTM)
Kailub Russell (KTM)
Taylor Robert (KTM)
Steward Baylor (KTM)
Thad Duvall (Hsq)
Grant Baylor (KTM)
Evan Smith (Hsq)
Jordan Ashburn (Kaw)
Ben Kelley (KTM)
Thorn Devlin (GG)
More Sprint Enduro information: SprintEnduro.com
Photo credit: Darrin Chapman
Word credit: Shan More