Stew Baylor Wins US Sprint Enduro Rnd2 on home soil
Steward Baylor came from behind to win a super-tight contest at round two of the 2021 Kenda US Sprint Enduro Series – Layne Michael and Liam Draper prove home soil isn't an advantage for Baylor.
The competition was close at the second, double-header weekend of racing in the 2021 Kenda US Sprint Enduro series at The Shoals MX complex in Donalds, South Carolina. On day one, Saturday, the top four riders finished within just 1.7 seconds of each other after six tests (three each of Cross tests and Enduro tests) with Tely Energy Racing KTM's Draper in first, 0.250 seconds ahead of Am Pro Yamaha's Michael, with his teammate Baylor in third, another 0.7 seconds back – it was that close.
Top Pro 2 rider, Johnny Girroir (Coastal Racing GasGas), was fourth overall with wild card, Babbitt's Online Team Green Kawasaki's Lyndon Snodgrass, fifth having flown to the win in two of the Cross tests.
But it was home town boy Steward Baylor who was most surprised to be sitting third on day one, since he runs the Shoals MX facility and this was very much home soil."I thought I had a good advantage here, since this is my track, but the guys proved me wrong," said Baylor.
Get a feel for the test on JP Green's videos...
Baylor came out swinging on Sunday though, winning the first Enduro test on day two by eight seconds ahead of Girroir, and then backing that up with a win in the second Enduro test by nine seconds over Michael.
He added a win in the final Enduro test and in two of the Cross tests to win the combined overall result by a little less than 17 seconds ahead of Michael, with Girroir in third, another 13 seconds back.
"I spent a lot of time walking the Enduro test this morning, which is where I was struggling," said Baylor. "I pedaled that track and really over-analyzed everything and it paid off. I guess it goes to show nobody has an advantage at these things. It's just who the fastest rider is at the end. Those guys were faster than me yesterday."
Michael pushing his teammate
Layne Michael was second on both days and second overall, having won an Enduro test on Saturday and a Cross test on Sunday but admitted he couldn't match his teammate on day two."I rode really well all weekend, stayed off the ground and just tried to be smooth," said Michael. "I came in a little banged up from the Georgia GNCC and didn't feel the best, but we made due.
"Actually, my riding was really good this weekend, and I was close to Stew going into today, but Stew just obliterated us in the Enduro test. I was riding pissed off about it."
Third overall and Pro2 win for Coastal GASGAS' Girroir
"I had a good day yesterday and I was in the mix," said Girroir. "But the track changed drastically overnight and today it was super dry and slippery so you just had to kind of drift it and tip-toe around and that made it tricky. I'm usually better in the ruts and softer stuff."
Draper was on the gas on Saturday, winning two of the Enduro tests. However, a mishap on Sunday put the New Zealander in a hole he couldn't climb out of and he wound up finishing fourth overall for the weekend and third in the Pro 1 division.
"On Saturday, I just hit my marks all day, no mistakes, no crashes or bad lines and I ended up winning the last two Enduro tests. And that's the closest I've ever been to Layne and Stew in cross tests, so it was just a good day; I was stoked to win my first Sprint Enduro in Pro 1 class," said Draper. "Today I started off okay in the Cross test, but in the first Enduro test I had a good crash and had to come back down a hill and go up again. So, I lost 19 seconds to them there and that kind of set me back for the rest of the day."
Snodgrass fast in the cross tests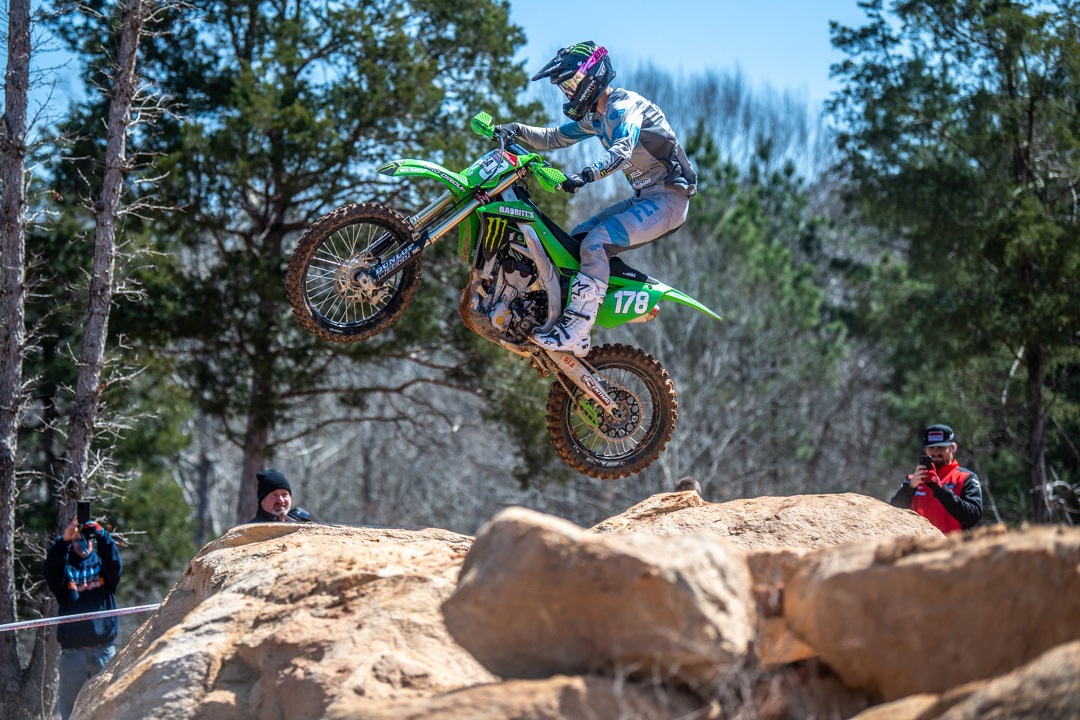 Lyndon Snodgrass was extremely fast in the Cross test, but inconsistent in the Enduro test. The Aussie off-roader finished the weekend in fifth overall and second in the Pro 2 class.
"I was kind of up and down," admitted Snodgrass. "I was struggling with the Enduro test. It had a lot of tight woods in it and that's not something I've done much riding in. The Cross test was kind of what I'm used to riding and I really enjoyed it."
760 Husqvarna's Ben Nelko was running strong on Saturday in the Pro 2 class, however, a crash in the final Enduro test cost the Pennsylvania rider considerable time. Nelko was sixth overall and third in the Pro 2 division.
Massachusetts rider Bubz Tasha was the best of the Pro-Am riders, finishing in seventh overall on his Husqvarna and winning the Pro-Am division. Trail Jesters Racing KTM's Simon Johnson was eighth overall and second in the Pro-Am 2 class.
Forrest Player (KTM) and Dalton Seals (Yam) rounded out the top 10. Player was first in the 250 A class, while Seals was third in the Pro-Am class.
Archer wins equally close Women's class
The Women's Pro class was an exciting race down to the wire, with AmPro Yamaha's Rachel Archer taking the win over Babbitts Online Team Green Kawasaki's Kori Steede by .23 seconds.
"I wasn't really expecting to come out on top today," said Archer. "I was losing a bit of time on the Cross test and then today I just sorted my stuff out and was doing well in the woods and it paid off."
Magna1 Husqvarna's Tayla Jones finished first in class on day one but swapped places with Archer on day two and took third overall for the weekend ahead of Preston Raines in fourth with Brooke Cosner fifth.
US Sprint Enduro round 2, overall results:
1. Steward Baylor (Yam)
2. Layne Michael (Yam)
3. Johnny Girroir (GG)
4. Liam Draper (KTM)
5. Lyndon Snodgrass (Kaw)
6. Ben Nelko (Hsq)
7. Bubz Tasha (Hsq)
8. Simon Johnson (KTM)
9. Forrest Player (KTM)
10. Dalton Seals (Yam)
Full results: www.mototally.com/usse/results
The Kenda US Sprint Enduro Series resumes on April 10-11 for round three at Moree's Sportsmen's Preserve near Society Hills, South Carolina, which also doubles as an ISDE Qualifier.
More information: www.ussprintenduro.com
Words and Images: Shan Moore